Does the World End in Fire or Ice? Thoughts on Japan and the Inflation/Deflation Debate
May 23, 2017
Japan has managed to offset decades of deflationary dynamics, but at a cost that is hidden beneath the surface of apparent stability.
Do we implode in a deflationary death spiral (ice) or in an inflationary death spiral (fire)? Debating the question has been a popular parlor game for years, with Eric Janszen's 1999 Ka-Poom Deflation/Inflation Theory often anchoring the discussion.
I invite everyone interested in the debate to read Janszen's reasoning and prediction of a deflationary spiral that then triggers a monstrous inflationary response from central banks/states desperate to prop up their faltering status quo.
Alternatively, economies can skip the deflationary spiral and move directly to the collapse of their currency via hyper-inflation. This chart of the Venezuelan currency (Bolivar) illustrates the "skip deflation, go straight to hyper-inflation" pathway: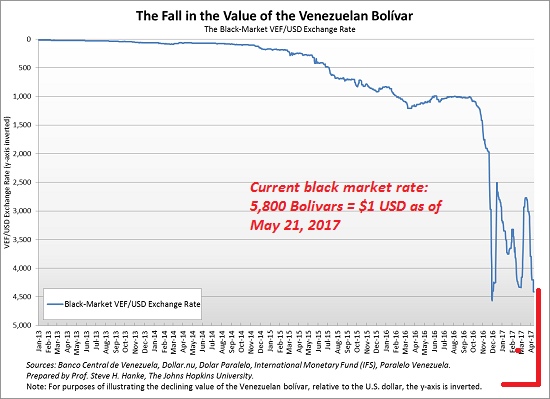 If we set aside the many financial rabbit holes of the inflation/deflation discussion, we find three dominant non-financial dynamics in play: demographics, technology and energy.
As populations age and retire, the resulting decline in incomes and spending are inherently deflationary: less money is earned, and less money is spent, reducing economic activity (gross domestic product).
The elderly also sell assets such as stocks, bonds and their primary house to fund their retirement, and if the elderly populace is a major cohort (due to low birth rates and increasing life spans, etc.), then this mass dumping of assets is also deflationary, as the increasing supply of sellers and the stagnating supply of buyers pushes prices lower.
Recession and stagnation are also deflationary. Shift 10 million workers from secure fulltime employment with full benefits to low-paid, insecure part-time jobs with few benefits, and you have a self-reinforcing deflationary spiral in action: a significant percentage of the workforce is now receiving far less income, which necessarily slashes their spending and just as importantly, their ability to borrow huge sums of money to buy vehicles, homes, overseas vacations, etc.
In consumer-dependent economies that are dependent on debt for much of the consumer spending, this decline in borrowing and spending power is extremely deflationary, as there is a lot less money available to chase the existing output of goods and services.
Japan is a case in point. A friend of ours who lived and worked in Japan for a decade (the 1990s) recently visited Japan again after 15 years working in Europe and the U.S., and he was surprised to find prices were the same or lower as when he was living in Japan.
This is the result of multiple sources of deflation operating in Japan.
A recent NHK TV program reported some young people in Japan are trickling back to rural villages and renting large traditional farm houses and the adjoining land for $200/month, a fraction of what they were paying for cramped studios in big cities. This is an example of deflation in action: people abandon costly housing, transportation, etc. and adopt lifestyles that generate far less income and far lower expenses--both are deflationary.
Given the structural rise of part-time employment, an aging populace and the deflationary impacts of technology and globalization, no wonder Japan is experiencing deflationary/stable prices.
Technology is relentlessly deflationary. Where consumers once spent small fortunes buying stereo equipment and music storage (LPs, cassettes, CDs, etc.), cameras, film, photo printing, etc., game consoles and equipment, small-screen TVs, and paying for telephony, now a single device--a smart phone--combines all these functions (with some obvious limitations) in one device.
Globalization and commoditization are also deflationary. Global wage arbitrage and automation lowers production costs, and the commoditization of labor and inputs (capital and materials) push prices lower.
Declining energy costs are also deflationary, as the cost of energy affects the pricing of almost every good and service.
We now discern the outlines of why money created out of thin air needn't be as inflationary as expected. If economic activity declines by $1 trillion due to lower incomes, spending, etc., creating $1 trillion out of thin air and injecting it into the economy as monetary and fiscal stimulus is more or less simply replacing the $1 trillion of deflation.
The Bank of Japan has tripled its asset purchases (monetary stimulus and support of the stock and bond markets) with little apparent effect on conventional measures of inflation.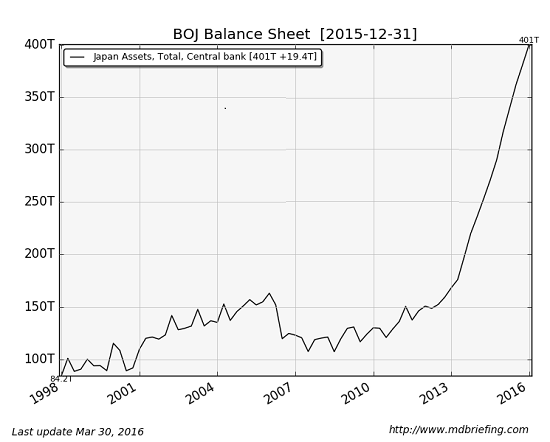 This print-to-offset deflationary declines may appear to be stable and sustainable, but the expansion of bonds (to fund fiscal stimulus) accrues interest, which even at low rates eventually starts burdening state spending.
All this new currency doesn't necessarily lead to productive spending or investment; rather, it may increase mal-investment and systemic asymmetries that eventually destabilize the entire financial system.
Japan has managed to offset decades of deflationary dynamics, but at a cost that is hidden beneath the surface of apparent stability. Building bridges to nowhere and creating money from thin air to buy stocks and bonds only appears sustainable because the risks and imbalances are piling up out of sight. Eventually the "perfect balance" between deflation and inflation tips one way or the other, and a systemic crisis "nobody saw coming" unfolds.


If you found value in this content, please join me in seeking solutions by becoming a $1/month patron of my work via patreon.com.
Check out both of my new books, Inequality and the Collapse of Privilege ($3.95 Kindle, $8.95 print) and Why Our Status Quo Failed and Is Beyond Reform ($3.95 Kindle, $8.95 print, $5.95 audiobook) For more, please visit the OTM essentials website.
---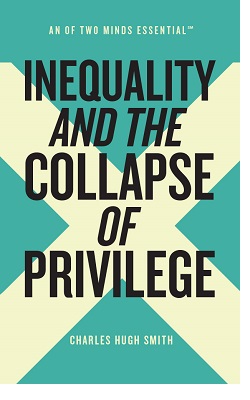 Inequality is rising globally, and rising inequality is destabilizing. A status quo of increasing inequality self-destructs. To avoid this fate, we must answer this question: why is the gulf between the wealthy and everyone else widening so dramatically?
The answer boils down to one word: privilege.
What is privilege? There are many types of privilege, but they all share two characteristics: privilege delivers benefits, wealth and power that are unearned.
Privilege is destabilizing for many reasons: the dead weight of privilege reduces productivity, generates perverse incentives and fuels social injustice. Innovation and competition are threats to privileged monopolies and are therefore suppressed.
The only way to foster sustainable stability is to dismantle institutionalized privilege.
We have a moral imperative to eradicate privilege: privilege is immoral, as rising inequality is the only possible output of privilege. Privilege is exploitive, parasitic, predatory and destructive to the society and economy, and generates inequality by its very nature.
Stripped to its essence, privilege is nothing but institutionalized racketeering.
The only way to reverse rising inequality is to eradicate its source: privilege.
Inequality and the Collapse of Privilege ($3.95 Kindle ebook, $8.95 print edition)
---
Recent entries:
Does the World End in Fire or Ice? Thoughts on Japan and the Inflation/Deflation Debate May 23, 2017
TINA's Legacy: Free Money, Bread and Circuses and Collapse May 22, 2017
Want to Understand Rising Wealth Inequality? Look at Debt and Interest May 19, 2017
The Soft Underbelly of Scandinavian "High-Tax Happy-Capitalism" May 18, 2017
Why We're Fragmenting: The Status Quo Is Disintegrating May 17, 2017
State of Denial: The Economy No Longer Works As It Did in the Past May 16, 2017
Globalization and the Rural-Urban Divide May 15, 2017
Mao and the Middle Class: What's the Source of Political Power? May 11, 2017
How Higher Education Became an Obscenely Profitable Racket That Enriches the Few at the Expense of the Many (Student Debt-Serfs) May 10, 2017
What's Killing the Middle Class? (Part 2) May 9, 2017
What's Killing the Middle Class? (Part 1) May 8, 2017
There Is One Way Out of Debt-Serfdom: Fanatic Frugality May 4, 2017
Redefining the Middle Class: It Isn't What You Earn and Owe, It's What You Own That Generates Income May 3, 2017
The Elites Have Destroyed the Status Quo's Ability to Self-Correct May 2, 2017
International Workers' Day: Profitable Work Will Be Automated, The Rest Will Be Left to Us May 1, 2017


May 2017 April 2017 March 2017 February 2017 January 2017 2016 Archives 2015 Archives Archives 2005-2016
---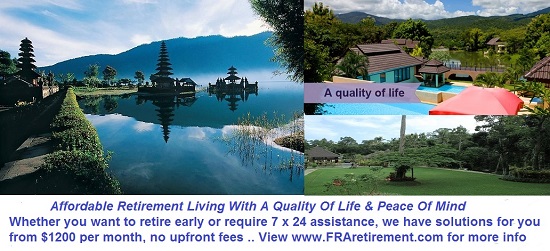 Discover why I'm looking to retire in a SE Asia luxury resort for $1,200/month.

---
Contributions/subscriptions are acknowledged in the order received. Your name and email remain confidential and will not be given to any other individual, company or agency. All contributors are listed below in acknowledgement of my gratitude.
| | | |
| --- | --- | --- |
| Thank you, Christopher R. ($5/month), for your splendidly generous pledge to this site -- I am greatly honored by your support and readership. | | Thank you, Tim B. ($50), for your massively generous contribution to this site -- I am greatly honored by your steadfast support and readership. |
---
---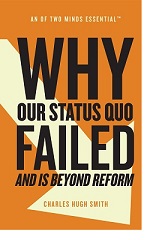 Our status quo--the pyramid of wealth and power dominated by the few at the top--has failed and is beyond reform.
This failure is not rooted in superficial issues such as politics or governmental regulations; the failure is structural.
The very foundation of the status quo has rotted away, and brushing on another coat of reformist paint will not save our societal house from collapse.
Yet those who benefit from our status quo naturally deny it has failed, for the reason that it has yet to fail them personally—either pretending to not understand that all unsustainable systems eventually collapse, or hoping to postpone it.
Our status quo is not only failing to solve humanity's six core problems--it has become the problem.
Since this failure is now inevitable, something is coming to replace it.
Why Our Status Quo Failed and Is Beyond Reform ($3.95 Kindle ebook, $8.95 print edition, $5.95 audiobook)


---
A Radically Beneficial World
: Automation, Technology & Creating Jobs for All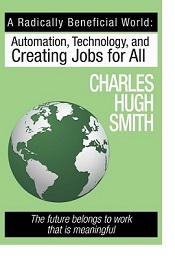 Kindle $9.95
print $25
audiobook $18
Automation is upending the global order by eliminating human labor on an unprecedented scale--and the status quo has no solution to this wholesale loss of jobs.
What if we could hit the reset button on the way we create money, work, commerce and community? What if we could design a social economy rather than a merely financial one? These are not idle questions, for technology now enables us to hit that reset button and organize the creation of money, work, commerce and community in new ways.
If we could start from scratch, what would a new system look like? Clearly, we need a system that offers what the current system cannot: meaningful work for all.
This book is the practical blueprint of a new system that offers opportunities for meaningful work and ownership of the sources of prosperity not just to a few, but to everyone.
A radically beneficial world beckons—what are we waiting for? Introduction Chapter One (free PDF)
---
Get a Job, Build a Real Career and Defy a Bewildering Economy
(Kindle, $9.95)(print, $17.76)
audiobook, $19.95
(Audible.com)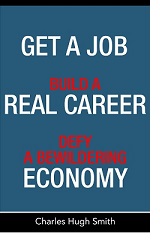 "Don't give this to a recent grad. Read it when your kids are born and then read it with them around eighth grade."
"Finally a book that gives practical career advice. The author does an excellent job describing the current economic and political system and how this affects employment opportunities. Times have changed dramatically, and will continue to do so faster than ever. I'm glad I stumbled upon this excellent book, and will begin preparing myself accordingly." Joseph
"I want to thank you for creating your book Get a Job. It is rare to find a person with a mind like yours, who can take a holistic systems view of things without being captured by specific perspectives or agendas. Your contribution to humanity is much appreciated." Laura Y. Test-drive the first section and see for yourself.
---
---
Of Two Minds Site Links
home musings my books archives books/films policies/disclosures social media/search Aphorisms How to Contribute, Subscribe/Unsubscribe sites/blogs of interest original music/songs Get a Job (book) contributors my definition of success why readers donate/subscribe to Of Two Minds mobile site (Blogspot) mobile site (m.oftwominds.com)