Our State-Corporate Plantation Economy
April 21, 2017
We've been persuaded that the state-cartel Plantation Economy is "capitalist," but it isn't. It's a rentier skimming machine.
I have often discussed the manner in which the U.S. economy is a Plantation Economy, meaning it has a built-in financial hierarchy with corporations at the top dominating a vast populace of debt-serfs/ wage slaves with little functional freedom to escape the system's neofeudal bonds.
Since I spent some of my youth in a classic Plantation town (and worked on the plantation as a laborer in summer), the concept of a Plantation Economy is not an abstraction to me, but a living analogy of the way our economy works.
Wal-Mart and the Plantation Economy (August 24, 2010)
Colonizing the Plantation of the Mind (August 25, 2010)
We Need a Social Economy, Not a Hyper-Financialized Plantation Economy (November 12, 2015)
Loving Our Servitude in America's Plantation Economy (February 10, 2017)
The Plantation Economy is extremely hierarchical. Corporations and the state are both extremely hierarchical.
In the Plantation Economy, the Company has access to nearly unlimited credit. Small businesses serving the employees and the employees have enough credit to live on but not enough to buy productive assets. As a result, the Corporation can always buy up any productive assets, expanding its monopoly.
The state also has an essentially unlimited line of credit which it can use to fund its favored cartels and state fiefdoms.
In the Plantation Economy, the Company suppresses any innovation that threatens its monopoly and the state enforces whatever means the Corporation deploys: buying up patents and small companies, predatory pricing to bankrupt competitors, etc.
The Plantation Economy is a mono-culture of large corporations and their partner in rentier skimming, the state. Our economy is a state-cartel finance-debt system; it's only capitalist on the margins, that is, in the fringes that aren't profitable enough for corporations to control.
The core feature of this Plantation Economy is the privileges of accumulating capital are all in the hands of the state-cartel elites. The foundation of classical capitalism is the accumulation of capital, which in our era is not just cash, factories, mines, etc.--financial and industrial capital--but knowledge capital: intellectual property, knowledge of processes, creation and control of content, research and development, control of information streams (that is, maintaining information asymmetry) and so on.
Those with unlimited access to low-cost credit can buy up or control all productive capital, including the labor of knowledge-based workers.
When an economy is optimized for global corporations, the only possible result of this arrangement is a Plantation Economy. Our economy is optimized for corporations: they have access to unlimited low-cost credit, their capital can be shifted around the globe at a moment's notice (i.e. it is mobile), they have the tax advantages of incorporation and complex tax codes, they can declare bankruptcy without any limitations and wipe out their debts, they can engage in fraud, corruption and embezzlement and face no consequence other than a modest fine, they can suppress competition and their size enables dominance of the labor market.
Imagine if all these immense advantages were granted solely to worker-owned collectives and co-ops, and corporations were de-optimized, that is, they no longer had access to credit, their employees and managers could be jailed for systemic fraud and embezzlement, they paid high fees for merely existing and they were denied the ability to buy political influence as easily as an employee buys a loaf of bread.
The problem with a Plantation Economy is that it inevitably stagnates and collapses. Suppressing competition and innovation corrodes productivity, and as productivity and social mobility both fade, so does wealth creation.
The state-cartel Plantation eventually eats all its own seed corn via the vast expansion of credit. What appears to be "wealth" in the state-cartel Plantation is illusory asset bubbles fueled by state-engineered credit expansion.
Beneath this brittle veneer of great "wealth," the real economy is stagnating. These charts reflect this reality:
Productivity: stagnant: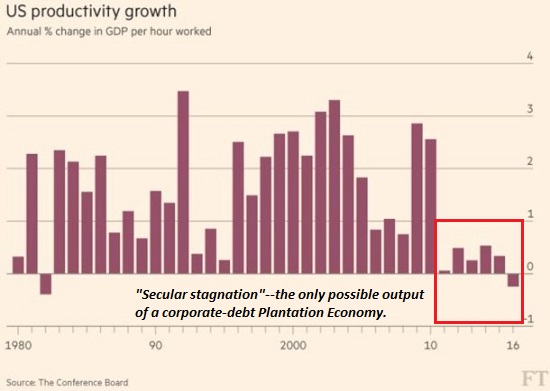 New business growth: stagnant: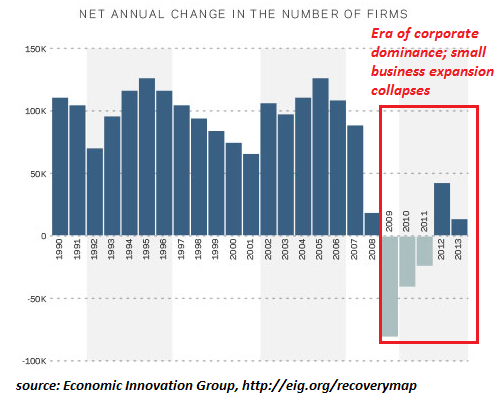 New credit-money issued to finance, monopolies and cartels: through the roof: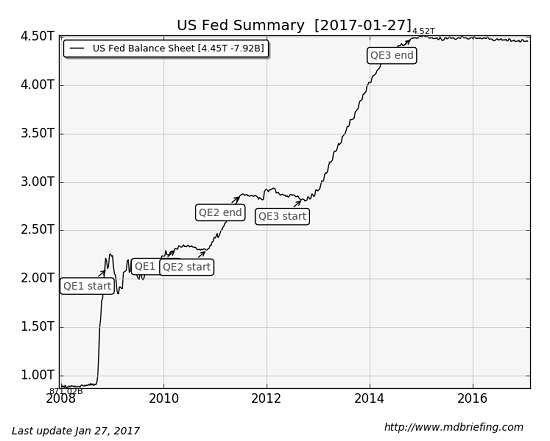 And the only possible output of the state-cartel Plantation Economy: runaway wealth and income inequality. There is no other possible output of our system.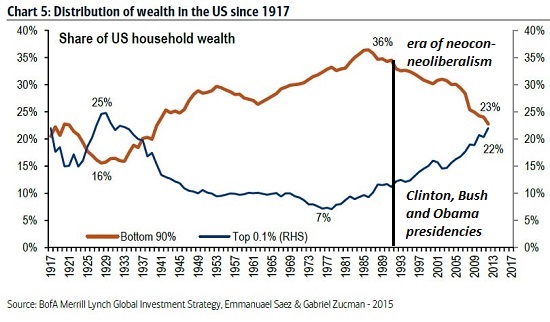 We've been persuaded that the state-cartel Plantation Economy is "capitalist," but it isn't. It's a rentier skimming machine. Capitalism enables the accumulation of capital by anyone in a transparent market, and the capitalist state enforces a level playing field.
There's the get-to-work horn, people. Time to labor for the rentier skimming machine and its enforcer, the state, to pay your taxes, student loans, mortgages, and all your other neofeudal "obligations" to the state-cartel elites.
For more on the inevitable collapse of Plantation economies, please see my book Why Our Status Quo Failed and Is Beyond Reform ($3.95 Kindle, $8.95 print, $5.95 audiobook.


If you found value in this content, please join me in seeking solutions by becoming a $1/month patron of my work via patreon.com.
Check out both of my new books, Inequality and the Collapse of Privilege ($3.95 Kindle, $8.95 print) and Why Our Status Quo Failed and Is Beyond Reform ($3.95 Kindle, $8.95 print, $5.95 audiobook) For more, please visit the OTM essentials website.
---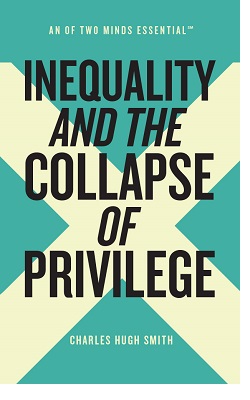 Inequality is rising globally, and rising inequality is destabilizing. A status quo of increasing inequality self-destructs. To avoid this fate, we must answer this question: why is the gulf between the wealthy and everyone else widening so dramatically?
The answer boils down to one word: privilege.
What is privilege? There are many types of privilege, but they all share two characteristics: privilege delivers benefits, wealth and power that are unearned.
Privilege is destabilizing for many reasons: the dead weight of privilege reduces productivity, generates perverse incentives and fuels social injustice. Innovation and competition are threats to privileged monopolies and are therefore suppressed.
The only way to foster sustainable stability is to dismantle institutionalized privilege.
We have a moral imperative to eradicate privilege: privilege is immoral, as rising inequality is the only possible output of privilege. Privilege is exploitive, parasitic, predatory and destructive to the society and economy, and generates inequality by its very nature.
Stripped to its essence, privilege is nothing but institutionalized racketeering.
The only way to reverse rising inequality is to eradicate its source: privilege.
Inequality and the Collapse of Privilege ($3.95 Kindle ebook, $8.95 print edition)
---
Recent entries:
Our State-Corporate Plantation Economy April 21, 2017
Marx, Orwell and State-Cartel Socialism April 20, 2017
Our Intellectual Bankruptcy: The "Religion" of Economics, UBI and Medicare For All April 19, 2017
The Left's Descent to Fascism April 18, 2017
What's Your Plan B? April 17, 2017
The U.S. and China: Why the Sudden Convergence on North Korea? April 14, 2017
Millennials Are Homesteading, Buying Affordable Homes, Building Community April 13, 2017
Millennials Are Abandoning the Postwar Engines of Growth: Suburbs and Autos April 12, 2017
Who's Playing The Long Game--and What's Their Game Plan? April 11, 2017
The Media's Missing the Point: Syria, Empire and the Power of Signaling April 10, 2017


April 2017 March 2017 February 2017 January 2017 2016 Archives 2015 Archives Archives 2005-2016
---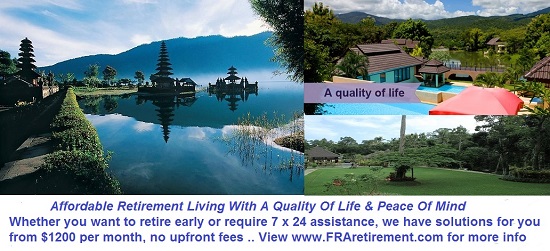 Discover why I'm looking to retire in a SE Asia luxury resort for $1,200/month.

---
Contributions/subscriptions are acknowledged in the order received. Your name and email remain confidential and will not be given to any other individual, company or agency. All contributors are listed below in acknowledgement of my gratitude.
| | | |
| --- | --- | --- |
| Thank you, Leah M. ($5/month), for your marvelously generous subscription to this site -- I am greatly honored by your support and readership. | | Thank you, C.R.S. ($5/month), for your splendidly generous subscription to this site -- I am greatly honored by your support and readership. |
---
---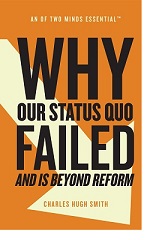 Our status quo--the pyramid of wealth and power dominated by the few at the top--has failed and is beyond reform.
This failure is not rooted in superficial issues such as politics or governmental regulations; the failure is structural.
The very foundation of the status quo has rotted away, and brushing on another coat of reformist paint will not save our societal house from collapse.
Yet those who benefit from our status quo naturally deny it has failed, for the reason that it has yet to fail them personally—either pretending to not understand that all unsustainable systems eventually collapse, or hoping to postpone it.
Our status quo is not only failing to solve humanity's six core problems--it has become the problem.
Since this failure is now inevitable, something is coming to replace it.
Why Our Status Quo Failed and Is Beyond Reform ($3.95 Kindle ebook, $8.95 print edition, $5.95 audiobook)


---
A Radically Beneficial World
: Automation, Technology & Creating Jobs for All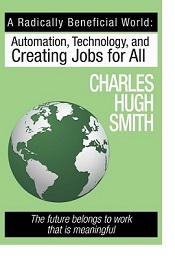 Kindle $9.95
print $25
audiobook $18
Automation is upending the global order by eliminating human labor on an unprecedented scale--and the status quo has no solution to this wholesale loss of jobs.
What if we could hit the reset button on the way we create money, work, commerce and community? What if we could design a social economy rather than a merely financial one? These are not idle questions, for technology now enables us to hit that reset button and organize the creation of money, work, commerce and community in new ways.
If we could start from scratch, what would a new system look like? Clearly, we need a system that offers what the current system cannot: meaningful work for all.
This book is the practical blueprint of a new system that offers opportunities for meaningful work and ownership of the sources of prosperity not just to a few, but to everyone.
A radically beneficial world beckons—what are we waiting for? Introduction Chapter One (free PDF)
---
Get a Job, Build a Real Career and Defy a Bewildering Economy
(Kindle, $9.95)(print, $17.76)
audiobook, $19.95
(Audible.com)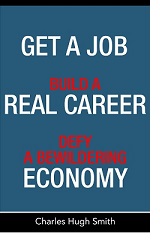 "Don't give this to a recent grad. Read it when your kids are born and then read it with them around eighth grade."
"Finally a book that gives practical career advice. The author does an excellent job describing the current economic and political system and how this affects employment opportunities. Times have changed dramatically, and will continue to do so faster than ever. I'm glad I stumbled upon this excellent book, and will begin preparing myself accordingly." Joseph
"I want to thank you for creating your book Get a Job. It is rare to find a person with a mind like yours, who can take a holistic systems view of things without being captured by specific perspectives or agendas. Your contribution to humanity is much appreciated." Laura Y. Test-drive the first section and see for yourself.
---
---
Of Two Minds Site Links
home musings my books archives books/films policies/disclosures social media/search Aphorisms How to Contribute, Subscribe/Unsubscribe sites/blogs of interest original music/songs Get a Job (book) contributors my definition of success why readers donate/subscribe to Of Two Minds mobile site (Blogspot) mobile site (m.oftwominds.com)