Coming to a Market Near You in October: Crash! (April 10, 2006)


Though history doesn't repeat, it does tend to echo, for the simple reason that history and markets are both expressions of human emotions. Emotions, of course, form a limited palette, and so the primary ones--for instance, greed, euphoria, panic and fear--get recycled as circumstances develop which trigger these responses.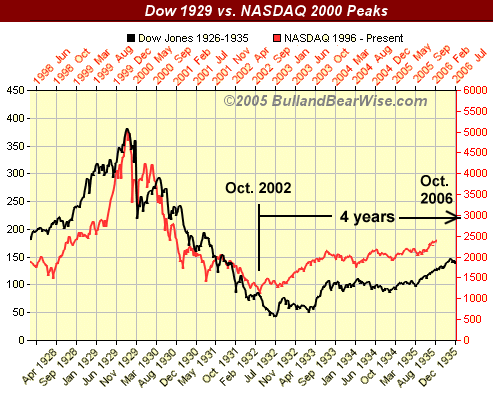 *
*
*
*
*
*
*
*
*
*
*
*
*
*
*
*
*
*
*
*
*
*
*
*

Here are two charts worth pondering. The first is an overlay of the Great Stock Market Bubble of 1929 and the recent Great Tech Stock Nasdaq Bubble of 2000. This overlay reveals remarkable similarity of the two bubbles' pattern: a sharp rise and crash followed by a smaller "echo of the bubble" which lasts four to five years before the final exhaustion of greed.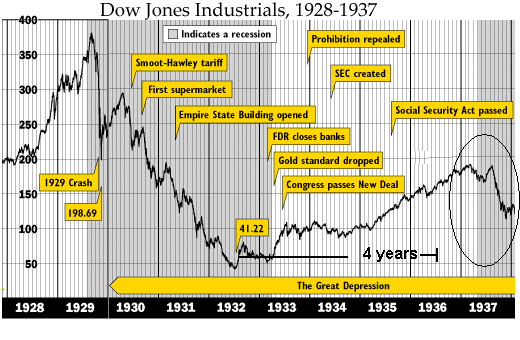 *
*
*
*
*
*
*
*
*
*
*
*
*
*
*
*
*
*
*
*

The second shows how the Dow Jones "echo-bubble" burst in 1937, about five years after the post-crash low of 1932. A cursory glance would suggest that the Nasdaq "echo-bubble" will finally run its course five years after its nadir in October 2002. But that would be discounting another stock market pattern with an extraordinarily regular history: the four-year presidential cycle.

According to this pattern, stock market lows are typically struck in the even-numbered year between presidential elections. While the Dow obviously dodged this bullet in 1936--the final collapse occured a year later, in 1937--the cycle has been remarkably prescient since 1948. In the recent past, the markets hit their lows right on schedule in 1990, 1994, 1998 and 2002; the only real anomaly in the past two decades was the mini-crash which occured in 1987 rather than 1986.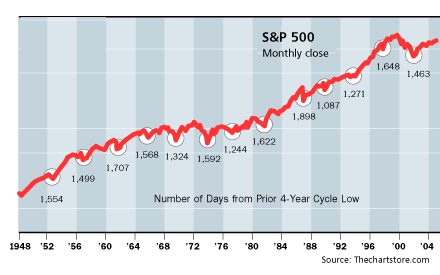 *
*
*
*
*
*
*
*
*
*
*
*
*
*
*
*
*
The four-year cycle, a modern mainstay of market patterns, suggests that a major low will occur in October of this year. With the wheels falling off the housing market and financial risks being discounted to near-zero in the bond market, the stage is set for not just a minor drop but one which grabs euphoria and greed and transforms them abruptly into chilling fear and widespread panic. Welcome to the modern echo of 1937.


For more on this subject and a wide array of other topics, please visit my weblog.







copyright © 2006 Charles Hugh Smith. All rights reserved in all media.

I would be honored if you linked this wEssay to your site, or printed a copy for your own use.