Of Two Minds Site Links
home musings my books archives books/films policies/disclosures social media/search Aphorisms How to Contribute, Subscribe/Unsubscribe sites/blogs of interest original music/songs Get a Job (book) contributors my definition of success why readers donate/subscribe to Of Two Minds mobile site (Blogspot) mobile site (m.oftwominds.com)

---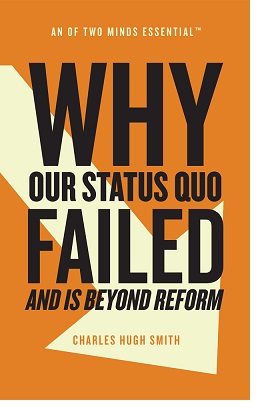 Our status quo--the pyramid of wealth and power dominated by the few at the top--has failed and is beyond reform.
This failure is not rooted in superficial issues such as politics or governmental regulations; the failure is structural.
The very foundation of the status quo has rotted away, and brushing on another coat of reformist paint will not save our societal house from collapse.
Yet those who benefit from our status quo naturally deny it has failed, for the reason that it has yet to fail them personally—either pretending to not understand that all unsustainable systems eventually collapse, or hoping to postpone it.
Our status quo is not only failing to solve humanity's six core problems--it has become the problem.
Since this failure is now inevitable, something is coming to replace it. We must each understand why our status quo has failed, and why the usual menu of reforms can't stop this failure, so we can prepare ourselves for the radical transformations ahead.
Why Our Status Quo Failed and Is Beyond Reform ($3.95 Kindle ebook, $8.95 print edition)



---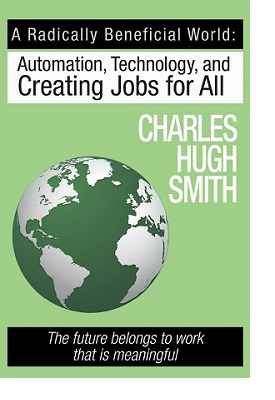 Automation is upending the global order by eliminating human labor on an unprecedented scale--and the status quo has no solution to this wholesale loss of jobs.
What if we could hit the reset button on the way we create money, work, commerce and community? What if we could design a social economy rather than a merely financial one?
These are not idle questions, for technology now enables us to hit that reset button and organize the creation of money, work, commerce and community in new ways.
If we could start from scratch, what would a new system look like? Clearly, we need a system that offers what the current system cannot: meaningful work for all.
This book is the practical blueprint of a new system that offers opportunities for meaningful work and ownership of the sources of prosperity not just to a few, but to everyone.
Introduction Chapter One (free PDF) Kindle, $9.95 print, $25
"Certainly the author is decades ahead of his time. Humanity will eventually adopt the author's principles written in all of his books. Currently, humanity lives in delusion that the system will continue to serve them. We will see massive changes even in the next decade. Don't waste your money on college--buy the author's books and succeed." Reader

---
Get a Job, Build a Real Career and Defy a Bewildering Economy (Kindle, $9.95)(print, $17.76) audiobook, $19.95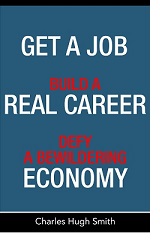 "Don't give this to a recent grad. Read it when your kids are born and then read it with them around eighth grade."
"Finally a book that gives practical career advice. The author does an excellent job describing the current economic and political system and how this affects employment opportunities. Times have changed dramatically, and will continue to do so faster than ever. I'm glad I stumbled upon this excellent book, and will begin preparing myself accordingly." Joseph
"I want to thank you for creating your book Get a Job. It is rare to find a person with a mind like yours, who can take a holistic systems view of things without being captured by specific perspectives or agendas. Your contribution to humanity is much appreciated." Laura Y.
Test-drive the first section and see for yourself.




---
Contributors and subscribers enable Of Two Minds to post 275+ free essays annually. It is for this reason they are Heroes and Heroines of New Media. Without your financial support, the free content would disappear for the simple reason that I cannot keep body and soul together on my meager book sales alone.
Or send coins, stamps or quatloos via mail--please request P.O. Box address.
Subscribers ($5/mo) and those who have contributed $50 or more annually (or made multiple contributions totalling $50 or more) receive weekly exclusive Musings Reports via email ($50/year is about 96 cents a week).
Each weekly Musings Report offers six features:
1. Exclusive essay on a diverse range of topics
2. Summary of the blog this week
3. Best thing that happened to me this week
4. Market Musings--commentary on the economy & global markets
5. From Left Field (a limited selection of interesting links)
At readers' request, there is also a $10/month option.
What subscribers are saying about the Musings (Musings samples here):
The "unsubscribe" link is for when you find the usual drivel here insufferable.
Dwolla members can subscribe to the Musings Reports with a one-time $50 payment; please email me if you use Dwolla, as Dwolla does not provide me with your email.
---
HUGE GIANT BIG FAT DISCLAIMER:
Nothing on this site should be construed as investment advice or guidance. It is not intended as investment advice or guidance, nor is it offered as such.... (read more)
All content, HTML coding, format design, design elements and images copyright © Charles Hugh Smith, All global rights reserved in all media, unless otherwise credited or noted. I am honored if you link to this essay, or print a copy for your own use.
Terms of Service:
All content on this blog is provided by Trewe LLC for informational purposes only. The owner of this blog makes no representations as to the accuracy or completeness of any information on this site or found by following any link on this site. The owner will not be liable for any errors or omissions in this information nor for the availability of this information. The owner will not be liable for any losses, injuries, or damages from the display or use of this information. These terms and conditions of use are subject to change at anytime and without notice.