Venezuela's New Cryptocurrency: Just Another Form of Control Fraud
February 23, 2018
If a currency can't be converted on demand into the underlying commodity, it's not "backed by oil," it's just another form of control fraud.
The broke and broken country of Venezuela appears to be the first nation-state to issue a cryptocurrency token (the petro) as a means of escaping the financial black hole that's consuming its economy: Maduro Launches Oil-Backed Crypto "For The Welfare Of Venezuela".
For context, here is a chart of the black market (i.e. real-world) value of the Venezuela's fiat currency, the bolivar: a 100,000 bolivar note is worth somewhere around 40 cents USD (US dollar), i.e. near zero. (Venezuela maintains a fantasy-official USD/bolivar exchange rate that has no relation to the actual purchasing-power value of Venezuela's fiat currency.)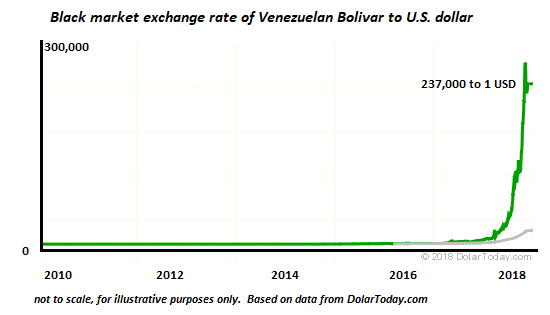 The gee-whiz component of the petro is that it is supposedly "backed by oil." In other words, unlike other cryptocurrencies/ tokens, the petro has intrinsic value because it's backed by oil.
But what does backed by oil actually mean?
The only way any currency, fiat or crypto, is "backed" by any real-world commodity is if the currency is convertible into the commodity on demand, that is, the currency can be exchanged for the commodity at a transparent published conversion rate.
If Venezuela's petro cannot be converted directly into deliverable-upon-demand oil contracts, it's not backed by anything. It's important to understand that any currency that claims to be "backed" by gold, oil, rice, bat guano, etc. must be convertible to the underlying commodity at a transparent conversion rate.
If a currency can't be converted on demand into the underlying commodity, it's not "backed by oil," it's just another form of control fraud, which I define as those holding power in centralized institutions enrich themselves at the expense of the citizenry by modifying what's legally permissible.
Conventional fraud is against the law; control fraud is legal because it benefits those who make the rules. If there is no transparent mechanism for converting petros into oil that can be sold and delivered in the global marketplace, then the petro is nothing but a central-state control fraud: those foolish enough to believe the con that the petro is "backed by oil" will end up with a worthless token.
A bit of history will clarify "backed by something real" conversion. In the 1960s, the US dollar was famously "backed by gold," which meant that other nations (via their central banks) could convert $35 USD into an ounce of gold upon demand.
As U.S. trade and federal budget deficits soared in the late 1960s, nations such as France began converting their excess dollars into physical gold. If this conversion had been allowed to continue, foreign entities would have drained all of America's gold as they converted their dollars (exported via trade deficits to other nations) into gold. As a result, the U.S. had no choice but to end the conversion of dollars to gold.
The notion that China or Russia will issue a gold-backed currency attracts considerable attention, but a currency is only "backed by gold" if a foreign financial institution can convert their yuan or rubles into gold upon demand. If there is no transparent, easy mechanism for foreign holders of the currency to convert their currency into gold upon demand, then the currency isn't actually backed by anything: it's simply a form of control fraud.
It doesn't matter if the currency is digital, paper or crypto: if it can't be directly converted into the underlying commodity at a transparent published conversion rate, it's not backed by anything.
Until a foreign financial institution successfully converts its Venezuelan petros into actual barrels of oil, or oil contracts that can be sold immediately on the global market, then the petro isn't backed by anything. Until that conversion process is functioning transparently, the petro is nothing but a giant control fraud perpetrated to benefit the few clinging to power in Venezuela at the expense of the many.


My new book Money and Work Unchained is $9.95 for the Kindle ebook and $20 for the print edition.
Read the first section for free in PDF format.


If you found value in this content, please join me in seeking solutions by becoming a $1/month patron of my work via patreon.com.
---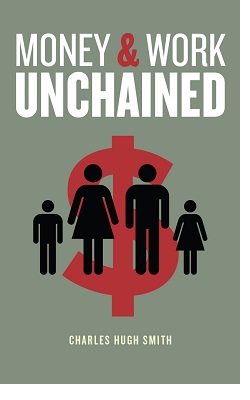 (Kindle ebook $9.95, print $20 )
This is the most important book I have written. It started when I asked myself a question: when we dream of the future of our society, are we hoping for the right things?
The current conventional-wisdom view of our soon-to-be future is rose-tinted: automation will free millions of people from the drudgery of work, then by taxing the robots doing all the work, we can pay everyone Universal Basic Income (UBI), enabling a life of leisure and artistic pursuit for all. The result: A future of Universal Happiness.
But is this accurate? Is this what UBI is actually capable of doing? More importantly, is this what we want?
And even more importantly: will this "future" be our best future? Will it account for and manage the practicalities of work, money and automation, given the limits of endless growth on a finite planet?
Money and Work Unchained drags the now-popular concept of Universal Basic Income (UBI) from the shadows of Pundit blather into a harsh, illuminating light, and in doing so presents an entirely new view of the future that upends our conventional, foundational, understanding of work and money.
This book lays out a practical pathway that realigns work, money and human fulfillment into a sustainable system that sheds the inequalities and injustices of the status quo in favor of a human-scale way of living.
And – it gives us a future to truly hope for.
Kindle ebook $9.95, print $20)
---
Recent entries:
Venezuela's New Cryptocurrency: Just Another Form of Control Fraud February 23, 2018
The End of (Artificial) Stability February 21, 2018
Russian Meddling: Gagging on the Irony February 19, 2018
Our Approaching Winter of Discontent February 16, 2018
The Ghosts of 1968 February 14, 2018
What Just Changed? February 12, 2018
Three Crazy Things We Now Accept as "Normal" February 9, 2018
Before You "Buy the Dip," Look at This One Chart February 7, 2018
Is the 9-Year Long Dead Cat Bounce Finally Ending? February 6, 2018
Is Congress Finally Pushing Back Against Security Agencies' Over-Reach? February 5, 2018
Political Correctness Serves the Ruling Elite February 2, 2018


January 2018 December 2017 2017 Archives &nbsp 2016 Archives 2015 Archives Archives 2005-2017
---

---
Contributions/subscriptions are acknowledged in the order received. Your name and email remain confidential and will not be given to any other individual, company or agency. All contributors are listed below in acknowledgement of my gratitude.
| | | |
| --- | --- | --- |
| Thank you, Cheryl A. ($50), for your superlatively generous contribution to this site -- I am greatly honored by your steadfast support and readership. | | Thank you, Barry H. ($5/month), for your splendidly generous pledge to this site -- I am greatly honored by your support and readership. |
---
---
---
---
Of Two Minds Site Links
home musings my books archives books/films policies/disclosures social media/search Aphorisms How to Contribute, Subscribe/Unsubscribe sites/blogs of interest original music/songs Get a Job (book) contributors my definition of success why readers donate/subscribe to Of Two Minds mobile site (Blogspot) mobile site (m.oftwominds.com)