Trust VI: Trust, Maturity and Faith: Yojimbo and Heart of the Matter (October 7, 2006)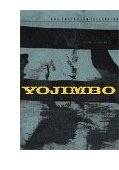 To wrap up the week's theme of "trust," let's look at the theme in a film--the Japanese samurai classic Yojimbo
by Akira Kurosawa, and a book-- Heart of the Matter
by Graham Greene, one of the most revered writers of the 20th century.

Yojimbo is a vastly entertaining action film with all the elements of that genre: fast pace, surprising plot turns, and a justly famous samurai showdown.

But the central theme of the film is the difficulty of properly assessing trust and mistrust, and how the ability to do so is an essential feature of maturing from idealistic youth to seasoned adult.

The plot setup is straightforward: nine idealistic samurai youths band together to clean their clan of corruption. The chief administrator is unsympathetic and thus earns their distrust. The friendly chamberlain is keen to help, and they are enthusiastic in their praise of him. Full of trust, they agree to meet him at an abandoned house.

Unbeknownst to them, a wandering ronin (masterless samurai) played by the peerless Toshiro Mifune, has been sleeping in the back room, listening. They don't trust him at all, of course, even as he ascertains that the chamberlain is untrustworthy and plans to have them killed. Sure enough, dozens of armed men appear outside and only Mifune's quick thinking saves the young idealists from a sure death.

Despite his obvious skills in parsing out who is trustworthy and who is not in the shifting loyalties and politics of the clan, the young hotheads continue to distrust Mifune; this desire to make those calculations themselves leads again and again to near-disaster. Each time, Mifune's experience and moxie enables him to evade far superior forces.

At the film's conclusion, trust of another sort takes the stage. The evil samurai who was the corrupt chamberlain's right-hand man, played by the great Tatsuya Nakadai, feels that Mifune's manipulation of his trust was treachery of the blackest sort. Mifune explains that he had no choice but to mislead Nakadai (the details I will leave to the film). Nakadai says he cannot rest easy, and demands the satisfaction of a sword duel to the death.

This is rich moral territory. So misleading the idealistic in order to eliminate them is treachery, but then so is misleading the evil servants of corruption--if you are the evil servant. But from the point of view of our hero, the false trust/treachery was simply an unavoidable part of saving the young idealists from destruction.

By the film's end, the young idealists now appreciate Mifune's ability to sort out who deserves trust. This skill comes only with experience and maturity, and they have received a master class in trust from a rough-talking, uncouth ronin--one of the film's many sly ironies.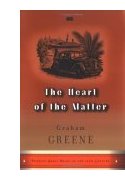 Heart of the Matter
is a book about romantic trust and religious faith. Considered one of Greene's "Catholic" books (he was an adult convert to Catholicism), the story is set in an African outpost of the British Empire in the early days of World War II.

The local chief of Police, an Englishmen, has overstayed his tour of duty--"gone native," as the saying goes. He has grown wise in the ways of the local tribespeople, and no longer attempts to impose a British version of "justice" on their squabbles and petty corruption. His wife loathes the place, but he is quite satisifed with his position. He was in line for the top colonial administration post, a step up his wife longs for, but he is passed over.

Here, too, the central issue is: who do you trust? Various Arab traders are smuggling diamonds out of the colony, and all police attempts to discover the methods come to naught; the police are suspected of being "on the take" and the wily traders do in fact offer a variety of bribes. Our hero is honest, but is suspected of being dishonest.

In his wife's absence, our hero has the misfortune of falling passionately in love with a younger Englishwoman who is marooned in the colony. This sets up the story's central conflict: both women trust him, and yet he has to abandon or lie to one. Which one? This moral dilemma--which bond of trust to break--is unresolvable.

At one point in the book, a character considers suicide as an escape from the cruel grip of a moral double-bind. But killing oneself is a mortal sin and against God's wishes; but then, isn't God forgiving? Which can the character truly trust? The church's rule that suicide is unforgivable, or God's limitless forgiveness of all sins, once one repents?

Exactly how deep is your trust in God's forgiveness? It is only when the burden of sin is great that you really ponder what faith and trust in God really mean.



For more on this subject and a wide array of other topics, please visit my weblog.







copyright © 2006 Charles Hugh Smith. All rights reserved in all media.

I would be honored if you linked this wEssay to your site, or printed a copy for your own use.