Bull or Bear? The Ultimate Source of Market Instability
March 23, 2023
Everyone wants a trend they can trade for effortless gains. That may no longer be realistic.


Market commentators tend to focus on Bulls and Bears and Federal Reserve policies as drivers of stock market gyrations, but there's a far more profound dynamic working beneath these veneers:
the forces of
adaptation and evolution
transforming the economy and society as conditions change.
While the general expectation is that the post-Covid economy "should" revert to the stability of 2019, this ignores what was already unraveling in 2019.
The global economy experienced fundamental shifts in technology, production, energy, capital flows, labor, currencies and geopolitics in the past 25 years, and all these forces are not just in motion but accelerating in ways that are destabilizing the status quo.
The necessity of adaptation and evolution can be summed up very simply: adapt or die.
This is the natural state not just of Nature and species but of systems such as societies and economies. Those which cling on to failing models stagnate and decay, while those which embrace dissent, transparency and a constant churn of experimentation and trial-and-error will adapt and evolve and emerge stronger and more adaptable.
The US economy went through a comparable period of instability and forced adaptation in the 1970s
, a dynamic I explored in
The Forgotten History of the 1970s
(January 13, 2023). Everyone benefiting from the status quo arrangements fought the much-needed changes tooth and nail, and so progress was uneven. Transitioning to a more efficient and responsive industrial base required tremendous capital investments and scaling up new technologies.
The transition is more costly and takes more time than we would like; the 1970s transition took about a decade. We can anticipate a similar scale of capital investment and time will be needed for this structural adaptation.
As the chart below illustrates, the 1970s was characterized by high inflation and big swings up and down in the stock market.
Successful adaptations generated hope for quick recovery, while lagging adaptations tempered the hope with painful realities.
Again, it is likely that the decade ahead will track this same general dynamic of big swings generated by hope that the worst is over and the realities that progress is only partial and instability still reigns.
Everyone wants a trend they can trade for effortless gains. That may no longer be realistic.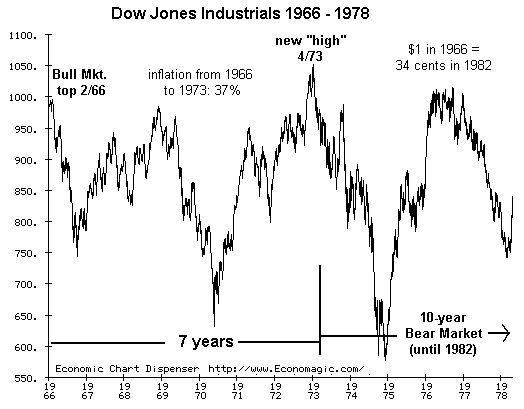 New Podcast:
Turmoil Ahead As We Enter The New Era Of 'Scarcity'
(53 min)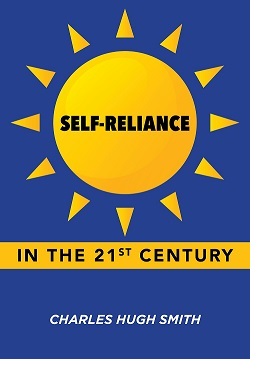 My new book is now available at a 10% discount ($8.95 ebook, $18 print): Self-Reliance in the 21st Century.
Read the first chapter for free (PDF)
Read excerpts of all three chapters
Podcast with Richard Bonugli: Self Reliance in the 21st Century (43 min)


My recent books:

The Asian Heroine Who Seduced Me (Novel) print $10.95, Kindle $6.95 Read an excerpt for free (PDF)

When You Can't Go On: Burnout, Reckoning and Renewal $18 print, $8.95 Kindle ebook; audiobook Read the first section for free (PDF)

Global Crisis, National Renewal: A (Revolutionary) Grand Strategy for the United States (Kindle $9.95, print $24, audiobook) Read Chapter One for free (PDF).

A Hacker's Teleology: Sharing the Wealth of Our Shrinking Planet (Kindle $8.95, print $20, audiobook $17.46) Read the first section for free (PDF).

Will You Be Richer or Poorer?: Profit, Power, and AI in a Traumatized World
(Kindle $5, print $10, audiobook) Read the first section for free (PDF).

The Adventures of the Consulting Philosopher: The Disappearance of Drake (Novel) $4.95 Kindle, $10.95 print); read the first chapters for free (PDF)

Money and Work Unchained $6.95 Kindle, $15 print) Read the first section for free


Become a $1/month patron of my work via patreon.com.


---
When You Can't Go On: Burnout, Reckoning and Renewal
( $18 print, $8.95
Kindle ebook
;
audiobook
)
When I burned out, what I wanted but could not find was a practical guide by someone who had experienced burnout themselves.
None of the material I found spoke to what I was experiencing or to my sense that our economy is now optimized to burn people out.
I decided to write the guide I wanted but could not find. This is my experience of burnout, reckoning and renewal.
This book is my account of what helped me. The intended audience is other burnouts and those who want to better understand the experience of burnout.
Burnout is a life-changing experience in a good way, as absurd as that may sound to those in the depths of burnout. To paraphrase Samuel Beckett: I canít go on but I must go on. There is a way forward.
Read the first section for free (PDF). The Introduction
The Epidemic Nobody Talks About: Burnout


---
Global Crisis, National Renewal: A (Revolutionary) Grand Strategy for the United States
( $22.50 print, $9.95
Kindle ebook
,
audiobook
)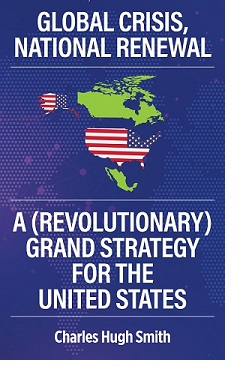 Nations that embrace Degrowth and social cohesion will survive.
Those that cling to "waste is growth" economies and destabilizing extremes of inequality will perish.
The threats to the republic are unprecedented, and conventional responses are an accelerant of collapse: the status quo is now the problem rather than the solution.
We have an opportunity to redraw Americaís Grand Strategy from the ground up. Should we fail to do so, the United States will fail, along with all the other nation-states that are incapable of grasping degrowth and social unity as solutions.
This revolutionary Grand Strategy will be the deciding factor between nation-states that fail and the few (if any) that will not just survive but actually thrive.
Read Chapter One for free (PDF). Read the Introduction
Podcast discussing the book: A Grand Strategy to Address the Global Crisis (54 min., with Richard Bonugli)
---
Recent entries:
Bull or Bear? The Ultimate Source of Market Instability March 23, 2023
Welcome to the Era of Warring Elites March 21, 2023
We've Forgotten That Business-Cycle Recessions Are Essential March 20, 2023
Funny Things Happen on the Way to "Restoring Financial Stability" March 16, 2023
Banks, Banks, Banks: The Elephant Nobody Even Sees March 14, 2023
Chart of the Month: Any Questions? March 11, 2023
If AI Can't Overthrow its Corporate/State Masters, It's Worthless March 9, 2023
What If There Are No Solutions? March 7, 2023
What If the Whole Point Is to End "The Fed Put"? March 5, 2023
The Easy Jobs Are (Mostly) Gone March 3, 2023
The Forces Upending the Global Economy Cannot be Reversed March 1, 2023


January 2023 entries February 2023 entries



2022 archives Archives 2005-2022
---

---
Contributions/subscriptions are acknowledged in the order received. Your name and email remain confidential and will not be given to any other individual, company or agency. All contributors are listed below in acknowledgement of my gratitude.
| | | |
| --- | --- | --- |
| Thank you, Margaret S. ($54), for your monumentally generous contribution to this site -- I am greatly honored by your support and readership. | | Thank you, Stephen F. ($5/month), for your marvelously generous contribution to this site -- I am greatly honored by your support and readership. |
---
---
---
---
---
---
Of Two Minds Site Links
home musings my books archives books/films policies/disclosures social media/search Aphorisms How to Contribute, Subscribe/Unsubscribe sites/blogs of interest original music/songs Get a Job (book) contributors my definition of success why readers donate/subscribe to Of Two Minds mobile site (Blogspot) mobile site (m.oftwominds.com)
Extra-Special Bonus Aphorisms:
"There is no security on this earth; there is only opportunity."
(Douglas MacArthur)
"We are what we repeatedly do." (Aristotle)
"Do the thing and you shall have the power." (Ralph Waldo Emerson)
"Any intelligent fool can make things bigger, more complex, and more violent. It takes a touch of genius and a lot of courage to move in the opposite direction." (E.F. Schumacher, via Tom R.)
"He who will not risk cannot win." (John Paul Jones)
"When we drink coffee, ideas march in like the army." (Honore de Balzac)
"Progress is not possible without deviation." (Frank Zappa, via Richard Metzger)
"Victory favors those who take pains." (amat victoria curam)
"The man who has a garden and a library has everything." (Cicero, via Lee Bentley)
"A healthy homecooked family meal and a home garden are revolutionary acts." (CHS)
"Do you know what amazes me more than anything else? The impotence of force to organize anything." (Napoleon Bonaparte)
"The way of the Tao is reversal" Or "Reversal is the movement of Tao." (Lao Tzu)
"Chance favours the prepared mind." (Louis Pasteur)
"Success consists of going from failure to failure without loss of enthusiasm." (Winston Churchill)
"Where there is ruin, there is hope for treasures." (Rumi)
"The realm of gratitude is boundless." (CHS, 11/25/15)
"History doesn't have a reverse gear." (CHS, 12/22/15)
Smith's Law of Conservation of Risk: Every sustained action has more than one consequence. Some consequences will appear positive for a time before revealing their destructive nature. Some consequences will be intended, some will not. Some will be foreseeable, some will not. Some will be controllable, some will not. Those that are unforeseen and uncontrollable will trigger waves of other unforeseen and uncontrollable consequences. (July 8, 2014)(thanks to Lew G. for retitling the idea.)
Smith's Neofeudalism Principle #1: If the citizenry cannot replace a kleptocratic authoritarian government and/or limit the power of the financial Aristocracy at the ballot box, the nation is a democracy in name only.
The Smith Corollary to Metcalfe's Law (The Network Effect): the value of the network is created not just by the number of connected devices/users but by the value of the information and knowledge shared by users in sub-networks and in the entire network. (CHS, 4/6/16)
My Credo of Liberation: I no longer care if the power centers of our society--the distant, fortified castles of our financial feudal system--are changed by my actions, for I am liberated by the act of resistance. I am no longer complicit in perpetuating fraudulent feudalism and the pathology of concentrated power. I no longer covet signifiers of membership in the Upper Caste that serves the plutocracy. I am liberated from self-destructive consumerist-State financialization and the delusion that debt servitude and obedience to sociopathological Elites serve my self-interests. (Thank you, Klaus-Peter L., for reminding me)
"We've become a culture of excuses rather than solutions: solutions always require sustained effort and discipline." (CHS 4/9/16)
"Fraud as a way of life caters an extravagant banquet of consequences." (CHS 4/14/16)
"Creativity = problem solving = value creation." (CHS 6/4/16)
"Truth is powerful because it is the core dynamic of solving problems." (CHS 7/21/17)
"We live in a system of human emotions that masquerades as a science (economics)." (CHS 1/1/18)
"Always remember, your focus determines your reality." (George Lucas)
"Diversity is for poor people. Sameness is for the successful." (GFB)
"When power dissipates suddenly, it dissipates completely." (CHS 7/14/19)
"Disobedience is the true foundation of liberty. The obedient must be slaves." (Henry David Thoreau)
"Markets cannot price in the value of non-monetized natural assets such as diverse ecosystems." (CHS 7/14/19)
"Magical thinking isn't optimism, it is folly." CHS 1/3/22)
"Tune in (to degrowth), drop out (of hyper-consumerism and debt-serfdom) and turn on (to self-reliance and relocalizing capital and agency)." (CHS 1/5/22)
"The path to everything you desire starts here: like yourself as you are right now." (CHS 11/20/22)
"There are only two signals: how many essentials you produce and share and if you're consuming less with better results. Everything else is noise." (CHS 12/17/22)
"Liberation is no longer needing any confirmation or feedback from others or the world for one's sense of self. Wealth, fame, recognition, admiration, praise, prestige, approval, sainthood, martyrdom, success: none are needed, none are desired." (CHS 12/26/22)
"When fame, wealth, prestige, status and glory are out of reach, you're free to pursue other things." (CHS 2/6/22)