The Fascinating Psychology of Blowoff Tops
January 15, 2018
Central banks have guaranteed a bubble collapse is the only possible output of the system they've created.
The psychology of blowoff tops in asset bubbles is fascinating: let's start with the first requirement of a move qualifying as a blowoff top, which is the vast majority of participants deny the move is a blowoff top.
Exhibit 1: a chart of the Dow Jones Industrial Average (DJ-30):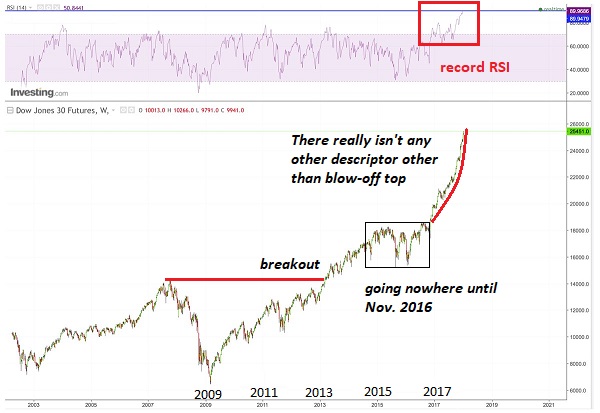 Is there any other description of this parabolic ascent other than "blowoff top" that isn't absurdly misleading? Can anyone claim this is just a typical Bull market? There is nothing even remotely typical about the record RSI (relative strength index), record Bull-Bear ratio, and so on, especially after a near-record run of 9 years.
The few who do grudgingly acknowledge this parabolic move might be a blowoff top are positive that it has many more months to run. This is the second requirement of qualifying as a blowoff top: the widespread confidence that the Bull advance has years more to run, and if not years, then many months.
In the 1999 dot-com blowoff top, participants believed the Internet would grow at phenomenal rates for years to come, and thus the parabolic move higher was fully rational.
In the housing bubble's 2006-07 blowoff top, a variety of justifications of soaring valuations and frantic flipping were accepted as self-evident.
In the present blowoff top, the received wisdom holds that global growth is just getting started, and corporate profits will soar in 2018. Therefore current sky-high valuations are not just rational, they clearly have plenty of room to rise much higher.
Skeptics are derided as perma-bears who've been wrong for 9 long years. This is the third requirement of qualifying as a blowoff top: Bears and other skeptics are mocked and/or dismissed as irrelevant.
Meanwhile, observers who haven't drunk the punch recognize this as the final leg of a 9-year orgy of central bank stimulus. Pump $14 trillion into global financial assets and all sorts of wonderful things happen, especially if the central banks make it clear in public statements that they will "do whatever it takes," i.e. assets will not be allowed to decline.
Consider the psychology in play: central bankers have sought to convince private-sector players that central banks will never let markets decline, and so the smart strategy was to buy the dips, and buy every new high--in essence buy, buy, buy and don't bother hedging long positions, as there was no need to squander money on hedges against declines that would never happen.
Now the central banks are facing runaway asset bubbles that are the direct consequence of their promoting the belief that "central banks will never let markets go down."
So how do central banks deflate the bubbles gently? How do they change the market psychology without triggering a crash? If central banks cut off the stimulus, and send messages that "now we will let markets decline," then what's the rational response? Sell, and sell everything now rather than ride the bubble collapse down.
As I've noted before, "We live in a system of human emotions that masquerades as a science (economics)." Central bankers are deluding themselves if they think they can calibrate and fine-tune human emotions. When the Bullish certainty that "central banks have our backs" erodes, the switch to bearish impulses to sell before everyone else sells will be sudden and irreversible.
In other words, the central banks have guaranteed a bubble collapse is the only possible output of the system they've created.


My new book Money and Work Unchained is $9.95 for the Kindle ebook and $20 for the print edition.
Read the first section for free in PDF format.


If you found value in this content, please join me in seeking solutions by becoming a $1/month patron of my work via patreon.com.
---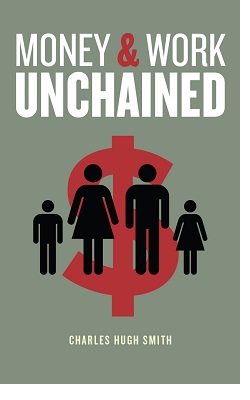 (Kindle ebook $9.95, print $20 )
This is the most important book I have written. It started when I asked myself a question: when we dream of the future of our society, are we hoping for the right things?
The current conventional-wisdom view of our soon-to-be future is rose-tinted: automation will free millions of people from the drudgery of work, then by taxing the robots doing all the work, we can pay everyone Universal Basic Income (UBI), enabling a life of leisure and artistic pursuit for all. The result: A future of Universal Happiness.
But is this accurate? Is this what UBI is actually capable of doing? More importantly, is this what we want?
And even more importantly: will this "future" be our best future? Will it account for and manage the practicalities of work, money and automation, given the limits of endless growth on a finite planet?
Money and Work Unchained drags the now-popular concept of Universal Basic Income (UBI) from the shadows of Pundit blather into a harsh, illuminating light, and in doing so presents an entirely new view of the future that upends our conventional, foundational, understanding of work and money.
This book lays out a practical pathway that realigns work, money and human fulfillment into a sustainable system that sheds the inequalities and injustices of the status quo in favor of a human-scale way of living.
And – it gives us a future to truly hope for.
Kindle ebook $9.95, print $20)
---
Recent entries:
The Fascinating Psychology of Blowoff Tops January 15, 2018
Social Change Will Upend the Status Quo January 10, 2018
Yes, But at What Cost? January 8, 2018
It's Not About Democracy: Control Fraud Is the Core of our Political System January 4, 2018
Why the Financial System Will Break: You Can't "Normalize" Markets that Depend on Extreme Monetary Stimulus January 3, 2018
A Few Resolutions for 2018 January 1, 2018


December 2017 2017 Archives &nbsp 2016 Archives 2015 Archives Archives 2005-2017
---

---
Contributions/subscriptions are acknowledged in the order received. Your name and email remain confidential and will not be given to any other individual, company or agency. All contributors are listed below in acknowledgement of my gratitude.
| | | |
| --- | --- | --- |
| Thank you, David H. ($50), for your marvelously generous contribution to this site -- I am greatly honored by your support and readership. | | Thank you, James T. ($50), for your splendidly generous contribution to this site -- I am greatly honored by your support and readership. |
---
---
---
---
Of Two Minds Site Links
home musings my books archives books/films policies/disclosures social media/search Aphorisms How to Contribute, Subscribe/Unsubscribe sites/blogs of interest original music/songs Get a Job (book) contributors my definition of success why readers donate/subscribe to Of Two Minds mobile site (Blogspot) mobile site (m.oftwominds.com)