Our Wile E. Coyote Federal Reserve
August 21, 2019
Whatever the Fed chooses to do, it's already failed..
Wile E. Coyote has gotten a bad rap: in all fairness, his schemes are ingenious, if overly complicated, and it's not his fault that the Acme detonator misfires or the Road Runner doesn't respond as predicted. Every set-up to nail the Road Runner should work. That it fails and leaves him suspended over the cliff for a woefully brief second to intuit his impending doom really isn't his fault.
Wile E. Coyote and the Federal Reserve share a lot of similarities. Just as Wile is always trying to catch the Road Runner, the Federal Reserve and other central banks have been trying for 10 years to trigger a self-sustaining economic expansion, i.e. an expansion based on the self-reinforcing dynamics of increasing productivity driving increasing wages which then fuel consumption and investment in productivity, and so on.
In a self-sustaining expansion based on fundamentals, central banks can "normalize" (raise) interest rates relatively painlessly to levels that are at least 3% above official inflation, so pension funds and other institutions that need low-risk yields can survive.
Official inflation in the U.S. is about 3% (real-world inflation is running between 8% and 13% in urban America, as per the Chapwood Index, but that's another essay), so the Fed Funds Rate should be at 6% minimum, which would set mortgages and other long-term loans at 7% or so.
A Fed Funds Rate of 6% (600 basis points) would give the Fed 500 basis points of leeway in a recession to lower rates to 1% to goose borrowing, investing and spending in a recession.
But all the central banks' intricate plans have failed, and so they are having a Wile E. Coyote moment of impending doom. The Acme Brand detonator they counted on-- negative interest rates--has failed to spark a self-sustaining expansion, and all the Fed's convoluted schemes--Operation Twist, buying a trillion dollars in sketchy home mortgages, etc.--failed to catch the prize.
And so the Fed was only able to raise rates, more or less at the last minute, by 2%-- a pathetic admission that even after a decade of central bank-dependent expansion, the Fed couldn't even raise rates into positive territory, i.e. above the official rate of inflation.
While the other central banks are falling into the abyss, the Fed is clinging to the edge of the cliff by its fingertips. Having failed to spark a self-sustaining expansion, now the Fed is left with two dismal choices: either let go and fall into the abyss of negative interest rates--doing more of what's failed miserably--or cling on and keep rates at 2% so there's some policy response left when the global recession inevitably washes up on America's shores.
Whatever the Fed chooses to do, it's already failed. The Road Runner of self-sustaining expansion got clean away, and the Fed is left holding the ominously ticking Acme Brand detonator.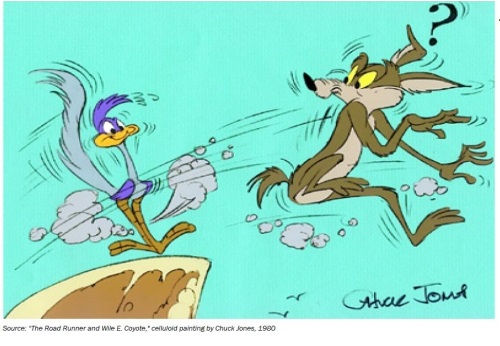 Recent podcasts: I was blessed to be invited to two terrific podcasts:
Parallels Between The Decline of the Roman Empire and America (46 minutes)
Host: Patrick Vierra of SilverBullion.com.sg
Market Huddle Episode 41 (guest: Charles Hugh Smith)
Hosts: Patrick and Kevin
(I am the first guest, then I get to do the last half-hour informal free-for-all.)


Pathfinding our Destiny: Preventing the Final Fall of Our Democratic Republic ($6.95 ebook, $12 print, $13.08 audiobook): Read the first section for free in PDF format.


My new mystery The Adventures of the Consulting Philosopher: The Disappearance of Drake is a ridiculously affordable $1.29 (Kindle) or $8.95 (print); read the first chapters for free (PDF)
My book Money and Work Unchained is now $6.95 for the Kindle ebook and $15 for the print edition. Read the first section for free in PDF format.


If you found value in this content, please join me in seeking solutions by becoming a $1/month patron of my work via patreon.com. New benefit for subscribers/patrons: a monthly Q&A where I respond to your questions/topics.
---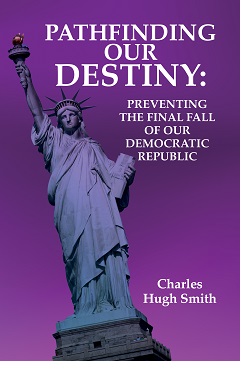 (Kindle ebook $6.95, print $12, $13.08
audiobook
)
America teeters on the precipice: our government is now captive to special interests and big money, twin cancers that threaten our democracy. This accelerating crisis is exacerbated by a toxic social media-fueled tribalism that has replaced "what do you think?" with "which side are you on?"
Our crisis isn't just political—it's structural: as the pace of change explodes from gradual to non-linear, the organizations that dominate our economy—centralized corporations and government—become destined to fail. We see this failure in both the soaring inequality that has hollowed out the American Dream as well as in the rising tide of social and political disunity.
To prevent the fall of our democratic republic, we must transform our economy and society from the ground up. As we enter a new era of rapid, unprecedented tumult, it is we citizens who will need to save our democracy. For our political and financial elites will cling to their centralized power, doing more of what's failed, even as civil society unravels.
All is not lost--yet. Our way forward starts with understanding the fatal flaws of our brittle, self-serving status quo and embracing this basic truth: better options are available if we're willing to explore.
To pathfind our way to a better destiny, we must create new localized structures optimized for resilience and adaptability—a flexible, decentralized, sustainable, democratic, opportunity-for-all nation.
Read the first section for free in PDF format.
Pathfinding our Destiny: Preventing the Final Fall of Our Democratic Republic (ebook $6.95, print $12)
---
Recent entries:
Our Wile E. Coyote Federal Reserve August 21, 2019
A Wobbling Stock Market August 19, 2019
The Road to Hell Is Paved with Virtue-Signaling August 15, 2019
Who Protected Epstein for Decades, and Why? August 14, 2019
The Internal War in the Deep State Claims Its High Profile Casualty: Jeffrey Epstein August 12, 2019
The Gulag of the Mind August 6, 2019
Nothing Is Guaranteed August 5, 2019
Main Street Small Business on the Precipice July 30, 2019
Why Is What Was Once Affordable to Many Now Only Affordable to the Wealthy? July 29, 2019
Once "Prosperity" Falters, the Legitimacy of the Status Quo Evaporates July 26, 2019
It's Not Just the News That's Fake--Everything's Fake July 24, 2019
Our Ruling Elites Have No Idea How Much We Want to See Them All in Prison Jumpsuits July 22, 2019


July 2019 June 2019 May 2019 April 2019 March 2019 February 2019 January 2019 December 2018
---

---
Contributions/subscriptions are acknowledged in the order received. Your name and email remain confidential and will not be given to any other individual, company or agency. All contributors are listed below in acknowledgement of my gratitude.
| | | |
| --- | --- | --- |
| | Thank you, Teresa W. ($50), for your marvelously generous contribution to this site-- I am greatly honored by your support and readership. | |
---
---
---
---
---
Of Two Minds Site Links
home musings my books archives books/films policies/disclosures social media/search Aphorisms How to Contribute, Subscribe/Unsubscribe sites/blogs of interest original music/songs Get a Job (book) contributors my definition of success why readers donate/subscribe to Of Two Minds mobile site (Blogspot) mobile site (m.oftwominds.com)