Our Frustrations Run Far Deeper Than Covid Lockdowns
November 24, 2020
The reality is the roulette wheel is rigged and only chumps believe it's a fair game.


It's easy to lay America's visible frustrations at the feet of Covid lockdowns or political polarization, but this conveniently ignores the real driver: systemic unfairness.
The status quo has been increasingly rigged to benefit insiders and elites as the powers of central banks and governments have picked the winners (cronies, insiders, cartels and monopolies) and shifted the losses and risks onto the losers (the rest of us).
We now live in the world the 19th-century French economist Frederic Bastiat so aptly described:
"When plunder becomes a way of life for a group of men in a society, over the course of time they create for themselves a legal system that authorizes it and a moral code that glorifies it."
As I noted in The One Chart That Predicts our Future, ours is a two-tier society and economy
with a broken ladder of social mobility for those trying to reach the security of the technocrat class and a well-greased slide for everyone who trips and slides from relative security down to the ever-expanding
ALICE-precariat class: assets limited, income constrained, employed.
As Bastiat observed, those rigging the system to benefit themselves always create a legal system that lets them off scot-free and a PR scheme that glorifies their predation as well-deserved rewards
that are the natural due of their enormous appetite for hard work and innovation.
You know, hard work and innovation like this:
JPMorgan Makes $1 Billion From Gold Trading After Paying $1 Billion Fine For Manipulating Gold Trading
.
Embezzling a couple billion dollars also earns you a get out of jail free card
: none of the perps in Wall Street's skims, scams and frauds ever gets indicted, much less convicted, and none of Wall Street's
legalized looters
ever goes to prison.
And this is a fair and just system? Uh, right. Meanwhile, the reality is the roulette wheel is rigged and only chumps believe it's a fair game.
Those who know it's rigged have essentially zero agency (control / power) or capital to demand an unrigged game or finagle their way into the elite class doing the skimming.
The net result is soaring frustration with a patently unfair system that's touted as the fairest in the entire world.
Gordon Long and I do a deep dive into the frustrations with systemic unfairness in our new video,
The Frustrations of Unfairness Are Reaching a Boiling Point
.
The key takeaway in my view is the unfairness isn't limited to the economy, society or politics-- it's manifesting in all three realms.
It isn't just frustration with domestic issues--the global economic order is also a source of unfairness and powerlessness.
We each drew up a list of specific drivers of unfairness / frustration.
Here's my list: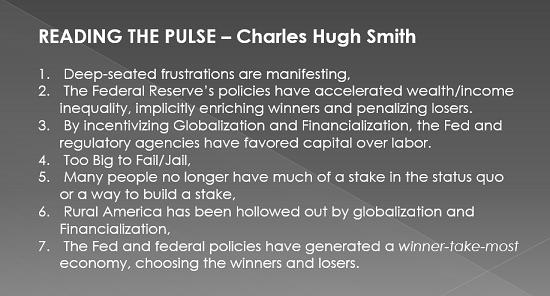 And here's Gordon's list: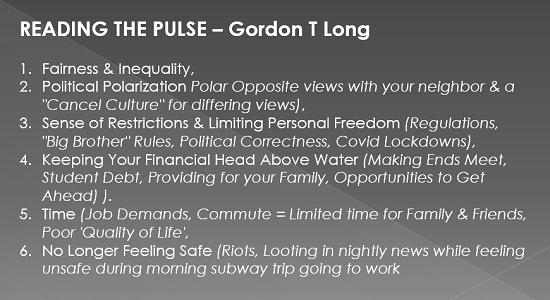 There is much more in our presentation.
These are the dynamics that are tearing apart our social cohesion and that will soon start destabilizing the economy--regardless of how much "money" the Federal Reserve prints.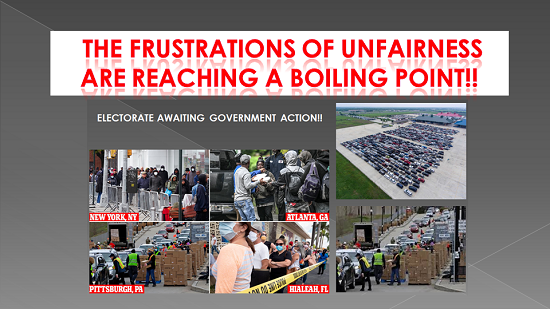 If you found value in this content, please join me in seeking solutions by becoming a $1/month patron of my work via patreon.com.
My new book is available!
A Hacker's Teleology: Sharing the Wealth of Our Shrinking Planet
20% and 15% discounts (Kindle $7, print $17)
Read excerpts of the book for free (PDF).
The Story Behind the Book and the Introduction
.
Recent Podcasts:

The Frustrations of Unfairness Are Reaching a Boiling Point

AxisofEasy Salon #31: The Covid Episode (1 hr)
My COVID-19 Pandemic Posts
My recent books:
A Hacker's Teleology: Sharing the Wealth of Our Shrinking Planet (Kindle $8.95, print $20, audiobook coming soon) Read the first section for free (PDF).
Will You Be Richer or Poorer?: Profit, Power, and AI in a Traumatized World
(Kindle $5, print $10, audiobook)
Read the first section for free (PDF)
.
Pathfinding our Destiny: Preventing the Final Fall of Our Democratic Republic ($5 (Kindle), $10 (print), ( audiobook): Read the first section for free (PDF).
The Adventures of the Consulting Philosopher: The Disappearance of Drake $1.29 (Kindle), $8.95 (print); read the first chapters for free (PDF)
Money and Work Unchained $6.95 (Kindle), $15 (print)
Read the first section for free (PDF).
Become a $1/month patron of my work via patreon.com.
---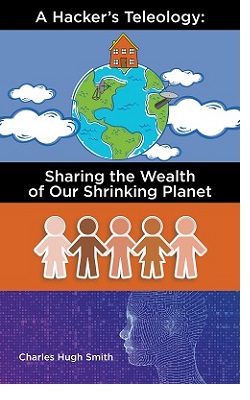 Thousands apply for grueling jobs in Amazon warehouses, low-paid serfdom with only one purpose: increasing the profits of billionaires. Wouldn't it be beneficial if those people had an alternative source of paid work that served the interests of their family and community?
Many people dismiss my proposed alternative (CLIME) as too idealistic to work in the real world. Nobody says corporations are too idealistic to work in the real world, yet CLIME is a system of community owned and run corporations. The only difference between the two is the purpose and ownership.
CLIME: Community Owned Corporations
The world has entered an era of profound uncertainty. The Old Normal is gone for good, and the deck is shifting ominously beneath our feet. Now is the moment to ask: what would a fairer, more sustainable system look like? How would it be better for me, humanity and the planet?
Even before the global upheavals, our system was failing. Now that it's unraveling, it's time for a new arrangement that's actually sustainable on our resource-depleted planet that doesn't favor wealthy insiders. But those gorging on inequality will never accept reforms that strip away their unearned privileges, and so the only practical way forward is a Hacker's Teleology.
What's a Hacker's Teleology? A hack is a workaround in a kludgy, broken system-- a new way of connecting the dots. Teleology means the destination we end up reaching because that's where the dots lead.
In this book I connect the dots of my own life experiences to show how a sustainably fair way of organizing human activity would work. In telling my story, I'm also telling our story, because we all share our limited-resources world and the same aspirations for fairness, belonging, getting ahead and a say in our future.
So let's get started on an arrangement that actually works for all of us--and our world. Read excerpts of the book for free (PDF).
The Story Behind the Book and the Introduction.
A Hacker's Teleology: Sharing the Wealth of Our Shrinking Planet 20% and 15% discounts end September 30 (Kindle $7, print $17)
---
Recent entries:
Our Frustrations Run Far Deeper Than Covid Lockdowns November 24, 2020
Why I'm Hopeful About 2021 November 23, 2020
The One Chart That Predicts our Future November 20, 2020
Vaccines--Too Little, Too Late? November 18, 2020
U.S. Healthcare Is Unraveling November 17, 2020
Don't Blame Covid: The Economy is Imploding from Over-Capacity and Corrupt Cartels November 16, 2020
Prepare for Winter November 14, 2020
"The Great Reset" Already Happened November 12, 2020
Everything You Don't Want to Know About Covid Vaccines (Because You Can't Be Bullish Anymore) November 11, 2020
There's No Vaccine for a Terminally Ill Economy November 10, 2020
No Wonder the Super-Rich Love Inflation November 9, 2020
Forget GOAT, Look at GBOAT: The Greatest Bubble Of All Time November 6, 2020
Here's Our Historical Analogy Menu: Rome, the USSR or Revolutionary France November 5, 2020
What We Don't Elect Matters Most: Central Banking and the Permanent Government November 4, 2020
Our Imperial Presidency November 3, 2020
Want Hope and Real Growth? Let the Dead Forest of Corruption and Fed Manipulation Burn Down November 2, 2020


January 2020 entries February 2020 entries March 2020 entries April 2020 entries May 2020 entries June 2020 entries July 2020 entries August 2020 entries September 2020 entries October 2020 entries November 2020 entries
---

---
Contributions/subscriptions are acknowledged in the order received. Your name and email remain confidential and will not be given to any other individual, company or agency. All contributors are listed below in acknowledgement of my gratitude.
| | | |
| --- | --- | --- |
| Thank you, Ann-Kristin G. ($5/month), for your splendidly generous pledge to this site -- I am greatly honored by your support and readership. | | Thank you,Todd D. ($5/month), for your marvelously generous subscription to this site -- I am greatly honored by your support and readership. |
---
---
---
---
---
Of Two Minds Site Links
home musings my books archives books/films policies/disclosures social media/search Aphorisms How to Contribute, Subscribe/Unsubscribe sites/blogs of interest original music/songs Get a Job (book) contributors my definition of success why readers donate/subscribe to Of Two Minds mobile site (Blogspot) mobile site (m.oftwominds.com)
Contributions
Contributors and subscribers enable Of Two Minds to post free content. Without your financial support, the free content would disappear for the simple reason that I cannot keep body and soul together on my meager book sales alone.
Become a patron of my work via patreon.com
How to Contribute, Subscribe/Unsubscribe to Of Two Minds
SPECIAL APPEAL TO READERS OF OFTWOMINDS from longtime correspondent Cheryl A.:
I don't recall exactly how I discovered Of Two Minds in late 2005, but it is hard to express how grateful I am that I did. As a result of the insight I have gained from the information Charles has shared over these past 9 years, I have been able to navigate this turbulent period much more successfully than most of my acquaintances. I'm sure that those of you who visit OTM with any regularity have similarly benefitted in numerous ways.

The addition of the weekly musings has been an extra bonus for supporters that has provided further insight into the markets, as well as the world around us (often providing a much needed smile).

I have no doubt that those who generously contribute to this site recognize the value that it offers. I hope that those of you who visit, but have not yet contributed, will consider doing so. Your support is essential in helping to maintain such an important resource.
Thank you, Cheryl, for this vote of confidence. I can only promise that I will continue to do my best.
"This guy is THE leading visionary on reality. He routinely discusses things which no one else has talked about, yet, turn out to be quite relevant months later."
--Walt Howard, commenting about CHS on another blog.
"You shine a bright and piercing light out into an ever-darkening world."
Jeremy Beck

---
Or send coins, stamps or quatloos via mail-- P.O. Box address
Extra-Special Bonus Aphorisms:
"There is no security on this earth; there is only opportunity."
(Douglas MacArthur)
"We are what we repeatedly do." (Aristotle)
"Do the thing and you shall have the power." (Ralph Waldo Emerson)
"Any intelligent fool can make things bigger, more complex, and more violent. It takes a touch of genius and a lot of courage to move in the opposite direction." (E.F. Schumacher, via Tom R.)
"He who will not risk cannot win." (John Paul Jones)
"When we drink coffee, ideas march in like the army." (Honore de Balzac)
"Progress is not possible without deviation." (Frank Zappa, via Richard Metzger)
"Victory favors those who take pains." (amat victoria curam)
"The man who has a garden and a library has everything." (Cicero, via Lee Bentley)
"A healthy homecooked family meal and a home garden are revolutionary acts." (CHS)
"Do you know what amazes me more than anything else? The impotence of force to organize anything." (Napoleon Bonaparte)
"The way of the Tao is reversal" Or "Reversal is the movement of Tao." (Lao Tzu)
"Chance favours the prepared mind." (Louis Pasteur)
"Success consists of going from failure to failure without loss of enthusiasm." (Winston Churchill)
"Where there is ruin, there is hope for treasures." (Rumi)
"The realm of gratitude is boundless." (CHS, 11/25/15)
"History doesn't have a reverse gear." (CHS, 12/22/15)
Smith's Law of Conservation of Risk: Every sustained action has more than one consequence. Some consequences will appear positive for a time before revealing their destructive nature. Some consequences will be intended, some will not. Some will be foreseeable, some will not. Some will be controllable, some will not. Those that are unforeseen and uncontrollable will trigger waves of other unforeseen and uncontrollable consequences. (July 8, 2014)(thanks to Lew G. for retitling the idea.)
Smith's Neofeudalism Principle #1: If the citizenry cannot replace a kleptocratic authoritarian government and/or limit the power of the financial Aristocracy at the ballot box, the nation is a democracy in name only.
The Smith Corollary to Metcalfe's Law (The Network Effect): the value of the network is created not just by the number of connected devices/users but by the value of the information and knowledge shared by users in sub-networks and in the entire network. (CHS, 4/6/16)
My Credo of Liberation: I no longer care if the power centers of our society--the distant, fortified castles of our financial feudal system--are changed by my actions, for I am liberated by the act of resistance. I am no longer complicit in perpetuating fraudulent feudalism and the pathology of concentrated power. I no longer covet signifiers of membership in the Upper Caste that serves the plutocracy. I am liberated from self-destructive consumerist-State financialization and the delusion that debt servitude and obedience to sociopathological Elites serve my self-interests. (Thank you, Klaus-Peter L., for reminding me)
"We've become a culture of excuses rather than solutions: solutions always require sustained effort and discipline." (CHS 4/9/16)
"Fraud as a way of life caters an extravagant banquet of consequences." (CHS 4/14/16)
"Creativity = problem solving = value creation." (CHS 6/4/16)
"Truth is powerful because it is the core dynamic of solving problems." (CHS 7/21/17)
"We live in a system of human emotions that masquerades as a science (economics)." (CHS 1/1/18)
"Always remember, your focus determines your reality." (George Lucas)
"Diversity is for poor people. Sameness is for the successful." (GFB)
"When power dissipates suddenly, it dissipates completely." (CHS 7/14/19)
"Disobedience is the true foundation of liberty. The obedient must be slaves." (Henry David Thoreau)
"Markets cannot price in the value of non-monetized natural assets such as diverse ecosystems." (CHS 7/14/19)