My Bio (2023)
At readers' request, I've prepared a biography. I am not confident about this, as bios veer uncomfortably close to PR. On the other hand, I'm reminded of the "Peanuts" comic character Lucy, who once shared this terse biographical summary with Linus: "A man was born, he lived, he died." All undoubtedly true, but somewhat lacking in narrative interest.
I was raised in southern California as a rootless cosmopolitan: born in Santa Monica, and then towed by an upwardly mobile family through Van Nuys, Tarzana, Los Feliz and San Marino, where the penultimate conclusion of upward mobility, divorce and a shattered family, sent us to Snow Country in the San Bernadino mountains.
We spent the summer of 1968 in the Highland Park neighborhood of Detroit as one of two Anglo-Euro families in the 'hood, the other one being our Armenian landlords. I described a bit of this eye-opening experience in my book A Hacker's Teleology: Sharing the Wealth of Our Shrinking Planet.
The next jaunt took us to the island of Lanai in Hawaii, where I was honored to join the outstanding basketball team (as benchwarmer), and where we rode the only Matchless 350cc motorcycle on the island, and most likely in the state, through the red-dirt pineapple fields to the splendidly isolated rocky coastline. In 1969-70, Lanai was old planation Hawaii, where I picked pineapples in summer with my classmates beneath a sweltering sun, the only local haole to do so because there were no other local haoles except my 13-year old brother, the principal's daughter and the doctor's daughter.
My friend (and co-conspirator) Colbert Matsumoto and I launched Lanai High's first (and to my knowledge, only) underground newspaper, the Cop-Out. It was rumored that the administration thought it was published by a wayward teacher or two, but it was Colbert and I taking our first stab at journalism and truth-telling. (Colbert went on to an outstanding career in truth-telling on a much larger stage.)
We next moved to Honolulu, where I graduated from Punahou School (yes, from Lanai to Punahou. Not a transition I reckon many others have made). The family moved back to California and I stayed on, working my way through the University of Hawaii-Manoa by apprenticing in the building/remodeling trades while earning a degree in Comparative Philosophy (i.e. East and West). My professors included the eminent scholars Chung-yuan Chang, author of Creativity and Taoism, David Kalupahana (early Buddhism) and Harold McCarthy (literature).
I was quite active in the American Friends Service Committee (Quakers), serving on the Area Committee, and was one of the Triumvirate (with Jeff Blair and Dexter Cate) of the People's Party of Hawaii in this era (1970s).
I next moved to the Big Island of Hawaii, where my wife and I built our own house. Needing a livelihood, I started a contracting company in 1981 and my partner and I built around fifty custom homes and a 43-unit subdivision, as well as several commercial projects between 1982 and 1986, essentially compressing a 30-year career as a builder into 5 years. Interest rates were high and it was the worst possible moment to become a builder, but I foolishly forged ahead anyway with my usual delusional confidence.
I didn't set out to take risks, but managed to fall off various roofs, ladders and even a tractor. I avoided becoming a statistic but it was a close thing several times. I'm very respectful of power tools, heights and the sea.
Burning out and nearly going broke was all well and good, but I was driven to pursue my dream-career as a writer, first by co-founding VoltAge, a small-press magazine in Berkeley, California that was way ahead of its time, given our coverage of AI and the impacts of computer technology on daily life. We then moved to Berkeley in 1987 where I worked in non-profit education (the Owner-Builder Center and Building Education Center) while writing free-lance journalism articles on housing, design and urban planning for the San Jose Mercury News, the San Francisco Examiner and later, the SF Chronicle.
In the early 90s I returned to self-employment, a genteel poverty interrupted by an 18-month gig re-organizing the back office of a quantitative stock market analyst, where I picked up a host of skills. I learned how to lose money in the market with efficiency and aplomb, lessons I continue to practice whenever the temptation to battle the Monster Id strikes.
Somewhere in here my first novel I-State Lines was published by The Permanent Press (New York), but alas it fell still-born from the press--a now monotonous result of writing fiction. (Nine novelsand I still can't stop myself.)
I started the Of Two Minds blog in May 2005 as a side project, and in an unpredictable twist of evolutionary incaution, that project has ballooned into a website with 4,000+ pages that has drawn over 136 million page views on my servers; probably double that number have been viewed as republished posts on other higher-traffic sites. I know, this makes no sense, it's completely inexplicable. Don't ask me, I only work here.
The site's primary asset may well be the extensive global network of correspondents I draw upon for experience, intelligence, ideas and analysis.
The blog's essays are republished on numerous high-visibility sites such as Zero Hedge, Financial Sense and The Daily Reckoning.I am frequently interviewed by podcasters, as will be evident should you do a search for my name or Of Two Minds. I also distribute my blog posts as a Substack newslatter and on Medium.
My work does not fit into any ideological slot; indeed, I view ideologies as obsolete and misleading. I doubt this is a surprise to you if you've read the blog. As a consequence, I am routinely berated under the banner of numerous ideologies.
My lifelong avocations include gardening, guitar (both Gibson and Fender), camping in the American West, cooking, carpentry, bicycling and fitness, all of which are reflected in the blog. My musical mentor S.T. and I have recorded 10 original songs, generally in one or two takes with minimal overdubs (hence the rough edges and my countless mistakes).
Some readers wonder where I live; after splitting my time between Berkeley, California and the Big Island for many years, I'm once again a resident of Hawaii.
Our heritage is Scots-Irish (County Down), English and Scandinavian-Norman-French; via marriage the family inlcudes Hispanic-American, African-American, Asian-American and (gasp) French members. I think the word is polyglot.
Measured in terms of money I am not rich, but measured in friendships, health and output, I feel very wealthy indeed. I like my work and feel there is value in the blog's independent analysis and proposals for a more sustainable economy and society.
I lead most of my life in the real world, and as a result my time online is extremely limited. This is why email to this site is read but may not be acknowledged. I regret the limitations but I receive many emails every year and am only one wizened old person with many other duties and tasks. I am generally overwhelmed with more work than I can possibly manage. Alas, age is taking its toll.
In my experience, good luck is rare; the default setting is rejection, disinterest and failure. I live by Winston Churchill's dictum that "Success consists of going from failure to failure without loss of enthusiasm." That sums up my life rather neatly.
If your curiosity has yet to be sated, here are some links which contain more information about my work and free samples of my 27 books:
My Elevator Speech / What Do I Write About?
Our Three Taboos (summary of my work)
My Hidden History (outdated, but offers some additional pages)
My Non-Fiction Books (18)
My Novels (9)
Semi-random photos of some old guy in aloha wear: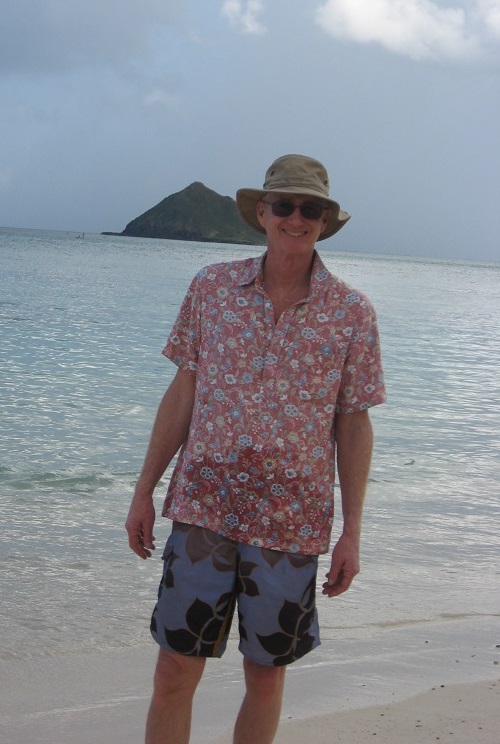 Lanikai, January 2014