Fed to the Sharks, Part 2: Housing and the Death of the Middle Class (April 9, 2014)


The Fed sacrificed the foundation of middle class wealth--stable housing values--to boost bank profits.

Lest you think the phrase "death of the middle class" is hyperbole, please examine these two charts, keeping in mind the middle class by definition must be in the middle of income/wealth distribution--conventionally, between 40% and 80%, i.e. the 40% between the bottom 40% and the top 20%.

See that little red wedge? That's the bottom 80%--the entire middle class and everyone below the middle class.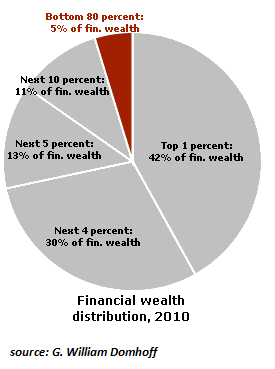 Here's another look at the wealth distribution: the middle class's share of wealth is modest, unless you define the top slice of households just below the top 1% as "middle class." But since the top 19% cannot be in the "middle," attempting to boost the wealth of the middle class by including the wealthy is truly Orwellian.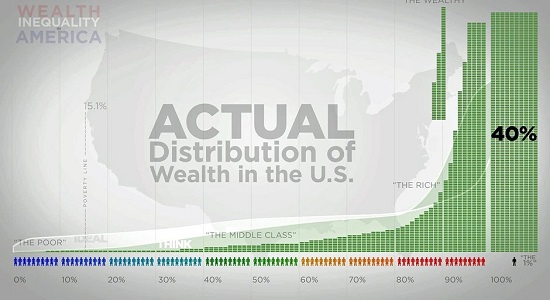 Why has the middle class eroded? We can start by looking at income. As noted yesterday in Fed to the Sharks, Part 1, household income for the bottom 90% has stagnated for 40 years.
The next chart shows how financialization boosted asset valuations in waves of boom and bust. Some of the first two waves of financialization leaked into wages, but the Fed's bubble-blowing since 2009 has failed miserably to increase incomes: disposable income fell off a cliff in 2009 and has continued falling, despite the Fed's blowing new bubbles in bonds, stocks and housing.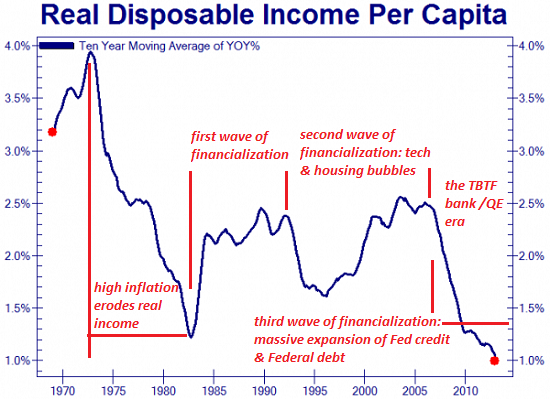 So what does the Fed have to do with the death of the middle class? As noted in What's the Primary Cause of Wealth Inequality? Financialization (March 24, 2014), the short answer is when investment returns exceed economic growth, the rich get richer, increasing inequality.
And when do investment returns exceed economic growth? When the Federal Reserve makes credit very cheap for financiers and speculators, which drives up asset prices as everyone with access to cheap credit bids up assets.
Low interest rates and free-flowing credit inflate bubbles. We can discern an implicit agenda in the Fed's policy of making credit cheap and abundant: since income for the bottom 90% is stagnating, the only way to boost consumption and debt is to inflate an asset owned by middle class households: housing.
Unfortunately, credit-driven speculative bubbles inevitably burst and housing valuations crashed.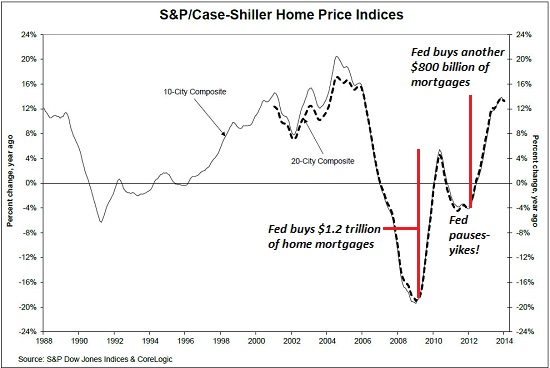 The Fed responded to the housing crash with an unprecedented policy of buying over $1 trillion in home mortgages (mortgage-backed securities), roughly 10% of all existing mortgages in the U.S. In conjunction with the Fed's other policies (purchasing Treasury bonds and relaxing banking rules) and the opening of the loose-lending FHA spigots, housing recovered nicely--until the Fed slackened the pace of its purchases of bonds and mortgages. Housing immediately began trending down.
In response, the Fed restarted buying Treasuries and mortgages in enormous quantities. And sure enough, housing recovered.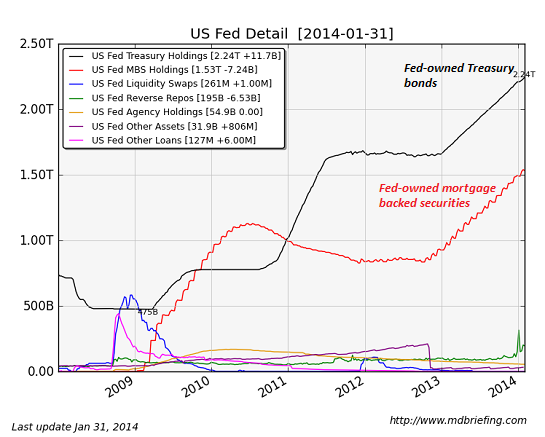 But asset bubbles do not replace income or savings. The only way to benefit from bubbles in housing is to trade: buy in at the bottom and sell out at the top.
In essence, the Fed's bubble-blowing forced every homeowner into becoming a speculator.
There's another agenda at work of course: increasing debt and bank profits derived from debt. What better way to insure banking profits than to spark a speculative bubble in the core asset of the middle class--housing. Rising prices created temporary (and enticing) home equity that could be tapped with a loan (HELOCs--home equity line of credit), and the temptation to selling out and moving up the food chain to a bigger home and bigger mortgage was equally compelling.
Even better, banks and Wall Street had perfected the securitization of once-safe home mortgages. Banks had no need to take on the risk of holding mortgages--the big money was in originating the mortgages, packaging them into securities and selling the tranches to investors.
The much-ballyhooed "ownership society" turned out to be ownership of debt, not equity. Debt is profitable for banks; people owning homes free and clear is not.
In effect, the Fed sacrificed the foundation of middle class wealth--stable housing values--to boost bank profits. Take a look at what happened to financial profits in the 2002-2007 housing bubble: they skyrocketed to new heights. And look what happened when housing and the banks' securitization scams blew up: financial profits completely collapsed.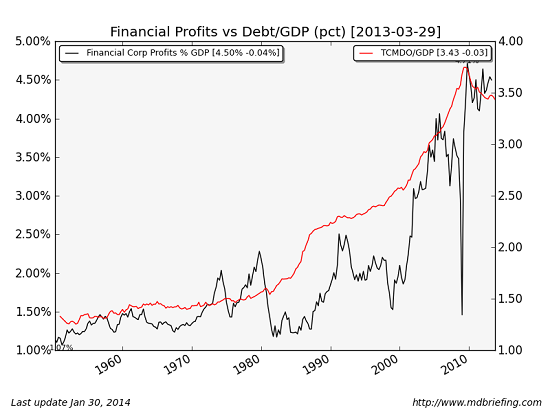 Middle class wealth was Fed to the sharks. As the current housing bubble deflates, the investor-buyers who fueled the rally are exiting en masse: what's the value of an asset when the bid vanishes, i.e. there's nobody left who's willing to pay today's prices?
The Fed has failed to restore middle class wealth with its latest housing bubble, and the costs of the bubble's collapse will fall not on the Fed but on those who believed the recovery was more than Fed manipulation.


---
The Nearly Free University and The Emerging Economy:
The Revolution in Higher Education
Reconnecting higher education, livelihoods and the economy
With the soaring cost of higher education, has the value a college degree been turned upside down? College tuition and fees are up 1000% since 1980. Half of all recent college graduates are jobless or underemployed, revealing a deep disconnect between higher education and the job market.
It is no surprise everyone is asking: Where is the return on investment? Is the assumption that higher education returns greater prosperity no longer true? And if this is the case, how does this impact you, your children and grandchildren?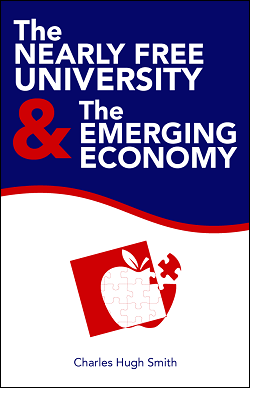 We must thoroughly understand the twin revolutions now fundamentally changing our world: The true cost of higher education and an economy that seems to re-shape itself minute to minute.
The Nearly Free University and the Emerging Economy clearly describes the underlying dynamics at work - and, more importantly, lays out a new low-cost model for higher education: how digital technology is enabling a revolution in higher education that dramatically lowers costs while expanding the opportunities for students of all ages.
The Nearly Free University and the Emerging Economy provides clarity and optimism in a period of the greatest change our educational systems and society have seen, and offers everyone the tools needed to prosper in the Emerging Economy.
---
Things are falling apart--that is obvious. But why are they falling apart?
The reasons are complex and global. Our economy and society have structural problems that cannot be solved by adding debt to debt. We are becoming poorer, not just from financial over-reach, but from fundamental forces that are not easy to identify. We will cover the five core reasons why things are falling apart: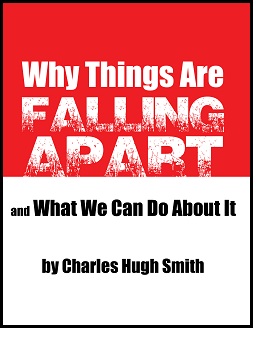 1. Debt and financialization
2. Crony capitalism
3. Diminishing returns
4. Centralization
5. Technological, financial and demographic changes in our economy
Complex systems weakened by diminishing returns collapse under their own weight and are replaced by systems that are simpler, faster and affordable. If we cling to the old ways, our system will disintegrate. If we want sustainable prosperity rather than collapse, we must embrace a new model that is Decentralized, Adaptive, Transparent and Accountable (DATA).
We are not powerless. Once we accept responsibility, we become powerful.
Read the Introduction/Table of Contents
Kindle: $9.95 print: $24

---
NOTE: Contributions/subscriptions are acknowledged in the order received. Your name and email remain confidential and will not be given to any other individual, company or agency.
| | | |
| --- | --- | --- |
| Thank you, Timothy M. ($25), for your extremely generous contribution to this site -- I am greatly honored by your support and readership. | | Thank you, Hugh M. ($50), for your wondrously generous contribution to this site -- I am greatly honored by your support and readership. |
---
"This guy is THE leading visionary on reality. He routinely discusses things which no one else has talked about, yet, turn out to be quite relevant months later."
--Walt Howard, commenting about CHS on another blog.
"You shine a bright and piercing light out into an ever-darkening world."
Jeremy Beck

---
Contributors and subscribers enable Of Two Minds to post 275+ free essays annually. It is for this reason they are Heroes and Heroines of New Media. Without your financial support, the free content would disappear for the simple reason that I cannot keep body and soul together on my meager book sales alone.
Or send coins, stamps or quatloos via mail--please request P.O. Box address.
Subscribers ($5/mo) and those who have contributed $50 or more annually (or made multiple contributions totalling $50 or more) receive weekly exclusive Musings Reports via email ($50/year is about 96 cents a week).
Each weekly Musings Report offers five features:
1. Exclusive essay on a diverse range of topics
2. Summary of the blog this week
3. Best thing that happened to me this week
4. Market Musings--commentary on the economy & global markets
5. From Left Field (a limited selection of interesting links)
At readers' request, there is also a $10/month option.
What subscribers are saying about the Musings (Musings samples here):
The "unsubscribe" link is for when you find the usual drivel here insufferable.
All content, HTML coding, format design, design elements and images copyright © 2014 Charles Hugh Smith, All global rights reserved in all media, unless otherwise credited or noted.
I am honored if you link to this essay, or print a copy for your own use.
Terms of Service:
All content on this blog is provided by Trewe LLC for informational purposes only. The owner of this blog makes no representations as to the accuracy or completeness of any information on this site or found by following any link on this site. The owner will not be liable for any errors or omissions in this information nor for the availability of this information. The owner will not be liable for any losses, injuries, or damages from the display or use of this information. These terms and conditions of use are subject to change at anytime and without notice.