How To Get a Job Despite the Economy (April 14, 2014)


An entire new feedback loop of accreditation is necessary in the economy we have, and fortunately that feedback is within our individual control.

To paraphrase Donald Rumsfeld, we work in the economy we have, not the economy we might want or wish to have at a later time. And what characterizes the economy we have?

It's bewildering because nothing works like it's supposed to. For example, getting a college degree was supposed to guarantee a good job and an 80% lifetime wage premium over people without college degrees.

But in the economy we have, getting a college degree no longer guarantees a good job, or indeed, a job of any kind: 53% of recent college graduates under the age of 25 are unemployed or doing work they could have done without going to college.

The payoff for getting a college degree is declining while the risks of becoming a debt-serf due to crushing student loans is rising. The big premium that once accrued to college graduates is eroding for reasons of basic supply and demand: there are far more people with college degrees than there are high-paying jobs for people with degrees--even law degrees, MBAs and PhDs.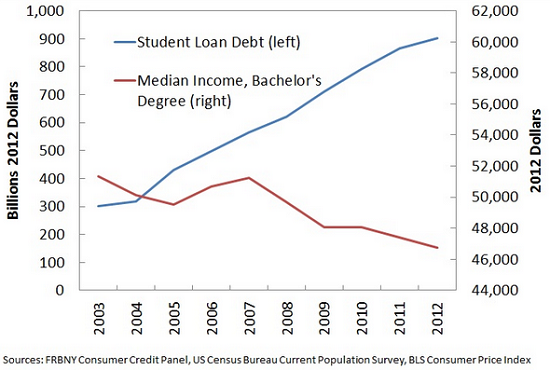 The entire notion that a college degree "signals" something valuable to employers is breaking down. In the good old days, earning a college degree proved that a student was hard-working and conformist--just what hierarchical corporations and government agencies want in employees. (The "signaling" value of a diploma is based on work by economist Michael Spence in the 1970s. In general, the signal indicates an attribute whose value is correlated with the difficulty and cost of the signal: the harder it is to get a degree, the greater the value of the signal it sends.)
But in an economy in which education credentials are in over-supply, that signaling mechanism is running up against a basic reality: a degree accredits very little about the student's knowledge, problem-solving skills or professionalism. A degree is simply a proxy of knowledge, not evidence of knowledge or useful skills.
Indeed, the study Academically Adrift: Limited Learning on College Campuses concluded that "American higher education is characterized by limited or no learning for a large proportion of students."
Signaling an ability to grind though four or five years of institutional coursework is no longer enough; the signaling needed to indicate an ability to create value must be much richer in information density and more persuasive than a factory model diploma.
A resume is equally thin on information that accredits a worker's knowledge, useful skills and professionalism. A resume is a public-relations summary that everyone knows has been tailored to present the candidate in the best possible light. And precisely how useful and trustworthy is PR in any setting?
Put yourself in the shoes of a hiring manager or potential collaborator: there is precious little useful information in either a diploma or a resume. As a result, human resources departments have been tuned to eliminate as many candidates as possible by signal-based winnowing rather than by the collection of useful information on the skills, knowledge and professionalism of the potential employee/collaborator.
Conforming to social behavioral norms and being able to grind through mind-numbing work used to be enough to create value in the economy--but this is no longer the case for high-value (i.e. well-paid) work. The "signaling" camp holds that a degree showing the student sat through four or five years of classes is sufficient to justify hiring the person. That the student learned essentially nothing useful doesn't matter; the entire value of college is in the last class needed to get the diploma.
This was true in the long postwar boom when the number of well-paid jobs expanded at a faster rate than the number of college graduates. This is simply no longer true.
In contrast to the "signaling" theory of value, the "human capital" camp holds that working knowledge is what creates value. If the student learns little critical thinking, real skills or practical knowledge, then a college degree has little value.
What if conformity and being able to navigate formal systems/bureaucracies no longer creates value or helps people solve real-world problems? In the economy we have, the "signal" value of a college degree has sharply declined. This is why college graduates can send out hundreds of resumes and not even receive a single reply, much less an interview or job offer.
Systems analysis teaches us that changing the parameters of a system (for example, adding another line to your resume or getting another degree) does not change the system; only adding a new feedback loop can change the system.
Clearly, an entire new feedback loop of accreditation is necessary in the economy we have, and fortunately that feedback is within our individual control: it's a process I call accredit yourself. The most powerful feature of accredit yourself is the process is open to anyone: recent college graduates, those without degrees, those re-entering the workforce, those seeking to launch their own enterprises--everyone who wants an income stream in the economy we have.
I outline the process of accrediting yourself in my new book Get a Job, Build a Real Career and Defy a Bewildering Economy which is on sale through Tuesday evening (Pacific Standard time) at a 20% discount for my regular readers ($7.95 for the Kindle edition, 20% off of the list price of $9.95. The print edition is $20).
Anyone can read a Kindle ebook on any digital device: PC, laptop, tablet or smart phone. Just download the free Kindle reader app:
Kindle for PC Macintosh iPhone iPad Android
I explain why the economy no longer responds as conventional commentators expect, and why it will remain in a state of rapid transformation for decades to come.
The book makes a useful gift for high school and college graduates; if you give a Kindle ebook as a gift (the gift button is in the right sidebar), you can schedule delivery of the gift to coincide with a graduation date.
You can read the introduction and first section of the book here.


---
Get a Job, Build a Real Career and Defy a Bewildering Economy
(Kindle, $9.95)(print, $20)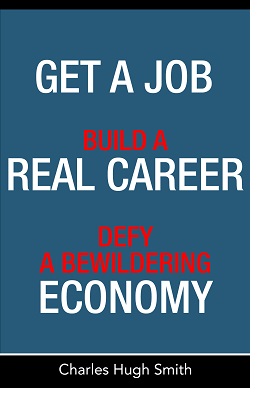 Are you like me?
Ever since my first summer job decades ago, I've been chasing financial security. Not win-the-lottery, Bill Gates riches (although it would be nice!), but simply a feeling of financial control. I want my financial worries to if not disappear at least be manageable and comprehensible.
And like most of you, the way I've moved toward my goal has always hinged not just on having a job but a career.
You don't have to be a financial blogger to know that "having a job" and "having a career" do not mean the same thing today as they did when I first started swinging a hammer for a paycheck.
Even the basic concept "getting a job" has changed so radically that jobs--getting and keeping them, and the perceived lack of them--is the number one financial topic among friends, family and for that matter, complete strangers.
So I sat down and wrote this book: Get a Job, Build a Real Career and Defy a Bewildering Economy.
It details everything I've verified about employment and the economy, and lays out an action plan to get you employed.
I am proud of this book. It is the culmination of both my practical work experiences and my financial analysis, and it is a useful, practical, and clarifying read.
Test-drive the first chapter and see for yourself. Kindle, $9.95 print, $20

---
---
NOTE: Contributions/subscriptions are acknowledged in the order received. Your name and email remain confidential and will not be given to any other individual, company or agency.
| | | |
| --- | --- | --- |
| Thank you, William K. ($10/month), for your magnificently generous subscription to this site -- I am greatly honored by your steadfast support and readership. | | Thank you, Steve S. ($25), for your extremely generous contribution to this site -- I am greatly honored by your support and readership. |
---
"This guy is THE leading visionary on reality. He routinely discusses things which no one else has talked about, yet, turn out to be quite relevant months later."
--Walt Howard, commenting about CHS on another blog.
"You shine a bright and piercing light out into an ever-darkening world."
Jeremy Beck

---
Contributors and subscribers enable Of Two Minds to post 275+ free essays annually. It is for this reason they are Heroes and Heroines of New Media. Without your financial support, the free content would disappear for the simple reason that I cannot keep body and soul together on my meager book sales alone.
Or send coins, stamps or quatloos via mail--please request P.O. Box address.
Subscribers ($5/mo) and those who have contributed $50 or more annually (or made multiple contributions totalling $50 or more) receive weekly exclusive Musings Reports via email ($50/year is about 96 cents a week).
Each weekly Musings Report offers five features:
1. Exclusive essay on a diverse range of topics
2. Summary of the blog this week
3. Best thing that happened to me this week
4. Market Musings--commentary on the economy & global markets
5. From Left Field (a limited selection of interesting links)
At readers' request, there is also a $10/month option.
What subscribers are saying about the Musings (Musings samples here):
The "unsubscribe" link is for when you find the usual drivel here insufferable.
All content, HTML coding, format design, design elements and images copyright © 2014 Charles Hugh Smith, All global rights reserved in all media, unless otherwise credited or noted.
I am honored if you link to this essay, or print a copy for your own use.
Terms of Service:
All content on this blog is provided by Trewe LLC for informational purposes only. The owner of this blog makes no representations as to the accuracy or completeness of any information on this site or found by following any link on this site. The owner will not be liable for any errors or omissions in this information nor for the availability of this information. The owner will not be liable for any losses, injuries, or damages from the display or use of this information. These terms and conditions of use are subject to change at anytime and without notice.