America's Nine Classes: The New Class Hierarchy (April 29, 2014)


Eight of the nine classes are hidebound by conventions, neofeudal and neocolonial arrangements and a variety of false choices.

There are many ways to slice and dice America's power/wealth hierarchy. The conventional class structure is divided along the lines of income, i.e. the wealthy, upper middle class, middle class, lower middle class and the poor.

I've suggested that a more useful scheme is to view America through the lens not just of income but of political power and state dependency, as a Three-and-a-Half Class Society (October 22, 2012):
The three-and-a-half class society is comprised of: the "entrenched incumbents" on top (the "half class"), the high-earners who pay most of the taxes (the first class), the working poor who pay Social Security payroll taxes and sales taxes (the second class), and State dependents who pay nothing (the third class).

This class structure has political ramifications. In effect, those paying most of the tax are in a pressure cooker: the lid is sealed by the "entrenched incumbents" on top, and the fire beneath is the Central State's insatiable need for more tax revenues to support the entrenched incumbents and its growing army of dependents.
A recent Foreign Policy article on China's New Class Hierarchy: A Guide inspired me to assemble America's nine classes.

1. The Deep State. Mike Lofgren offered this description of the Deep State in Anatomy of the Deep State:

The Deep State is a hybrid association of elements of government and parts of top-level finance and industry that is effectively able to govern the nation without reference to the consent of the governed as expressed through the formal political process.

I describe the U.S. Deep State as the National Security State which enables a vast Imperial structure that incorporates hard and soft power--military, diplomatic, intelligence, finance, commercial, energy, media, higher education--in a system of global dominance.

The key feature of the Deep State is that it makes decisions behind closed doors that the surface government ratifies and implements.

The number of people in the Deep State class is small: senior Federal officials (NSA, Pentagon, State, Treasury, etc.), Executive Branch officials and key private-sector players.

Membership in the Deep State class is not dependent on wealth so much as on relationships and power.

2. The Oligarchs. Oligarchy is in the news--for example We're Headed for Oligarchy--and a number of descriptors are somewhat interchangeable: corporatocracy, plutocracy, etc. I have used Financial Aristocracy to invoke the neofeudal structure of our economy.

Whatever word you prefer, this small class is more or less the top .01% who owns a majority of the nation's financial wealth. They essentially own the political machinery of the nation, writing the rules of legislation that is supposedly regulating their industries, taxes, etc.

3. New Nobility. This is the super-wealthy class just below the Oligarchs. They own a singificant percentage of all assets but do not directly manage the political process like the Oligarch class. They hire lobbyists to protect their interests and constitute an influential political-financial class with global connections.

4. Upper Caste. I use this term to describe the technocrat/professional class that manages the Status Quo for the upper classes. They serve in both government and the private sector.

5. State Nomenklatura. In the Soviet Union, the Nomenklatura were the key administrators in all sectors. In the U.S., the Nomenklatura are well-paid government administrators with security and power. Collectively, they administer their own share of the swag, gaming the system to maximize their pensions, benefits, etc.

Together, the Upper Caste and the Nomenklatura comprise about 9% of the 121 million households in the U.S.: roughly 8.7 million households who earn between $145,000 and $250,000 annually. This class is the bulk of the top 7%, i.e. the top 90% to 97%. Household income in the United States.

The top level of the Upper Caste (2.8 million households) earns more than $250,000 annually. The Nomenklatura and Upper Caste number in total about 11.5 million households.

6. The Middle Class. While others attempt to define the middle class by income alone (many see a household income of around $50,000 as qualifying), I define the middle class not by income alone but by purchasing power, benefits and assets owned. What Does It Take To Be Middle Class? (December 5, 2013).

By this definition, the middle class is the cohort between 70% and 90%--households earning $80,000 or more. Even this is problematic, because in high-cost cities $80,000 is not enough to sustain middle-class conventions (owning a home, two vehicles, etc.) while it may be ample in lower-cost regions.

This 20% comprises about 24 million households.

The lower middle class--what I define as having some but not all of the attributes of full middle class membership--is the cohort between 50% and 70%--households earning more than $55,000 annually.

This class also comprises about 20% (24 million) of all households.

If you think this is too restrictive, please read my above analysis of middle class membership. It may change your view of what constitutes middle-class.

7. The Working Poor. Roughly 38 million households have earned income but it is not sufficient to secure the basics of middle class life. Many qualify for social welfare programs such as food stamps and Medicaid.

This class is about 30% of all households.

8. State Dependents. Though often labeled "poor," those with minimal legal employment may be living better than the working poor, due to generous social welfare benefits such as Section 8 (housing), Medicaid (healthcare), child care, food stamps, disability, etc., and black-market sources of cash income. This class is comprised of the bottom 20% of households.

9. Mobile Creatives. This is an emerging class that ranges across many income classifications and thus cannot be described by income alone. Some earn Upper Caste incomes, others are Working Poor. This class is self-employed, free-lance, entrepreneural, sole proprietors with adaptive skills. They may collaborate with other Creatives rather than have employees, and may have part-time jobs.

There are roughly 5.5 million incorporated self-employed people in the U.S.; these tend to be professionals such as attorneys, engineers and physicians. These self-employed are generally members of the Upper Caste.

The Mobile Creatives (which include small farmers, craftspeople, independent programmers, etc.) number around 10 million, or 8% of the workforce. I use the word mobile here not to suggest mobility between physical places (though that is one factor in this class's flexibility) but mobility between sectors and ways of earning income.

Members of this class might take a short-term paying gig if the pay and circumstance is attractive, and then return to self-employment. They tend to foster multiple income streams and in general operate by the principle trust the network, not the corporation or the state.

Some members of this class joined the cohort involuntarily, as the result of layoffs; others pursue this livelihood for its freedom, flexibility (important to parents of young children or those caring for elderly parents) and potential for self-expression.

This is the "wild card" class that falls outside all conventional class/income hierarchies. It includes those seeking outlier wealth and those who have chosen voluntary poverty.

Though this class wields little conventional financial or political power, it has a potentially large leadership role in social and technical innovations. This is the 4% Pareto Distribution that can exert outsized influence on the 64%.

The other eight classes are hidebound by conventions, neofeudal and neocolonial arrangements and a variety of false choices and illusions of choice, including democracy itself.

I will end this examination of the Nine Classes of America with this question: which class is having more fun? Your answer may say more about your aspirations and worldview than the class hierarchy itself.


---
Want to give an enduringly practical graduation gift? Then give my new book Get a Job, Build a Real Career and Defy a Bewildering Economy, a mere $9.95 for the Kindle ebook edition and $17.76 for the print edition.
---
Join me on May 2 for the Sonoma Wine Country Conference: Investment Ideas Hidden In Plain Sight: great speakers, good cause (benefits Autism Society of America):
---
Get a Job, Build a Real Career and Defy a Bewildering Economy
(Kindle, $9.95)(print, $20)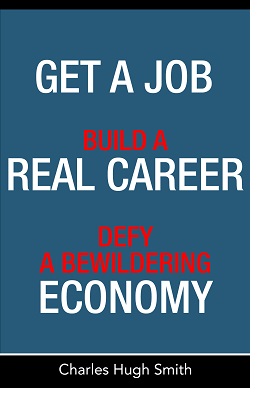 Are you like me?
Ever since my first summer job decades ago, I've been chasing financial security. Not win-the-lottery, Bill Gates riches (although it would be nice!), but simply a feeling of financial control. I want my financial worries to if not disappear at least be manageable and comprehensible.
And like most of you, the way I've moved toward my goal has always hinged not just on having a job but a career.
You don't have to be a financial blogger to know that "having a job" and "having a career" do not mean the same thing today as they did when I first started swinging a hammer for a paycheck.
Even the basic concept "getting a job" has changed so radically that jobs--getting and keeping them, and the perceived lack of them--is the number one financial topic among friends, family and for that matter, complete strangers.
So I sat down and wrote this book: Get a Job, Build a Real Career and Defy a Bewildering Economy.
It details everything I've verified about employment and the economy, and lays out an action plan to get you employed.
I am proud of this book. It is the culmination of both my practical work experiences and my financial analysis, and it is a useful, practical, and clarifying read.
Test drive the first section and see for yourself. Kindle, $9.95 print, $20
"I want to thank you for creating your book Get a Job, Build a Real Career and Defy a Bewildering Economy. It is rare to find a person with a mind like yours, who can take a holistic systems view of things without being captured by specific perspectives or agendas. Your contribution to humanity is much appreciated."
Laura Y.

---
---
NOTE: Contributions/subscriptions are acknowledged in the order received. Your name and email remain confidential and will not be given to any other individual, company or agency.
| | | |
| --- | --- | --- |
| Thank you, Raoul K. ($50), for your supremely generous contribution to this site -- I am greatly honored by your support and readership. | | Thank you, Vivian C. ($50), for your magnificently generous contribution to this site -- I am greatly honored by your support and readership. |
---
"This guy is THE leading visionary on reality. He routinely discusses things which no one else has talked about, yet, turn out to be quite relevant months later."
--Walt Howard, commenting about CHS on another blog.
"You shine a bright and piercing light out into an ever-darkening world."
Jeremy Beck

---
Contributors and subscribers enable Of Two Minds to post 275+ free essays annually. It is for this reason they are Heroes and Heroines of New Media. Without your financial support, the free content would disappear for the simple reason that I cannot keep body and soul together on my meager book sales alone.
Or send coins, stamps or quatloos via mail--please request P.O. Box address.
Subscribers ($5/mo) and those who have contributed $50 or more annually (or made multiple contributions totalling $50 or more) receive weekly exclusive Musings Reports via email ($50/year is about 96 cents a week).
Each weekly Musings Report offers five features:
1. Exclusive essay on a diverse range of topics
2. Summary of the blog this week
3. Best thing that happened to me this week
4. Market Musings--commentary on the economy & global markets
5. From Left Field (a limited selection of interesting links)
At readers' request, there is also a $10/month option.
What subscribers are saying about the Musings (Musings samples here):
The "unsubscribe" link is for when you find the usual drivel here insufferable.
All content, HTML coding, format design, design elements and images copyright © 2014 Charles Hugh Smith, All global rights reserved in all media, unless otherwise credited or noted.
I am honored if you link to this essay, or print a copy for your own use.
Terms of Service:
All content on this blog is provided by Trewe LLC for informational purposes only. The owner of this blog makes no representations as to the accuracy or completeness of any information on this site or found by following any link on this site. The owner will not be liable for any errors or omissions in this information nor for the availability of this information. The owner will not be liable for any losses, injuries, or damages from the display or use of this information. These terms and conditions of use are subject to change at anytime and without notice.