A Quick Glance at Gold (August 29, 2007)


Long-time contributor Fastwater had this suggestion: "Your readers might like a heads-up on the technical analysis of gold." Since we noted yesterday that gold has recently outperformed other asset classes, this is an eminently timely suggestion.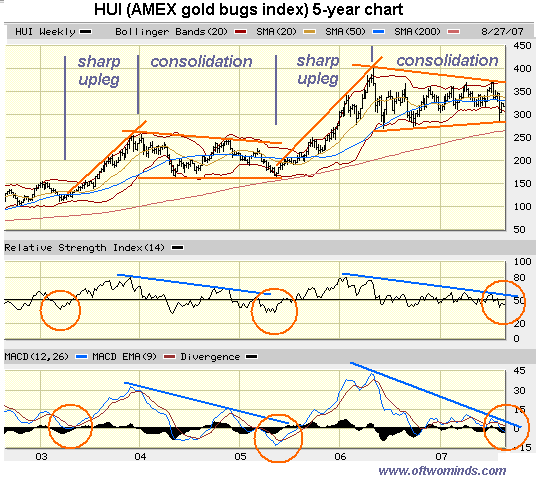 In this 5-year chart of the HUI (gold stocks index), one pattern is rather obvious: long periods of consolidation are followed by sharp uplegs. Note that this is a chart of gold mining stocks, not the price of gold. On some occasions the stocks outperform the metal itself, and on others they lag behind gold. For the purposes of investing, I have chosen the HUI as the stocks have over time outperformed the metal.

Note that the current consolidation period is almost exactly the same duration as the previous period of consolidation. Note also that Relative Strength (RSI) and MACD (moving average convergence-divergence) declined during the trading-range bound consolidation periods.

A relatively long-term chart like this can't be expected to reveal the day or week when a pattern might turn, but this chart certainly suggests that the long period of consolidation which has been playing out since May 8, 2006 may be drawing to an end, presaging another sharp upleg. Will this happen? No one knows, but this pattern of consolidation followed a move to higher levels opens the possibility, if not the likelihood, of such a move in the near future.

Frequent contributor U. Doran recommended this article Value of Gold vs. the Dollar by Ed Bugos, which describes a very interesting relation between the dollar and sharp uplegs in the price of gold.

Thank you, Fastwater and U. Doran, for the suggestions.


Poor Dumb Writer Disclosure: I own shares and calls (options) in gold miner MDG. This is not a recommendation or advice, merely a disclosure that I have a financial stake in a gold stock.


Thank you, Lloyd L., ($50) for your extremely generous donation to this humble site. I am greatly honored by your support and readership. All contributors are listed below in acknowledgement of my gratitude.




For more on this subject and a wide array of other topics, please visit my weblog.







copyright © 2007 Charles Hugh Smith. All rights reserved in all media.

I would be honored if you linked this wEssay to your site, or printed a copy for your own use.