Is There Capitalism After Cronyism? (August 30, 2014)


The more the Status Quo pursues the same old Keynesian Cargo Cult script of central planning and free money for financiers, the more self-liquidating the system becomes.

Judging by the mainstream media, the most pressing problems facing capitalism are:

1) income inequality, the basis of Thomas Piketty's bestseller Capital in the Twenty-First Century, and

2) the failure of laissez-faire markets to regulate their excesses, a common critique encapsulated by Paul Craig Roberts' recent book The Failure of Laissez Faire Capitalism.

These critiques (and many similar diagnoses) reach a widely shared conclusion: capitalism must be reformed to save it from itself.

The proposed reforms align with each analyst's basic ideological bent. Piketty's solution to rising wealth inequality is the ultimate in statist centralization: a global wealth tax.

Roberts and others recommend reforming capitalism to embody social purpose and recognize environmental limits. Exactly how this economic reformation should be implemented is a question that sparks debates across the ideological spectrum, but the idea that capitalism can be reformed is generally accepted by left, right and libertarian alike.

Socio-economist Immanuel Wallerstein asks a larger question: can the current iteration of global capitalism be reformed, or is it poised to be replaced by some other arrangement?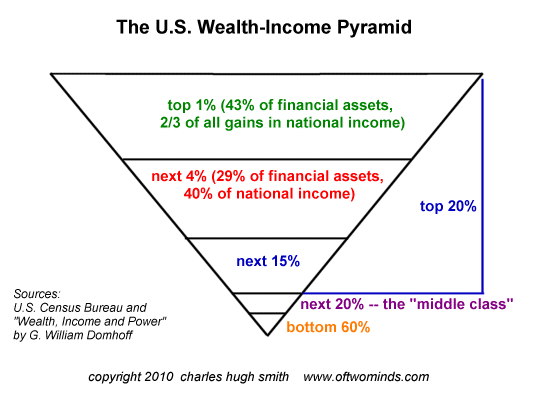 Wallerstein and four colleagues explored this question in Does Capitalism Have a Future? (Oxford University Press, 2013).
Wallerstein is known as a proponent of world systems, the notion that each dominant economic-political arrangement eventually reaches its limits and is replaced by a new globally hegemonic system.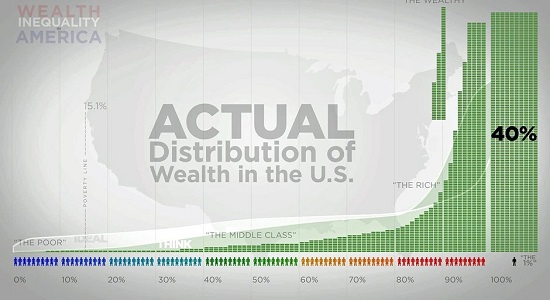 Wallerstein draws his basic definition of the current dominant system--let's call it Global Capitalism 1.0--from his mentor, historian Fernand Braudel, who meticulously traced modern capitalism back to its developmental roots in the 15th century in an influential three-volume history, Civilization & Capitalism, 15th to 18th Centuries:
The Structures of Everyday Life: Volume 1
The Wheels of Commerce: Vol. 2
The Perspective of the World: Volume 3
From this perspective, there is a teleological path to global capitalism's expansion beneath the market's ceaseless cycle of boom-and-bust. This model of ever-larger systems of global dominance has been further developed by Braudel disciples such as Giovanni Arrighi (The Long Twentieth Century: Money, Power and the Origins of Our Times).
It is this latest and most expansive iteration of capitalism--one dominated by the mobility of global capital, state enforcement of privately owned rentier/cartel arrangements and the primacy of financial capital over industrial capital--that Wallerstein and his collaborators view as endangered.
Amidst the conventional chatter of social spending countering markets gone wild--as if the only thing restraining rampant capitalism is the state--Wallerstein clearly identifies the state's role as enforcer of private cartels.
This is not just a function of regulatory capture by monied elites: if the state fails to maintain monopolistic cartels, profit margins plummet and capital is unable to maintain its spending on investment and labor. Simply put, the economy tanks as profits, investment and growth all stagnate.
This is why Wallerstein characterizes this iteration of capitalism as "a particular historical configuration of markets and state structures where private economic gain by almost any means is the paramount goal and measure of success."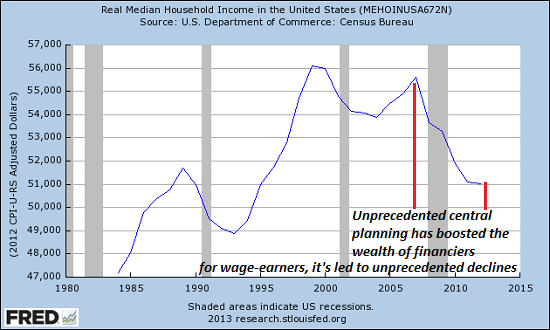 Even those who reject this description of free markets and the self-interested pursuit of profit can agree that the prime directive of capitalism is the accumulation of capital: enterprises that fail to accumulate capital lose capital and eventually go bust.
As economist Joseph Schumpeter recognized, capitalism is not a steady-state system but one constantly reworked by "creative destruction," the process of the less efficient being replaced by the more efficient.
In Wallerstein's view, Global Capitalism 1.0 could end in the frustration of capitalists to continue reaping large and fairly secure profits. If capital can no longer accumulate capital, this iteration of capitalism runs out of oxygen and creative destruction will usher in a new arrangement. (Wallerstein's chapter in the book is titled why capitalists may no longer find capitalism rewarding.)
Though the status quo believes that amending the political-financial rules is all that's needed to maintain the current centralized arrangement, Wallerstein believes that following the old rules will actually intensify the coming structural crisis.
As the state-cartel crony-capitalism that dominates the financial and political realms unravels on multiple levels, it's difficult not to agree with Wallerstein that the more the Status Quo pursues the same old Keynesian Cargo Cult script of central planning and free money for financiers, the more self-liquidating the system becomes.


This entry is drawn from an essay published in The American Conservative Magazine; a Kindle Edition is available for only $3.98/issue.


---
---
Get a Job, Build a Real Career and Defy a Bewildering Economy
(Kindle, $9.95)(print, $20)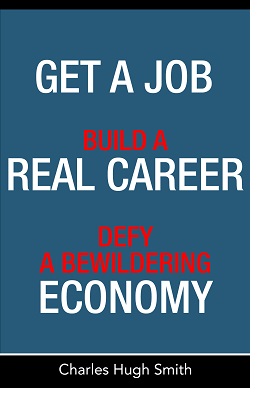 Are you like me?
Ever since my first summer job decades ago, I've been chasing financial security. Not win-the-lottery, Bill Gates riches (although it would be nice!), but simply a feeling of financial control. I want my financial worries to if not disappear at least be manageable and comprehensible.
And like most of you, the way I've moved toward my goal has always hinged not just on having a job but a career.
You don't have to be a financial blogger to know that "having a job" and "having a career" do not mean the same thing today as they did when I first started swinging a hammer for a paycheck.
Even the basic concept "getting a job" has changed so radically that jobs--getting and keeping them, and the perceived lack of them--is the number one financial topic among friends, family and for that matter, complete strangers.
So I sat down and wrote this book: Get a Job, Build a Real Career and Defy a Bewildering Economy.
It details everything I've verified about employment and the economy, and lays out an action plan to get you employed.
I am proud of this book. It is the culmination of both my practical work experiences and my financial analysis, and it is a useful, practical, and clarifying read.
Test drive the first section and see for yourself. Kindle, $9.95 print, $20
"I want to thank you for creating your book Get a Job, Build a Real Career and Defy a Bewildering Economy. It is rare to find a person with a mind like yours, who can take a holistic systems view of things without being captured by specific perspectives or agendas. Your contribution to humanity is much appreciated."
Laura Y.
Gordon Long and I discuss The New Nature of Work: Jobs, Occupations & Careers (25 minutes, YouTube)


---
NOTE: Contributions/subscriptions are acknowledged in the order received. Your name and email remain confidential and will not be given to any other individual, company or agency.
| | | |
| --- | --- | --- |
| Thank you, Dan A. (book/DVD), for yet another thoughtfully generous contribution to this site -- I am greatly honored by your steadfast support and readership. | | Thank you, Glenn H. ($50), for your marvelously generous contribution to this site -- I am greatly honored by your support and readership. |
---
"This guy is THE leading visionary on reality. He routinely discusses things which no one else has talked about, yet, turn out to be quite relevant months later."
--Walt Howard, commenting about CHS on another blog.
"You shine a bright and piercing light out into an ever-darkening world."
Jeremy Beck

---
Contributors and subscribers enable Of Two Minds to post 275+ free essays annually. It is for this reason they are Heroes and Heroines of New Media. Without your financial support, the free content would disappear for the simple reason that I cannot keep body and soul together on my meager book sales alone.
Or send coins, stamps or quatloos via mail--please request P.O. Box address.
Subscribers ($5/mo) and those who have contributed $50 or more annually (or made multiple contributions totalling $50 or more) receive weekly exclusive Musings Reports via email ($50/year is about 96 cents a week).
Each weekly Musings Report offers six features:
1. Exclusive essay on a diverse range of topics
2. Summary of the blog this week
3. Best thing that happened to me this week
4. Market Musings--commentary on the economy & global markets
5. Cultcha/Culture: selected links to the arts, performances, music, etc.
6. From Left Field (a limited selection of interesting links)
At readers' request, there is also a $10/month option.
What subscribers are saying about the Musings (Musings samples here):
The "unsubscribe" link is for when you find the usual drivel here insufferable.
Dwolla members can subscribe to the Musings Reports with a one-time $50 payment; please email me if you use Dwolla, as Dwolla does not provide me with your email.
The Heroes & Heroines of New Media:
oftwominds.com contributors and subscribers
---
All content, HTML coding, format design, design elements and images copyright © 2014 Charles Hugh Smith, All global rights reserved in all media, unless otherwise credited or noted.
I am honored if you link to this essay, or print a copy for your own use.
Terms of Service:
All content on this blog is provided by Trewe LLC for informational purposes only. The owner of this blog makes no representations as to the accuracy or completeness of any information on this site or found by following any link on this site. The owner will not be liable for any errors or omissions in this information nor for the availability of this information. The owner will not be liable for any losses, injuries, or damages from the display or use of this information. These terms and conditions of use are subject to change at anytime and without notice.