It's Not Just Politics That's Broken--The Status Quo's Model of "How the World Works" Is Broken (August 26, 2014)


The Status Quo is dysfunctional because its model of how the world works is broken.

Much has been written about the dysfunction in Washington D.C. Pundits have been wringing their hands for years over the rise of bitter partisan politics and the resulting gridlock. The impact of this--what I have termed profound political disunity--extends beyond the narrow confines of domestic politics, a reality reflected in Foreign Affairs new survey of our winter of political discontent, Dysfunction Junction.

But all these discussions of our dysfunctional politics ignore the larger truth, which is the entire model of the Status Quo is broken. Even if reformers succeeded in ridding the political system of cronyism and favors-for-campaign-contributions--two essentially impossible reforms, given the legalistic cover provided for cronyism and bought and paid for representatives, the basic model of "how the world works" that dominates the world-view of leaders across the political spectrum would remain broken.

There are only three alternatives:

1. The current gridlock continues, and the policies in place grind on with minor tweaks.

2. The Democrats win a sweeping victory and are able to unilaterally impose their reforms.

3. The Republicans win a sweeping victory and are able to unilaterally impose their reforms.

Why do we know the entire model is broken? Because all three alternatives lead to a continuation of the same ruinous model of "how the world works":

1. A continued reliance on Keynesian Cargo Cult "stimulus," i.e. borrowing and blowing trillions of dollars to prop up inefficient, bloated, corrupt, wasteful crony-capitalist cartels and politically untouchable fiefdoms.

2. The continued destruction of open, transparent markets via intervention by the central state and bank.

3. The continued expansion of the Welfare State, i.e. entitlements such as Medicaid and ObamaCare subsidies and implicit entitlements such as farm price supports, corporate tax breaks, mortgage interest deductions, etc.

4. The continued expansion of the National Security State, whose premises are A) everyone on the planet is guilty until proven innocent and B) only Total Information can protect "us" (i.e. the National Security State itself) from threats.

5. The continued erosion of civil liberties via death by a thousand cuts.

6. The rising dependence on borrowed money to fund standard government services.

7. The rising dependence on manipulated/gamed statistics to manage perceptions that the Status Quo is eternal, powerful and improving everyone's lives, even as it serves the narrow interests of self-serving Elites and insiders.

8. The expansion of a Permanent War State that recognizes no boundaries between domestic and international threats, hence the militarization of local police forces and the rise of private mercenaries in the guise of for-profit domestic prisons and police forces.

9. A central bank (the Federal Reserve) that will continue to support the most rapacious, opaque and self-serving financial Elites with free money for financiers.

10. The continuing purchase of political favors by monied Elites via lobbying and campaign contributions.

11. An ever-rising dependence on generating the appearance of stability, transparency, competence and expertise as a substitute for actual stability, transparency, competence and expertise. In other words, an expanding reliance on gaming dysfunctional systems rather than actually repairing dysfunctional systems.

12. An increasing reliance on zero-interest rates, debt and free money for financiers as the "fix" for every economic ill.

The Status Quo is dysfunctional because its model of how the world works is broken. It won't matter if gridlock remains in place or one of the parties gets to impose its "brand" of policy-tweaks; since no one on the political spectrum has any concept that the current model described in these 12 points is broken, fixing the political dysfunction won't fix the systemic dysfunction.


---
---
Get a Job, Build a Real Career and Defy a Bewildering Economy
(Kindle, $9.95)(print, $20)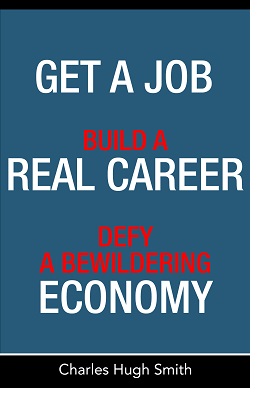 Are you like me?
Ever since my first summer job decades ago, I've been chasing financial security. Not win-the-lottery, Bill Gates riches (although it would be nice!), but simply a feeling of financial control. I want my financial worries to if not disappear at least be manageable and comprehensible.
And like most of you, the way I've moved toward my goal has always hinged not just on having a job but a career.
You don't have to be a financial blogger to know that "having a job" and "having a career" do not mean the same thing today as they did when I first started swinging a hammer for a paycheck.
Even the basic concept "getting a job" has changed so radically that jobs--getting and keeping them, and the perceived lack of them--is the number one financial topic among friends, family and for that matter, complete strangers.
So I sat down and wrote this book: Get a Job, Build a Real Career and Defy a Bewildering Economy.
It details everything I've verified about employment and the economy, and lays out an action plan to get you employed.
I am proud of this book. It is the culmination of both my practical work experiences and my financial analysis, and it is a useful, practical, and clarifying read.
Test drive the first section and see for yourself. Kindle, $9.95 print, $20
"I want to thank you for creating your book Get a Job, Build a Real Career and Defy a Bewildering Economy. It is rare to find a person with a mind like yours, who can take a holistic systems view of things without being captured by specific perspectives or agendas. Your contribution to humanity is much appreciated."
Laura Y.
Gordon Long and I discuss The New Nature of Work: Jobs, Occupations & Careers (25 minutes, YouTube)


---
NOTE: Contributions/subscriptions are acknowledged in the order received. Your name and email remain confidential and will not be given to any other individual, company or agency.
| | | |
| --- | --- | --- |
| Thank you, Aryeh N. ($5/month), for your fabulously generous subscription to this site -- I am greatly honored by your support and readership. | | Thank you, Henry G. ($5/month), for your wondrously generous re-subscription to this site -- I am greatly honored by your steadfast support and readership. |
---
"This guy is THE leading visionary on reality. He routinely discusses things which no one else has talked about, yet, turn out to be quite relevant months later."
--Walt Howard, commenting about CHS on another blog.
"You shine a bright and piercing light out into an ever-darkening world."
Jeremy Beck

---
Contributors and subscribers enable Of Two Minds to post 275+ free essays annually. It is for this reason they are Heroes and Heroines of New Media. Without your financial support, the free content would disappear for the simple reason that I cannot keep body and soul together on my meager book sales alone.
Or send coins, stamps or quatloos via mail--please request P.O. Box address.
Subscribers ($5/mo) and those who have contributed $50 or more annually (or made multiple contributions totalling $50 or more) receive weekly exclusive Musings Reports via email ($50/year is about 96 cents a week).
Each weekly Musings Report offers six features:
1. Exclusive essay on a diverse range of topics
2. Summary of the blog this week
3. Best thing that happened to me this week
4. Market Musings--commentary on the economy & global markets
5. Cultcha/Culture: selected links to the arts, performances, music, etc.
6. From Left Field (a limited selection of interesting links)
At readers' request, there is also a $10/month option.
What subscribers are saying about the Musings (Musings samples here):
The "unsubscribe" link is for when you find the usual drivel here insufferable.
Dwolla members can subscribe to the Musings Reports with a one-time $50 payment; please email me if you use Dwolla, as Dwolla does not provide me with your email.
The Heroes & Heroines of New Media:
oftwominds.com contributors and subscribers
---
All content, HTML coding, format design, design elements and images copyright © 2014 Charles Hugh Smith, All global rights reserved in all media, unless otherwise credited or noted.
I am honored if you link to this essay, or print a copy for your own use.
Terms of Service:
All content on this blog is provided by Trewe LLC for informational purposes only. The owner of this blog makes no representations as to the accuracy or completeness of any information on this site or found by following any link on this site. The owner will not be liable for any errors or omissions in this information nor for the availability of this information. The owner will not be liable for any losses, injuries, or damages from the display or use of this information. These terms and conditions of use are subject to change at anytime and without notice.