Can a National Quasi-Religion (Pro Sports) Go Broke? (August 29, 2014)


Attending costly games is on the margins of the household budget. When the credit card gets maxed out, attending is no longer an option.

Please understand I'm not suggesting professional sports isn't the greatest thing since sliced bread: I'm simply asking if attending pro sports games has become unaffordable to the average American.

Who cares as long as we can watch the games for free on television, right? That raises another issue: in the next recession, will advertisers still pay billions of dollars for broadcast TV ads on sports channels when ads on mobile devices distributed via Big Data analysis can directly target the (shrinking) populace who still has disposable income to spend?

Before we look at the money side of pro sports, let's note the glorious shared experience of "our team" winning and hated rivals losing. Sports is one of the few experiences that unites a remarkably diverse populace, and one of the few spheres of life that isn't politicized to ruination.

We all get to live vicariously through sports, and the stranger cheering beside us is suddenly a "friendly" in a largely hostile world.

With apologies to Dallas Cowboys fans: Joe Montana to Dwight Clark-- The Catch in January 1982: (Cowboys fans have many memorable moments to savor, including a number in this game)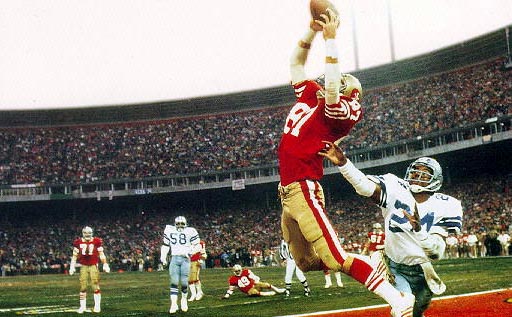 Montana to Clark - The Catch (2:24)
The problem is that attending a game is prohibitively expensive. A seat in the nosebleed section might only be $15, but there's parking (or train fare), and the $10 beer and the $10 hotdog. That's $40 - $50 for one fan or $80 for two people.
Given that the average wage is $44,000, $80 for "cheap seats at the game" is not inconsequential. Given that many clubs are now pricing tickets by demand, it's easy for two people to spend $200 to attend a game.
How many people can afford to attend games on a regular basis without maxing out a credit card or drawing on a home equity line of credit (assuming there's home equity to tap)?
Cities desperate to retain pro franchises are on the hook for hundreds of millions of dollars spent building $1+ billion stadiums. Many claim that they'll recoup the money from hotels and shopping malls built adjacent to the stadium, but this gargantuan cash flow has yet to actually materialize.
The winner take all dynamic of our pop culture has driven salaries and team overhead costs into the stratosphere. This pushes costs so high that teams literally can't afford a losing season. Alas, not every team can win the conference, much less the championship.
The assumption that TV ad revenues will continue to support the enormous costs of the system is rarely questioned. The ads have to work to make sense, and in an economy in which the average wage earner is making less money every year (measured by purchasing power rather than nominal dollars), and more and more of the dwindling income is devoted to healthcare, taxes, debt service and essentials, there are two questions here:
1. What good is an ad if the viewers have no disposable money to spend?
2. Rather than pay to broadcast an ad to every viewer, few of whom are in the market for whatever item you're selling, why not target the core audience directly with mobile ads?
If an advertiser is marketing beer that (in Mike Royko's memorable phrase) tastes like it's been strained through a horse, where's the most bang for the ad buck--a broadcast ad to sports fans who have seen hundreds of beer ads and are either already fans of the swill being advertised or consumers who will never buy the product, regardless of ads, pricing, etc.?
The typical ad-industry justification is that if Swill A can capture 1% of market share from SWill B, spending tens of millions of dollars on TV network ads is a wise investment.
But does this argument hold up when advertisers can target beer buyers with a history of buying Swill A and B directly via their mobile phones as they enter the supermarket? Which ad do you reckon has a higher probability of modifying consumer choice, another beer ad that viewers mute/ignore, or a coupon delivered to the beer buyer at the point of purchase?
In short, the mobile ad revolution has barely begun, and while broadcast ads on TV, radio and the Internet will all still attract advert money, it seems highly likely we've reached Peak Broadcast TV Advertising income.
Take a glance at this chart of household income: every sector from wealthy to low-income is bringing home less money. What does that tell you about the future of advertising?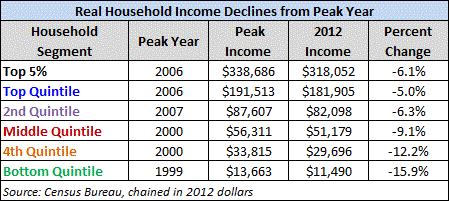 Based on anecdotal evidence submitted by readers and correspondents, it seems that much of the discretionary spending on things like attending sports events and concerts is being funded with debt or drawdowns of savings/equity. In other words, people are charging big-bucks tickets on their credit card, not paying for them out of weekly earnings.
There may be a generational component as well. Most of the people in the top 10% of household income are Baby Boomers in their peak earning years. On the face of it, they can easily afford to pay for costly tickets, parking, beer, etc. at one of the sports industry's new secular cathedrals (i.e. stadiums).
But these same people are often also paying for kids' college and funding care for their aging parents. $200,000 a year looks great until you subtract taxes, college costs, assisted living costs for a parent, a big mortgage and rising costs for essentials.
My point is: going to games is now like going to concerts or a fancy restaurant: each consumes a major chunk of dwindling discretionary income. As credit and income tighten, it's getting easier to decide to forego the concert, game or high-end dining experience.
In other words, attending costly games is on the margins of the household budget. When the credit card gets maxed out, attending is no longer an option.
I haven't found any studies on this question, but I also wonder if Gen Y is as committed to the idea of investing so much time and money in sports as their elders. If they are indeed less invested, this adds additional weight to the idea that we've reached Peak Pro Sports.
I confess I'm jaded. I don't have the time or emotional surplus to invest in following sports, and I tend to see the sports industry as just another bloated cartel that rips off its customers because it can, enriching a handful of super-wealthy owners who bask in the reflected glory of a secular religion.
Put the trends together and it certainly looks like the sports cartel has already sucked up all the oxygen in the room. In the next recession, we may find that pro sports will no longer be able to support the sky-high costs of its overhead and secular cathedrals.


---
---
Get a Job, Build a Real Career and Defy a Bewildering Economy
(Kindle, $9.95)(print, $20)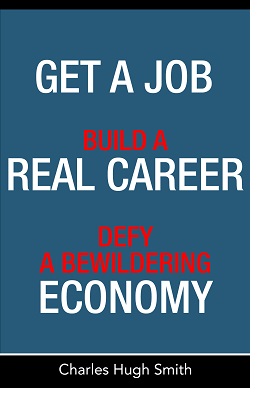 Are you like me?
Ever since my first summer job decades ago, I've been chasing financial security. Not win-the-lottery, Bill Gates riches (although it would be nice!), but simply a feeling of financial control. I want my financial worries to if not disappear at least be manageable and comprehensible.
And like most of you, the way I've moved toward my goal has always hinged not just on having a job but a career.
You don't have to be a financial blogger to know that "having a job" and "having a career" do not mean the same thing today as they did when I first started swinging a hammer for a paycheck.
Even the basic concept "getting a job" has changed so radically that jobs--getting and keeping them, and the perceived lack of them--is the number one financial topic among friends, family and for that matter, complete strangers.
So I sat down and wrote this book: Get a Job, Build a Real Career and Defy a Bewildering Economy.
It details everything I've verified about employment and the economy, and lays out an action plan to get you employed.
I am proud of this book. It is the culmination of both my practical work experiences and my financial analysis, and it is a useful, practical, and clarifying read.
Test drive the first section and see for yourself. Kindle, $9.95 print, $20
"I want to thank you for creating your book Get a Job, Build a Real Career and Defy a Bewildering Economy. It is rare to find a person with a mind like yours, who can take a holistic systems view of things without being captured by specific perspectives or agendas. Your contribution to humanity is much appreciated."
Laura Y.
Gordon Long and I discuss The New Nature of Work: Jobs, Occupations & Careers (25 minutes, YouTube)


---
NOTE: Contributions/subscriptions are acknowledged in the order received. Your name and email remain confidential and will not be given to any other individual, company or agency.
| | | |
| --- | --- | --- |
| Thank you, Kevin M. ($5/month), for your monumentally generous subscription to this site -- I am greatly honored by your support and readership. | | Thank you, Deward T. ($50), for your marvelously generous contribution to this site -- I am greatly honored by your steadfast support and readership. |
---
"This guy is THE leading visionary on reality. He routinely discusses things which no one else has talked about, yet, turn out to be quite relevant months later."
--Walt Howard, commenting about CHS on another blog.
"You shine a bright and piercing light out into an ever-darkening world."
Jeremy Beck

---
Contributors and subscribers enable Of Two Minds to post 275+ free essays annually. It is for this reason they are Heroes and Heroines of New Media. Without your financial support, the free content would disappear for the simple reason that I cannot keep body and soul together on my meager book sales alone.
Or send coins, stamps or quatloos via mail--please request P.O. Box address.
Subscribers ($5/mo) and those who have contributed $50 or more annually (or made multiple contributions totalling $50 or more) receive weekly exclusive Musings Reports via email ($50/year is about 96 cents a week).
Each weekly Musings Report offers six features:
1. Exclusive essay on a diverse range of topics
2. Summary of the blog this week
3. Best thing that happened to me this week
4. Market Musings--commentary on the economy & global markets
5. Cultcha/Culture: selected links to the arts, performances, music, etc.
6. From Left Field (a limited selection of interesting links)
At readers' request, there is also a $10/month option.
What subscribers are saying about the Musings (Musings samples here):
The "unsubscribe" link is for when you find the usual drivel here insufferable.
Dwolla members can subscribe to the Musings Reports with a one-time $50 payment; please email me if you use Dwolla, as Dwolla does not provide me with your email.
The Heroes & Heroines of New Media:
oftwominds.com contributors and subscribers
---
All content, HTML coding, format design, design elements and images copyright © 2014 Charles Hugh Smith, All global rights reserved in all media, unless otherwise credited or noted.
I am honored if you link to this essay, or print a copy for your own use.
Terms of Service:
All content on this blog is provided by Trewe LLC for informational purposes only. The owner of this blog makes no representations as to the accuracy or completeness of any information on this site or found by following any link on this site. The owner will not be liable for any errors or omissions in this information nor for the availability of this information. The owner will not be liable for any losses, injuries, or damages from the display or use of this information. These terms and conditions of use are subject to change at anytime and without notice.