Beware the "The Cultural Civil War" Narrative: You're Being Played
August 21, 2017
There is always common ground for those who dare to seek it.
Remember the "Russians hacked our election!" hysteria--or have you already forgotten? That entire narrative collapsed under a deluge of factual evidence that the Democratic National Committee (DNC) data release was an insider job, and a compelling lack of evidence of any other Russian hacking.
That failed narrative has now been replaced with a new mass hysteria: "a new cultural Civil War is inevitable." In this narrative, America has succumbed to us-versus-them divisions divided by all-or-nothing ideological bright lines.
Snap out of it, America: you're being played, just as you were played by the absurd "Russia hacked the election" mania.
The core strategy here is the destruction of any common ground: once the delusion that there is no common ground left has been cemented by relentless mainstream and social media hysteria/ propaganda, the populace fragments into echo-chamber fiefdoms of ideological conformity that are easily manipulated by the political-financial power structure.
Once the populace has been fragmented into ideologically divisive camps, controlling the resulting mass of warring mobs is easy. Rather than recognize the commonality of their powerlessness and impoverishment, the fragmented fiefdoms are easily turned on each other:
From the point of view of each fragmented fiefdom, , the problem isn't structural, i.e. the dominance of extreme concentrations of wealth and power; the "problem" is the other cultural-ideological fiefdoms.
Once the masses accept this false division and the destruction of common ground, their power to reverse the extreme concentrations of wealth and power is shattered. The play is as old as civilization itself: conjure up extremists (paying them when necessary), goad the formation of opposing extremists, then convince the populace that these extremists have been normalized, i.e. your friends and neighbors already belong to one or the other.
This normalization then sets up the relentless demands to choose a side-- the classic techniques of misdirection and false choice.
Just as you're sold a triple-bacon cheeseburger or a hybrid auto, you're being sold a completely fabricated cultural civil war. There have always been extremists on every edge of the ideological spectrum, just as there have always been religious zealots.
In a healthy society, these fringe pools of self-reinforcing fanaticism are given their proper place: they are outliers, representing self-reinforcing black holes of confirmation bias of a few.
In times of social, political and financial stress, such groups pop up like mushrooms. In times of media saturation, a relative handful can gain enormous exposure and importance because the danger they pose sells adverts and attracts eyeballs/viewers.
Add a little fragmentation, virtue-signaling, demands for ideological conformity and voila, you get a deeply fragmented and deranged populace that is incapable of recognizing the dire straits it is in or recognizing the structural sources of its impoverishment and powerlessness.
In other words, you get an easily mallable populace at false war with itself.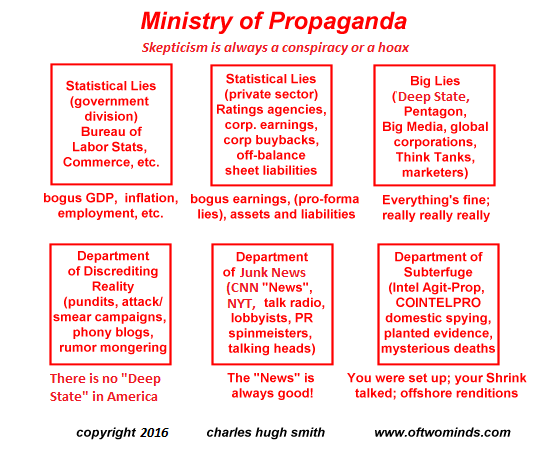 There is always common ground for those who dare to seek it. The Powers That Be are blowing up the bridges as fast as they can, whipping up fear and hatred of the Other, fanning the flames of extremism and claiming extremists are now normalized and everywhere.
All of this is false. Would you buy an entirely manipulated cultural civil war if it was advertised as such? If not, then don't buy into the false (but oh so useful to the ruling elites) narrative of an "inevitable cultural Civil War."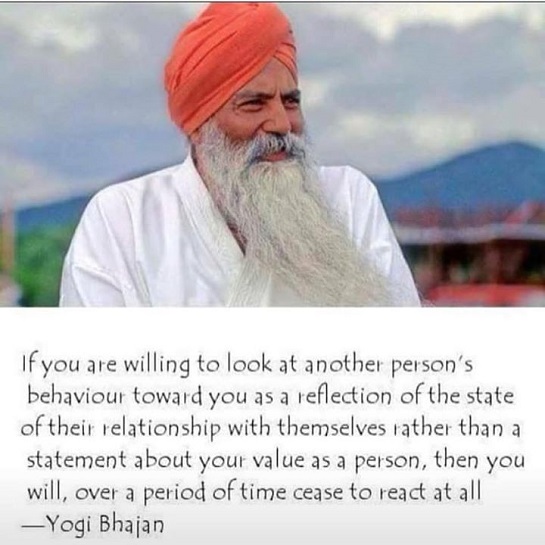 If you found value in this content, please join me in seeking solutions by becoming a $1/month patron of my work via patreon.com.
Check out both of my new books, Inequality and the Collapse of Privilege ($3.95 Kindle, $8.95 print) and Why Our Status Quo Failed and Is Beyond Reform ($3.95 Kindle, $8.95 print, $5.95 audiobook) For more, please visit the OTM essentials website.
---
NOTE: Contributions/subscriptions are acknowledged in the order received. Your name and email remain confidential and will not be given to any other individual, company or agency.
| | | |
| --- | --- | --- |
| Thank you, Stewart D. ($5/month), for your stupendously generous patronage to this site -- I am greatly honored by your support and readership. | | Thank you, Tina B. ($5/month), for your monstrously generous patronage to this site -- I am greatly honored by your support and readership. |
---