Gifts and Gold (December 9, 2006)


Is anyone else an utterly unmotivated, lazy shopper like myself? If so, I have the solution to all your gift-giving needs. And you can do it all right from this site. I'm talking about Amazon.com gift certificates.
Yes, I earn a small commission on anything you buy on Amazon via links on my site, but it doesn't cost you a cent more than if you just went to amazon.com and ordered gift certificates or books. The commish comes from amazon, not the buyer.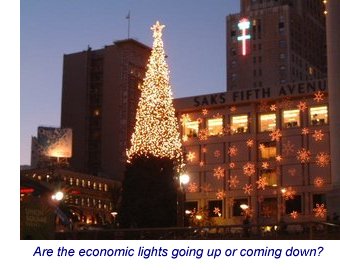 What I like about amazon.com gift certificates is that you send them via email, so it's super-easy--and you can include an e-card if you want. It takes about 20 minutes to do all your holiday shopping, and the recipients love them because you can get just about anything on amazon nowadays--sheets and towels, cookware, toys, sports stuff, electronics, DVDs and for those folks on your list who still read, books.

According to my server logs, there are a couple thousand regular readers of this humble site, and if all of you pop for $100 of gift certificates, that would really make my holiday cheery. I mean, make your holiday shopping cheery and easy.

Last weekend I accompanied my Mom and sister to Macy's San Francisco. (When I told one of my buddies, he gave me a look like "Are you insane?" It was my gift to the ladies, guys. You know how it is.) Males know how this works: there's seven floors or whatever of crap to rummage through, and about four chairs in the entire building. Luckily, I only had to wait 20 minutes to snag a cushioned chair, where I promptly took a nap. Some other guy had the only other seat on the floor, and he too snoozed out.

Afterward, my sister said she was sorry I didn't get anything for myself. That was sweet of her, but I already did my entire year's clothing shopping at Costco about six months ago in approximately five minutes. (Waiting in the cashier's line took longer than the selection process.) When the jeans and sneakers are shredded, then I go back for more. Simple.

But I stray from my purpose, which is to recommend Amazon.com gift certificates as the answer to all your holiday shopping needs. Seriously--if you're not much of a shopper-- check it out. Who needs the madness of malls and department stores? Why buy a specialty store gift certificate when amazon has pretty much everything? My niece and nephew haven't complained, and that's proof of concept.

Recently, another friend asked if I was a "gold bug" i.e. an investor who believes in owning as much gold as I can. I said, no, I wasn't. But I did say I thought it prudent to own some actual physical gold and some mining stocks or a gold ETF, and maybe some silver if you follow that metal or consider gold and silver roughly equivalent. As shown here this week, all currencies are declining against gold. Nuff said.

If you decide to buy some actual gold but don't want to pay the steep commissions required to buy coins, or don't want the hassle and expense of a security deposit box, then buy gold online at BullionVault.com. This outfit was recommended to me by longtime reader and erudite contributor, Our U.K. Correspondent. The company holds the gold--yes, your gold-- in vaults in London, New York, and Zurich (your choice), and you can buy gold in small quantities (grams) and easily buy and sell your holdings over the Internet. Their commission is modest, I think, but you can check it out yourself.

I like this system, and I found their website easy to use. With a one-time setup, I can buy gold directly with funds from my bank checking account. This is my opinion, but like amazon, I do receive a small commission from bullionvault.com should you buy gold via this link. Important Disclosure: Though I earn a small commission on Amazon.com books and gift certificates and gold from BullionVault.com purchased via links on my site, I receive no fees for any links on my site. There is no paid advertising on this site. That's my policy. I recommend what I think is of value, and you check it out for yourself. If you like it, then it's nice if you buy through this site. If you don't, that's OK, too. If you want to show your appreciation, then your purchases at amazon or BullionVault.com do generate small commissions for this poor dumb writer.

Or if you're feeling very adventurous, then consider giving a copy of my novel I-State Lines as a gift. My favorite independent bookstore in Iowa The Kaleidoscope will take your order online and ship it free; or you can pick up
I-State Lines
on amazon.com as well.

Or if you prefer to send out specific titles as gifts, check out the 100+ books and movies on my Recommended Books/Films list. What makes this fun is that amazon added a cool "mouse-over" feature which pops up information on the title when you roll your mouse over the link. Plus, don't take my word for it--click on the title and read other folks' reviews.

It's your choice; I'm only trying to help make your gift shopping as painless as possible.

OK, now on to the theme of the above photo. Is this as glowing an economy as the cheerleader media would have you believe? Astute reader Bob K. filed this retail report:
Seems like you had a comment this last week or two about how the media always paints a rosy picture.... well, I was shocked this week: on two occasions, (one tonight, just a couple of weekends until Christmas) out at stores for Christmas shopping. Almost completely deserted, no people at all. Early December, freezing cold where I am at and Old Navy is selling outerwear 50% off and no one was buying. Huge discounts on clothing. At a mall - most stores I passed had clerks standing idly about, no customer in sight.

Yet I imagine that I will soon read in the paper or see on the TV that sales are just dandy. Just not sure that people are waiting for the great deals - this year just does not seem like shopping seasons of recent memory.

Could it be that people are already tapping/tapped out financially - even on the credit card? Honestly, it was almost eerie this week, a bit surreal.

Just some thoughts that seemed worth sharing.

Best regards,

Bob K.
Thank you, Bob, for a first-hand account of what may well turn out to be a stocking-full-of-coal Christmas.

Department of Corrections: Knowledgeable reader Z. was kind enough to correct an error I made in yesterday's post regarding ETFs.
This is just plain wrong:
"When someone sells an Internet ETF, then the ETF has to sell its shares of Google, Yahoo, etc."

ETF shares are held in a trust for a specific length of time. The underlying stocks are not sold when an ETF is sold.
That's an important distinction, and I am glad to know about this. Thank you, Z. for this information.


For more on this subject and a wide array of other topics, please visit my weblog.







copyright © 2006 Charles Hugh Smith. All rights reserved in all media.

I would be honored if you linked this wEssay to your site, or printed a copy for your own use.