2015 Housing Trends: Will the Echo Bubble Continue Expanding? (December 31, 2014)


Considering the reality that only the top 5% have benefited from the policies of the past six years, it's difficult to see how the Echo Bubble can continue expanding in 2015.

After two years of bubble-type price increases, the big question for housing in 2015 is: will the Echo Bubble continue expanding, or will it follow its 2002-2007 sibling's epic bubble pop and decline? To answer the question, we first need to identify the key trends that have enabled the expansion of the Echo Bubble.

There are three key dynamics underpinning housing's Echo Bubble.

1. The unprecedented intervention of the Federal Reserve to push mortgage rates to historic lows. Nothing fancy here; lower rates serve two purposes central to the policies of central banks everywhere: they enable marginal buyers to qualify to buy homes, and they boost prices higher.

2. The post-2008 slump in housing construction and the demand for rental housing pushed inventory down and demand up. This led to a classic imbalance of supply and demand: as demand by investors and overseas buyers rose, inventory fell. Prices naturally skyrocketed in areas with tight inventory and high demand.

3. The end of the Fed's monetary easing/money-printing devastated the periphery emerging-market economies, forcing capital to flee to safe havens such as U.S. real estate. As China and the emerging economies that had boomed as Fed money poured into their economies rolled over, those who had accumulated fortunes rushed to transfer their wealth (often ill-gotten) into safe havens such as the U.S.

The goal wasn't just to transfer capital, but safeguard the families' physical safety; buying a house with cash is the ideal solution. This dynamic has fueled a vast all-cash housing trade in areas favored by foreign capital: New York, Miami, Los Angeles, San Francisco, Vancouver, etc.

The question then boils down to: are these trends likely to continue or fade? To answer that, we have to refer to a fourth dynamic, one that undermines the entire Echo Bubble: the erosion of household income.

How can housing prices keep rising as household income continues declining in real terms?

The Fed and federal housing agencies have reversed the natural downward pressure on demand and prices by making mortgages incredibly cheap and reducing the down payment requirements. This enables marginal buyers to qualify, but the previous housing bubble revealed that enabling marginal buyers to qualify for mortgages triggers a time-bomb of defaults: last ones on, first ones off.

Marginal buyers are the first to default when lay-offs, divorces, medical crises, etc. arise, as they inevitably do.

Here is a chart of per capita income. This broad measure of income doesn't reflect the enormous skew in household income to the top 5%--a reality that is thoroughly covered by Doug Short in Household Incomes Across Time: The Divergence at the Top 5%. In effect, most of the gains in income and wealth over the past decade have flowed to the top 5%, leaving the bottom 95% with stagnant income and net worth.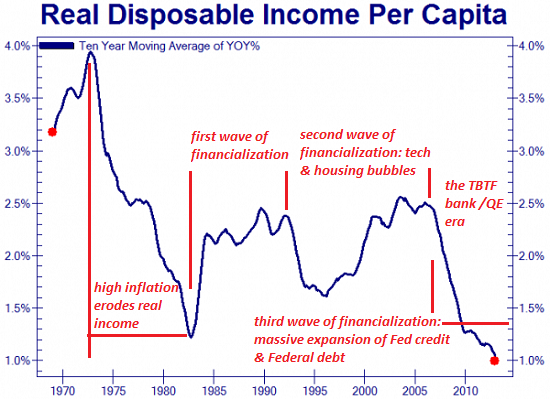 Let's consider each of the three trends that have pushed prices higher.
Mortgage rates: it's difficult to see how rates can decline much further, as they are already near-zero in real (inflation-adjusted) terms. there is precious little incentive for lenders to accept the risk of default for near-zero returns.
The Federal housing agencies appear to have recognized this limit, which is why they're pushing near-zero down payment loans again.
Inventory. Courtesy of Market Daily Briefing, here is a chart of inventory and the Case-Shiller house price index. Inventory plummeted in the past few years, and remains low.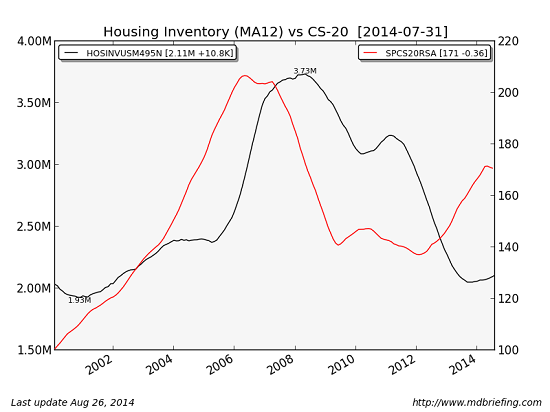 Cash sales/mortgage credit. This chart of mortgage credit growth and the Case-Shiller house price index shows that mortgage credit has lagged the explosive rise in price, suggesting much of the price appreciation has been driven not by Americans buying homes to live in, but foreign buyers and domestic investors paying cash.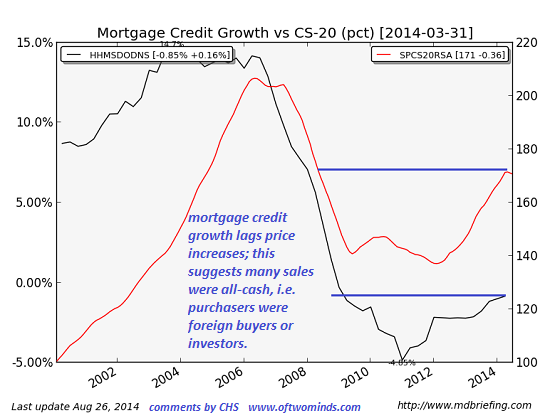 Is there any limit on the number of foreign buyers with hot money to launder by buying U.S. houses? That's an unknown with multiple variables. The imposition of capital controls in periphery economies could trigger a tsunami of hot money seeking safe haven. But once that wave breaks, the flow of hot money could subside.
We might also ask: is there any limit on demand for rental housing? Investors flocked into housing in the great chase for yield in a zero-interest rate economy, but the sharp rise in rents in many areas may be reaching limits on what households can afford to pay.
We see a hint of slackening demand in this chart of home sales, which tend to lead price. As sales decline and inventory slowly rises, prices tend to follow.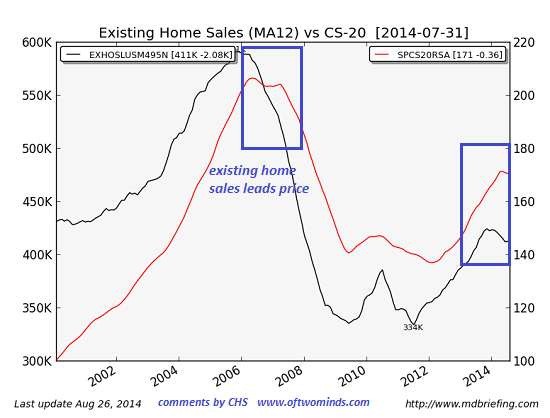 Will the Echo Bubble continue expanding in 2015? Let's answer with another set of questions: is a housing market that is dependent on marginal buyers who would never qualify to buy a house with prudent risk management a sustainable market? Is a housing market that is dependent on hot money from overseas buying houses for cash a sustainable market? Is a housing market that is dependent on investors buying homes to rent a sustainable market?
Considering the reality that only the top 5% have benefited from the policies of the past six years, it's difficult to see how the answer is "yes." Income has gone nowhere, while the wealth of the top 5% has soared. Is that a healthy economy that can support a sustainable rise in house values? No, it isn't.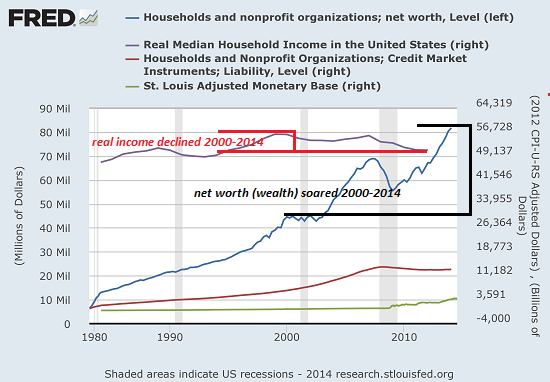 ---
---
Get a Job, Build a Real Career and Defy a Bewildering Economy
(Kindle, $9.95)(print, $20)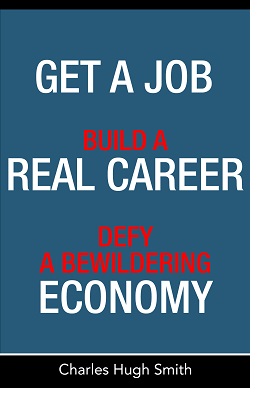 Are you like me?
Ever since my first summer job decades ago, I've been chasing financial security. Not win-the-lottery, Bill Gates riches (although it would be nice!), but simply a feeling of financial control. I want my financial worries to if not disappear at least be manageable and comprehensible.
And like most of you, the way I've moved toward my goal has always hinged not just on having a job but a career.
You don't have to be a financial blogger to know that "having a job" and "having a career" do not mean the same thing today as they did when I first started swinging a hammer for a paycheck.
Even the basic concept "getting a job" has changed so radically that jobs--getting and keeping them, and the perceived lack of them--is the number one financial topic among friends, family and for that matter, complete strangers.
So I sat down and wrote this book: Get a Job, Build a Real Career and Defy a Bewildering Economy.
It details everything I've verified about employment and the economy, and lays out an action plan to get you employed.
I am proud of this book. It is the culmination of both my practical work experiences and my financial analysis, and it is a useful, practical, and clarifying read.
Test drive the first section and see for yourself. Kindle, $9.95 print, $20
"I want to thank you for creating your book Get a Job, Build a Real Career and Defy a Bewildering Economy. It is rare to find a person with a mind like yours, who can take a holistic systems view of things without being captured by specific perspectives or agendas. Your contribution to humanity is much appreciated."
Laura Y.
Gordon Long and I discuss The New Nature of Work: Jobs, Occupations & Careers (25 minutes, YouTube)


---
NOTE: Contributions/subscriptions are acknowledged in the order received. Your name and email remain confidential and will not be given to any other individual, company or agency.
| | | |
| --- | --- | --- |
| | Thank you, Tom R. ($20), for your much-appreciated generous contribution to this site-- I am greatly honored by your support and readership. | |
---
"This guy is THE leading visionary on reality. He routinely discusses things which no one else has talked about, yet, turn out to be quite relevant months later."
--Walt Howard, commenting about CHS on another blog.
"You shine a bright and piercing light out into an ever-darkening world."
Jeremy Beck

---
Contributors and subscribers enable Of Two Minds to post 275+ free essays annually. It is for this reason they are Heroes and Heroines of New Media. Without your financial support, the free content would disappear for the simple reason that I cannot keep body and soul together on my meager book sales alone.
Or send coins, stamps or quatloos via mail--please request P.O. Box address.
Subscribers ($5/mo) and those who have contributed $50 or more annually (or made multiple contributions totalling $50 or more) receive weekly exclusive Musings Reports via email ($50/year is about 96 cents a week).
Each weekly Musings Report offers six features:
1. Exclusive essay on a diverse range of topics
2. Summary of the blog this week
3. Best thing that happened to me this week
4. Market Musings--commentary on the economy & global markets
5. Cultcha/Culture: selected links to the arts, performances, music, etc.
6. From Left Field (a limited selection of interesting links)
At readers' request, there is also a $10/month option.
What subscribers are saying about the Musings (Musings samples here):
The "unsubscribe" link is for when you find the usual drivel here insufferable.
Dwolla members can subscribe to the Musings Reports with a one-time $50 payment; please email me if you use Dwolla, as Dwolla does not provide me with your email.
The Heroes & Heroines of New Media:
oftwominds.com contributors and subscribers
---
All content, HTML coding, format design, design elements and images copyright © 2014 Charles Hugh Smith, All global rights reserved in all media, unless otherwise credited or noted.
I am honored if you link to this essay, or print a copy for your own use.
Terms of Service:
All content on this blog is provided by Trewe LLC for informational purposes only. The owner of this blog makes no representations as to the accuracy or completeness of any information on this site or found by following any link on this site. The owner will not be liable for any errors or omissions in this information nor for the availability of this information. The owner will not be liable for any losses, injuries, or damages from the display or use of this information. These terms and conditions of use are subject to change at anytime and without notice.