The Great Generic Drug Rip-Off (December 16, 2014)


Big Pharma has followed the only avenue left to reap billion-dollar profits: jack up the price of generics.

What happens when rapacious cartels run out of billion-dollar-profit products? They jack up the price of what was previously low-cost. And why are they able to raise prices by 388% to 8,000% at will? Because they can. That's the whole point in having a cartel that is enabled and enforced by the cartel's toadies and apologists in the central state (federal government): price increases can be imposed on the government and the private sector at will.

I was alerted to the extraordinary price increases in widely used generic drugs by Ishabaka (M.D.), who forwarded this fact sheet issued by the office of Senator Bernie Sanders: (Chart is reproduced below)

Staggering Price Increases for Generic Drugs

"Rep. Elijah E. Cummings and Senator Bernard Sanders sent letters to 14 drug manufacturers requesting information about the escalating prices of generic drugs used to treat everything from common medical conditions to life-threatening illnesses. Data was provided by the Healthcare Supply Chain Association (HSCA) on recent purchases by group purchasing organizations (GPOs) of ten generic drugs."

Here are Ishabaka's comments:

"I'd like to focus on the top one - doxycycline. This is a very effective antibiotic for pneumonia, bronchitis, and sexually transmitted diseases (chlamydia and gonorrhea). Throughout my medical career, it has been a cheap generic drug I used all the time. It's cost has gone up from $20 a prescription to over $1,600 a prescription in the last 12 months.

Low-income people used to be able to afford doxycycline, which would stop the spread of these serious, sometimes life-threatening infections. Now they can't, and there is no drug as good as doxycycline available cheaply. I think this is an outrage. Imagine if a generic bottle of aspirin increased in price from $10 a bottle to $800 a bottle in 12 months - Americans would be marching in protest."
Drug
Use
Average Market Price Oct. 2013
Average Market Price April 2014
Average Percentage Increase
Doxycycline Hyclate
(bottle of 500, 100 mg tablets)
antibiotic used to treat a variety of infections
$20
$1,849
8,281%
Albuterol Sulfate
(bottle of 100, 2 mg tablets)
used to treat asthma and other lung conditions
$11
$434
4,014%
Glycopyrrolate
(box of 10 0.2 mg/mL, 20 mL vials)
used to prevent irregular heartbeats during surgery
$65
$1,277
2,728%
Divalproex Sodium ER
(bottle of 80, 500 mg tablets ER 24H)
used to prevent migraines and treat certain types of seizures
$31
$234
736%
Pravastatin Sodium
(bottle of 500, 10 mg tablets)
used to treat high cholesterol and to prevent heart disease
$27
$196
573%
Neostigmine Methylsulfate
(box of 10 1:1000 vials)
used in anesthesia to reverse the effects of some muscle relaxants
$25
$121
522%
Benazepril/
Hydrochlorothiazide
(bottle of 100, 20-25 mg tablets)
used to treat high blood pressure
$34
$149
420%
Isuprel
(box of 25, 0.2 mg/mL vials)
used to treat heart attacks and irregular heartbeat
$916
$4,489
390%
Nitropress
(50 mg vial)
used to treat congestive heart failure and reduce blood pressure
$44
$215
388%
Digoxin
(single tablet, 250 mcg)
used to treat irregular heartbeats and heart failure
$0.11
$1.10
884%
The murky world of drug pricing is attracting some much-needed attention:
Lawmakers Look for Ways to Provide Relief for Rising Cost of Generic Drugs
For 30 years, generic medications helped make health care cheaper. Why is their cost surging?
What politicos and the mainstream media cannot dare state openly is obvious: the system of drug development and generic drug pricing/distribution is broken in the U.S., and the core cause is the cartel-like structure of Big Pharma and the rest of the healthcare system.
Though nobody in officialdom or the mainstream media can say this publicly, the reason for these outrageous increases is painfully obvious: As Big Pharma's stable of billion-dollar drugs slip off patent, their profit pipeline is weakening.
The pipeline of potentially billion-dollar-profit drugs (so-called blockbuster drugs) is thin. So Big Pharma has followed the only avenue left to reap billion-dollar profits: jack up the price of generics, and push the government to pay the outrageous increases via Medicare and Medicaid and force the increases on private insurers and providers. If we just roll over and accept 8,000% increases, we deserve the corrupt, rapacious system we have.


---
---
Get a Job, Build a Real Career and Defy a Bewildering Economy
(Kindle, $9.95)(print, $20)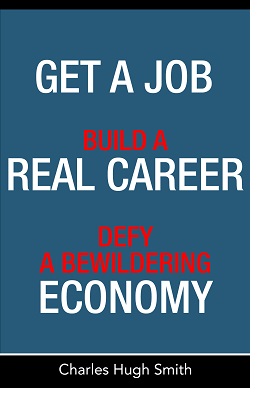 Are you like me?
Ever since my first summer job decades ago, I've been chasing financial security. Not win-the-lottery, Bill Gates riches (although it would be nice!), but simply a feeling of financial control. I want my financial worries to if not disappear at least be manageable and comprehensible.
And like most of you, the way I've moved toward my goal has always hinged not just on having a job but a career.
You don't have to be a financial blogger to know that "having a job" and "having a career" do not mean the same thing today as they did when I first started swinging a hammer for a paycheck.
Even the basic concept "getting a job" has changed so radically that jobs--getting and keeping them, and the perceived lack of them--is the number one financial topic among friends, family and for that matter, complete strangers.
So I sat down and wrote this book: Get a Job, Build a Real Career and Defy a Bewildering Economy.
It details everything I've verified about employment and the economy, and lays out an action plan to get you employed.
I am proud of this book. It is the culmination of both my practical work experiences and my financial analysis, and it is a useful, practical, and clarifying read.
Test drive the first section and see for yourself. Kindle, $9.95 print, $20
"I want to thank you for creating your book Get a Job, Build a Real Career and Defy a Bewildering Economy. It is rare to find a person with a mind like yours, who can take a holistic systems view of things without being captured by specific perspectives or agendas. Your contribution to humanity is much appreciated."
Laura Y.
Gordon Long and I discuss The New Nature of Work: Jobs, Occupations & Careers (25 minutes, YouTube)


---
NOTE: Contributions/subscriptions are acknowledged in the order received. Your name and email remain confidential and will not be given to any other individual, company or agency.
| | | |
| --- | --- | --- |
| | Thank you, Christopher M. ($5/month), for your monstrously generous subscription to this site-- I am greatly honored by your support and readership. | |
---
"This guy is THE leading visionary on reality. He routinely discusses things which no one else has talked about, yet, turn out to be quite relevant months later."
--Walt Howard, commenting about CHS on another blog.
"You shine a bright and piercing light out into an ever-darkening world."
Jeremy Beck

---
Contributors and subscribers enable Of Two Minds to post 275+ free essays annually. It is for this reason they are Heroes and Heroines of New Media. Without your financial support, the free content would disappear for the simple reason that I cannot keep body and soul together on my meager book sales alone.
Or send coins, stamps or quatloos via mail--please request P.O. Box address.
Subscribers ($5/mo) and those who have contributed $50 or more annually (or made multiple contributions totalling $50 or more) receive weekly exclusive Musings Reports via email ($50/year is about 96 cents a week).
Each weekly Musings Report offers six features:
1. Exclusive essay on a diverse range of topics
2. Summary of the blog this week
3. Best thing that happened to me this week
4. Market Musings--commentary on the economy & global markets
5. Cultcha/Culture: selected links to the arts, performances, music, etc.
6. From Left Field (a limited selection of interesting links)
At readers' request, there is also a $10/month option.
What subscribers are saying about the Musings (Musings samples here):
The "unsubscribe" link is for when you find the usual drivel here insufferable.
Dwolla members can subscribe to the Musings Reports with a one-time $50 payment; please email me if you use Dwolla, as Dwolla does not provide me with your email.
The Heroes & Heroines of New Media:
oftwominds.com contributors and subscribers
---
All content, HTML coding, format design, design elements and images copyright © 2014 Charles Hugh Smith, All global rights reserved in all media, unless otherwise credited or noted.
I am honored if you link to this essay, or print a copy for your own use.
Terms of Service:
All content on this blog is provided by Trewe LLC for informational purposes only. The owner of this blog makes no representations as to the accuracy or completeness of any information on this site or found by following any link on this site. The owner will not be liable for any errors or omissions in this information nor for the availability of this information. The owner will not be liable for any losses, injuries, or damages from the display or use of this information. These terms and conditions of use are subject to change at anytime and without notice.