Spoiled Teenager Syndrome (January 3, 2013)

Is masking risk, cost and consequence a strategy that leads to success? No; it is a pathway to catastrophic failure.

What are the core characteristics of the spoiled teenager? The conventional view is that the spoiled teen "gets everything they want." In my view, the key characteristic of Spoiled Teenager Syndrome is that risk, cost and consequence have been masked.

This is a systemic point of view, meaning that the masking of risk, cost and consequence help us understand not just the eventual failure of spoiled teenagers but the eventual failure of every group or enterprise that masks risk, cost and consequence as a strategy to paper over an unsustainable Status Quo. This includes families, companies, states and nations.

The spoiled teen is spoiled precisely because the risk, cost and consequence of their choices and actions are suppressed by Mommy and/or Daddy. Since Mommy and/or Daddy diligently cover the cost and mask the eventual consequence of Junior's unrealistic expectations and poor choices, the risks created by Junior's choices and lifestyle are also masked. Junior naturally assumes Mommy and/or Daddy will bail him out of every scrape and "make it right" at no cost to Junior.

Masking risk, cost and consequence creates an illusory world that eventually crashes on the unforgiving rocks of reality. Anyone who knows parents who have spoiled their kids has stories that beggar the imagination of those who have no choice but to live in the real world. In one such instance within our circle of friends, the daughter who was caught shoplifting told her Mom that she did not want to go to court, and Mom had to do something so she wouldn't have to face any consequence from her actions.

This 16-year old apparently believed that Mommy could push risk, cost and consequence aside in all cases; even the law should give way if it proved inconvenient or painful.

Are the values, experiences and skills spoiled teens receive going to help them navigate adulthood, or will they encourage a state of permanent adolescence? When will Mommy and Daddy stop hovering, warding off risk, cost and consequence? We know the answer: when they are finally unable to do so.

Did all their "help" masking risk, cost and consequence actually aid their child in the long-term? Or did it cripple the child by leading him into a false sense of security, an illusory state where someone will always save you from consequence?

What sort of skills to assess and manage risk does the spoiled teen have in hand when risk has been cloaked? How can the teen understand cost and trade-offs when the true costs of their lifestyle have been hidden? How can the teen navigate adult life, which is characterized by taking responsibility for one's actions and being accountable to others, when the consequences of his choices have been smoothed away by Mommy and Daddy?

One intrinsic characteristic of parents who have masked risk, cost and consequence is that they do not perceive themselves as having spoiled their children. Instead, they see themselves as "good parents" who are protecting their children from the unpleasant rough edges of life. In their view, there is plenty of time later in life to learn about risk assessment, short-term and long-term trade-offs, costs (both financial and emotional), accountability, realistic appraisals and consequence.

These parents seem blind to the reality that their coddling and hovering have left their children disastrously ill-prepared for adulthood. If there is any recipe for guaranteed unhappiness, it is nurturing expectations that are wildly at odds with what real life offers. Risk and return are indeed causally linked.

I have watched in amazement as coddled 19-year olds taking a few classes at community college and dreaming of rock stardom confidently declare that they would be OK with being a firefighter in a wealthy city because the starting pay was $80,000. That there are 1,000 applicants for every opening did not seem to register in this young man's assessment, nor did his inability to clean up a weedy backyard; he stopped after an hour or so because there was no consequence to a sorrowfully half-baked effort.

I grieve for young people so ill-prepared for a recessionary economy, not to mention marriage, managing scarce income and capital and a hundred other aspects of unsubsidized adulthood. Their parents have essentially robbed them of the slow and relatively safe part of the learning curve, where you get fired for being late at 16 years of age rather than at 26.

Is it any wonder that many young people are boiling with frustration when they exit college and the protected enclave of their parents' home to find a world that doesn't respond to their desires for creative expression and their long list of likes and dislikes, i.e. demands?

On the other side of the ledger, I have seen quiet young men and women, residents in youth homeless shelters, who received no buffering at all between the teen years and unforgiving adulthood. Abused at home or simply abandoned, they hit the road as the only alternative open to them. Penniless and without family support, they often face bleak choices. Their appraisals (in my limited experience) are by necessity realistic. Of course they are hurting; but ironically, perhaps, they are in some ways better prepared to navigate adulthood than teens who have yet to be exposed to risk, cost and consequence.

Is masking risk, cost and consequence a strategy that leads to success? No; it is a pathway to repeated catastrophic failure. What is the Central Planning strategy being pursued by our Central State and the Federal Reserve? Masking risk, cost and consequence.

Masking risk, cost and consequence is disastrous not just for teens, but for entire nations.


---
Things are falling apart--that is obvious. But why are they falling apart? The reasons are complex and global. Our economy and society have structural problems that cannot be solved by adding debt to debt. We are becoming poorer, not just from financial over-reach, but from fundamental forces that are not easy to identify or understand. We will cover the five core reasons why things are falling apart: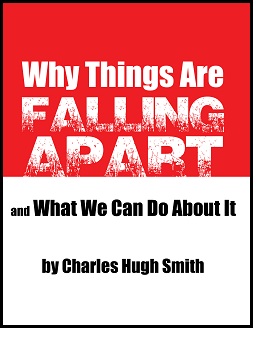 1. Debt and financialization
2. Crony capitalism and the elimination of accountability
3. Diminishing returns
4. Centralization
5. Technological, financial and demographic changes in our economy
Complex systems weakened by diminishing returns collapse under their own weight and are replaced by systems that are simpler, faster and affordable. If we cling to the old ways, our system will disintegrate. If we want sustainable prosperity rather than collapse, we must embrace a new model that is Decentralized, Adaptive, Transparent and Accountable (DATA).
We are not powerless. Not accepting responsibility and being powerless are two sides of the same coin: once we accept responsibility, we become powerful.

10% discount on the Kindle edition: $8.95 (retail $9.95) print edition: $24 on Amazon.com
To receive a 20% discount on the print edition: $19.20 (retail $24), follow the link, open a Createspace account and enter discount code SJRGPLAB. (This is the only way I can offer a discount.)

---
---
NOTE: gifts/contributions are acknowledged in the order received. Your name and email remain confidential and will not be given to any other individual, company or agency.
| | | |
| --- | --- | --- |
| Thank you, Mike G.($100), for your outrageously generous contribution to this site -- I am greatly honored by your steadfast support and readership. | | Thank you, Stephen C. ($10), for your wonderfully generous contribution to this site --I am greatly honored by your support and readership. |
---
"This guy is THE leading visionary on reality. He routinely discusses things which no one else has talked about, yet, turn out to be quite relevant months later."
--Walt Howard, commenting about CHS on another blog.

---
Or send him coins, stamps or quatloos via mail--please request P.O. Box address.
Subscribers ($5/mo) and contributors of $50 or more this year will receive a weekly email of exclusive (though not necessarily coherent) musings and amusings.
At readers' request, there is also a $10/month option.
What subscribers are saying about the Musings (Musings samples here):
The "unsubscribe" link is for when you find the usual drivel here insufferable.
Your readership is greatly appreciated with or without a donation.
---
All content, HTML coding, format design, design elements and images copyright © 2013 Charles Hugh Smith, All rights reserved in all media, unless otherwise credited or noted.
I am honored if you link to this essay, or print a copy for your own use.
Terms of Service:
All content on this blog is provided by Trewe LLC for informational purposes only. The owner of this blog makes no representations as to the accuracy or completeness of any information on this site or found by following any link on this site. The owner will not be liable for any errors or omissions in this information nor for the availability of this information. The owner will not be liable for any losses, injuries, or damages from the display or use of this information. These terms and conditions of use are subject to change at anytime and without notice.