Pimping the Empire, Conservative-Style (January 8, 2014)


"Conservatives" and "Progressives" alike are pimping for the Empire when they support the Central State's essentially unlimited powers.

Yesterday I described how so-called "Progressives" are pimping for the Empire. The same is true of so-called "Conservatives." (I am reprinting the intro for those who missed yesterday's essay.)

(I say "so-called" because the "Progressives" are not actually progressive, and the "Conservatives" are not actually conservative. Those labels are Orwellian double-speak, designed to mask the disastrous consequences of each ideology's actual policies.)

Let's begin by stipulating that ideology, any ideology, is an intellectual and emotional shortcut that offers believers ready-made explanations, goals, narratives and enemies without any difficult, time-consuming analysis, study or skeptical inquiry. This is the ultimate appeal of ideology: accepting the ideology relieves the believer of the burdens of analysis, skeptical inquiry, uncertainty/doubt and responsibility: all the answers, goals and narratives are prepackaged and mashed together for easy consumption.

This is one of the core messages of Erich Fromm's classic exploration of ideology and authoritarianism, Escape from Freedom.

And what is the essential foundation of authoritarianism? A central state. This is not coincidental.

What few grasp is the teleology of the centralized state: by its very nature (i.e. as a consequence of its essentially unlimited powers), the central state is genetically programmed to become an authoritarian state devoted to self-preservation and the extension of its reach and power.

This is why the Founding Fathers were so intent on limiting the powers of the Central State. They understood the teleology of the centralized state: by its very nature (i.e. as a consequence of its essentially unlimited powers), the central state is genetically programmed to become an authoritarian state devoted to self-preservation and the extension of its reach and power.

You can't cede unlimited, highly concentrated powers to the central state and then expect the state not to fulfill its teleological imperative to protect and extend its powers. The state with unlimited powers will be ontologically predisposed to view any citizen that seeks to limit its expansion of power as an enemy to be suppressed, imprisoned or marginalized.

The state with unlimited powers will be ontologically predisposed to protecting its powers by cloaking all the important inner workings of the state behind a veil of secrecy, and pursuing and punishing any whistleblowers who reveal the corrupt, self-serving workings of the state.

The state with unlimited powers will be ontologically predisposed to view any other nation or alliance as a potential threat, and thus the state will pursue any and all means to disrupt or counter those potential threats.

The state with unlimited powers will be ontologically predisposed to create and distribute propaganda to mask its self-serving nature and its perpetual agenda of extending its powers, lest some threat arise that limits those powers.

Democracy and a central state with unlimited powers are teleologically incompatible.

Though they piously claim to desire a limited State, conservatives cede it essentially unlimited powers because they want that state to be powerful enough to impose their agenda on others and reward their constituencies.

Conservatives are masters at projecting a preachy devotion to a limited state, democracy, liberty and free enterprise while their support of the Central State undermines every one of these values. Conservatives are like the preacher who issues stern sermons on righteousness every Sunday while skimming big money from pimping sordid, destructive policies Monday through Saturday.

Conservatives claim to want to limit the Central State, but their slavish support of Medicare, Social Security, the Pentagon, the National Security State, the Federal Reserve (and thus interest on the national debt), farm subsidies to Big Ag, law enforcement and the War on Drugs Gulag means they support virtually 100% of the Central State's unlimited powers. Their proposed "cuts" are farcically tiny slices designed for propaganda purposes--out of $4 trillion Federal budget, conservatives preach "austerity" while leaving the Empire and their crony-capitalist cartels entirely intact.

Conservatives claim devotion to national defense while actually having no interest in actual defense. Their sole interest is supporting their favored cartels and projecting a politically useful facade of being pro-national defense. In the real world, they support the revolving door between the Pentagon and defense contractors and profitable but ineffective weapons systems. Conservatives happily shove weapons systems down the nation's throat the Pentagon doesn't even want, all the while masking their crony-capitalist agenda behind pious claims of supporting the military.

That is particularly Orwellian: ignore the military's true needs in favor of funneling profits to your crony-capitalist pals. The same Orwellian agenda powers conservative support of the banking sector (conservatives never met a banking subsidy they didn't love), Big Ag, Big Pharma, Big Everything--conservatives will support any Big Business at the expense of the taxpayers and the national commons.

The one essential tool conservatives need to force their crony-capitalism on the citizenry is an powerful Central State--and so they support the essentially unlimited powers of the Central State with gusto, even as they bleat piously about the Founding Fathers.

The Founding Fathers had two primary concerns: foreign entanglements and the dangers of an unlimited Central State. So-called Conservatives are blind to the gap between the reality of their support of a Global Empire and an all-powerful Central State and the fantasy that they even understand the Founding Fathers' concerns, much less actively pursue them.

Conservatives are against Big Government except when Big Government benefits their constituencies. Boost the Pentagon budget by 10% a year, rain or shine, to counter every possible threat to the Empire, boost the National Security State (Homeland Security, NSA, etc.) every year, boost the War on Drugs Gulag annually, leave Medicare, Social Security and interest on the national debt as sacrosanct, and guess what--you've created a self-liquidating monster State.

Behind their preachy facade, conservatives have turned democracy into an auction of political favors. As they belly up to the limitless trough of central State revenues and power, conservatives have embraced the auction as the true mechanism of governance: banking statutes are written by banking lobbyists and then signed into law.

What is the difference between a so-called Progressive who tells us Congress has to pass a crony-capitalist healthcare law to find out what's in it and a so-called Conservative who pushes a banking law penned by lobbyists? There is none: both are pimps.

Once you cede unlimited, highly concentrated power to the central state, you get an authoritarian empire that is driven to protect itself from any threat at all costs--including democracy, though the state may maintain a facade of carefully managed "democracy" as part of its propaganda machinery.

You cannot have a state with essentially unlimited power and not end up with cartel-capitalism. So-called Conservatives defend their favored cartel-fiefdoms, yet these cartels are busy bankrupting the nation and destroying the very bedrock of the liberties Conservatives claim to hold dear.

Once you choose to cede essentially unlimited powers to the Central State, all decisions after that are made in service of the state. The idea that the state can be limited to national defense is illusory.

The only legitimate duties of the state are limited: 1) protect the commons from destruction and exploitation; 2) protect the citizenry from exploitation or oppression by those with superior power or resources; 3) maintain transparency in all governance and 4) maintain a system of sound money.

The so-called Conservatives will learn what the teleology of the state means in the real world when the state comes after them. Once you cede unlimited power to the central state, any attempt to limit that power marks you as an enemy.

Supporting the Central State to protect your favored cartels and protect your political power over the state's tax revenues is simply pimping for the Empire. You can call it "conservative," but it's still pimping for the Empire.


---
The Nearly Free University and The Emerging Economy:
The Revolution in Higher Education
Reconnecting higher education, livelihoods and the economy
With the soaring cost of higher education, has the value a college degree been turned upside down? College tuition and fees are up 1000% since 1980. Half of all recent college graduates are jobless or underemployed, revealing a deep disconnect between higher education and the job market.
It is no surprise everyone is asking: Where is the return on investment? Is the assumption that higher education returns greater prosperity no longer true? And if this is the case, how does this impact you, your children and grandchildren?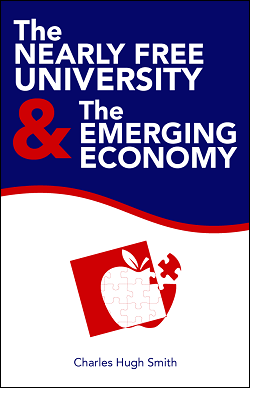 We must thoroughly understand the twin revolutions now fundamentally changing our world: The true cost of higher education and an economy that seems to re-shape itself minute to minute.
The Nearly Free University and the Emerging Economy clearly describes the underlying dynamics at work - and, more importantly, lays out a new low-cost model for higher education: how digital technology is enabling a revolution in higher education that dramatically lowers costs while expanding the opportunities for students of all ages.
The Nearly Free University and the Emerging Economy provides clarity and optimism in a period of the greatest change our educational systems and society have seen, and offers everyone the tools needed to prosper in the Emerging Economy.
Read the Foreword, first section and the Table of Contents.

print edition (list $20, now $18)
Kindle edition: list $9.95

---
Things are falling apart--that is obvious. But why are they falling apart?
The reasons are complex and global. Our economy and society have structural problems that cannot be solved by adding debt to debt. We are becoming poorer, not just from financial over-reach, but from fundamental forces that are not easy to identify. We will cover the five core reasons why things are falling apart: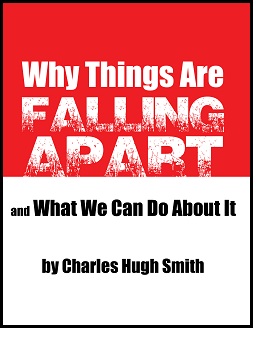 1. Debt and financialization
2. Crony capitalism
3. Diminishing returns
4. Centralization
5. Technological, financial and demographic changes in our economy
Complex systems weakened by diminishing returns collapse under their own weight and are replaced by systems that are simpler, faster and affordable. If we cling to the old ways, our system will disintegrate. If we want sustainable prosperity rather than collapse, we must embrace a new model that is Decentralized, Adaptive, Transparent and Accountable (DATA).
We are not powerless. Once we accept responsibility, we become powerful.
Kindle: $9.95 print: $24
---
NOTE: gifts/contributions are acknowledged in the order received. Your name and email remain confidential and will not be given to any other individual, company or agency.
| | | |
| --- | --- | --- |
| | Thank you, readers, for your generous contributions to this site-- I am greatly honored by your support and readership. | |
---
"This guy is THE leading visionary on reality. He routinely discusses things which no one else has talked about, yet, turn out to be quite relevant months later."
--Walt Howard, commenting about CHS on another blog.

---
Or send him coins, stamps or quatloos via mail--please request P.O. Box address.
Subscribers ($5/mo) and contributors of $50 or more this year will receive a weekly email of exclusive (though not necessarily coherent) musings and amusings.
At readers' request, there is also a $10/month option.
What subscribers are saying about the Musings (Musings samples here):
The "unsubscribe" link is for when you find the usual drivel here insufferable.
Your readership is greatly appreciated with or without a donation.
---
All content, HTML coding, format design, design elements and images copyright © 2014 Charles Hugh Smith, All rights reserved in all media, unless otherwise credited or noted.
I am honored if you link to this essay, or print a copy for your own use.
Terms of Service:
All content on this blog is provided by Trewe LLC for informational purposes only. The owner of this blog makes no representations as to the accuracy or completeness of any information on this site or found by following any link on this site. The owner will not be liable for any errors or omissions in this information nor for the availability of this information. The owner will not be liable for any losses, injuries, or damages from the display or use of this information. These terms and conditions of use are subject to change at anytime and without notice.