Welcome to Fantasyland: Housing's "Soft Landing" (July 13, 2006)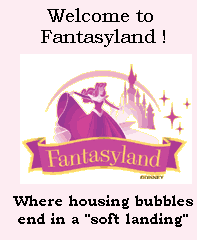 Pundits keep telling us the housing bubble is deflating in a "soft landing," BusinessWeek, July 3, "The numbers point to a gradual slowdown rather than a sudden crash."

But if you consider the unprecedented level of gambler("investor") ownership, the alarming number of ARMs (adjustable rate mortgages) soon to re-set higher, the negative equity of homeowners even now, before any substantial declines have occurred--what the pundits are really saying is "Welcome to Fantasyland," where all your dreams of easy wealth will still come true in an ideal "soft landing" of modestly slowing prices and baby-step increases in mortgage rates.


But before you enter Fantasyland, maybe you'd better read this selection of facts first:
(from the Star-Tribune) "Adjustable-rate mortgages now account for a quarter of the more than $8.5 trillion in outstanding loans, according to the Mortgage Bankers Association of America. "We're talking about potentially 2 to 3 trillion dollars of mortgages being these adjustable rates that are going to come due to reset in the next 18 to 24 months," said Rick Sharga, vice president of RealtyTrac Inc., a database on foreclosure properties."


"Forty percent of all home sales in 2005 were second homes - investment properties and vacation homes - compared to about 9 percent 10 years ago," NAR economist Lereah said.

David Rosenberg, chief North American economist for Merrill Lynch & Co., said: "The mortgage market today is bigger than the government bond market; housing is valued at double the level of household equities on the household balance sheet," he says. "Never before has housing come to permeate the economic and social fabric to the extent that it does today. So that's why, if you ask me, what the No. 1 risk is to the U.S. economy: It is going to be what the house-price landscape is, what happens to house prices."

A full 29% of people who took out mortgages or refinanced in 2005 have no equity or negative equity in their homes, according to Christopher Cagan of First American Real Estate Solutions, a data provider. That's a shocking figure, compared with 10.6% of people who took out mortgages in 2004.

Home building has accounted for about a quarter of the jobs created since the 2001 recession. In the past five years, housing has also provided about $2.5 trillion in cash for owners refinancing through home equity loans ($751 billion last year, twice the high point reached in the late 1980s).

A greater proportion of mortgage refinancers tapped their home equity for cash in the first three months of this year than in any other quarter in the past 15 years, according to an analysis released yesterday.

About 88 percent of people refinancing their homes took out loans for at least 5 percent more than their original balances, according to the latest quarterly review of loans owned by Freddie Mac. "It's a homeownership economy where people don't really own their homes."

The cost of owning a home in New York jumped from 25 percent of median income in 2000 to 38 percent today. In Miami, the numbers are 21 percent and 43 percent. In Los Angeles, the cost of home owning has doubled over the past five years, rising from 31 percent to 55 percent of median income. That means only 2 percent of the homes sold there are affordable by families earning the area's median income of about $47,000 a year.

To qualify for conventional financing of a median-price home of $500,000, with a 20 percent down payment, buyers would need an annual income of about $120,000. In New York, only 6 percent of those who earn a median income can afford to buy a median-price home. In San Francisco, the number is 7 percent. For 30 years the ratio of housing price to income hovered around 4 to 1, but in the past five years it doubled, to about 8 to 1, as the cost of new homes increased so much faster than compensation.
So go ahead and enter Fantasyland if you wish, but be forewarned: the price may be steeper than you ever thought possible.
For more on this subject and a wide array of other topics, please visit my weblog.





copyright © 2006 Charles Hugh Smith. All rights reserved in all media.

I would be honored if you linked this wEssay to your site, or printed a copy for your own use.