The Rot Within, Part I: Our Ponzi Economy (July 22, 2014)


Depending on blowing the next bubble to temporarily prop up the economy is the height of foolhardy shortsightedness.

All the conventional policy fixes proposed by Demopublican politicos, technocrats and the vast army of academic/think-tank apparatchiks are the equivalent of slapping a coat of paint on a fragile facade riddled with dryrot. All these fake-fixes share a few key characteristics:

1. They focus on effects and symptoms rather than address the underlying causes, i.e. the dryrot at the heart of our government, society and economy.

2. They maintain and protect the Status Quo Powers That Be--no vested interests, protected fiefdoms or Financial Elites ever lose power as a result of these policy tweaks.

3. They are politically expedient, meaning they assuage the demands of vested interests rather than tackle the rot undermining the nation.

4. They ignore the perverse incentives built into current systems and the incentives of complicity, i.e. to cheer another coat of paint on the dryrot rather than face the costs of real reform.

The financial underpinnings of the economy and society are rotting from within: finance, higher education, defense, healthcare, law, governance, you name it.

This week I want to highlight a few key causes of this pervasive and eventually fatal systemic rot.

Let's start with Our Ponzi Economy. There are three primary examples of our Ponzi Economy: pay-as-you-go social programs (Social Security, Medicare, Medicaid, etc.); housing and the stock market. All are examples of financial Ponzi schemes.

All Ponzi schemes rely on an ever-expanding pool of greater fools who buy into the scheme and pay the interest/gains due the previous pool of greater fools. Ponzi schemes fail because the pool of greater fools is finite, but the scheme demands an ever-expanding pool of participants to function.

All Ponzi schemes eventually fail, though each is declared financially sound because this time it's different. The number of greater fools required to keep the scheme going eventually exceeds the working population of the nation.

Here's why Pay-As-You-Go Social Programs are all Ponzi schemes:

1 retiree consumes the taxes paid by 5 workers.
Those 5 workers when they retire consume the taxes paid by 25 workers.
Those 25 workers when they retire consume the taxes paid by 125 workers.
Those 125 workers when they retire consume the taxes paid by 625 workers.
Those 625 workers when they retire consume the taxes paid by 3,125 workers.

You see where this goes: very quickly, the number of workers required to keep the Ponzi scheme afloat exceeds the entire workforce.

The only way to keep the Ponzi scheme going is to keep raising payroll taxes on the remaining workers, which is precisely what welfare states (i.e. every developed economy on the planet) has done.

But raising taxes merely extends the Ponzi scheme one cycle. Eventually, taxes are so high that the remaining workers are impoverished. Right now, the U.S. has reached a ratio of 2 full-time workers for every retiree. As the number of retirees rises by thousands every day and the number of full-time jobs stagnates, the ratio will slide toward 1-to-1:

The Problem with Pay-As-You-Go Social Programs: They're Ponzi Schemes (November 5, 2013)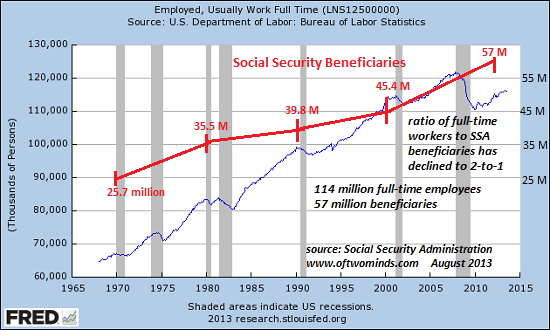 Estimates are even worse in other developed nations. In Europe, the ratio of retirees over 65 to those between 20 and 64 will soon reach 50%--and that's of the population, not of people with full-time jobs paying taxes to fund social welfare programs. (source: Foreign Affairs, July/August 2014, page 130)
As the percentage of the working-age populace with full-time jobs declines, the worker-retiree ratio will become increasingly unsustainable. The taxes paid by each worker are nowhere enough to fund the generous pension and healthcare benefits promised to every retiree.
In the U.S., the number of people of working age who are jobless is 92 million; the number of full-time jobs is 118 million. This chart of labor participation includes almost 30 million part-time employees who don't earn enough to pay substantial taxes and millions of self-employed people making poverty-level net incomes.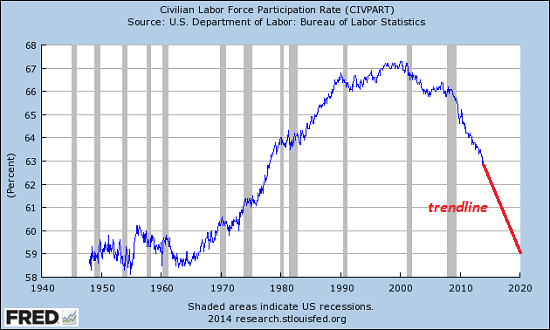 Courtesy of STA Wealth Management, here is a chart that shows full-time workers are less than half the labor force: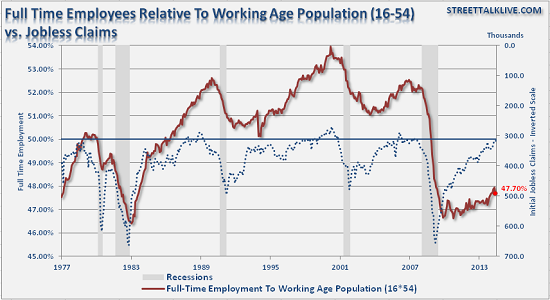 Housing is also a classic Ponzi scheme: prices can only go up if there is an ever-expanding pool of greater fools willing and able to pay even more for a house than the previous pool of greater fools.
As I have explained many times, the only way the Status Quo has been able to expand the pool of greater fools is to lower interest rates to near-zero, drop down payments to 3% and loosen previously-prudent lending standards.
The Housing "Recovery" in Four Charts (May 27, 2014)
These tricks extend the Ponzi for a cycle by artifically expanding the pool of greater fools, but that pool is not infinite. (Foreign buyers are currently enlarging the pool, but their participation is dependent on the Ponzi schemes in their home economies not blowing up.)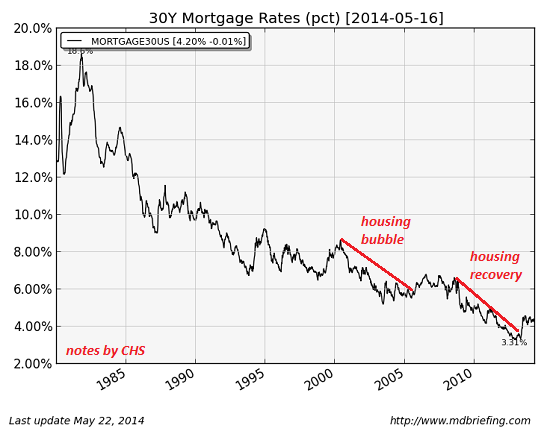 The stock market has been made the official metric of the nation's economic health; too bad it's a Ponzi scheme. Financial bubbles are what economist Robert Shiller calls "naturally occurring Ponzis" because the psychology of ever-rising prices and profits fuels an inflow of greater fools that sustains the bubble until all available greater fools have sunk their cash and credit into the bubble.
Here is what a market that is increasingly dominated by Ponzi bubbles looks like: this is the S&P 500 (SPX):

(source: Gordon T. Long, Macro Analytics)
Depending on blowing the next bubble to temporarily prop up the economy is the height of foolhardy shortsightedness. Yet that's our Status Quo, increasingly dependent on inflating bubbles to evince "economic strength" when the Ponzi paint will soon peel off the rotten wood of the real economy.


---
---
---
Get a Job, Build a Real Career and Defy a Bewildering Economy
(Kindle, $9.95)(print, $20)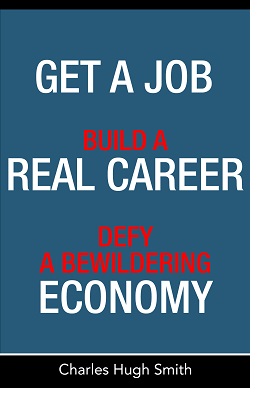 Are you like me?
Ever since my first summer job decades ago, I've been chasing financial security. Not win-the-lottery, Bill Gates riches (although it would be nice!), but simply a feeling of financial control. I want my financial worries to if not disappear at least be manageable and comprehensible.
And like most of you, the way I've moved toward my goal has always hinged not just on having a job but a career.
You don't have to be a financial blogger to know that "having a job" and "having a career" do not mean the same thing today as they did when I first started swinging a hammer for a paycheck.
Even the basic concept "getting a job" has changed so radically that jobs--getting and keeping them, and the perceived lack of them--is the number one financial topic among friends, family and for that matter, complete strangers.
So I sat down and wrote this book: Get a Job, Build a Real Career and Defy a Bewildering Economy.
It details everything I've verified about employment and the economy, and lays out an action plan to get you employed.
I am proud of this book. It is the culmination of both my practical work experiences and my financial analysis, and it is a useful, practical, and clarifying read.
Test drive the first section and see for yourself. Kindle, $9.95 print, $20
"I want to thank you for creating your book Get a Job, Build a Real Career and Defy a Bewildering Economy. It is rare to find a person with a mind like yours, who can take a holistic systems view of things without being captured by specific perspectives or agendas. Your contribution to humanity is much appreciated."
Laura Y.
Gordon Long and I discuss The New Nature of Work: Jobs, Occupations & Careers (25 minutes, YouTube)


---
NOTE: Contributions/subscriptions are acknowledged in the order received. Your name and email remain confidential and will not be given to any other individual, company or agency.
| | | |
| --- | --- | --- |
| Thank you, Eric T. ($200), for your outrageously generous contribution to this site -- I am greatly honored by your steadfast support and readership. | | Thank you, Susan V. ($25), for your exceedingly generous contribution to this site -- I am greatly honored by your support and readership. |
---
"This guy is THE leading visionary on reality. He routinely discusses things which no one else has talked about, yet, turn out to be quite relevant months later."
--Walt Howard, commenting about CHS on another blog.
"You shine a bright and piercing light out into an ever-darkening world."
Jeremy Beck

---
Contributors and subscribers enable Of Two Minds to post 275+ free essays annually. It is for this reason they are Heroes and Heroines of New Media. Without your financial support, the free content would disappear for the simple reason that I cannot keep body and soul together on my meager book sales alone.
Or send coins, stamps or quatloos via mail--please request P.O. Box address.
Subscribers ($5/mo) and those who have contributed $50 or more annually (or made multiple contributions totalling $50 or more) receive weekly exclusive Musings Reports via email ($50/year is about 96 cents a week).
Each weekly Musings Report offers six features:
1. Exclusive essay on a diverse range of topics
2. Summary of the blog this week
3. Best thing that happened to me this week
4. Market Musings--commentary on the economy & global markets
5. Cultcha/Culture: selected links to the arts, performances, music, etc.
6. From Left Field (a limited selection of interesting links)
At readers' request, there is also a $10/month option.
What subscribers are saying about the Musings (Musings samples here):
The "unsubscribe" link is for when you find the usual drivel here insufferable.
Dwolla members can subscribe to the Musings Reports with a one-time $50 payment; please email me if you use Dwolla, as Dwolla does not provide me with your email.
The Heroes & Heroines of New Media:
oftwominds.com contributors and subscribers
---
All content, HTML coding, format design, design elements and images copyright © 2014 Charles Hugh Smith, All global rights reserved in all media, unless otherwise credited or noted.
I am honored if you link to this essay, or print a copy for your own use.
Terms of Service:
All content on this blog is provided by Trewe LLC for informational purposes only. The owner of this blog makes no representations as to the accuracy or completeness of any information on this site or found by following any link on this site. The owner will not be liable for any errors or omissions in this information nor for the availability of this information. The owner will not be liable for any losses, injuries, or damages from the display or use of this information. These terms and conditions of use are subject to change at anytime and without notice.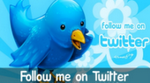 Add oftwominds.com
to your reader:




Making your Amazon purchases through this Search Box helps support oftwominds.com at no cost to you:



search my site: