Hey Mr. Market, That QE Monkey on Your Back Has You By the Throat (June 19, 2013)


Mr. Market has one little problem: the Fed monkey on his back has a death-grip on his throat: "One hell of a price for you to get your kicks."

One of the enduring analogies of the Federal Reserve's quantitative easing (QE) program is that the stock market is now addicted to this constant injection of free money. The aptness of this analogy has never been more apparent than now, as the market plummets on the mere rumor that the Fed will cut back its monthly injection of financial smack. (The analogy typically refers to crack cocaine, due to the state of delusional euphoria QE induces in the stock market. But the zombified state of the heroin addict is arguably the more accurate analogy of the U.S. stock market.)

You know the key self-delusion of all addiction: "I can stop any time I want." This eerily echoes the language of Fed Chairman Ben Bernanke, who routinely declares he can stop QE any time he chooses.

But Ben, the pusher of QE money, knows his addict--the stock market--will die if the smack is cut back too abruptly. Like all pushers, Ben has his own delusion: that he can actually control the addiction he has nurtured.

You're dreaming, Ben--your pushing QE has backed you into a corner. The addict (the stock market) is now so dependent and fragile that the slightest decrease in QE smack will send it to the emergency room, and quite possibly the morgue.

But like all highs based on addictive substances, the stock market high cannot be sustained without an increase in the drug. But there is a diminishing-return dynamic to ever higher doses of QE smack--the higher doses are no longer generating the same highs. The addict (the stock market) has become desensitized to the QE free money injections, and higher doses no longer generate the desired state of bullish euphoria.

The more Ben talks about eventually decreasing the injection of financial smack, the more panicky the addict becomes. The more he increases QE, the less effect it has. The Fed is backed into a corner: increasing QE has no positive effect but decreasing it unleashes a catastrophic breakdown in the stock market.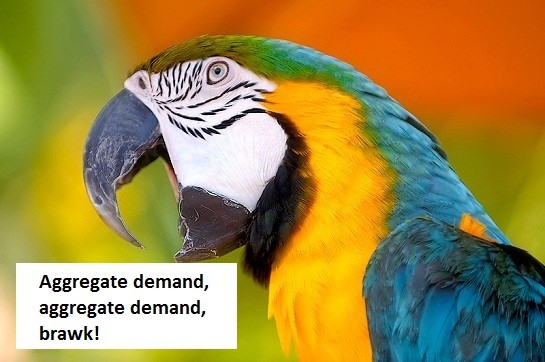 Why Krugman and the Keynesians Are Lackeys for the Neofeudal Debtocracy (April 24, 2013)
You may recall the Keynesian parrot, who repeats the same demand for more free Federal money to be squandered on the cartels, grifters, embezzlers, toadies and lackeys of the Status Quo.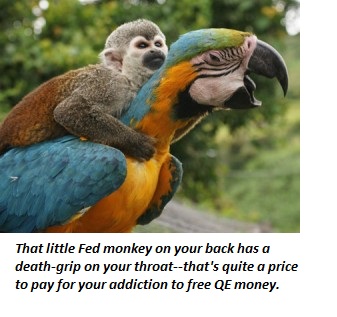 Here is the Keynesian parrot with the Fed QE monkey on his back: you may notice the Keynesian parrot is none too pleased with the Fed monkey's death-grip on this throat.
Unfortunately for the stock market, it's in a double-bind: the Fed monkey is choking it, but if the monkey falls off its back then the market goes into cold-turkey collapse.


The other delusion of the pusher and the addict is that the endgame of addiction can be avoided. We all know the endgame of addiction; the 1970s rock band Lynyrd Skynyrd captured it very succinctly in their song Ooh That Smell:
One little problem that confronts you
Got a monkey on your back
Just one more fix, Lord, might do the trick
One hell of a price for you to get your kicks

Ooh, that smell
Can't you smell that smell?
Ooh, that smell
The smell of death surrounds you
The Junkie in the Pool and False Idols: Faith in Wall Street and The Fed Has Eroded (August 10, 2011)


---
Things are falling apart--that is obvious. But why are they falling apart? The reasons are complex and global. Our economy and society have structural problems that cannot be solved by adding debt to debt. We are becoming poorer, not just from financial over-reach, but from fundamental forces that are not easy to identify or understand. We will cover the five core reasons why things are falling apart: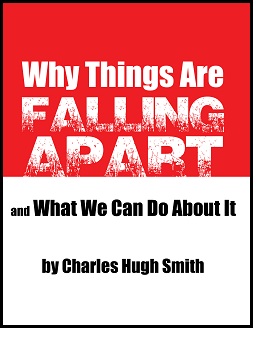 1. Debt and financialization
2. Crony capitalism and the elimination of accountability
3. Diminishing returns
4. Centralization
5. Technological, financial and demographic changes in our economy
Complex systems weakened by diminishing returns collapse under their own weight and are replaced by systems that are simpler, faster and affordable. If we cling to the old ways, our system will disintegrate. If we want sustainable prosperity rather than collapse, we must embrace a new model that is Decentralized, Adaptive, Transparent and Accountable (DATA).
We are not powerless. Not accepting responsibility and being powerless are two sides of the same coin: once we accept responsibility, we become powerful.

Kindle edition: $9.95 print edition: $24 on Amazon.com
To receive a 20% discount on the print edition: $19.20 (retail $24), follow the link, open a Createspace account and enter discount code SJRGPLAB. (This is the only way I can offer a discount.)
---
NOTE: gifts/contributions are acknowledged in the order received. Your name and email remain confidential and will not be given to any other individual, company or agency.
| | | |
| --- | --- | --- |
| Thank you, Michael R. ($200), for your outrageously generous contribution to this site -- I am greatly honored by your steadfast support and readership. | | Thank you, William H. ($5/month), for your much-appreciated generous subscription to this site -- I am greatly honored by your support and readership. |
---
"This guy is THE leading visionary on reality. He routinely discusses things which no one else has talked about, yet, turn out to be quite relevant months later."
--Walt Howard, commenting about CHS on another blog.

---
Or send him coins, stamps or quatloos via mail--please request P.O. Box address.
Subscribers ($5/mo) and contributors of $50 or more this year will receive a weekly email of exclusive (though not necessarily coherent) musings and amusings.
At readers' request, there is also a $10/month option.
What subscribers are saying about the Musings (Musings samples here):
The "unsubscribe" link is for when you find the usual drivel here insufferable.
Your readership is greatly appreciated with or without a donation.
---
All content, HTML coding, format design, design elements and images copyright © 2013 Charles Hugh Smith, All rights reserved in all media, unless otherwise credited or noted.
I am honored if you link to this essay, or print a copy for your own use.
Terms of Service:
All content on this blog is provided by Trewe LLC for informational purposes only. The owner of this blog makes no representations as to the accuracy or completeness of any information on this site or found by following any link on this site. The owner will not be liable for any errors or omissions in this information nor for the availability of this information. The owner will not be liable for any losses, injuries, or damages from the display or use of this information. These terms and conditions of use are subject to change at anytime and without notice.