After 6 Years of Unprecedented Central Planning, the Economy Is More Fragile Than Ever (June 19, 2014)


We will all discover that the economy is much more fragile than advertised by the Central Planners and their media toadies.

This week I have made the case that the past 13.5 years have been the most destructive to the core values of the nation in U.S. history. The same holds true for the economy, which has been critically weakened by 6 years of unprecedented Central Planning.

What do I mean by Central Planning? Here are the key characteristics of Central Planning:

1. The central bank/state intervene in the economy in a dominant fashion, controlling functions such as interest rates by order of central authorities that were once set by decentralized, self-organizing markets.

2. The central bank/state pick winners and losers: for example, the Too Big To Fail Banks (TBTF) were selected to win, as the central bank/state bailed out their private losses with public-taxpayer money. In effect, the central state/bank enrich cronies at the expense of everyone else.

3. The central bank/state manipulate the nominally "free" market to boost asset valuations as a way of enriching cronies who own most of the financial assets and as a public-relations charade to mask the failure of their picking winners and losers.

In other words, in centrally planned economies, markets are not allowed to discover price--they exist only to reflect positively on Central Planners.

4. The central bank/state use the power of the printing press to create as much money as they need to reward cronies and cram their decisions down the throat of the economy.

5. The central bank/state use the power of their public policy announcements to manipulate behavior and the financial markets while keeping programs that might attract scrutiny secret.

Central planning fails for intrinsic reasons unrelated to the specific policies. The decentralized, self-organizing market is like the immune system for the economy; it keeps the system healthy by burning off the deadwood of failed bets and failed investments and distributing credit and risk on performance rather than cronyism.

By eliminating the economy's immune system, Central Planning dramatically increases vulnerability and guarantees systemic crises down the road. Another way of understanding the destruction wrought by Central Planning is to see the Central Planners as heroin pushers who addict the economy to zero-interest credit and a constant flow of "free money" to the winners selected by the central bank/state.

The Yellowstone Analogy and The Crisis of Neoliberal Capitalism (May 18, 2009)

The economy becomes dependent on the The central bank/state intervention and loses the ability to function in the real world. When the real world finally intrudes, the weakened, strung-out addict, no longer capable of responding to reality in a positive fashion, expires.

A handful of charts illustrates the scope of the Central Planning and the fragility this Central Planning has generated. (Charts are courtesy of Market Daily Briefing. All comments on the charts are mine.)

The Federal Reserve balance sheet: hey, what's $4.3 trillion between pals? Where did all this newly created money go? To inflate asset bubbles that enrich the few at the expense of the many.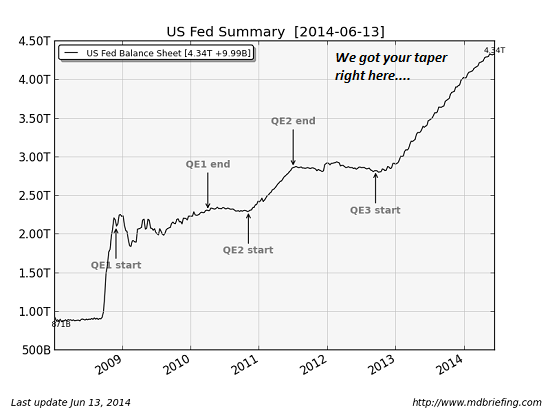 That little spot of bother in 2008 that caused credit to contract a bit nearly collapsed the entire U.S. economy. Has expanding credit to subprime banks and borrowers fixed anything, or simply extended the system's already-sky-high fragility?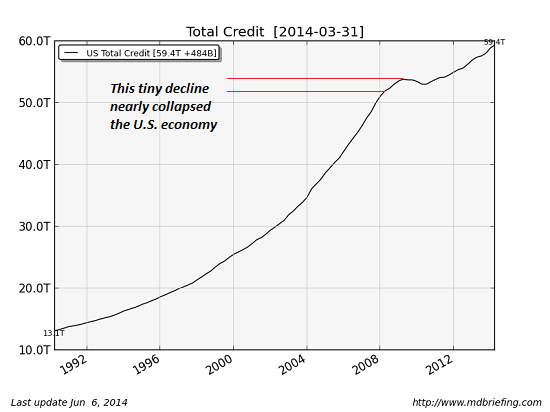 And what has all this unprecedented Central Planning done for the GDP? Growth as measured by GDP (a largely bogus metric, as many have pointed out) has been declining since the Central Planners picked their cronies as winners.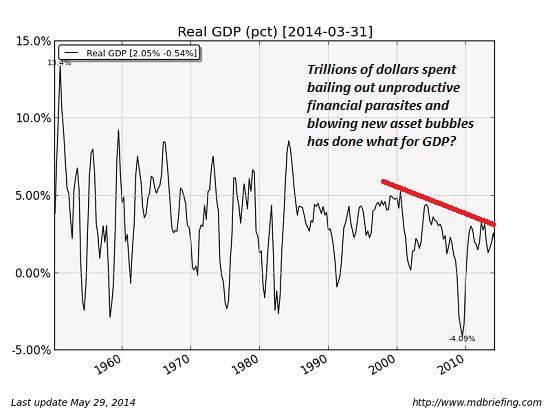 How about real median income? Central Planning has greatly boosted the wealth and income of the financier winners picked by the Planners, but sadly this does not include wage earners, who have seen their inflation-adjusted earnings plummet.
Aren't you delighted that Central Planning works so great?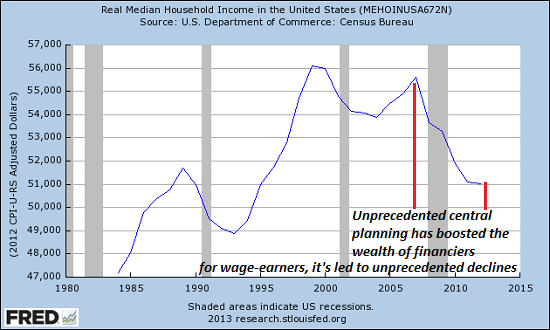 One predictable result of Central Planning is more asset bubbles--or in the case of housing, an echo bubble of the housing bubble created by Central Planners in the early 2000s. Alas, an echo bubble is still a bubble, and so it will pop just like every other financial bubble throughout history.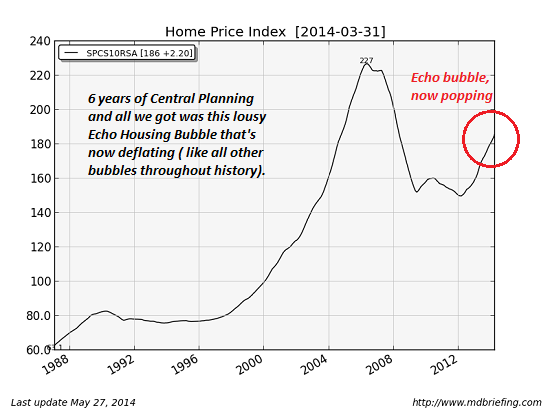 Just as a refresher on the staggering enormity of Federal Reserve intervention / manipulation in the housing / mortgage market: if the Fed buying $2 trillion of home mortgages (more than 20% of the entire market) isn't Central Planning, then what is it?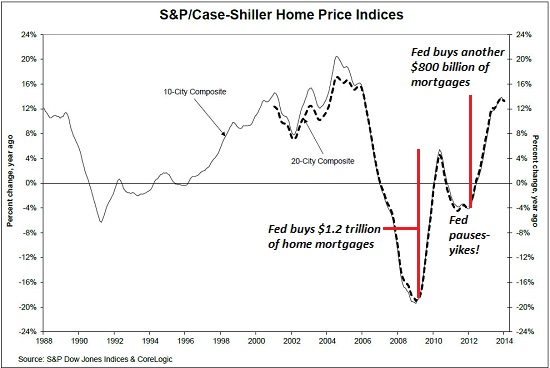 The damage done by Central Planning has yet to come home to roost. Six years into the Grand Experiment--that Central Planners can pick winners who just happen to be their cronies--the chickens of consequence are still making their way home.
And when they finally come home to roost, we will all discover that the economy is much more fragile than advertised by the Central Planners and their media toadies.


---
---
---
Get a Job, Build a Real Career and Defy a Bewildering Economy
(Kindle, $9.95)(print, $20)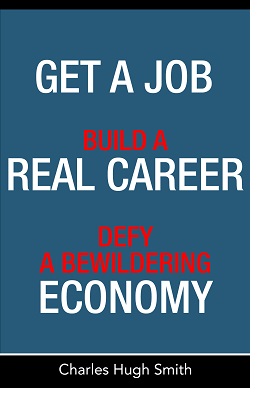 Are you like me?
Ever since my first summer job decades ago, I've been chasing financial security. Not win-the-lottery, Bill Gates riches (although it would be nice!), but simply a feeling of financial control. I want my financial worries to if not disappear at least be manageable and comprehensible.
And like most of you, the way I've moved toward my goal has always hinged not just on having a job but a career.
You don't have to be a financial blogger to know that "having a job" and "having a career" do not mean the same thing today as they did when I first started swinging a hammer for a paycheck.
Even the basic concept "getting a job" has changed so radically that jobs--getting and keeping them, and the perceived lack of them--is the number one financial topic among friends, family and for that matter, complete strangers.
So I sat down and wrote this book: Get a Job, Build a Real Career and Defy a Bewildering Economy.
It details everything I've verified about employment and the economy, and lays out an action plan to get you employed.
I am proud of this book. It is the culmination of both my practical work experiences and my financial analysis, and it is a useful, practical, and clarifying read.
Test drive the first section and see for yourself. Kindle, $9.95 print, $20
"I want to thank you for creating your book Get a Job, Build a Real Career and Defy a Bewildering Economy. It is rare to find a person with a mind like yours, who can take a holistic systems view of things without being captured by specific perspectives or agendas. Your contribution to humanity is much appreciated."
Laura Y.

---
NOTE: Contributions/subscriptions are acknowledged in the order received. Your name and email remain confidential and will not be given to any other individual, company or agency.
| | | |
| --- | --- | --- |
| Thank you, Camille G. ($150), for your outrageously generous contribution to this site -- I am greatly honored by your steadfast support and readership. | | Thank you, Charles M. ($50), for your splendidly generous contribution to this site -- I am greatly honored by your support and readership. |
---
"This guy is THE leading visionary on reality. He routinely discusses things which no one else has talked about, yet, turn out to be quite relevant months later."
--Walt Howard, commenting about CHS on another blog.
"You shine a bright and piercing light out into an ever-darkening world."
Jeremy Beck

---
Contributors and subscribers enable Of Two Minds to post 275+ free essays annually. It is for this reason they are Heroes and Heroines of New Media. Without your financial support, the free content would disappear for the simple reason that I cannot keep body and soul together on my meager book sales alone.
Or send coins, stamps or quatloos via mail--please request P.O. Box address.
Subscribers ($5/mo) and those who have contributed $50 or more annually (or made multiple contributions totalling $50 or more) receive weekly exclusive Musings Reports via email ($50/year is about 96 cents a week).
Each weekly Musings Report offers five features:
1. Exclusive essay on a diverse range of topics
2. Summary of the blog this week
3. Best thing that happened to me this week
4. Market Musings--commentary on the economy & global markets
5. From Left Field (a limited selection of interesting links)
At readers' request, there is also a $10/month option.
What subscribers are saying about the Musings (Musings samples here):
The "unsubscribe" link is for when you find the usual drivel here insufferable.
Dwolla members can subscribe to the Musings Reports with a one-time $50 payment; please email me if you use Dwolla, as Dwolla does not provide me with your email.
The Heroes & Heroines of New Media:
oftwominds.com contributors and subscribers
---
All content, HTML coding, format design, design elements and images copyright © 2014 Charles Hugh Smith, All global rights reserved in all media, unless otherwise credited or noted.
I am honored if you link to this essay, or print a copy for your own use.
Terms of Service:
All content on this blog is provided by Trewe LLC for informational purposes only. The owner of this blog makes no representations as to the accuracy or completeness of any information on this site or found by following any link on this site. The owner will not be liable for any errors or omissions in this information nor for the availability of this information. The owner will not be liable for any losses, injuries, or damages from the display or use of this information. These terms and conditions of use are subject to change at anytime and without notice.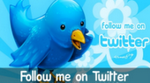 Add oftwominds.com
to your reader:




Making your Amazon purchases through this Search Box helps support oftwominds.com at no cost to you:



search my site: