Nobody Wins Elections Promising to Trim Waste/Fraud and Simplify Regulations (June 4, 2014)


The problem in representative democracy is that every instance of waste, graft, fraud and monopolistic racket is somebody's fat paycheck or government contract.

Promising good governance guarantees a losing campaign for public office. The central irony of representative democracy is similar to the central irony of capitalism: the relentless pursuit of narrow self-interest ends up eroding the shared foundations every self-interested participant relies upon.

The problem in representative democracy is that every instance of waste, graft, fraud and monopolistic racket is somebody's fat paycheck or government contract. Those few who see the systemic damage wrought by unproductive skimming, scamming and churn are motivated by a concern for the foundations of the entire system, while those fighting to retain their share of the swag are driven by a fierce cornered-animal desire to keep their share of the loot regardless of the consequences to the system.

Who wins such conflicts? The people fighting tooth and nail to defend their share of the swag, even if it is unproductive, wasteful churn with high opportunity costs for society as a whole: for example, what else could we do with the hundreds of millions of dollars spent on tax preparation and avoidance were the thousands of pages of tax regulations radically simplified?

Nobody wins elections promising to trim waste/fraud/monopolies and simplify the churn of complex regulations because any such good governance threatens somebody's fat paycheck/contract, and those fearing banishment from the state's feeding trough will go to any lengths necessary to defeat the "good governance" candidate.

The winning candidate promises not good governance for the benefit of all but more swag for enough voters to win the election. Grabbing the lucrative reins of power is the ultimate in private aggrandizement within representative democracy, and as a result there will always be a large pool of individuals willing to promise the moon to get elected and a vanishingly small pool of people concerned enough about systemic risks to suffer the slings and arrows of campaign politics for the common good.

Capitalism shares a similar irony: the relentless pursuit of narrow self-interest (personal profit) drives the stripmining of the seas for high-value fish, killing vast numbers of "worthless" sea life in the process. When the ocean ecosystem has been destroyed, the theory is that a substitute will be found, such as farm fishing.

But farm fishing does not replace the lost ecosystem, any more than planting rows of monoculture trees for paper pulping replaces a native forest. Just as markets do not have any mechanisms to value ecosystems, representative democracy has no mechanism to counteract the systemic consequences of individual aggrandizement within the system.

Once the number of participants in the system drawing politically-protected benefits and paychecks exceeds the number of those paying taxes to fund the swag, the system destabilizes. Since the state is ultimately run to benefit the individuals drawing paychecks, benefits and contracts paid by the state, nobody cares about the systemic consequences of this imbalance or the heavy opportunity costs of supporting innumerable skims, scams and unproductive churn.

To avoid the political pain that would result from trimming waste/fraud/ rackets, the state prints money to keep the swag flowing. Since the state can't create real wealth, it prints claims on wealth and passes off the paper as "money."

As long as the state is judicious in its printing, the resulting inflation is modest enough that participants are more than happy to accept a small decline in purchasing power in return for keeping their share of the swag intact.

But this monetary gaming has systemic dynamics and limits. The hubris of the state, regardless of its ideological basis, is that central planners can tweak the monetary gaming to keep the swag flowing without creating any uncontrollable risk.

But risk cannot be eliminated, it can only be transferred. In representative democracy, the risks are transferred from individuals drawing swag to the system and state itself. The state appears so vast and powerful that it can absorb essentially infinite amounts of systemic risk. But the state is like any other system: its ability to sustain monetary games is finite, as is its ability to fund unproductive churn indefinitely and its control of destabilizing risk.

The only thing that is infinite about the state is the hubris of those at the controls and the narrow self-interest of those at its capacious feeding trough.


---
---
---
Get a Job, Build a Real Career and Defy a Bewildering Economy
(Kindle, $9.95)(print, $20)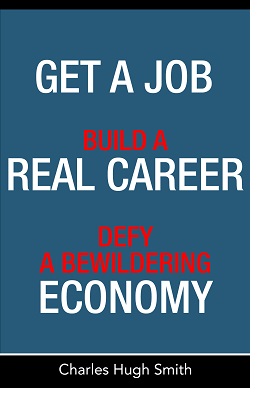 Are you like me?
Ever since my first summer job decades ago, I've been chasing financial security. Not win-the-lottery, Bill Gates riches (although it would be nice!), but simply a feeling of financial control. I want my financial worries to if not disappear at least be manageable and comprehensible.
And like most of you, the way I've moved toward my goal has always hinged not just on having a job but a career.
You don't have to be a financial blogger to know that "having a job" and "having a career" do not mean the same thing today as they did when I first started swinging a hammer for a paycheck.
Even the basic concept "getting a job" has changed so radically that jobs--getting and keeping them, and the perceived lack of them--is the number one financial topic among friends, family and for that matter, complete strangers.
So I sat down and wrote this book: Get a Job, Build a Real Career and Defy a Bewildering Economy.
It details everything I've verified about employment and the economy, and lays out an action plan to get you employed.
I am proud of this book. It is the culmination of both my practical work experiences and my financial analysis, and it is a useful, practical, and clarifying read.
Test drive the first section and see for yourself. Kindle, $9.95 print, $20
"I want to thank you for creating your book Get a Job, Build a Real Career and Defy a Bewildering Economy. It is rare to find a person with a mind like yours, who can take a holistic systems view of things without being captured by specific perspectives or agendas. Your contribution to humanity is much appreciated."
Laura Y.

---
NOTE: Contributions/subscriptions are acknowledged in the order received. Your name and email remain confidential and will not be given to any other individual, company or agency.
| | | |
| --- | --- | --- |
| Thank you, Thomas B. ($100), for your outrageously generous contribution to this site -- I am greatly honored by your steadfast support and readership. | | Thank you, Bud W. ($50), for your superbly generous contribution to this site -- I am greatly honored by your longstanding support and readership. |
---
"This guy is THE leading visionary on reality. He routinely discusses things which no one else has talked about, yet, turn out to be quite relevant months later."
--Walt Howard, commenting about CHS on another blog.
"You shine a bright and piercing light out into an ever-darkening world."
Jeremy Beck

---
Contributors and subscribers enable Of Two Minds to post 275+ free essays annually. It is for this reason they are Heroes and Heroines of New Media. Without your financial support, the free content would disappear for the simple reason that I cannot keep body and soul together on my meager book sales alone.
Or send coins, stamps or quatloos via mail--please request P.O. Box address.
Subscribers ($5/mo) and those who have contributed $50 or more annually (or made multiple contributions totalling $50 or more) receive weekly exclusive Musings Reports via email ($50/year is about 96 cents a week).
Each weekly Musings Report offers five features:
1. Exclusive essay on a diverse range of topics
2. Summary of the blog this week
3. Best thing that happened to me this week
4. Market Musings--commentary on the economy & global markets
5. From Left Field (a limited selection of interesting links)
At readers' request, there is also a $10/month option.
What subscribers are saying about the Musings (Musings samples here):
The "unsubscribe" link is for when you find the usual drivel here insufferable.
Dwolla members can subscribe to the Musings Reports with a one-time $50 payment; please email me if you use Dwolla, as Dwolla does not provide me with your email.
The Heroes & Heroines of New Media:
oftwominds.com contributors and subscribers
---
All content, HTML coding, format design, design elements and images copyright © 2014 Charles Hugh Smith, All global rights reserved in all media, unless otherwise credited or noted.
I am honored if you link to this essay, or print a copy for your own use.
Terms of Service:
All content on this blog is provided by Trewe LLC for informational purposes only. The owner of this blog makes no representations as to the accuracy or completeness of any information on this site or found by following any link on this site. The owner will not be liable for any errors or omissions in this information nor for the availability of this information. The owner will not be liable for any losses, injuries, or damages from the display or use of this information. These terms and conditions of use are subject to change at anytime and without notice.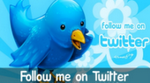 Add oftwominds.com
to your reader:




Making your Amazon purchases through this Search Box helps support oftwominds.com at no cost to you:



search my site: