The Neofeudal-Neoliberal Arrangement: Since We Own What You Need, We Own You (June 13, 2014)


Neofeudalism depends on the cultural supremacy of Neoliberalism, the belief that the social order is defined and created by markets.

I've been discussing the essence of Neofeudalism this week: those with access to the low-interest unlimited credit spigot of the Federal Reserve become more equal than others--the perfect Orwellian description of a Neofeudal arrangement in which financial leverage buys not just rentier assets but political power and control.

Neofeudalism depends on the cultural supremacy of Neoliberalism, the belief that the social order is defined and created by markets: if markets are free, participants, society and the political order are also free.

This conceptual framework is the perfect enabler for the dominance of credit-based, leveraged capital, i.e. Neofeudalism. In a "free market," those with access to nearly-free money can outbid everyone who must rely on savings from earned income to finance borrowing. In a "free market" where those with access to leverage and unlimited credit are more equal than everyone else, the ability of wage earners to acquire rentier assets such as rental housing, farmland and timberland is intrinsically limited by the financial system that makes credit and leverage scarce for the many and abundant for the few.

Those with access to the low-interest unlimited credit spigot of the Federal Reserve are free to snap up tens of thousands of houses and tens of thousands of acres of productive land--the classic rentier assets that reliably produce unearned income because people need shelter and food--along with other rentier assets such as parking lots and meters, fossil fuels in the ground, and of course the engines of credit creation, the banks.

Longtime correspondent Bart D. recently summarized how this Neofeudal arrangement enables the few to control the many:

What if financial elites enter the market with their 'free' Federal Reserve cash and buy up a lions' share of accommodation to keep home ownership unaffordable and force the majority to live as renters? If, in a dwindling economy, the Power Elite can't hold power over the masses by keeping their jobs or other income streams under threat, maybe they will switch to wanting everyone to owe them rent and use the threat of homelessness as another tool to keep people under control.

It's an extension of the food stamps concept. The system is moving towards making sure most people don't have future access to the resources that enable them to survive and create wealth outside of the system.

I think the economy is now about controlling people. We are headed for a societal structure in which opportunities to rise economically will be increasingly stifled by those at the top. The money is irrelevant now, the real game is being played is in controlling tangible and 'essential for life' assets: housing, water delivery, food, clothing, energy. Those at the top want power to control everyone below them, particularly to keep them from revolting.

Thank you, Bart, for describing the Neofeudal arrangement of control based on access to credit issued by central banks. Load every person with a gargantuan student loan and an equally enormous mortgage and toss on an auto loan and credit card debt, and you have the perfect serf, too busy servicing his debt to question the arrangement, much less resist it.

People in the lower orders can resist by securing their own productive assets, but this takes effort, foresight, discipline and planning--all the characteristics that are eroded in a consumerist market economy that glorifies and promotes instant-gratification consumption.

This reduction of selfhood to consumption insures the brainwashed consumer has neither the savings nor the cultural tools needed to acquire financial and social capital. Debt-based consumerism insures the lower orders will never have the means to escape the Neofeudal arrangement.

The Neofeudal arrangement of credit-capital control is effectively enforced by debt-based consumerism, where everyone who wants to be "cool" (i.e. have a self that is recognized in a Neoliberal order) has to go into debt to be cool for at least one product cycle.

When their access to credit runs out, so does their ability to have a recognizable identity in the consumerist social order.

---
The ideal summer reading for recent graduates: Get a Job, Build a Real Career and Defy a Bewildering Economy, a mere $9.95 for the Kindle ebook edition and $15.46 for the print edition.
---
---
---
Get a Job, Build a Real Career and Defy a Bewildering Economy
(Kindle, $9.95)(print, $20)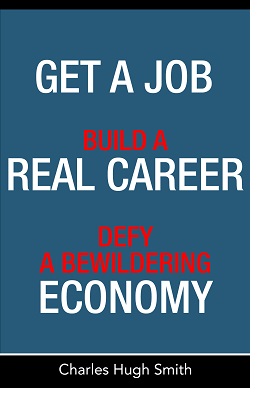 Are you like me?
Ever since my first summer job decades ago, I've been chasing financial security. Not win-the-lottery, Bill Gates riches (although it would be nice!), but simply a feeling of financial control. I want my financial worries to if not disappear at least be manageable and comprehensible.
And like most of you, the way I've moved toward my goal has always hinged not just on having a job but a career.
You don't have to be a financial blogger to know that "having a job" and "having a career" do not mean the same thing today as they did when I first started swinging a hammer for a paycheck.
Even the basic concept "getting a job" has changed so radically that jobs--getting and keeping them, and the perceived lack of them--is the number one financial topic among friends, family and for that matter, complete strangers.
So I sat down and wrote this book: Get a Job, Build a Real Career and Defy a Bewildering Economy.
It details everything I've verified about employment and the economy, and lays out an action plan to get you employed.
I am proud of this book. It is the culmination of both my practical work experiences and my financial analysis, and it is a useful, practical, and clarifying read.
Test drive the first section and see for yourself. Kindle, $9.95 print, $20
"I want to thank you for creating your book Get a Job, Build a Real Career and Defy a Bewildering Economy. It is rare to find a person with a mind like yours, who can take a holistic systems view of things without being captured by specific perspectives or agendas. Your contribution to humanity is much appreciated."
Laura Y.

---
NOTE: Contributions/subscriptions are acknowledged in the order received. Your name and email remain confidential and will not be given to any other individual, company or agency.
| | | |
| --- | --- | --- |
| Thank you, Stephanie C. ($100), for your outrageously generous contribution to this site -- I am greatly honored by your steadfast support and readership. | | Thank you, Stuart L. ($50), for your superbly generous contribution to this site -- I am greatly honored by your longstanding support and readership. |
---
"This guy is THE leading visionary on reality. He routinely discusses things which no one else has talked about, yet, turn out to be quite relevant months later."
--Walt Howard, commenting about CHS on another blog.
"You shine a bright and piercing light out into an ever-darkening world."
Jeremy Beck

---
Contributors and subscribers enable Of Two Minds to post 275+ free essays annually. It is for this reason they are Heroes and Heroines of New Media. Without your financial support, the free content would disappear for the simple reason that I cannot keep body and soul together on my meager book sales alone.
Or send coins, stamps or quatloos via mail--please request P.O. Box address.
Subscribers ($5/mo) and those who have contributed $50 or more annually (or made multiple contributions totalling $50 or more) receive weekly exclusive Musings Reports via email ($50/year is about 96 cents a week).
Each weekly Musings Report offers five features:
1. Exclusive essay on a diverse range of topics
2. Summary of the blog this week
3. Best thing that happened to me this week
4. Market Musings--commentary on the economy & global markets
5. From Left Field (a limited selection of interesting links)
At readers' request, there is also a $10/month option.
What subscribers are saying about the Musings (Musings samples here):
The "unsubscribe" link is for when you find the usual drivel here insufferable.
Dwolla members can subscribe to the Musings Reports with a one-time $50 payment; please email me if you use Dwolla, as Dwolla does not provide me with your email.
The Heroes & Heroines of New Media:
oftwominds.com contributors and subscribers
---
All content, HTML coding, format design, design elements and images copyright © 2014 Charles Hugh Smith, All global rights reserved in all media, unless otherwise credited or noted.
I am honored if you link to this essay, or print a copy for your own use.
Terms of Service:
All content on this blog is provided by Trewe LLC for informational purposes only. The owner of this blog makes no representations as to the accuracy or completeness of any information on this site or found by following any link on this site. The owner will not be liable for any errors or omissions in this information nor for the availability of this information. The owner will not be liable for any losses, injuries, or damages from the display or use of this information. These terms and conditions of use are subject to change at anytime and without notice.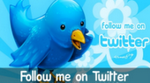 Add oftwominds.com
to your reader:




Making your Amazon purchases through this Search Box helps support oftwominds.com at no cost to you:



search my site: