Pay Our Pensions Or We'll Throw You in Jail: the Legalization of Looting (March 19, 2014)


Rather than deal forthrightly with the reality that unrealistic promises made to their employees cannot be honored, local government has pursued a strategy of legalizing looting.

The gradual erosion of civil liberties, legal rights and government ethics are connected: our rights don't just vanish into thin air, they are expropriated by government: Federal, state and local. Though much is written about the loss of civil liberties at the Federal level, many of the most blatantly illegal power grabs are occurring in local government.

This expropriation is under the radar of the average citizen because the process slowly chips away the fundamentals of legality and justice: bit by bit, due process and the rights of the individual have been eroded by state and local governments until the fundamental Constitutional protections simply cease to exist.

When local government looting is legalized, the entire system is illegal. Here are three recent examples of blatantly illegal looting by local governments.

First up: privatizing the collection of traffic fines and probation to create a modernized debtor's prison. We turn to The Nation for the story:

The Town That Turned Poverty Into a Prison Sentence Most states shut down their debtors' prisons more than 100 years ago; in 2005, Harpersville, Alabama, opened one back up.
What happened to Ford in the small town of Harpersville was tangled and unconstitutional-- but hardly unique. Similar tales have been playing out in more than 1,000 courts across the country, from Georgia to Idaho. In the face of strained budgets and cuts to public services, state and local governments have been stepping up their efforts to ensure that the criminal justice system pays for itself. They have increased fines and court costs, intensified law enforcement efforts, and passed so-called "pay-to-stay" laws that charge offenders daily jail fees. They have also begun contracting with "offender-funded" probation companies like JCS, which offer a particularly attractive solution—collection, at no cost to the court.

Harpersville's experiment with private probation began nearly ten years ago. In Alabama, people know Harpersville best as a speed trap, the stretch of country highway where the speed limit changes six times in roughly as many miles. Indeed, traffic is by far the biggest business in the town of 1,600, where there is little more than Big Man's BBQ, the Sudden Impact Collision Center and a dollar store.

In 2005, the court's revenue was nearly three times the amount that the town received from a sales tax, Harpersville's second-largest source of income. Fines had become key to Harpersville's development, but it proved difficult to chase down those who did not pay. So, that year, Harpersville decided to follow in the footsteps of other Alabama cities and hire JCS to help collect.

It was a system of extraction and coercion so flagrant that Alabama Circuit Court Judge Hub Harrington likened it to a modern-day "debtors' prison."

Her fines for the three charges added up to $2,922, court papers show. Ward sentenced her--and others who said they couldn't pay their full fines that day-- to probation. Once a means of allowing convicted offenders to stay out of jail on the condition of good behavior, probation had now become a court-sanctioned tool for debt collection.

Burdette reported to the JCS office in nearby Childersburg, where she paid her probation officer $100. Of that, $45 went toward her fine, $10 toward a one-time "start-up fee," and the last $45 went to JCS as a monthly fee for service.
Next up: illegal search and seizure under the pretext of traffic violations. As if "driving while black" isn't bad enough, now "driving with cash" is pretext enough to be stripped of your rights and your property stolen by local government:
Lawsuits over cash seizures settled in Nevada
Tan Nguyen of Newport, Calif., and Michael Lee of Denver said in lawsuits filed in U.S. District Court in Reno they were stopped last year on U.S. Interstate 80 near Winnemucca about 165 miles east of Reno under the pretext of speeding. They said they were subjected to illegal searches and told they wouldn't be released with their vehicles unless they forfeited their cash.

The lawsuits claimed the cash seizures were part of a pattern of stopping drivers for speeding as a pretext for drug busts in violation of the Constitution.

Nguyen was given a written warning for speeding but wasn't cited. As a condition of release, he signed a "property for safekeeping receipt," which indicated the money was abandoned or seized and not returnable. But the lawsuit says he did so only because Dove threatened to seize his vehicle unless he "got in his car and drove off and forgot this ever happened."

"He wasn't charged with anything. He had no drugs in his car. The pretext for stopping him was he was doing 78 in a 75," John Ohlson told KRNV-TV. "It's like Jesse James or Black Bart," he told AP in an interview last week.

The district attorney's statement said both men were stopped legally and that "every asset that was seized pursuant to those stops was lawfully seized."
Exhibit # 3: guilty until proven innocent: State of California seizes cash from "suspected" tax evaders with no evidence, no court action, no recourse. I have documented in detail how the jackboot of the State of California has pressed on the necks of thousands of law-abiding citizens whose only crime was moving out of California.
The State of California presumes anyone moving out of the state who still has a source of income in California--for example, a few dollars of interest earned on a bank account--owes California income tax on all their presumed income, even if they have filed income tax returns in another state.
If this isn't the acme of illegal seizure and denial of basic rights, i.e. presumed innocent until proven guilty, then what is?
Here is one reader's account of how this legal looting works: I wrote about this in Welcome to the United States of Orwell: Law-Abiding Taxpayers Are Treated as Criminals While the Real Criminals Go Free (March 27, 2012).
I received a letter last year that we owed the state of California's Franchise Tax Board $90,000 for taxes in the year 2008.

We replied to the Franchise Tax board in a similar manner as RT stating that:

-- Did not reside in California in 2008

-- Did not file a State income tax return in California in 2008

-- Did not have any outstanding tax issues with California in 2008

-- Did no business in California in 2008

-- Owned no property in California in 2008

The CA Franchise Tax board responded by putting a lien on us in the state - fortunately, our banks and assets have no business in CA or I am certain our accounts would have been robbed as well.

After a great deal of uncertainty and angst, I found an accountant in CA who advised us that we needed to file a complete CA tax return for 2008 even though we did not owe any tax. We filed the return and received a response that we owed the state $625 to cover the State's collection fees. We paid the fee and within two weeks received a "refund" check for the $625.

On reflection, we felt as if we had been "held up" by some powerful gangsters and if it had not been for an honest tax accountant we would have suffered much financial damage.
In other words, honest taxpayers are reduced to begging the predatory state of California to return their own money. Meanwhile, the bagmen for the local government thieves, Wells Fargo and Bank of America, among others, get to keep the $100 fee they charged the taxpayer for stealing their money. If this isn't Orwellian, then what do you call it? "Legal"? If this is legal, legality has lost all meaning.
For more on the blatantly illegal seizures of cash from people who aren't even residents of California and who filed income tax returns in another state, please read:
Welcome to the Predatory State of California--Even If You Don't Live There (March 20, 2012)
The Predatory State of California, Part 2 (March 21, 2012)
Just as pernicious as outright looting is the growing dependence of local government on fines and related rip-offs. Correspondent Joel M. recently submitted this article which features New York City officials whining that the recent snow storm deprived them of sorely needed revenues from parking fines.
Costs Have Piled Up Along With the Snow of a Difficult Winter (NYT.com)
"If the winter was costly for individuals, it was even more so for municipalities. The snow triggered repeated suspensions of New York City's alternate-side-of-the-street parking rules, delighting car owners but costing the city an average of $270,000 a day in potential fines, officials said. That added up to $4.3 million during a three-week stretch in February alone, money that would have gone to help pay for city services, including the fire and police forces, city officials said."
Everyone who believes local government is "here to fill potholes and help disadvantaged people" needs to wake up and ask what kind of government we have when due process has been replaced with "legal" looting. Is local government focused on serving citizens or on funding public employee pensions and healthcare benefits?
The erosion of ethics of those in government service is as pernicious as the rise of legal looting. Let's be honest, shall we? Those in local government tasked with collecting all these forms of legal looting are "just doing my job," but how many protest the process? How many public employee unions are outraged by the legal looting that fills the coffers of their pension funds?
For context, government employees constitute about 15% of the employed workforce in the U.S.: 22 million out of 142 million. Unlike the other 85%, their employer can legalize looting on their behalf.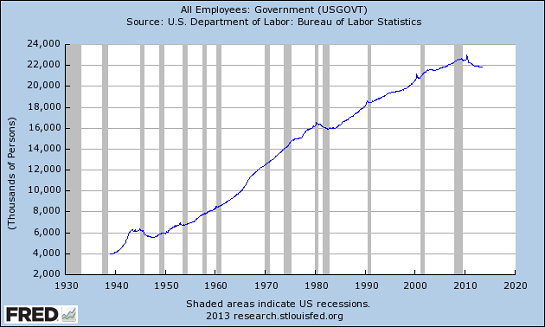 Local government spending has soared for decades.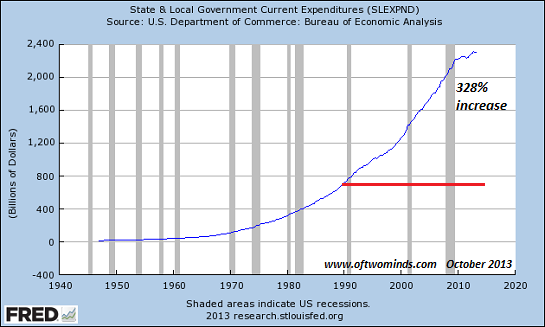 So has local government debt.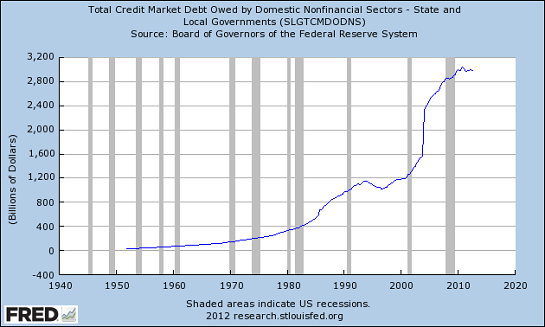 Promises were made to local government employees by craven, bought-and-paid-for politicos that cannot possibly be honored in a stagnating economy with widening wealth inequality. But rather than deal forthrightly with that reality, local government has pursued a strategy of legalizing looting.
From the point of view of the hapless tax donkeys and debt-serfs being looted, this strategy boils down to a stark threat: Pay Our Pensions Or We'll Throw You in Jail.
Here's the deal: government is supposed to serve the people, not the insiders. Please read the above news stories; can anyone claim that legalized looting is OK because the "ends" (public services) justify the "means" (legalized looting)? How many public employees care about where the money that funds their paycheck, pension and healthcare benefits comes from?
Maybe public employees should start caring about where the money is coming from, because taxation approved by elected officials or direct voter approval is one thing, and legalized looting is another. If you don't care that your pay/pension/benefits may be partly funded by legalized looting, perhaps you should start caring.
Remember that we (the general public) can't pull you over and "legally" steal your cash, nor can we order Wells Fargo to go into your bank account and "legally" steal your money without court review, evidence of wrongdoing or recourse. We can't award private collection agencies the powers reserved for representative government and rig the probation system into a cash cow that benefits us.
Please don't trot out the "good German" excuse: I only take orders. You're the ones who are pulling the levers of the legalized looting machine; us tax donkeys and debt-serfs are on the receiving end. Given that special interests own the state legislatures, the tax donkeys and debt-serfs have only three choices: opt out, move out or stop paying, and fill your modern debtors' prisons to the brim.


---
The Nearly Free University and The Emerging Economy:
The Revolution in Higher Education
Reconnecting higher education, livelihoods and the economy
With the soaring cost of higher education, has the value a college degree been turned upside down? College tuition and fees are up 1000% since 1980. Half of all recent college graduates are jobless or underemployed, revealing a deep disconnect between higher education and the job market.
It is no surprise everyone is asking: Where is the return on investment? Is the assumption that higher education returns greater prosperity no longer true? And if this is the case, how does this impact you, your children and grandchildren?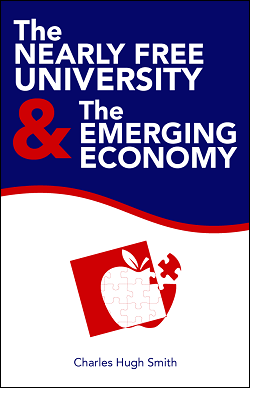 We must thoroughly understand the twin revolutions now fundamentally changing our world: The true cost of higher education and an economy that seems to re-shape itself minute to minute.
The Nearly Free University and the Emerging Economy clearly describes the underlying dynamics at work - and, more importantly, lays out a new low-cost model for higher education: how digital technology is enabling a revolution in higher education that dramatically lowers costs while expanding the opportunities for students of all ages.
The Nearly Free University and the Emerging Economy provides clarity and optimism in a period of the greatest change our educational systems and society have seen, and offers everyone the tools needed to prosper in the Emerging Economy.
---
Things are falling apart--that is obvious. But why are they falling apart?
The reasons are complex and global. Our economy and society have structural problems that cannot be solved by adding debt to debt. We are becoming poorer, not just from financial over-reach, but from fundamental forces that are not easy to identify. We will cover the five core reasons why things are falling apart: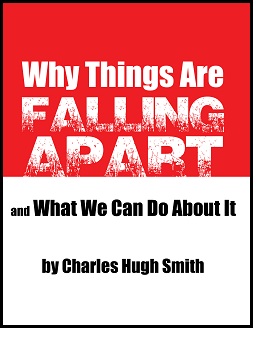 1. Debt and financialization
2. Crony capitalism
3. Diminishing returns
4. Centralization
5. Technological, financial and demographic changes in our economy
Complex systems weakened by diminishing returns collapse under their own weight and are replaced by systems that are simpler, faster and affordable. If we cling to the old ways, our system will disintegrate. If we want sustainable prosperity rather than collapse, we must embrace a new model that is Decentralized, Adaptive, Transparent and Accountable (DATA).
We are not powerless. Once we accept responsibility, we become powerful.
Read the Introduction/Table of Contents
Kindle: $9.95 print: $24

---
NOTE: Contributions/subscriptions are acknowledged in the order received. Your name and email remain confidential and will not be given to any other individual, company or agency.
| | | |
| --- | --- | --- |
| Thank you, Jon J. ($50), for your massively generous contribution to this site -- I am greatly honored by your steadfast support and readership. | | Thank you, James D. ($50), for your exceptionally generous contribution to this site -- I am greatly honored by your steadfast support and readership. |
---
"This guy is THE leading visionary on reality. He routinely discusses things which no one else has talked about, yet, turn out to be quite relevant months later."
--Walt Howard, commenting about CHS on another blog.
"You shine a bright and piercing light out into an ever-darkening world."
Jeremy Beck

---
Contributors and subscribers enable Of Two Minds to post 275+ free essays annually. It is for this reason they are Heroes and Heroines of New Media. Without your financial support, the free content would disappear for the simple reason that I cannot keep body and soul together on my meager book sales alone.
Or send coins, stamps or quatloos via mail--please request P.O. Box address.
Subscribers ($5/mo) and those who have contributed $50 or more annually (or made multiple contributions totalling $50 or more) receive weekly exclusive Musings Reports via email ($50/year is about 96 cents a week).
Each weekly Musings Report offers five features:
1. Exclusive essay on a diverse range of topics
2. Summary of the blog this week
3. Best thing that happened to me this week
4. Market Musings--commentary on the economy & global markets
5. From Left Field (a limited selection of interesting links)
At readers' request, there is also a $10/month option.
What subscribers are saying about the Musings (Musings samples here):
The "unsubscribe" link is for when you find the usual drivel here insufferable.
All content, HTML coding, format design, design elements and images copyright © 2014 Charles Hugh Smith, All global rights reserved in all media, unless otherwise credited or noted.
I am honored if you link to this essay, or print a copy for your own use.
Terms of Service:
All content on this blog is provided by Trewe LLC for informational purposes only. The owner of this blog makes no representations as to the accuracy or completeness of any information on this site or found by following any link on this site. The owner will not be liable for any errors or omissions in this information nor for the availability of this information. The owner will not be liable for any losses, injuries, or damages from the display or use of this information. These terms and conditions of use are subject to change at anytime and without notice.