Is the Stock Market on the Same Planet as the Economy? Obviously Not (May 6, 2006)


With the Dow Jones Industrial Average flirting ever so charmingly with its all-time high-- Go team, go! Rah rah rah!--I have to wonder: is the stock market on the same planet as the real economy? Obviously not.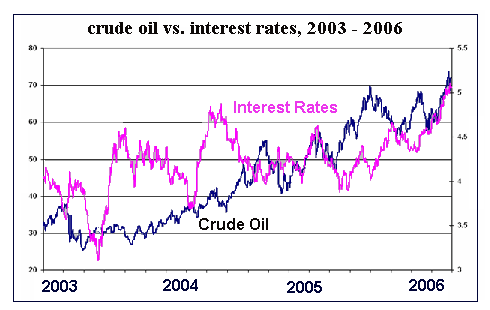 *
*
*
*
*
*
*
*
*
*
*
*
*
*
*
*
*
*

Since when are rising energy prices and interest rates good for business? Since never. Rising oil costs seep into every crevice of the economy, forcing businesses to either raise prices or make less profit--neither one being positive for customers or the bottom line. Ditto for rising interest rates: they squeeze everyone's customers and saddle businesses with higher borrowing costs.

Oil and interest rates are rising, the dollar is falling, the housing boom is rolling over--and yet the stock market hits a 6-year high. What planet are buyers of stocks on? Certainly not this one. The rah-rah cheerleaders like to say that markets always rise when the Fed stops raising interest rates, but this is wishful thinking.

As rising energy prices infiltrate the cost of transporting goods--i.e., virtually everything consumers and businesses buy--everyone has less money to spend on other stuff (i.e. discretionary spending). As interest rates rise, everyone with adjustable rate mortgages and/or credit cards pays more--as will all the people rushing to change their adjustable-rate mortgages into fixed-rate ones. So how is beggaring every customer good for business? It isn't.

The next delusion chanted by the rah-rah crowd is that business spending will take up all the slack as indebted consumers cut back spending. There's one little problem with that scenario. What moron builds up his production and inventory just as his customers are cutting back spending? This makes absolutely no business sense. My customers will be spending less, so I'll sink billions into new software, plant, workers and inventory. Yes, I will if I want to destroy my business. Otherwise, I'll pare expenses and watch my sales very very closely.

Here's the real reason for the stock market's fairyland climb: Bubble follows bubble follows bubble. As the Dot-com stock bubble expired, dropping the NASDAQ from 5,300 to 1,100, the psychology of the Free Lunch--money for nothing but playing with money--transferred seamlessly to the real estate market, driving it to unprecedented classic-bubble heights. As this "free lunch money" (all $2.5 trillion of it) gushed into homeowner's pockets, about 2/3 was spent (according to Fed estimates cited in previous entries) but some flowed into other investments such as the resurgent stock market.

Bubble follows bubble follows bubble. Borrowed money has also been flowing into precious metals, art, you name it: every asset class is now in a bubble, thanks to the trillions released by super-low interest rates and unlimited liquidity/low credit standards.

Market technical analysts know that "market internals" (advance-decline lines, number of new lows to new highs, volume, etc.) have been deteriorating for months. This deterioration has been masked by the rising index numbers; but the "health" of the advance as measured by technical indicators is akin to the racing heartbeat of the cardiac patient on the treadmill. Boy, his pulse is rising very healthily--until his over-worked, unhealthy heart blows a gasket.

Cynical chart watchers like me suspect another force is at work--the sucker's rally. It works like this. "Smart money" (hedge funds and other institutional players with billions in hot money) bids the stock market up by buying the heaviest-weighted index stocks--the large-cap stocks like Exxon, Microsoft, GE, etc.--which goose the indices up regardless of how well the smaller companies are faring. Then, once the "retail trade" (i.e. us poor dumb small-fry with our IRAs and 401Ks) buy into the "rally" and start buying, the "smart money" sells their shares at the top and awaits the inevitable roll-over and decline.

The Fed meets on May 10. Mark your calendar: May 11 the decline starts and then rapidly picks up velocity. The "smart money" has been exiting all month while the con was set. Reality has a nasty habit of trumping wishful thinking--or a smart con.



For more on this subject and a wide array of other topics, please visit my weblog.







copyright © 2006 Charles Hugh Smith. All rights reserved in all media.

I would be honored if you linked this wEssay to your site, or printed a copy for your own use.