Our "Make It Look Good" Economy Has Failed (May 29, 2014)


When rigged numbers are the basis of our success, we have failed.

The essence of the U.S. economy is make it look good: never mind quality or long-term consequences, just make it look good today, this week, this month, this quarter: make the pink slime look like meat, make the company look profitable, make the low-quality product look good enough to close the sale, make the unemployment rate low enough to justify re-electing the toadies currently in power, make the body count of bad guys look good, and on and on--just makes the numbers look good now, the future will take care of itself.

This is, of course, an attractive lie: the future is a direct consequence of present decisions and actions. It is remarkable how quickly we latch onto the notion that an endless parade of lies, manipulations and deceptions will magically produce a warm and fuzzy future of organic growth fostered by sound investments.

Alas, an economy that relies on an endless parade of lies, manipulations and deceptions has only one possible future: failure--abject, total, undeniable, devastating. Equally remarkable is the current conviction that absurd extremes in manipulation--the billions of dollars of corporate buybacks pushing stocks higher, the socialization of the U.S. mortgage market, where privately issued mortgages (unbacked by government guarantees) have virtually vanished, the ginned-up unemployment number (remove enough potential workers from the count and the unemployment rate is soon near-zero)--will magically lead to an economy that no longer needs extreme manipulations to sustain itself.

All these lies (if we are bold enough to call a lie a lie) and manipulations cannot possibly herald in an economy of honest reporting, market discovery of price and sound investments.

This is equivalent to doing nothing but eating junk food while playing martial-arts videogames for months on end and then expecting to beat Tony Jaa in a real-world sparring match. Only people who've lost touch with reality would think that getting fat and wheezy playing videogames while eating Happy Meals and Ho-Hos would create a future that required an entirely different set of decisions and disciplines.

America is completely out of touch with reality: gaming statistics and making credit free to financiers doesn't create jobs, any more than stuffing one's face with junk food and playing videogames prepares one to avoid getting beaten to a pulp in a real martial arts match.

The misguided individual who reckons that foisting make it look good cons will magically create productive investments soon discovers that cons, lies and manipulations are all one-way streets: a make it look good con has only one future: a bigger con, to cover up the disastrous consequences of the initial con.

The U.S. economy won't fail in the future: it has already failed. Just as the delusional coach-potato who stuffs himself with Happy Meals and Ho-Hos to prepare for a real-world sparring match failed at the first bite, so too have we failed with the first lie, the first gamed statistic, the first Federal Reserve manipulation, the first fudged "profit."

Liars often entertain the fantasy that the initial make it look good illusion can eventually be replaced with real numbers and real integrity: but that too is a lie, a lie the liar tells himself. A house of cards constructed of lies, manipulations, fudged numbers, ginned-up statistics and cleverly constructed deceptions cannot suddenly become a structure built on integrity, accountability and honest reporting of facts; it will always be fragile, for a single truth and a single unvarnished fact can bring down the entire contraption.

This is where our endless parade of lies, manipulations and deceptions has led us: to a future of more lies, manipulations and deceptions because untruth is a black hole; once our first manipulation pushes us past the event horizon, there is no way back to honesty, accountability and factual reporting.

Officially sanctioned lies, manipulations and deceptions erode trust in institutions and the bedrock belief that honesty, integrity, accountability, hard work and productive investments are the keys to advancement.

Once a people have been trained to swallow an endless parade of lies, manipulations and deceptions in order to get their share of the system's swag, they lose the ability to practice accountability, integrity and honesty. Their own complicity renders them incapable of trusting the system or anyone else playing the make it look good game.

Eventually they lose the ability to even recognize accountability, integrity and honesty, much less live them.

America's economy has already failed. It failed when our leaders turned to lies and manipulation to make it look good, and it failed when we bought the lies because it was so much less risky than demanding a factual accounting.

When rigged numbers are the basis of our success, we have failed.


---
Want to give an enduringly practical graduation gift? Then give my new book Get a Job, Build a Real Career and Defy a Bewildering Economy, a mere $9.95 for the Kindle ebook edition and $17.76 for the print edition.
---
---
---
Get a Job, Build a Real Career and Defy a Bewildering Economy
(Kindle, $9.95)(print, $20)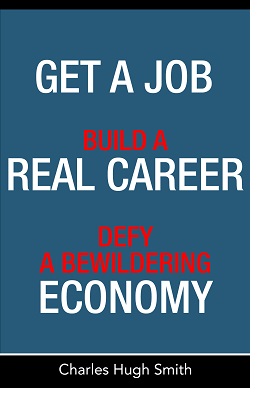 Are you like me?
Ever since my first summer job decades ago, I've been chasing financial security. Not win-the-lottery, Bill Gates riches (although it would be nice!), but simply a feeling of financial control. I want my financial worries to if not disappear at least be manageable and comprehensible.
And like most of you, the way I've moved toward my goal has always hinged not just on having a job but a career.
You don't have to be a financial blogger to know that "having a job" and "having a career" do not mean the same thing today as they did when I first started swinging a hammer for a paycheck.
Even the basic concept "getting a job" has changed so radically that jobs--getting and keeping them, and the perceived lack of them--is the number one financial topic among friends, family and for that matter, complete strangers.
So I sat down and wrote this book: Get a Job, Build a Real Career and Defy a Bewildering Economy.
It details everything I've verified about employment and the economy, and lays out an action plan to get you employed.
I am proud of this book. It is the culmination of both my practical work experiences and my financial analysis, and it is a useful, practical, and clarifying read.
Test drive the first section and see for yourself. Kindle, $9.95 print, $20
"I want to thank you for creating your book Get a Job, Build a Real Career and Defy a Bewildering Economy. It is rare to find a person with a mind like yours, who can take a holistic systems view of things without being captured by specific perspectives or agendas. Your contribution to humanity is much appreciated."
Laura Y.

---
NOTE: Contributions/subscriptions are acknowledged in the order received. Your name and email remain confidential and will not be given to any other individual, company or agency.
| | | |
| --- | --- | --- |
| Thank you, John A. ($20), for your remarkably generous contribution to this site -- I am greatly honored by your support and readership. | | Thank you, Mark B. ($15), for your much-appreciated generous contribution to this site -- I am greatly honored by your support and readership. |
---
"This guy is THE leading visionary on reality. He routinely discusses things which no one else has talked about, yet, turn out to be quite relevant months later."
--Walt Howard, commenting about CHS on another blog.
"You shine a bright and piercing light out into an ever-darkening world."
Jeremy Beck

---
Contributors and subscribers enable Of Two Minds to post 275+ free essays annually. It is for this reason they are Heroes and Heroines of New Media. Without your financial support, the free content would disappear for the simple reason that I cannot keep body and soul together on my meager book sales alone.
Or send coins, stamps or quatloos via mail--please request P.O. Box address.
Subscribers ($5/mo) and those who have contributed $50 or more annually (or made multiple contributions totalling $50 or more) receive weekly exclusive Musings Reports via email ($50/year is about 96 cents a week).
Each weekly Musings Report offers five features:
1. Exclusive essay on a diverse range of topics
2. Summary of the blog this week
3. Best thing that happened to me this week
4. Market Musings--commentary on the economy & global markets
5. From Left Field (a limited selection of interesting links)
At readers' request, there is also a $10/month option.
What subscribers are saying about the Musings (Musings samples here):
The "unsubscribe" link is for when you find the usual drivel here insufferable.
Dwolla members can subscribe to the Musings Reports with a one-time $50 payment; please email me if you use Dwolla, as Dwolla does not provide me with your email.
The Heroes & Heroines of New Media:
oftwominds.com contributors and subscribers
---
All content, HTML coding, format design, design elements and images copyright © 2014 Charles Hugh Smith, All global rights reserved in all media, unless otherwise credited or noted.
I am honored if you link to this essay, or print a copy for your own use.
Terms of Service:
All content on this blog is provided by Trewe LLC for informational purposes only. The owner of this blog makes no representations as to the accuracy or completeness of any information on this site or found by following any link on this site. The owner will not be liable for any errors or omissions in this information nor for the availability of this information. The owner will not be liable for any losses, injuries, or damages from the display or use of this information. These terms and conditions of use are subject to change at anytime and without notice.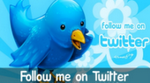 Add oftwominds.com
to your reader:




Making your Amazon purchases through this Search Box helps support oftwominds.com at no cost to you:



search my site: