If You Must Give Gifts, Consider These Everyday Kitchen Tools (November 23, 2013)


If you want to give practical kitchenware as gifts, these ten favor 1) everyday utility 2) durability/high quality 3) modest cost (between $6 and $22 and 4) mostly made in the USA.

The ideal DeGrowth gifts are handmade/home-made, but if this isn't practical, consider giving tools that foster new skills and well-being--for example, simple everyday kitchen tools.

Many of the ills of our society are best addressed in the kitchen, as eliminating fast food, junk food and convenience/packaged "food" is the first step to becoming healthier. The second step is do the thing and you shall have the power, i.e. turning off the endless TV celebrity-chef cooking shows and getting to work in the kitchen making real food.

Decent tools can enhance the preparation of meals--and by this I don't mean costly appliances, I mean low-cost, practical basics.

Here's our list of 10 favorite practical kitchenware/tools. These favor 1) everyday utility 2) durability/high quality 3) cost between $5 and $22 and 4) mostly made in the USA.

NOTE: prices of these items change frequently and may vary from those listed here.


1. Pyrex 6021224 Storage 10-Piece Set, Clear with Blue Lids - $19.99

These 3 round bowls and 2 rectangular glass storage containers are just the right number and size for storing leftovers – practical and perfect. We all already own similar containers with lids (usually larger) but I now use these the most – one or two are always in use in our refrigerator. Bought my Mom a set, and she says it's always going up and down the road as she and her neighbor Gene trade dinners. Just bought a set for Gene in September as a gift.

2. Rubbermaid Easy Find Lid 24-Piece Food Storage Container Set - $21.75

I was introduced to this practical Rubbermaid set 2 years ago by my friends Dustin and Megan who received them as a wedding gift. They remarked "you should get this" -- I have since bought 3 sets for myself and as gifts. Yes, we all already have innumerable plastic food storage containers and resist adding more to our jumbled drawer-full. However, the clever system of locking the matching lid to the bottom of the container so they stay together convinced me to buy this set to add to our kitchen.

3. Best French Whip, Stainless Steel Made in USA – 10-inch $10.98
12-inch $12.60
(8-inch and 18-inch sizes are also available)

I have owned Best whisks from the 70s since learning about them in the Whole Earth Catalog. Thankfully, still USA made and indeed "crafted" (as described on Amazon) in Portland, Oregon, they are indeed the best. You will likely not need to replace a Best whisk in your lifetime. I personally prefer the 10" for home use.

4. Microplane Stainless Steel Zester - $9.95 (without handle – Made in USA)

Microplane 40020 Grater/Zester - $12.95 (with handle – not stated as USA made)

Over 300 "5 star" reviews for with handle and 44 "5 star" reviews for without handle can't lead you astray. Being a stubborn Taurus and loyal to my traditional zester, I resisted this "new fangled" zester. A gift from my sister Lynette proved me absolutely wrong, and I now cannot do without it for grating lemon zest, nutmeg, and hard cheese. Great for hard baking chocolate as well but I usually bake with cocoa power. I prefer the clean, simple look of the zester without a handle – just my Taurean preference.

I was drawn to this zester for another reason--its lineage as a wood rasp/carpentry tool.

5. Kuhn Rikon Original 4-Inch Swiss Peeler, White - $5.65

Kuhn Rikon, original 3-set Red, Green and Yellow Swiss Peeler - $9.99

Our Irish green 4" Swiss peeler hangs on a cup hook above our sink – such a fine, sharp tool for peeling carrots, potatoes, long white Asian radish for Chinese/Japanese/Vietnamese pickles, Fuji apples for pie, the thin brown flesh off fresh coconut before grating, and hard skin off Asian pumpkins prior to steaming or cooking, Recently, I discovered the peeler efficiently remove the tough green skin of loofa squash – a vegetable new to me (previously I only used the dried version as a bath scrubber), and delicious prepared Chinese style with "tree ears" black fungus and green beans.

I think the 3-piece set for $9.99 is a great deal.

6. Oxo Good Grips Cookie Scoop - $13.95 medium, $10.99 small, $14.95 large

Wonderful scoop for quick portion measuring of cookie dough, drippy muffin batter and Indian kofta meatballs. Two scoops of batter fills each paper lined muffin pan cup perfectly for perfect cupcakes. I like the medium size which makes for 4-across and 5-rows down size cookies on the cookie sheet. If you tend to bake smaller, more delicate sized cookies, you may prefer the small scoop. I bought the medium and small scoops, but found the small too small and gave it to a friend who likes making smaller cookies.

7. Dexter-Russell 6-by-3-Inch Dough Scraper Made in USA - $19.05

Now darkened with patina -- another tried, true and beautifully made kitchen tool in my culinary tool box for 35+ years bought from Kaya Cutlery on Mamo Street in Hilo, Hawaii –- wish I had marked the purchase year on the rosewood handle edge. An essential dough cutter and wood cutting board scraper for bread, pie crust and cut-out cookie makers, it's made of 3 excellent timeless materials –- stainless steel (blade), rosewood (handle) and 2 brass pins (to connect blade to handle).

This Dexter-Russell product was not always available on Amazon, and after reading a single negative Amazon review dated February 2, 2010, I settled for an imported Oxo dough cutter/scraper for a friend's wedding gift.

Actually, that one poor 2-star Amazon review of this S496 Dexter dough scraper/cutter mystified me because the one I own is such an excellent product. Like so many other reputable USA companies making previously well-make products in America, I surmised that Dexter-Russell had succumbed to global pricing pressure and now resorted to foreign manufacturing of their products.

Recently, while researching products for this list, I noticed a 5-star review added by P. Brady who declared this product "very well made and a worthy piece of equipment for professional use." His comments express my own sentiment. Still, I wanted to be sure before recommending the dough scraper. The disparity between 2 and 5-stars prompted me to search online for the Dexter-Russell company website and to call their Southbridge, MA phone number 1-800-343-6042.

Pat, who has worked for the company for 14 years, assured me that the S496 dough scraper has always been made in their Southbridge, MA location -- never manufactured abroad – and always with the same 3 fine quality materials of high grade stainless steel, rosewood and brass.

One last comment -- As P. Brady notes, the handle is made of rosewood, and not walnut as described by Amazon.

8. Victorinox 3-1/4-Inch Paring Knife - $7.80 (3 ¼" blade, 7" total length)

Heard frequently in our home: "Where's the red knife? Have you see the red knife? Do you have the red knife?" -- Our Victorinox paring knife happens to have a red rather than black handle, and it is our go-to paring knife. It was moved to California with me from my Mom's home in Hawaii 28 years ago –- we had 2 and my Mom still has the black-handled knife in her left kitchen drawer. It's simple, practical and sharpens easily with our knife sharpening stone. We use it for everything that calls for a paring knife, and daily for scraping skin off a knob of fresh ginger destined to be grated for Charles' morning ritual of fresh ginger tea following his wake-up coffee.

9. Rada Cutlery Cooks Knife, Aluminum Handle Made in USA - $7.98
6 1/4-inch blade and 10 1/2 inches overall length

Rada Cutlery Cooks Utility Knife, Aluminum Handle (R140) Made in USA - $7.46
4 3/4-inch blade, 8 3/4 inches overall length

Rada Cutlery Quick Edge Knife Sharpener with Hardened Steel Wheels - $6.76
(Designed for Rada Knives)

Probably like many other people, I too have several "the last knife I'll ever buy" knives. So I hesitated to add yet another kitchen knife to our collection but it is in fact a knife I use often (favorite very sharp knife for cutting onions) + inexpensive + American made. No one I personally know recommended this knife to me. At first the name caught my attention online -- Rada is the name of my South Indian friend who prepares the South Indian specialties at a restaurant consistently listed on the top 100 San Francisco Bay Area Restaurants list.

Then the Amazon buyer reviews and USA manufacture origin got me curious enough to order the knife and sharpener for myself. Whether a tool is an excellent addition to your kitchen is determined by how often you use it and whether it supercedes your last favorite knife –- if you find yourself reaching for it. I now use my Rada more often than my assorted German and Japanese knives that cost 5 to 7x the Rada knife's price.

The Rada blade is sharp, stays sharp and easily sharpens with 2 to 3 pulls between the 2 sharpening wheels. You must be attentive and treat the Rada knife blade like a razor. As noted by other reviews, the blade is thin and not suitable for cutting hard vegetables. For hard skin squash or Asian pumpkin, my Chinese cleaver or German knife gets pulled off our wall magnet knife holder.

10. Egg Poaching Pods, Fusionbrands, Set of 2, Green - $9.99



Another "new fangled" device made of flexible silicone to cook old-fashion poached eggs. I had to get one for our kitchen as soon as my friend Dustin gave me a demonstration in his kitchen -- extra virgin olive oil smeared into the pods, sprinkling of kosher salt, and several turns of fresh ground black pepper all sealed with a cracked egg on top.
After 4 minutes floating and simmering in a lidded pan, they were done perfectly and easily popped out of the pods. No more watery poached eggs + losing 1/3 of the whites as they float off as whitecaps into the simmering water. I've given a number of these as gifts to family and friends –- thank you, Dustin, for introducing us to this easy method for poaching eggs.


The list was assembled and submitted by C.N.F.


---
The Nearly Free University and The Emerging Economy:
The Revolution in Higher Education

Reconnecting higher education, livelihoods and the economy

With the soaring cost of higher education, has the value a college degree been turned upside down? College tuition and fees are up 1000% since 1980. Half of all recent college graduates are jobless or underemployed, revealing a deep disconnect between higher education and the job market.

It is no surprise everyone is asking: Where is the return on investment? Is the assumption that higher education returns greater prosperity no longer true? And if this is the case, how does this impact you, your children and grandchildren?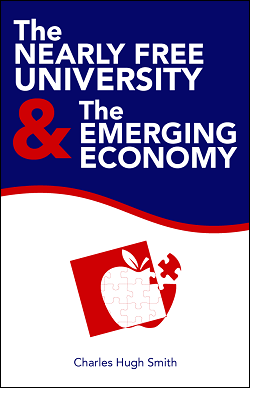 We must thoroughly understand the twin revolutions now fundamentally changing our world: The true cost of higher education and an economy that seems to re-shape itself minute to minute.
The Nearly Free University and the Emerging Economy clearly describes the underlying dynamics at work - and, more importantly, lays out a new low-cost model for higher education: how digital technology is enabling a revolution in higher education that dramatically lowers costs while expanding the opportunities for students of all ages.
The Nearly Free University and the Emerging Economy provides clarity and optimism in a period of the greatest change our educational systems and society have seen, and offers everyone the tools needed to prosper in the Emerging Economy.
Read the Foreword, first section and the Table of Contents.

print ($20) Kindle ($9.95)

---
Things are falling apart--that is obvious. But why are they falling apart?
The reasons are complex and global. Our economy and society have structural problems that cannot be solved by adding debt to debt. We are becoming poorer, not just from financial over-reach, but from fundamental forces that are not easy to identify. We will cover the five core reasons why things are falling apart: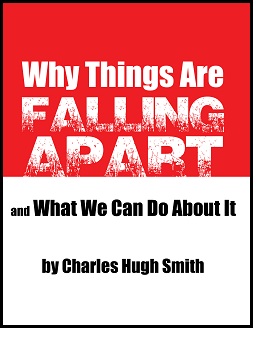 1. Debt and financialization
2. Crony capitalism
3. Diminishing returns
4. Centralization
5. Technological, financial and demographic changes in our economy
Complex systems weakened by diminishing returns collapse under their own weight and are replaced by systems that are simpler, faster and affordable. If we cling to the old ways, our system will disintegrate. If we want sustainable prosperity rather than collapse, we must embrace a new model that is Decentralized, Adaptive, Transparent and Accountable (DATA).
We are not powerless. Once we accept responsibility, we become powerful.
Kindle: $9.95 print: $24

---
NOTE: gifts/contributions are acknowledged in the order received. Your name and email remain confidential and will not be given to any other individual, company or agency.
| | | |
| --- | --- | --- |
| | Thank you, Jonathan S. ($5/month), for your wondrously generous subscription to this site-- I am greatly honored by your support and readership. | |
---
"This guy is THE leading visionary on reality. He routinely discusses things which no one else has talked about, yet, turn out to be quite relevant months later."
--Walt Howard, commenting about CHS on another blog.

---
Or send him coins, stamps or quatloos via mail--please request P.O. Box address.
Subscribers ($5/mo) and contributors of $50 or more this year will receive a weekly email of exclusive (though not necessarily coherent) musings and amusings.
At readers' request, there is also a $10/month option.
What subscribers are saying about the Musings (Musings samples here):
The "unsubscribe" link is for when you find the usual drivel here insufferable.
Your readership is greatly appreciated with or without a donation.
---
All content, HTML coding, format design, design elements and images copyright © 2013 Charles Hugh Smith, All rights reserved in all media, unless otherwise credited or noted.
I am honored if you link to this essay, or print a copy for your own use.
Terms of Service:
All content on this blog is provided by Trewe LLC for informational purposes only. The owner of this blog makes no representations as to the accuracy or completeness of any information on this site or found by following any link on this site. The owner will not be liable for any errors or omissions in this information nor for the availability of this information. The owner will not be liable for any losses, injuries, or damages from the display or use of this information. These terms and conditions of use are subject to change at anytime and without notice.