The Artists' Road to Serfdom: The Commoditization of Creative Content (October 20, 2014)


This is the net result of commoditization: there's no premium for commoditized capital, labor, goods, services or content.

As I noted in Our New Robot Overlords & The Third Type of Capital, profits flow to whatever inputs are scarce. Unfortunately for musicians, writers, filmmakers and others producing creative content, creative content is no longer scarce: it's been commoditized and is now available in unlimited quantities for $10/month.

The model is simple: unlimited content for a few bucks per month. This is the model of music services such as Spotify and Pandora (which offer advert-supported services for free) and iTunes Radio, Amazon Prime for borrowing Kindle ebooks and various film/video distribution services.

The model effectively commoditizes all creative content. Commoditization makes all inputs interchangeable. Global labor has been commoditized because it no longer matters which workers assemble the goods, global capital has been commoditized because it no longer matters where the capital comes from, and globally produced goods, services and resources have been commoditized because it no longer matters where they come from or who produces them.

Services that offer unlimited streaming/borrowing commoditize all content: the content is interchangeable to the buyer, and the creator of the content earns next to nothing when the content is streamed.

A recent article in the S.F. Chronicle (ITunes is in need of a tune-up to keep up with streaming) explains:

Digital music sales recently fell for the first time ever, with the number of digital songs purchased plummeting 13 percent to 594 million in the first half of 2014, compared with the same period a year ago, according to research firm Nielsen, which has tracked music sales since 1991. Meanwhile, the amount of music streamed online rose 50 percent, the firm said.

While streaming sites have helped big online music spenders save money, they have also cut into the money that musical artists make per song.

ITunes sells songs for 69 cents to $1.29 each. For a song that costs $1.29, Apple takes 30 percent of the sale and the rest goes to the record label and artist, Stewart said. If the artist is on a record label, they would get a royalty of about 20 cents for that track, she said.

That might not seem like a lot, but the money could be even less in streaming music for free with ads. In general, a song must be streamed 75 to 80 times in order for a music label to make the same amount of money as from a single online song purchase, according to MIDiA Research.

The unlimited-streaming/borrowing model is great for consumers and the companies collecting the fees every month, but it's a rocky road to serfdom for content creators. 80 downloads are needed for the musicians to collect a lousy 20 cents for their creative efforts? Let's be generous and note that self-produced/distributed artists could collect as much as 50 cents of an iTunes purchase, and presumably the same from 80 downloads.

So it only takes 8 million downloads to earn a median middle-class income of $50,000 a year. Musicians (those signed to labels) who receive 20 cents from 80 downloads would need 20 million downloads annually to earn $50,000--roughly the median household income in the U.S.

How many musicians get 20 million downloads?

The distribution of creative-content rewards tends to follow a power law, i.e. the Pareto Distribution, where the "vital few" (the very apex of the pyramid) reap most of the rewards.

So a handful of artists, writers and independent filmmakers collect most of the shrinking pool of money paid for creative content, and the vast majority earn chump-change.

As a writer with a number of Kindle ebooks available for purchase or borrowing by Amazon Prime members, I do a little better than the musicians whose songs have been commoditized; I earn about 25% of an ebook sale when someone borrows one of my Kindle ebooks.

Nonetheless, this is a 75% haircut in earnings from the everything's been commoditized model of unlimited access to content. And the sum I earn from borrowed ebooks changes, depending on the funds Amazon places in the pool and how many Prime customers borrowed ebooks.

Numerous articles promote work-arounds for the desertification of earnings wrought by commoditization of content: sell more T-shirts at your gigs, work the loyalty of your fans to encourage them to buy your stuff even though they could stream it for free, etc.

But the reality is the pool of money being distributed to content creators is shrinking. Work-arounds may work for the handful of people who master 24/7 marketing, but this is just another iteration of the power law: a tiny handful of content creators reap most of the profits from the full-court-press of marketing.

My friend Richard Metzger of the excellent Dangerous Minds website and I discussed this trend of artistic serfdom years ago, and the only thing that's changed is the velocity of the decline in creators' incomes.

This is the net result of commoditization: there's no premium for commoditized capital, labor, goods, services or content. Those with the big idea of controlling the distribution of content are collecting an enormous premium for figuring out how to scale up this model, and the vast majority of content creators are left with the nickels and dimes that fall through the commoditizing blades of the distribution machine.

But hey, you might get famous on YouTube, and that might open a trickle of advert revenue.


---
---
Get a Job, Build a Real Career and Defy a Bewildering Economy
(Kindle, $9.95)(print, $20)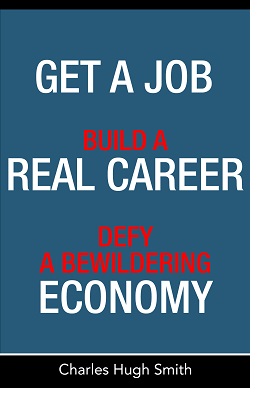 Are you like me?
Ever since my first summer job decades ago, I've been chasing financial security. Not win-the-lottery, Bill Gates riches (although it would be nice!), but simply a feeling of financial control. I want my financial worries to if not disappear at least be manageable and comprehensible.
And like most of you, the way I've moved toward my goal has always hinged not just on having a job but a career.
You don't have to be a financial blogger to know that "having a job" and "having a career" do not mean the same thing today as they did when I first started swinging a hammer for a paycheck.
Even the basic concept "getting a job" has changed so radically that jobs--getting and keeping them, and the perceived lack of them--is the number one financial topic among friends, family and for that matter, complete strangers.
So I sat down and wrote this book: Get a Job, Build a Real Career and Defy a Bewildering Economy.
It details everything I've verified about employment and the economy, and lays out an action plan to get you employed.
I am proud of this book. It is the culmination of both my practical work experiences and my financial analysis, and it is a useful, practical, and clarifying read.
Test drive the first section and see for yourself. Kindle, $9.95 print, $20
"I want to thank you for creating your book Get a Job, Build a Real Career and Defy a Bewildering Economy. It is rare to find a person with a mind like yours, who can take a holistic systems view of things without being captured by specific perspectives or agendas. Your contribution to humanity is much appreciated."
Laura Y.
Gordon Long and I discuss The New Nature of Work: Jobs, Occupations & Careers (25 minutes, YouTube)


---
NOTE: Contributions/subscriptions are acknowledged in the order received. Your name and email remain confidential and will not be given to any other individual, company or agency.
| | | |
| --- | --- | --- |
| | Thank you, Larry M. ($50), for your splendidly generous contribution to this site-- I am greatly honored by your support and readership. | |
---
"This guy is THE leading visionary on reality. He routinely discusses things which no one else has talked about, yet, turn out to be quite relevant months later."
--Walt Howard, commenting about CHS on another blog.
"You shine a bright and piercing light out into an ever-darkening world."
Jeremy Beck

---
Contributors and subscribers enable Of Two Minds to post 275+ free essays annually. It is for this reason they are Heroes and Heroines of New Media. Without your financial support, the free content would disappear for the simple reason that I cannot keep body and soul together on my meager book sales alone.
Or send coins, stamps or quatloos via mail--please request P.O. Box address.
Subscribers ($5/mo) and those who have contributed $50 or more annually (or made multiple contributions totalling $50 or more) receive weekly exclusive Musings Reports via email ($50/year is about 96 cents a week).
Each weekly Musings Report offers six features:
1. Exclusive essay on a diverse range of topics
2. Summary of the blog this week
3. Best thing that happened to me this week
4. Market Musings--commentary on the economy & global markets
5. Cultcha/Culture: selected links to the arts, performances, music, etc.
6. From Left Field (a limited selection of interesting links)
At readers' request, there is also a $10/month option.
What subscribers are saying about the Musings (Musings samples here):
The "unsubscribe" link is for when you find the usual drivel here insufferable.
Dwolla members can subscribe to the Musings Reports with a one-time $50 payment; please email me if you use Dwolla, as Dwolla does not provide me with your email.
The Heroes & Heroines of New Media:
oftwominds.com contributors and subscribers
---
All content, HTML coding, format design, design elements and images copyright © 2014 Charles Hugh Smith, All global rights reserved in all media, unless otherwise credited or noted.
I am honored if you link to this essay, or print a copy for your own use.
Terms of Service:
All content on this blog is provided by Trewe LLC for informational purposes only. The owner of this blog makes no representations as to the accuracy or completeness of any information on this site or found by following any link on this site. The owner will not be liable for any errors or omissions in this information nor for the availability of this information. The owner will not be liable for any losses, injuries, or damages from the display or use of this information. These terms and conditions of use are subject to change at anytime and without notice.