Globalization = Permanent Instability (October 29, 2014)


Globalization continually creates imbalances that fuel a perpetual instability that gradually impoverishes every sector other than global capital.

Globalization has two guaranteed consequences: permanent instability and endless boom-and-bust cycles. As noted in Forget "Free Trade"--Focus on Capital Flows, the key engine of globalization is mobile capital: capital that can borrow money for next to nothing in one nation and then move that capital to other nations where yields are higher and opportunities for exploitation riper.

This mobility of capital is an enormous benefit to the owners of the capital, but it creates extraordinary instability for those who are not as mobile. When mobile capital encounters anything that reduces profits--higher taxes and rising labor costs, competition or restrictive regulations--it closes factories and fires its workers in that locale and shifts to another locale with greater opportunities for high returns.

The workers left behind have limited means to replace the lost wages, and the local government often has few resources to repair any damage left by the exploitation of resources. The advantage of mobility is reserved for capital, and to the relatively limited cohort of workers who can immigrate to other nations to find work.

This illustrates two key ontological characteristics of financialized globalization: perpetual instability and a never-ending cycle of boom and bust as capital sparks rapid development in one locale and then moves elsewhere once profits decline.

The scale of global capital is difficult to grasp; trillions of central bank-issued dollars, euros, yen and renminbi are sloshing around the global economy, seeking low-risk profits.

Capital has no loyalty to anything but its own expansion, and the damage it leaves in its wake is of no concern to the owners of capital.

There are even less visible consequences to the globalization of markets, capital and labor. Once goods and services are priced globally, local supply and demand no longer set the local price. As my colleague Mark G. has observed, consumer prices can rise even if there are deflationary surpluses in the local economy because price is set by global supply and demand. As a result, measuring inflation and deflation locally is meaningless in a globalized economy.

This financialized globalization of goods, services, credit and currencies continually creates imbalances that fuel a perpetual instability that gradually impoverishes every sector other than global capital, which being mobile, can exploit the imbalances for its own profit.

Correspondent Mark G. recommended a recent article by China-based economist Michael Pettis, How to link Australian iron with Marine le Pen:

"In a 'globalized' world, no country, not even the US, can protect itself from the consequences of imbalances elsewhere. The global economy is a system in which certain types of imbalances are impossible. I especially focus on the requirement that global savings and global investment always balance, but there are others. Because an imbalance at the global level is impossible. if there are imbalances in one country or region, there necessarily must be the opposite imbalances in another, and the more open an economy, the more likely it is to respond to imbalances elsewhere.

It is impossible, in other words, to understand any non-autarchic economy in the world except in the context of global imbalances.

As I say in my book, The Great Rebalancing: Trade, Conflict, and the Perilous Road Ahead for the World Economy, in a globalized world anything that affects the relationship between savings and investment in one country--and nearly everything affects that relationship -- must have the opposite effect on the rest of the world. There is no way of escaping the fact that imbalances generated in one country become a problem for everyone."

Here is Mark's commentary:

The logically following converse of Pettis' point is that only economies enjoying autarchy in any category of economic activity can ever hope to reach reasonable price stability in those activities, and then only if these activities are also made non-tradable by local practice. Restated, "free trade" between large central states is a prescription for perpetual instability at all levels.

Ricardo's theory of comparative advantage is only advantageous if you enjoy an advantage in a particular field. Otherwise it is merely a road map to rapid impoverishment. The only localized response--even at continental level--is to embark on a series of successive financial bubbles. This is pretty much what we've seen everywhere in the world for the last three decades.

Thank you, Mark, for summarizing the consequence of central bank-funded mobile capital and the imbalances and boom-bust cycles this free money for financiers generates globally.

Of related interest: A Thought Experiment in American Autarky (January 17, 2014)


---
---
Get a Job, Build a Real Career and Defy a Bewildering Economy
(Kindle, $9.95)(print, $20)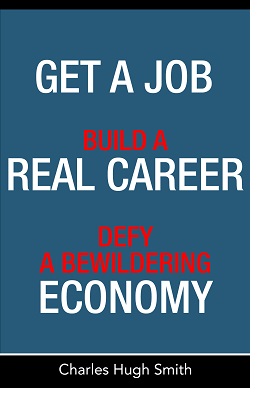 Are you like me?
Ever since my first summer job decades ago, I've been chasing financial security. Not win-the-lottery, Bill Gates riches (although it would be nice!), but simply a feeling of financial control. I want my financial worries to if not disappear at least be manageable and comprehensible.
And like most of you, the way I've moved toward my goal has always hinged not just on having a job but a career.
You don't have to be a financial blogger to know that "having a job" and "having a career" do not mean the same thing today as they did when I first started swinging a hammer for a paycheck.
Even the basic concept "getting a job" has changed so radically that jobs--getting and keeping them, and the perceived lack of them--is the number one financial topic among friends, family and for that matter, complete strangers.
So I sat down and wrote this book: Get a Job, Build a Real Career and Defy a Bewildering Economy.
It details everything I've verified about employment and the economy, and lays out an action plan to get you employed.
I am proud of this book. It is the culmination of both my practical work experiences and my financial analysis, and it is a useful, practical, and clarifying read.
Test drive the first section and see for yourself. Kindle, $9.95 print, $20
"I want to thank you for creating your book Get a Job, Build a Real Career and Defy a Bewildering Economy. It is rare to find a person with a mind like yours, who can take a holistic systems view of things without being captured by specific perspectives or agendas. Your contribution to humanity is much appreciated."
Laura Y.
Gordon Long and I discuss The New Nature of Work: Jobs, Occupations & Careers (25 minutes, YouTube)


---
NOTE: Contributions/subscriptions are acknowledged in the order received. Your name and email remain confidential and will not be given to any other individual, company or agency.
| | | |
| --- | --- | --- |
| | Thank you, Peter E. ($5/month), for your astonishingly generous re-subscription to this site-- I am greatly honored by your steadfast support and readership. | |
---
"This guy is THE leading visionary on reality. He routinely discusses things which no one else has talked about, yet, turn out to be quite relevant months later."
--Walt Howard, commenting about CHS on another blog.
"You shine a bright and piercing light out into an ever-darkening world."
Jeremy Beck

---
Contributors and subscribers enable Of Two Minds to post 275+ free essays annually. It is for this reason they are Heroes and Heroines of New Media. Without your financial support, the free content would disappear for the simple reason that I cannot keep body and soul together on my meager book sales alone.
Or send coins, stamps or quatloos via mail--please request P.O. Box address.
Subscribers ($5/mo) and those who have contributed $50 or more annually (or made multiple contributions totalling $50 or more) receive weekly exclusive Musings Reports via email ($50/year is about 96 cents a week).
Each weekly Musings Report offers six features:
1. Exclusive essay on a diverse range of topics
2. Summary of the blog this week
3. Best thing that happened to me this week
4. Market Musings--commentary on the economy & global markets
5. Cultcha/Culture: selected links to the arts, performances, music, etc.
6. From Left Field (a limited selection of interesting links)
At readers' request, there is also a $10/month option.
What subscribers are saying about the Musings (Musings samples here):
The "unsubscribe" link is for when you find the usual drivel here insufferable.
Dwolla members can subscribe to the Musings Reports with a one-time $50 payment; please email me if you use Dwolla, as Dwolla does not provide me with your email.
The Heroes & Heroines of New Media:
oftwominds.com contributors and subscribers
---
All content, HTML coding, format design, design elements and images copyright © 2014 Charles Hugh Smith, All global rights reserved in all media, unless otherwise credited or noted.
I am honored if you link to this essay, or print a copy for your own use.
Terms of Service:
All content on this blog is provided by Trewe LLC for informational purposes only. The owner of this blog makes no representations as to the accuracy or completeness of any information on this site or found by following any link on this site. The owner will not be liable for any errors or omissions in this information nor for the availability of this information. The owner will not be liable for any losses, injuries, or damages from the display or use of this information. These terms and conditions of use are subject to change at anytime and without notice.