Why the State Has Failed to Reform Our Broken Financial System (October 16, 2014)


Expecting the state to truly reform the nation's engines of financialization is like asking the cocaine addict married to the wealthy dealer to divorce the dealer.

Most observers think they know why the government (i.e. the state) has failed to truly reform the financial system: corrupt politicos on the receiving end of the Too Big to Fail (TBTF) banks and financiers' millions of dollars in lobbying and campaign contributions do the banks' bidding.

While the reduction of democracy to an auction in which the highest bidder controls the state is certainly one systemic reason for this abject failure, there is an even greater, more deeply systemic reason why the state cannot reform the rotten core of financialization.

The state has become dependent on the wages and profits of finance for its own revenues.

Here's an analogy of what's happened in the past few decades of financialization: you meet Mr./Ms. Right (he/she is attractive, makes a lot of money, well-dressed, good social skills, etc.), fall in love and marry.

Unbeknownst to you, Mr./Ms. Right is a cocaine dealer. When you find out the source of the fat paychecks, he/she reassures you it's just business and that he/she never uses the stuff. But if you want to try a taste, go ahead--it won't hurt you.

You think about leaving him/her, but the money is just so good. Life without all that easy money looks bleak and difficult.

Just to see what all the fuss is about, you try the cocaine.

So now you're addicted not just to the easy money but to the cocaine, too. Now it's impossible to leave the dealer.

Substitute finance-dependent profits and wages for cocaine and you now understand the marriage of the state and the engine of financialization: financialization has generated the big profits, the hefty wages that pay most of the state's income taxes and enabled most of the consumption of the past three decades.

Were the state to actually limit financialization--excessive debt, leverage and risk-- it would be cutting the primary source of its own revenues. The wages and profits generated by financialization aren't limited to banks and financial institutions--every industry that depends on leveraged debt and cheap credit is ultimately an arm of financialization.

This includes the entire FIRE economy--finance, insurance and real estate--as well as the auto industry, home furnishings, boating, recreation, tourism--every industry that has been living off credit cards, home equity lines of credit (HELOCs) and other sources of cheap credit.

Cheap credit is the cocaine, and not only is the state addicted to the cocaine of cheap credit that enables its own stupendous borrowing, it's also addicted to the easy money that is generated by our economy's addiction to credit.

Take a look at this chart of financial sector profits. Recall that all corporate profits are about 11% of gross domestic product (GDP). So purely financial profits are about one-third of all corporate profits--an extraordinarily high percentage historically.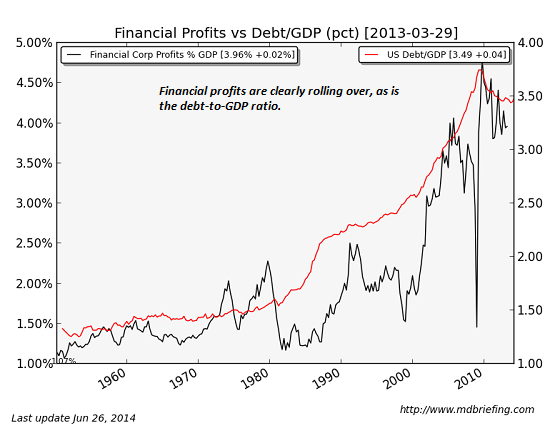 But this chart vastly under-represents the true impact of financialization on profits and jobs. How many homes would be sold if all buyers had to put down 20% istead of 3.5% for FHA loans? How many vehicles would be sold if buyers had to put down 20% of the vehicle's cost in cash and qualify for a 3-year loan? How much of the economy's consumption would go away if credit cards had to paid in full every month?
How much federal income tax does a minimum-wage retail worker pay? Zero. How much income tax does a $300,000 a year finance worker pay? A lot. Truly reforming the financial sector to eliminate the cocaine of financialization would gut not just credit-based consumption but state tax revenues.
Expecting the state to truly reform the nation's engines of financialization is like asking the cocaine addict married to the wealthy dealer to divorce the dealer.
This is why socio-economist Immanuel Wallerstein characterizes our finance-dependent version of capitalism as "a particular historical configuration of markets and state structures where private economic gain by almost any means is the paramount goal and measure of success."


---
---
Get a Job, Build a Real Career and Defy a Bewildering Economy
(Kindle, $9.95)(print, $20)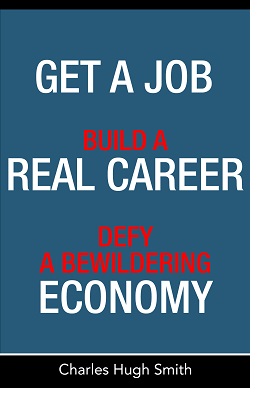 Are you like me?
Ever since my first summer job decades ago, I've been chasing financial security. Not win-the-lottery, Bill Gates riches (although it would be nice!), but simply a feeling of financial control. I want my financial worries to if not disappear at least be manageable and comprehensible.
And like most of you, the way I've moved toward my goal has always hinged not just on having a job but a career.
You don't have to be a financial blogger to know that "having a job" and "having a career" do not mean the same thing today as they did when I first started swinging a hammer for a paycheck.
Even the basic concept "getting a job" has changed so radically that jobs--getting and keeping them, and the perceived lack of them--is the number one financial topic among friends, family and for that matter, complete strangers.
So I sat down and wrote this book: Get a Job, Build a Real Career and Defy a Bewildering Economy.
It details everything I've verified about employment and the economy, and lays out an action plan to get you employed.
I am proud of this book. It is the culmination of both my practical work experiences and my financial analysis, and it is a useful, practical, and clarifying read.
Test drive the first section and see for yourself. Kindle, $9.95 print, $20
"I want to thank you for creating your book Get a Job, Build a Real Career and Defy a Bewildering Economy. It is rare to find a person with a mind like yours, who can take a holistic systems view of things without being captured by specific perspectives or agendas. Your contribution to humanity is much appreciated."
Laura Y.
Gordon Long and I discuss The New Nature of Work: Jobs, Occupations & Careers (25 minutes, YouTube)


---
NOTE: Contributions/subscriptions are acknowledged in the order received. Your name and email remain confidential and will not be given to any other individual, company or agency.
| | | |
| --- | --- | --- |
| | Thank you, Deveney M.J. ($20), for your wondrously generous contribution to this site-- I am greatly honored by your support and readership. | |
---
"This guy is THE leading visionary on reality. He routinely discusses things which no one else has talked about, yet, turn out to be quite relevant months later."
--Walt Howard, commenting about CHS on another blog.
"You shine a bright and piercing light out into an ever-darkening world."
Jeremy Beck

---
Contributors and subscribers enable Of Two Minds to post 275+ free essays annually. It is for this reason they are Heroes and Heroines of New Media. Without your financial support, the free content would disappear for the simple reason that I cannot keep body and soul together on my meager book sales alone.
Or send coins, stamps or quatloos via mail--please request P.O. Box address.
Subscribers ($5/mo) and those who have contributed $50 or more annually (or made multiple contributions totalling $50 or more) receive weekly exclusive Musings Reports via email ($50/year is about 96 cents a week).
Each weekly Musings Report offers six features:
1. Exclusive essay on a diverse range of topics
2. Summary of the blog this week
3. Best thing that happened to me this week
4. Market Musings--commentary on the economy & global markets
5. Cultcha/Culture: selected links to the arts, performances, music, etc.
6. From Left Field (a limited selection of interesting links)
At readers' request, there is also a $10/month option.
What subscribers are saying about the Musings (Musings samples here):
The "unsubscribe" link is for when you find the usual drivel here insufferable.
Dwolla members can subscribe to the Musings Reports with a one-time $50 payment; please email me if you use Dwolla, as Dwolla does not provide me with your email.
The Heroes & Heroines of New Media:
oftwominds.com contributors and subscribers
---
All content, HTML coding, format design, design elements and images copyright © 2014 Charles Hugh Smith, All global rights reserved in all media, unless otherwise credited or noted.
I am honored if you link to this essay, or print a copy for your own use.
Terms of Service:
All content on this blog is provided by Trewe LLC for informational purposes only. The owner of this blog makes no representations as to the accuracy or completeness of any information on this site or found by following any link on this site. The owner will not be liable for any errors or omissions in this information nor for the availability of this information. The owner will not be liable for any losses, injuries, or damages from the display or use of this information. These terms and conditions of use are subject to change at anytime and without notice.