Real Science in the Bolivian Rain Forest (September 13, 2005)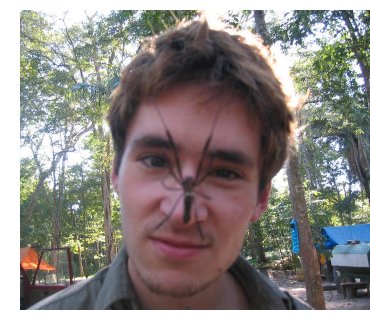 Many of the knottiest problems in the world today cannot be fixed by white-coated lab techs in nice clean business parks--they require real data, collected in some of the globe's harshest terrains and habitats.

Consider, for instance, the Amazonian rain forests in Bolivia, just east of the Andes. Here is a typical insect you might encounter there while collecting data, along with a host of much less impressive but much more dangerous biting insects which are vectors for a variety of compellingly nasty diseases.

The young man sporting the facial spider is Ashton Erler, a very adventuresome and dedicated friend of mine. He recently returned from leading an expedition into this section of the Amazon basin to study the regrowth of previously logged forests. Planning and funding the two-month expedition took the better part of a year, and required surmounting entire ranges of logistical and bureaucratic obstacles.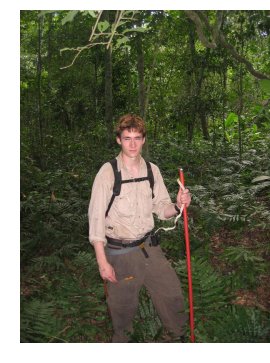 A political crisis erupted as the research group gathered, injecting a further element of volatility in an already precarious knitting of governmental support (guides, etc.) and access to protected lands.

Despite these difficulties, Ashton's team of youthful academics and seasoned guides proceeded into the jungle and conducted two months of data acquisition under trying conditions. The work was essentially transecting quandrants of the forest which had been logged decades earlier, charting the type and size of the trees which had grown in the ensuing years. Photographs of the canopy were also taken which will provide accurate data about the composition and density of the new growth.

This data is important on many levels, but the primary goal will be to help the Bolivian government lay out a logging plan for the area which is sustainable over the long term. This is a complicated subject which I will write more on tomorrow. For now, let us be grateful that dedicated people, both in government and academia, are devoting themselves to collecting the data without which no sustainable progress can be made.

* * *

copyright © 2005 Charles Hugh Smith. All rights reserved in all media.

I would be honored if you linked this wEssay to your site, or printed a copy for your own use.

* * *