The Kroika Mascot--"Auspicious Pet" (December 23, 2005)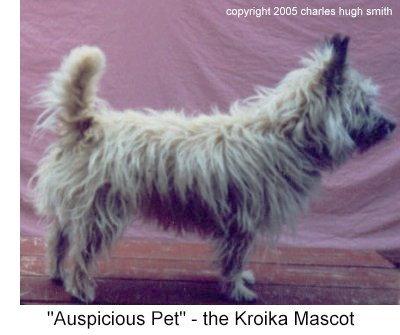 I was awakened by a call at 3 a.m. last night from the big cheese in the Kroika marketing department (a time-zone confusion, alas, between Xiangxi and the West Coast), suggesting that we we lay low on the "doom and gloom" theme, at least until the Christmas shopping frenzy has run its course.

It seems doom and gloom sells, except during Christmas, when for obvious reasons lumps of bad-news coal are less welcome. The brilliant team at the Kroika marketing department came up with a substitute campaign based on the absolute rock-hard truth that Americans love their dogs. Indeed, nothing will drive an American to violence faster than insulting or threatening his or her dog.

And so I finally have some marketing heft to compete with Chuckles and Freckles and Moby and Puppydog and all other heavy-hitting pets which attract millions of paying pet-loving eyeballs to various high-profile blogs. I fully expect our perky mascot to give Chuckles a run for his owners' money. I mean, c'mon, isn't this one cute mutt or what?

So please give a round of applause to Kroika's wonderful Cairn Terrier, "Auspicious Pet." The name, as you can probably guess, comes right from the top management at Kroika; I told them it doesn't translate that well, but they were adamant about keeping it. Since they're paying big bucks to sponsor this site, I am stifling my dismay both at their choice of name and at the loss of face I'm suffering in publicizing "Auspicious Pet." Great dog, absolutely top-notch; if you love dogs (and you do, of course), then by strict logic you're going to love Kroika Cookies.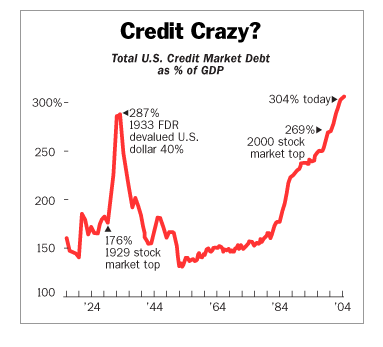 Speaking of Christmas, don't you wonder where everyone is getting all this dough to blow on needless giftgiving? (It's not as if 90% of Americans don't already own every possible device and comfort.) Take a look at this chart of skyrocketing U.S. debt; gosh, maybe all this money is being borrowed. Do ya reckon?

Doom and gloom may not sell, but unsustainable debt remains the core driver beneath the superficial lights of prosperity. But don't feel bad--have a cookie--a crisp, crunchy Kroika cookie. (We're working on some snappy marketing lines around here, and so far have come up with: "Go ahead, you deserve it! Eat the whole package at one sitting!")

* * *

copyright © 2005 Charles Hugh Smith. All rights reserved in all media.

I would be honored if you linked this wEssay to your site, or printed a copy for your own use.

* * *