Why Has Classical Capitalism Devolved to Crony-Capitalism? (September 11, 2014)


The money-shot: "People of privilege will always risk their complete destruction rather than surrender any material part of their advantage."

Here is the quote that perfectly captures our era: "People of privilege will always risk their complete destruction rather than surrender any material part of their advantage." (John Kenneth Galbraith) The trick, of course, is to mask the unspoken second half of of that statement: everybody else gets destroyed along with the Elites when the system implodes.

Union pension funds: toast. Government employees' pension funds: toast. 401Ks: toast. IRAs: toast. The echo-bubble in housing: toast. The Fed's favorite PR cover to cloak the enrichment of their financier cronies, the wealth effect:toast.

The primary tool the Elites use to mask the risk of complete destruction is magical thinking--specifically, that "given enough time, the system will heal itself."

That's rich, considering that the Elites' primary tool of avoiding destruction is crippling the market's self-healing immune system: price discovery. Thanks to ceaseless interventions by central banks, the price discovery mechanism has been shattered: want to know the price of risk? It's near-zero. Yield on sovereign bonds? Near-zero. And so on.

Prices have been so distorted (the ultimate goal of Central Planning everywhere, from China to the EU to Japan to the U.S.) that the illusion of stability is impossible without more intervention.

This leads to two self-liquidating dynamics: diminishing returns (every intervention yields less of the desired result) and the Darwinian selection of only those money managers who believe risk has been vanquished.

Everyone who pursues prudent risk management has either been fired or saw the writing on the wall and exited stage right. So the only people left at the gaming tables of the big institutional players are those individuals who are genetically incapable of responding appropriately to rising risk. Those who did have long been fired for "underperformance."

So how did classical free-market capitalism become state-cartel crony-capitalism, a Ponzi scheme of epic proportions that is entirely dependent on ceaseless central bank perception management and interventions on a scale never before seen?

We can start with these six factors:

1. Those who control most of the wealth are willing to risk systemic collapse to retain their privileges and wealth. Due to humanity's virtuosity with rationalization, those at the top always find ways to justify policies that maintain their dominance and downplay the distortions the policies generate. This as true in China as it is in the U.S.

2. Short-term thinking: if we fudge the numbers, lower interest rates, etc. today, we (politicians, policy-makers, money managers, etc.) will avoid being sacked tomorrow. The longer term consequences of these politically expedient policies are ignored.

3. Legitimate capital accumulation has become more difficult and risky than buying political favors. Global competition and the exhaustion of developed-world consumers has made it difficult to reap outsized profits from legitimate enterprise. In terms of return-on-investment (ROI), buying political favors is far lower risk and generates much higher returns than expanding production or risking investment in R&D.

4. The centralization of state/central bank power has increased the leverage of political contributions/lobbying. The greater the concentration of power, the more attractive it is to sociopaths and those seeking to buy state subsidies, sweetheart contracts, protection from competition, etc.

5. Any legitimate reform will require dismantling crony-capitalist/state-cartel arrangements. Since that would hurt those at the top of the wealth/power pyramid, reform is politically impossible.

6. Understood in this light, it's clear that central bank monetary policy—zero-interest rates, asset purchases, cheap credit to banks and financiers, QE, etc.—is designed to paper over the structural problems that require real reform.

Japan is a case in point: the Powers That Be in Japan have put off real reforms of the Japanese economy and political system for 25 years, and they've enabled this avoidance by pursuing extremes of fiscal and monetary policy that have eroded the real economy and created long-term structural imbalances.

In this 24 minute video Gordon T. Long and Charles Hugh Smith discuss through the aid of 17 slides the rapid advancement of Crony Capitalism in America. The facts are undeniable, but why is it becoming so obvious and undeniable? Why is it accelerating without any apparent 'checks and balances'? Where have the safeguards against this happening gone?
---
---
Get a Job, Build a Real Career and Defy a Bewildering Economy
(Kindle, $9.95)(print, $20)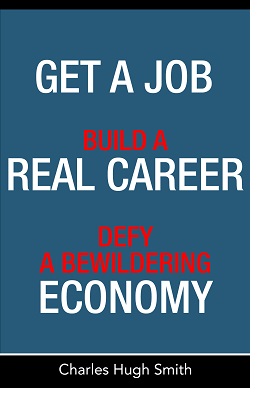 Are you like me?
Ever since my first summer job decades ago, I've been chasing financial security. Not win-the-lottery, Bill Gates riches (although it would be nice!), but simply a feeling of financial control. I want my financial worries to if not disappear at least be manageable and comprehensible.
And like most of you, the way I've moved toward my goal has always hinged not just on having a job but a career.
You don't have to be a financial blogger to know that "having a job" and "having a career" do not mean the same thing today as they did when I first started swinging a hammer for a paycheck.
Even the basic concept "getting a job" has changed so radically that jobs--getting and keeping them, and the perceived lack of them--is the number one financial topic among friends, family and for that matter, complete strangers.
So I sat down and wrote this book: Get a Job, Build a Real Career and Defy a Bewildering Economy.
It details everything I've verified about employment and the economy, and lays out an action plan to get you employed.
I am proud of this book. It is the culmination of both my practical work experiences and my financial analysis, and it is a useful, practical, and clarifying read.
Test drive the first section and see for yourself. Kindle, $9.95 print, $20
"I want to thank you for creating your book Get a Job, Build a Real Career and Defy a Bewildering Economy. It is rare to find a person with a mind like yours, who can take a holistic systems view of things without being captured by specific perspectives or agendas. Your contribution to humanity is much appreciated."
Laura Y.
Gordon Long and I discuss The New Nature of Work: Jobs, Occupations & Careers (25 minutes, YouTube)


---
NOTE: Contributions/subscriptions are acknowledged in the order received. Your name and email remain confidential and will not be given to any other individual, company or agency.
| | | |
| --- | --- | --- |
| Thank you, Daniel E. ($10), for yet another marvelously generous contribution to this site -- I am greatly honored by your steadfast support and readership. | | Thank you, John H. ($50), for your most enjoyable contribution of time and ideas to this site -- I am greatly honored by your steadfast support and readership. |
---
"This guy is THE leading visionary on reality. He routinely discusses things which no one else has talked about, yet, turn out to be quite relevant months later."
--Walt Howard, commenting about CHS on another blog.
"You shine a bright and piercing light out into an ever-darkening world."
Jeremy Beck

---
Contributors and subscribers enable Of Two Minds to post 275+ free essays annually. It is for this reason they are Heroes and Heroines of New Media. Without your financial support, the free content would disappear for the simple reason that I cannot keep body and soul together on my meager book sales alone.
Or send coins, stamps or quatloos via mail--please request P.O. Box address.
Subscribers ($5/mo) and those who have contributed $50 or more annually (or made multiple contributions totalling $50 or more) receive weekly exclusive Musings Reports via email ($50/year is about 96 cents a week).
Each weekly Musings Report offers six features:
1. Exclusive essay on a diverse range of topics
2. Summary of the blog this week
3. Best thing that happened to me this week
4. Market Musings--commentary on the economy & global markets
5. Cultcha/Culture: selected links to the arts, performances, music, etc.
6. From Left Field (a limited selection of interesting links)
At readers' request, there is also a $10/month option.
What subscribers are saying about the Musings (Musings samples here):
The "unsubscribe" link is for when you find the usual drivel here insufferable.
Dwolla members can subscribe to the Musings Reports with a one-time $50 payment; please email me if you use Dwolla, as Dwolla does not provide me with your email.
The Heroes & Heroines of New Media:
oftwominds.com contributors and subscribers
---
All content, HTML coding, format design, design elements and images copyright © 2014 Charles Hugh Smith, All global rights reserved in all media, unless otherwise credited or noted.
I am honored if you link to this essay, or print a copy for your own use.
Terms of Service:
All content on this blog is provided by Trewe LLC for informational purposes only. The owner of this blog makes no representations as to the accuracy or completeness of any information on this site or found by following any link on this site. The owner will not be liable for any errors or omissions in this information nor for the availability of this information. The owner will not be liable for any losses, injuries, or damages from the display or use of this information. These terms and conditions of use are subject to change at anytime and without notice.