The criteria for recipes here are simple: the meal must be healthy, real (no packaged mixes, though canned goods are OK), cheap (ingredients which are either inexpensive or regularly go on sale) good-tasting, and homemade (can be prepared by anyone with basic cooking skills). We welcome your answer to: What's for Dinner at Your House? submit your cheap, good recipes (story, ingredients, instructions, cost-saving tips).

---
May 2008:
bulk pizza dough, Pasta Salad, Ceasar Salad, Beef and Barley Vegetable Soup, Simple Chicken Tajine (Morocco), Kofta from Curried Favors
(cookbook)
---


Handmade Pizza Dough (for 18 crusts) submitted by Bill Murath

Bill's most excellent thin crust pizza
An illustrated step-by-step manual to making the very best thin crust pizza in your own kitchen (3.5 MB PDF file, 25 photos, copyright 2006 Bill Murath)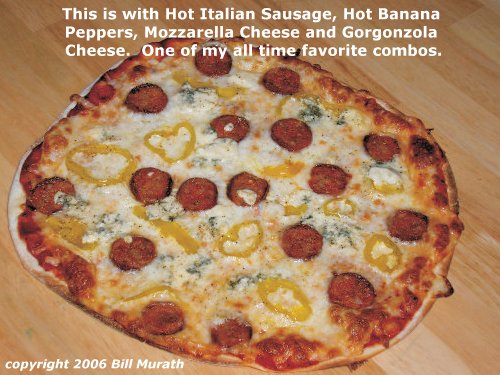 Quite sometime ago I was a young surfer working in pizza resturants at night so I could surf during the day. This one pizza joint I was working at had the greatest thin crust pizza I had ever had. The "Shore" had plenty of great pizza places but where I was working we would do 300 pizzas on a friday night in 5 hours, just 3 of us! At 4 bucks an hour it really sucked and I did not work there too long but I always remembered the basics of the dough recipe.

A few years back I modified the recipe so I could make it in 5 pound batches instead of 50 pounders. I adjusted it further to take into account I had to knead it by hand and not in an industrial mixer. The dough is so dense that the motor on my mixer smokes a little so I do it by hand. The dough is derived from a recipe that is probably 60 to 80 years old and it makes the ultimate pizza. Give it a try, it is pretty easy. I have pictures for every step of the process to help you along.
CHS note: The dough can be refrigerated for later use; Bill estimated the cost of ingredients (1 5-lb. bag of flour, yeast and salt) at 33 cents a crust in 2006 but if you buy yeast in bulk the cost is more like 25 cents a crust. Even with flour at $2.50/5-lb bag and yeast at $3, the cost is 30 cents per crust.

Cost-saving tip: Buy the yeast in bulk at a health food store; the 2-pound boxes at Sams Club or Costco are hard to use up unless you bake bread regularly.





Pasta Salad (2- 4 servings) submitted by Dave Sullivan

I've read a few of your articles about healthy food, getting your BMI down, exercise, etc. and you make a lot of sense. I don't live in the US (I'm in England) but we have a skyrocketing problem of obesity here caused by junk food and lack of exercise.

I don't eat junk food, and to avoid things that contain vast amounts of salt, fat and added sugars I have one secret: MAKE YOUR OWN!

In a biggish bowl combine these ingredients:

12 cherry tomatoes, halved.
A four-inch slice of a cucumber chopped into half-inch drums, each drum cut into 6 wedges.
Top, core and deseed one or two bell peppers, slice into thin strips or little cubes.
Chop a couple of sticks of celery into small bits.
12 pitted olives, soaked in water for a while and drained (to get rid of the brine).
175 grams (7 ounces) of cooked pasta (fusilli/twists are good), cooled in cold water and drained.
Herbs of your choice.
Pepper (freshly ground black is good).


Dressing:

Two tablespoons of extra virgin olive oil (olive oil is good for you, as I'm sure you know)
One tablespoon of red wine vinegar
A teaspoon of made-up mustard (real French is good, preferably with seeds in) (this is optional)
Chilli/garlic/ginger sauce to taste
A good slug of sundried tomato paste or pesto (but this might be salty unless you make your own)
Toasted pine nuts (optional)


Mix up the dressing together in a jug and pour over the salad. Turn the whole lot over a few times and ENJOY! Pat yourself on the back and have a glass of red wine.

Dave Sullivan
BMI 23.15 and going down!!

CHS note: I indicated 2 to 4 servings, as this could be either a dinner salad for 4 or a main course for 2-3, by my rough estimate.

Cost-saving tip: use seasonal, home-grown or "bargain-bin" veggies wherever possible: options include red peppers, green beans, snap peas or broccoli (steamed or raw). The "Garofalo" brand pasta at Costco is excellent.





Caesar Salad (4 -6 servings) submitted by Sean G.

Here is my recipe for my Caesar salad. Try it out and adjust any of the ingredients to your taste, i.e less oil if you like an acidic dressing or more oil if you don't.

The key to an amazing Caesar salad, in my opinion, is through building the salad with layers of similar tastes. The first layer is the dressing which is the powerhouse of the salad. The flavours built up after the dressing (freshly grated parmesan, bacon bits, croutons and of course fresh romaine hearts) compliment the dressing and finalizes the salad.

The Big Picture:
* Dressing
* Freshly Grated Parmesan Cheese
* Bacon Bits
* Croutons
* Fresh Romaine Hearts

Dress the romaine fully. Add the bacon bits and the croutons. Grate the parmesan on top of the salad plate if you are plating the salad individually or mix it in the bowl if it is served buffet style.

Dressing
(for one large salad. You can double or triple this recipe depending on how much dressing you need):

Place in a blender or food processor:
* 1 Egg (Raw)
* 1/2 to 1 clove of garlic (to your taste)
* Large Dash of Pepper
* Large Dash of Coarse Salt
* 1/2 tsp. of Mustard
* 1 Tbsp. of Lemon Juice
* 1 tsp. Worcestershire Sauce

Use between a 1/4 cup and a 1/3 cup (to your preference) of olive oil (I prefer extra light olive oil but you can use whatever oil you like) Turn your machine onto its lowest setting and slowly add olive oil to the blades. This will emulsify the oil and lemon juice and create the creamy texture.





Beef and Barley Vegetable Soup (6 quarts) submitted by Beth M.

Here's my idea of fast food…homemade Beef and Barley Vegetable soup. Make a big pot of soup, say six quarts, and freeze it in pint or quart containers. Take it out of the freezer in the morning before work or microwave it on defrost for a couple of minutes a half hour before time to serve. Put it in a pot, both the thawed part and the partially thawed part, put the lid on and reheat it on low heat, stirring occasionally. Serve with a nice crusty French bread role or crackers, or all by itself.

1 Tablespoon Canola Oil
½ lb. chuck eye roast beef, cut into ½ inch cubes


1 large Onion, coarsely chopped
2-4 cloves of Garlic, finely chopped
3 stalks Celery, coarsely chopped
4 large Carrots, sliced
¼ head Cabbage, sliced
1 teaspoon Black Pepper (Freshly ground if possible)
¼ teaspoon Cayenne Pepper


1 16 0z. can of Corn, drained and rinsed
1 16 0z. can of Green Beans, drained and rinsed
1 16 0z. can of Black Beans, drained and rinsed (or Pinto Beans)
1 16 0z. can of Diced Tomatoes
1 teas. Dried Basil or 2 teas. chopped fresh Basil
1 teas. Dried Parsley or 2 teas. chopped fresh Parsley
½ cup Pearl Barley
Beef Boullion to taste


Heat the Canola Oil and add beef, stirring continuously until browned.

Put beef and the next seven ingredients in six quart slow cooker, or pot. Cover with water and heat on low to a boil. Simmer gently at least one hour or until carrots are tender.

Add remaining ingredients and water to equal six quarts. Heat and serve or freeze.

Notes:
I buy a two pound chuck eye roast, divide it into four pieces, freeze the pieces separately and use one piece per batch of soup.
All of the vegetables and herbs can be increased, decreased, omitted, depending on the desired taste.
I rinse the canned veggies to reduce the salt content, because there is a lot of salt in the boullion.
I don't use potatoes, unless I have leftover cooked potatoes to add just before serving, because I don't care for their texture after freezing.





Simple Chicken Tajine (Morocco) submitted by Ana (Switzerland)

My scheme for healthy and affordable eating is: If it didn't exist before 1950 (I live in Switzerland, so that had better be 1940 for the US), don't buy it, and cook all your own food. There are some extra rules, all of which can be broken, but on to a typical recipe..

You need:

One chicken. Buy and use whole chickens, a lot can be got out of them. And this cutting up of chicken parts, breasts eaten in London and wings in Nigeria, not to mention US chicken exported to China, tranfromed into nuggets and sold back to the US, is lunatic from every POV.

4 small handfuls of dried fruit. Traditionally, prunes (dried plums) and dried apricots and some raisins. Any mixture, including dried apples and pears or even some bananas will work fine.

2 lemons. Moroccan dishes often include preserved lemons but one needn't bother with the preservation part here.

Spices. This dish is spicy without being 'hot.' It is impossible to give exact measures for the spices as they vary in strength (provenance, age, price, brand, etc.)

One plentiful dash of: cinnamon, ginger, paprika. One double dash of cumin. A good dose of black pepper. One chicken bouillon cube. Extra salt if wanted (the cube contains a lot of salt.) Garlic, whole or pressed, can be added as well.

Olive oil (best), but any tasteless vegetable oil will do.

Method:

Cut chicken into pieces. Fry them in a skillet or frying pan using the oil until they are lightly browned. Imperfect doesn't matter.

Put chicken pieces, spices, and lemons (washed and cut into 4 to 8 pieces, with the peel) and the fruit into a pot. Add water to about half the level - this isn't a soup. Put a lid on and let cook on lowish heat for 45 mins or more until the chicken is 'done' but not falling apart.

Serve with rice / pasta and a green vegetable / salad.

Notes:
To refine: hold back prunes till half cooking time, they may tend to disintegrate. When dish is done, remove chicken and fruit and reduce the sauce and serve it separately. Some may wish to remove the lemons although they will be perfectly edible. The spicing obviously has to be adjusted to local cooks.

Second day. Keep all the leftovers. Get rid of all the bones, cut the remaining chicken into small pieces, put all into the original pot (not too much rice or pasta), add some spring onion/scallion, pepper, spice it up again, a best soup.

Third day. The left-over soup can be strained and used as stock.





Kofta (6 servings) from the cookbook

Curried Favors: Family Recipes from South India

(by Maya Kaimal Macmillan)

submitted by Cindy F.
Growing up in Hawaii exposed me to living in a multi-ethnic community and eating ethnic foods, so I felt right at home moving to Berkeley (San Francisco East Bay). Middle Eastern, Indian, Pakistani, Thai, Vietnamese, Mexican, and Chinese (non-Cantonese) cuisines were new to me and I loved having access to these ethnic grocery stores.

What's For Dinner reflects Charles's and my practical food philosophy, my love for/of cooking and eating good, healthy, interesting and assertive foods. We love leftovers and don't like to waste food (or anything else which accounts for the clutter in our home).

For this first What's For Dinner I decided to recommend an Indian recipe from Maya Kaimal MacMillian's Curried Favors which was published in 1996. The book is still in print -- available new in paperback and also can be found used in hardback.

On the Big Island of Hawaii, the first and only Indian I knew of was Dr. Sood, a professor at University of Hawaii at Hilo. There was not even a single Indian restaurant in Hilo in the 70's, so Indian cuisine was indeed an absolute 'foreign' food to me.

In Berkeley, I was intrigued by all new spices and myriad strange ingredients as I explored grocery stores on the west end of University Avenue.

I like Maya Kaimal's recipes because they are easy to prepare and everyday family food. After everything is in the pot, you are free to do something else during the typical 30 to 45 minutes that an entrée takes to simmer and meld the delicious flavors. Your first glance at the long recipes may dissuade you from trying them until close examination reveals that much of the long list are spices.

Once you assemble the basic spices from an Indian grocery store or health food type grocery where spices can be purchased in bulk, most of the other ingredients can be bought at a normal grocery store. To save money, do not buy the over-priced little glass bottles of spice from a conventional grocery store. A price comparison of spices by the pound (16 ounces = 1 pound) will stun you. If you are not even sure you will like Indian food, hold off buying the packets of spice at an Indian grocer. Instead, take your measuring spoons shopping and buy the quantity you need for the recipe (even as little as a teaspoon of each spice) at a store where you can bag them yourself from jars of spice.

Kofta or North Indian curried meatballs are a frequent meal for dinner at our house where we use ground turkey rather than ground beef or lamb called for in the recipe. Our friends' daughters love this dish and so we often invite them over to enjoy it with us. On my trip home to Hawaii earlier this year to visit my Mom and sister, I took bags of Indian spices and made Kofta 6 times for family and friends. They all loved it with rice.

Here is Maya Kaimal's Kofta recipe and introduction from page 140 of the hardback Curried Favors edition with my notes.
Kofta:
In this North Indian meat curry, ground beef or lamb is formed into balls that are braised in a fragrant sauce. Preparing the meatballs is an extra step, but worth the effort.

Ingredients:

* 1 pound (450 grams) very lean ground beef of lamb
(I use ground turkey which comes in 20 ounce packages so I use the entire package)
* 1 teaspoon grated ginger (scrape off skin before grating)
* 1 tablespoon grated onion (minced is fine)
* ½ teaspoon ground coriander
* ½ teaspoon salt
* 1 large egg, lightly beaten
* ½ cup (60 grams) dry bread crumbs
(I use Japanese style panko bread crumbs since we always have it on hand in our pantry)
* vegetable oil for frying

* 1 cup (180 grams) finely shopped onion
(about a medium size onion which may be slightly more than a cup – if so, use it all)
* 3 tablespoons vegetable oil
(I use about 2 tablespoons. Use less if using a non-stick pan or if you want to decrease the oil)
* 1 teaspoon minced garlic (1 or 2 cloves – we like garlic)
* 1 teaspoon minced ginger (peel off skin before mincing)
* 1 teaspoon seeded and minced green chili (serrano, jalapeno or Thai)
* 1 cup chopped tomatoes, fresh or canned, drained
(see water note below; when using canned tomatoes I prefer to chop them finer than they come out of the can. Other than in summer when we can buy economical ripe tomatoes that taste like tomatoes, I use canned diced or whole tomatoes. There is no point in buying out-of-season expensive, tasteless plastic tomatoes. The canned diced tomatoes are sold in 14.5 ounce cans. You can save the little extra for another soup perhaps or freeze for later use. I sometimes use the whole can in the kofta recipe – just adds more wonderful sauce to the dish.)

Spice Mix:
* 1 teaspoon ground coriander
* ½ teaspoon ground cumin
* ½ teaspoon ground red pepper* (cayenne)
* ½ teaspoon black pepper*
* 1/8 teaspoon ground turmeric
* 1/8 teaspoon grated or ground nutmeg (I buy the whole nutmeg and grate it fresh)
* 1/8 teaspoon grated ground mace (usually don't have this on hand, fine without)
* ¾ teaspoon salt
* ¾ cup water (180 ml), or more as needed (if using canned tomatoes save the drained liquid as part of this water.)
* ¼ teaspoon Garam Masala; a North Indian spice mix sold at Indian grocers
(Although I have a large bag of this at home, I often forget to add it at the last minute as we rush to eat as soon as the electric rice cooker pops off. The kofta is delicious without it but if you plan to make kofta again after your first trial, do search for it and eat an authentic kofta with all the complete spices in Maya Kaimal's recipe.)

Directions:

In a large bowl combine meat, 1 teaspoon ginger, 1 tablespoon onion, ½ teaspoon ground coriander, ½ teaspoon salt, egg and bread crumbs. Mix well. Make into 1-inch (2 ½ cm) balls. Brown in a very small about of oil in a nonstick frying pan over medium heat, shaking pan frequently so meatballs brown on all sides. When they are nicely browned, remove from pan to paper towels to drain.

My notes: I make the meatballs little bigger as I am not so patient – results in about 28 balls. Perhaps, because I don't use much oil or it may be just our frying pan, the meatballs I make at home do not roll around and brown themselves by shaking the pan. They won't move at all, so once I see the bottom is nicely brown, I gently flip them over with a normal eating spoon and brown the other side. I do not take them out of the pan and lay them on paper towels, as I think this is unnecessary – more work and loss of flavor in pan juices and brown bits.

In a Dutch oven or flameproof casserole, over medium-high heat, fry onions in oil until the edges are nicely browned. Add garlic, ginger and green chili and stir for 2 minutes until onion turns medium brown.

Add tomatoes, spice mixture and salt and stir constantly until tomato pieces become very soft and break up (this describes fresh chopped tomatoes). Add ¾ cup water (180 ml) and bring to a boil. Add the meatballs (scraping the frying pan with a rubber spatula), turn down to low, and simmer covered for 45 minutes, adding more water as necessary to keep sauce from drying out. Sauce should be moderately thick at the end.

Add garam masala and simmer for another minute before removing from heat. Taste for salt. (I never add more salt and think the recipe taste is perfect.)

If your family doesn't like spicy food, then reduce both the cayenne (red pepper) and black pepper to 1/4 teaspoon each.

Preparation time: 1 hour 30 minutes

Serves 6. This serving size sounds right as it serves Chuck and I and our 3 neighbor friends = 3 adults + 2 meatball loving female teenagers who count who had how many meatballs = 0 leftovers. For Chuck and I, we usually enjoy 3 meals from this dish = dinner + leftovers for next day's lunch + dinner.

What to serve with Kofta? Great with rice, pasta (Indian spaghetti sauce!), mashed potatoes or Indian masala potatoes (a forthcoming recipe), a fresh green salad or any quick stir-fry vegetable dish.

Trash: meat packaging – styrofoam container and plasic
Compost Recycling: vegetable peelings, seeds, egg shell
Other Recycling: tin can for canned tomatoes, paper label for mixed paper recycling

Cost-Saving Tips:

1. When the ground meat is on sale, buy extras and freeze for future use. About 2 weeks ago when ground turkey was on sale at a conventional supermarket for half the normal $4.49 price for a 20-ounce package, I bought 8 packages for $2.25 each. Costco also sells well-priced ground turkey for their every day price of about $2.50 a pound.
2. Buy your spices either from an Indian grocery store or natural foods store where you can buy in bulk by measuring out what you need from jars.
3. Buy diced tomatoes when on sale or by the case from a warehouse type retailer. We paid about 63 cents a can for a case of 8 at Costco.





"A healthy homecooked family meal is a revolutionary act." (CHS, May 2008)


Metric/U.S. Measurement equivalents