The Two Charts You Should See Before Risking a Dime in the Market in 2013 (December 17, 2012)


Two charts suggest a major decline is ahead in 2013.

"Don't fight the Fed," blah blah blah. Really? What did the market do after QE3 and QE4 were duly announced? It tanked.

What if the Fed is out of tricks? It's not really a question; Fed chairman Ben Bernanke said as much in his press conference. It's not clear if the Ibogaine was wearing off or just kicking in, but the Chairman had an apologetic deer-in-the-headlights look of, "Gee, we're out of tricks and I'm sorry to have to tell you what is painfully obvious to everyone who isn't stoned silly on Delusionol (tm)."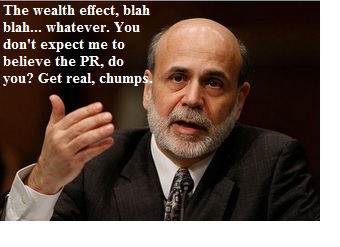 Now that the Fed's magic hat is visibly out of rabbits, there are all sorts of complexities we could hash over such as the effects of bank charge-off rates on GDP or the Theater of the Absurd "fiscal cliff" play-acting, but why waste all that time and energy when a number of charts forecast trouble for the stock market in 2013?
The first overlays bank derivatives with positive fair value against the S&P 500 (SPX), lagged 28 months. Is it cricket to lag or advance indicators? Technician Tom McClellan thinks so, as his forward-12-months eurodollar COT/SPX chart has been eerily prescient in forecasting major market moves in 2012.
Here is an article on the chart: Stocks And Euro-Dollar Futures Positioning (11/7/12)
Keeping in mind that there is no one indicator or chart that accurately forecasts market moves consistently over time, consider this overlay of bank derivatives and the SPX: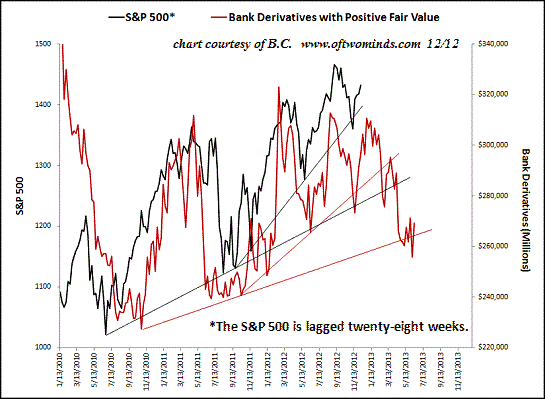 Charts courtesy of longtime correspondent B.C.
Hmm. If there is a correlation here, it doesn't look positive for equities in 2013. Those familiar with McClellan's chart know that it forecasts a serious decline in the SPX in early 2013, followed by a countertrend rally that tops in May. The decline after May is the Big One that punishes everyone who stayed long the SPX.
Next up, a long-term chart (from 1973 to the present) of the SPX, adjusted to the trade-weighted U.S. dollar. Were this basic A-B-C pattern to hold, the SPX will reverse sharply in 2013 and fall to the nearest trendline around 600, with a drop into the 300s possible. Yes, yes, I know it's "impossible" since the "Fed has the market's back," but the Fed may have to buy most of the market if it wants to keep it elevated at current levels.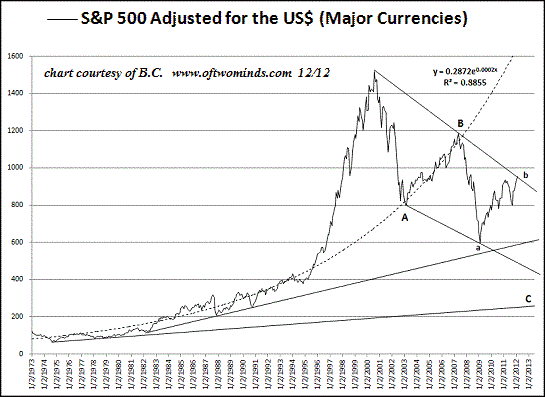 As a lagniappe, there is a third pattern suggesting a major decline just ahead: Three Peaks and A Domed House Pattern Signals An End To The Bull Market.
Anyone who has studied a few charts knows that it is usually possible to torture a chart to fit the pattern one has already selected as the "likely outcome" (i.e. confirmation bias). But even with this caveat firmly in mind, 2012's SPX bears an uncanny resemblance to the classic Three Peaks and A Domed House Pattern.
Here is another analysis of three peaks and a domed house.
Could these charts be way off in their forecast? Of course. Nobody knows what the market will do tomorrow, much less next month or next year. Maybe the bulls predicting a new high in early 2013 will be proven correct. We will just have to see what happens. But as the saying has it, "Forewarned is forearmed."
Thank you, B.C., for sharing your charts with us.
HUGE GIANT BIG FAT DISCLAIMER: Nothing on this site should be construed as investment advice or guidance. It is not intended as investment advice or guidance, nor is it offered as such.... (read more)
ADMIN NOTE: I will be taking a few weeks off (other than minimal site maintenance) so there will be no responses to email until mid-January. Thank you for your understanding that I cannot maintain this pace or workload without breaks.

---
Things are falling apart--that is obvious. But why are they falling apart? The reasons are complex and global. Our economy and society have structural problems that cannot be solved by adding debt to debt. We are becoming poorer, not just from financial over-reach, but from fundamental forces that are not easy to identify or understand. We will cover the five core reasons why things are falling apart: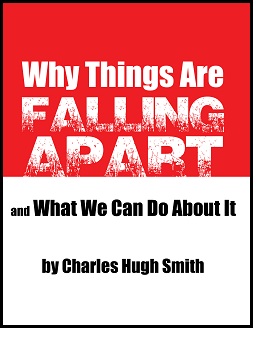 1. Debt and financialization
2. Crony capitalism and the elimination of accountability
3. Diminishing returns
4. Centralization
5. Technological, financial and demographic changes in our economy
Complex systems weakened by diminishing returns collapse under their own weight and are replaced by systems that are simpler, faster and affordable. If we cling to the old ways, our system will disintegrate. If we want sustainable prosperity rather than collapse, we must embrace a new model that is Decentralized, Adaptive, Transparent and Accountable (DATA).
We are not powerless. Not accepting responsibility and being powerless are two sides of the same coin: once we accept responsibility, we become powerful.

10% discount on the Kindle edition: $8.95 (retail $9.95) print edition: $24 on Amazon.com
To receive a 20% discount on the print edition: $19.20 (retail $24), follow the link, open a Createspace account and enter discount code SJRGPLAB. (This is the only way I can offer a discount.)

---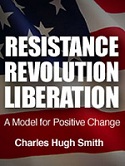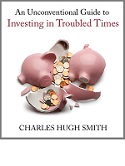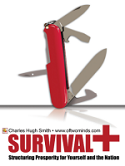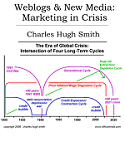 Please click on a book cover to read sample chapters
---
---
NOTE: gifts/contributions are acknowledged in the order received. Your name and email remain confidential and will not be given to any other individual, company or agency.
| | | |
| --- | --- | --- |
| Thank you, Matthew N. ($5/month), for your superbly generous re-subscription to this site -- I am greatly honored by your longstanding support and readership. | | Thank you, James M. ($20), for your splendidly generous contribution to this site --I am greatly honored by your ongoing support and readership. |
---
"This guy is THE leading visionary on reality. He routinely discusses things which no one else has talked about, yet, turn out to be quite relevant months later."
--Walt Howard, commenting about CHS on another blog.

---
Or send him coins, stamps or quatloos via mail--please request P.O. Box address.
Subscribers ($5/mo) and contributors of $50 or more this year will receive a weekly email of exclusive (though not necessarily coherent) musings and amusings.
At readers' request, there is also a $10/month option.
What subscribers are saying about the Musings (Musings samples here):
The "unsubscribe" link is for when you find the usual drivel here insufferable.
Your readership is greatly appreciated with or without a donation.
---
All content, HTML coding, format design, design elements and images copyright © 2012 Charles Hugh Smith, All rights reserved in all media, unless otherwise credited or noted.
I am honored if you link to this essay, or print a copy for your own use.
Terms of Service:
All content on this blog is provided by Trewe LLC for informational purposes only. The owner of this blog makes no representations as to the accuracy or completeness of any information on this site or found by following any link on this site. The owner will not be liable for any errors or omissions in this information nor for the availability of this information. The owner will not be liable for any losses, injuries, or damages from the display or use of this information. These terms and conditions of use are subject to change at anytime and without notice.