The New Drug of Choice in the White House, Federal Reserve and Treasury: Delusionol (tm) (April 27, 2012)


If you just want to suppress the symptoms but leave the financial disease untouched, Delusionol (tm) is the drug of choice.

Inside sources are reporting that there's a new drug of choice circulating in the hallways of power--the White House, Federal Reserve and the Treasury Department--and it's a perfectly legal prescription psychotropic: Delusionol (tm). Delusionol works by activating the parts of the brain that replace cognition and reasoning with positive fantasies.

For example, a driver on Delusionol might run over a person in a wheelchair, bounce off a fire hydrant and send a baby carriage hurtling into a brick wall, and they would be happily convinced that they were an excellent driver.

Now you understand why Delusionol is being gulped in vast quantities in the halls of power: the guys (and yes, it's mostly guys) really want to believe the "economic recovery" they've been hyping, and since it's rationally preposterous, they need a drug to suppress recognition that their policies have only made the financial disease worse and stimulate a delusional belief in the fantasy of "recovery."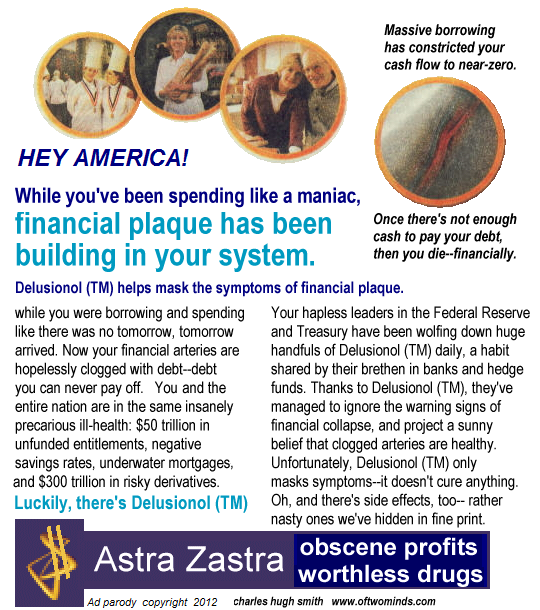 What can you say about someone who knows household incomes are falling, inflation and unemployment are much higher than officially reported, all the jobs created out of thin air by the birth-death model of small business employment are bogus, yet they "believe the recovery is self-sustaining"? They're obviously on Delusionol.
Unfortunately, like many other prescription drugs passed out in the tens of millions, Delusionol is highly addictive. Once you experience the "high" of believing that suppressing symptoms is the same as actually solving problems, it's almost impossible to return to reality, where actions and policies still have consequences, often unintended and often horrendously destructive--for example ZIRP (zero interest rate policy).
Even worse, the most blatant lies (for example, the birth-death model fabrication of phantom jobs, the illusory "declining rate of unemployment," the fantasy that cutting 1% of the Federal budget will make a difference in a budget that is 40% borrowed money, and so on) are suddenly "real" to the person on Delusionol.
No sane person would believe that one corporation with $40 billion annual profit can juice a stock market worth $14 trillion, but folks on Delusionol will believe any absurdity if it's presented as "real." They have literally lost the ability to discern between fantasy and reality.
Sadly, White House staffers on Delusionol have been seen planning the re-election party in November 2012, as if the global economy isn't imploding and as if that won't take down the precarious, "all inventory stuffing plus Apple earnings" U.S. stock market and economy.
The debt-clogged financial arteries of the nation are about to burst, but the Delusionol-tripping "leaders" in the White GHouse, Fed and Treasury are confident the economy is ready for a sprint, or a 10K run, heck, even a marathon.
Anything's believable to a drug-addled sap on Delusionol.
Delusionol is a parody. It is not a real drug.


Financial Survival network: Round Table with Charles Hugh Smith & Rick Ackerman (YouTube)
---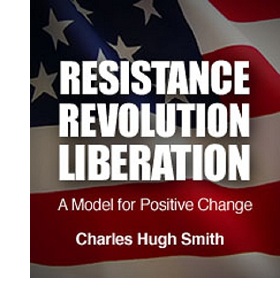 Resistance, Revolution, Liberation: A Model for Positive Change (print $25)
(Kindle eBook $9.95)
Read the Introduction (2,600 words) and Chapter One (7,600 words) for free.
We are like passengers on the Titanic ten minutes after its fatal encounter with the iceberg: though our financial system seems unsinkable, its reliance on debt and financialization has already doomed it.

We cannot know when the Central State and financial system will destabilize, we only know they will destabilize. We cannot know which of the State's fast-rising debts and obligations will be renounced; we only know they will be renounced in one fashion or another.

The process of the unsustainable collapsing and a new, more sustainable model emerging is called revolution, and it combines cultural, technological, financial and political elements in a dynamic flux.

History is not fixed; it is in our hands. We cannot await a remote future transition to transform our lives. Revolution begins with our internal understanding and reaches fruition in our coherently directed daily actions in the lived-in world.
---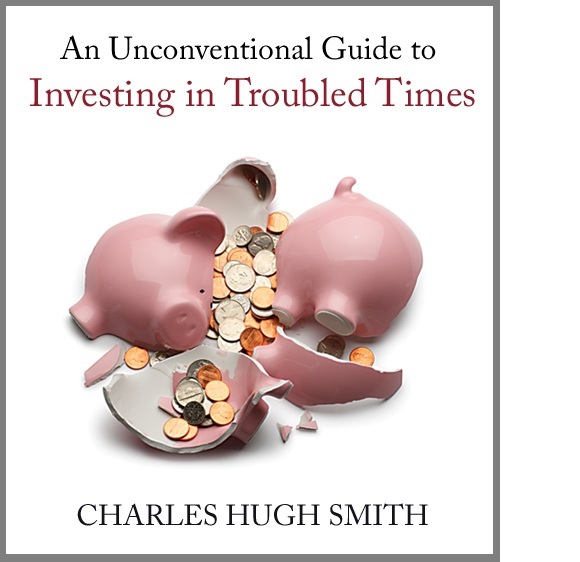 If this recession strikes you as different from previous downturns, you might be interested in my book An Unconventional Guide to Investing in Troubled Times (print edition) or Kindle ebook format. You can read the ebook on any computer, smart phone, iPad, etc. Click here for links to Kindle apps and Chapter One. The solution in one word: Localism.


Readers forum: DailyJava.net.





Order Survival+: Structuring Prosperity for Yourself and the Nation (free bits) (Kindle) or Survival+ The Primer (Kindle) or Weblogs & New Media: Marketing in Crisis (free bits) (Kindle) or from your local bookseller.
Of Two Minds Kindle edition: Of Two Minds blog-Kindle
---

"This guy is THE leading visionary on reality. He routinely discusses things which no one else has talked about, yet, turn out to be quite relevant months later."
--Walt Howard, commenting about CHS on another blog.

---
NOTE: gifts/contributions are acknowledged in the order received. Your name and email remain confidential and will not be given to any other individual, company or agency.
| | | |
| --- | --- | --- |
| Thank you, William M. ($100), for your outrageously generous contribution to this site--I am greatly honored by your continuing support and readership. | | Thank you, Lori at (CE). ($50), for your stupendously generous contribution to this site--I am greatly honored by your support and readership. |
---
Or send him coins, stamps or quatloos via mail--please request P.O. Box address.
Subscribers ($5/mo) and contributors of $50 or more this year will receive a weekly email of exclusive (though not necessarily coherent) musings and amusings.
At readers' request, there is also a $10/month option.
The "unsubscribe" link is for when you find the usual drivel here insufferable.
Your readership is greatly appreciated with or without a donation.
---
For more on this subject and a wide array of other topics, please visit my weblog.





All content, HTML coding, format design, design elements and images copyright © 2012 Charles Hugh Smith, All rights reserved in all media, unless otherwise credited or noted.
I would be honored if you linked this essay to your site, or printed a copy for your own use.
Terms of Service:
All content on this blog is provided by Trewe LLC for informational purposes only. The owner of this blog makes no representations as to the accuracy or completeness of any information on this site or found by following any link on this site. The owner will not be liable for any errors or omissions in this information nor for the availability of this information. The owner will not be liable for any losses, injuries, or damages from the display or use of this information. These terms and conditions of use are subject to change at anytime and without notice.