ObamaCare: The Neutron Bomb That Will Decimate Employment (February 22, 2013)


ObamaCare will act as a neutron bomb on employment in the U.S. for two basic reasons.

Longtime readers know I have repeatedly explained why healthcare, i.e. sickcare, will bankrupt the nation. Here are two of the dozens of entries I've written on sickcare:
America's Hidden 8% VAT: Sickcare (May 10, 2012)
Can Chronic Ill-Health Bring Down Great Nations? Yes It Can, Yes It Will (November 23, 2011)

I have also explained why ObamaCare's "fixes" are simulacra reforms that don't even address the systemic costs arising from the cartel-fiefdom structure of sickcare:
Why "Healthcare Reform" Is Not Reform, Part I (December 28, 2009)
Why "Healthcare Reform" Is Not Reform, Part II (December 29, 2009)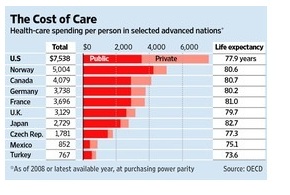 Sickcare is unsustainable for a number of interlocking reasons: defensive medicine in response to a broken malpractice system; opaque pricing; quasi-monopolies/cartels; systemic disconnect of health from food, diet and fitness; fraud and paperwork consume at least 40% of all sickcare funds; fee-for-service in a cartel system; employers being responsible for healthcare, and a fundamental absence of competition and transparency.
Please glance at these charts to see how the U.S. healthcare costs are double those of competing nations on a per capita basis. Japan provides care for a mere 36% per person of what the U.S. spends--yet millions of Americans remain uninsured or underinsured.
If you set out to design a corrupt, inefficient, wasteful, unfair, deranged and unreformable system, you would arrive at U.S. healthcare.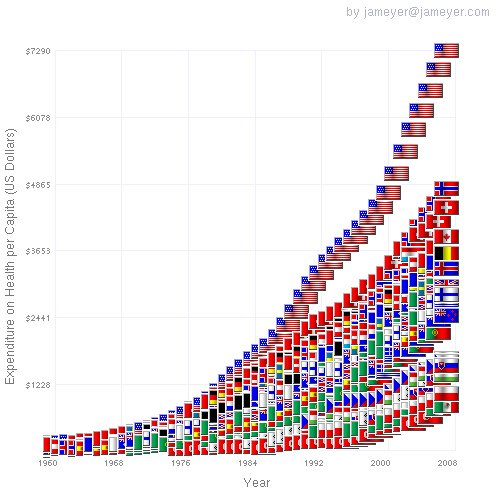 Sickcare ignores the structural causes of our ill-health: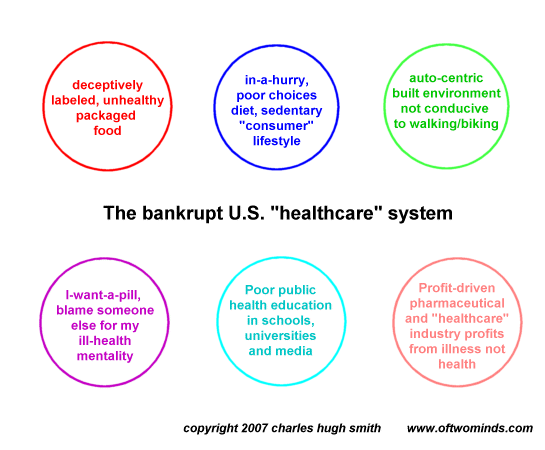 86% of Workers Are Obese or Have Other Health Issue Just 1 in 7 U.S. workers is of normal weight without a chronic health problem.
The Patient Protection and Affordable Care Act (PPACA), i.e. ObamaCare, is a neutron bomb for employment. A neutron bomb is an enhanced-radiation thermonuclear weapon that famously leaves buildings, autos, etc. intact but kills all the people, even those inside buildings. vehicles, etc.
ObamaCare will act as a neutron bomb on employment in the U.S. for two basic reasons:
1. It is immensely complex, and already-marginalized small business owners will shed employees or simply close rather than have to figure out what all those thousands of pages of regulations and statutes mean to the survival of their business.
2. ObamaCare's primary mechanisms of lowering costs, insurance exchanges and technocratic selection of "best care practices," do nothing to change the systemic flaws of sickcare.
Many other commentators have already outlined how ObamaCare is driving employers to replace fulltime workers with part-time workers to avoid having to pay outrageously expensive monthly healthcare insurance premiums. In this sense, the ObamaCare neutron bomb is already decimating fulltime employment.
I see this response as a Corporate-America strategy. Corporate America has the human resources infrastructure and financial heft to figure out compliance and exploit loopholes in the insanely complex law. Small business has neither the infrastructure nor the financial resources. Small business owners will rely on the same cartels that are currently providing insurance for guidance, and of course the ObamaCare offerings will suit the financial needs of sickcare cartels.
Once small business owners see the costs of their options, some may opt to pay the penalties and others may follow the corporate strategy of turning each fulltime job into two part-time jobs to avoid paying for coverage or penalties, but many will choose instead to call it quits: either downsize to a one-person/one-household business with no employees at all, or sell/close the enterprise and escape the burdens.
What the lobbyists and attorneys who wrote the Obamacare monstrosity do not understand (because they have no exposure to or experience in the real economy) is the fragility of most small businesses: costs keep rising but revenues are stagnant. The mental and financial stresses keep rising, and ObamaCare does nothing to mitigate either source of stress.
The inside-the-Beltway types who crafted this mess have no idea of the pressures facing legitimate (non-black-market) business in America, corporate and small business alike.
ObamaCare offers even more incentives for Corporate America to offshore operations, and it provides powerful incentives to millions of marginal small businesses to shut down or shed all employees.
I am not alone in simply not wanting to waste the time, money and energy required to understand the new law and its various impacts on my business. We will cling to our already insanely expensive private healthcare insurance, which by the way has been grandfathered in: new self-employed entrepreneurs won't be able to buy the absurdly costly policy we have--they will be offered a range of even worse deals, with higher costs and less coverage.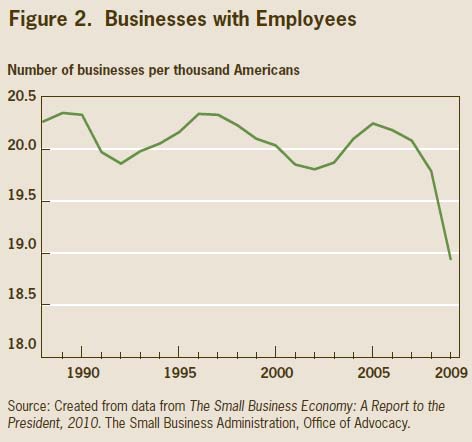 The neutron bomb has gone off, unseen by politicos and the Elites who wrote the bill. It is already decimating fulltime employment, and it will soon add momentum to the free-fall erosion of small business growth and employment.
The strip malls and office parks will still be standing; there just won't be many employees in them.


---
Things are falling apart--that is obvious. But why are they falling apart? The reasons are complex and global. Our economy and society have structural problems that cannot be solved by adding debt to debt. We are becoming poorer, not just from financial over-reach, but from fundamental forces that are not easy to identify or understand. We will cover the five core reasons why things are falling apart: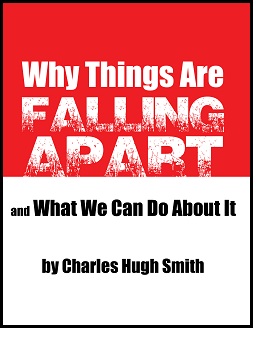 1. Debt and financialization
2. Crony capitalism and the elimination of accountability
3. Diminishing returns
4. Centralization
5. Technological, financial and demographic changes in our economy
Complex systems weakened by diminishing returns collapse under their own weight and are replaced by systems that are simpler, faster and affordable. If we cling to the old ways, our system will disintegrate. If we want sustainable prosperity rather than collapse, we must embrace a new model that is Decentralized, Adaptive, Transparent and Accountable (DATA).
We are not powerless. Not accepting responsibility and being powerless are two sides of the same coin: once we accept responsibility, we become powerful.

Kindle edition: $9.95 print edition: $24 on Amazon.com
To receive a 20% discount on the print edition: $19.20 (retail $24), follow the link, open a Createspace account and enter discount code SJRGPLAB. (This is the only way I can offer a discount.)
---
NOTE: gifts/contributions are acknowledged in the order received. Your name and email remain confidential and will not be given to any other individual, company or agency.
| | | |
| --- | --- | --- |
| Thank you, Robert Z. ($100), for yet another outrageously generous contribution to this site -- I am greatly honored by your steadfast support and readership. | | Thank you, Tim L. (silver coin), for your stupendously generous contribution to this site --I am greatly honored by your steadfast support and readership. |
---
"This guy is THE leading visionary on reality. He routinely discusses things which no one else has talked about, yet, turn out to be quite relevant months later."
--Walt Howard, commenting about CHS on another blog.

---
Or send him coins, stamps or quatloos via mail--please request P.O. Box address.
Subscribers ($5/mo) and contributors of $50 or more this year will receive a weekly email of exclusive (though not necessarily coherent) musings and amusings.
At readers' request, there is also a $10/month option.
What subscribers are saying about the Musings (Musings samples here):
The "unsubscribe" link is for when you find the usual drivel here insufferable.
Your readership is greatly appreciated with or without a donation.
---
All content, HTML coding, format design, design elements and images copyright © 2013 Charles Hugh Smith, All rights reserved in all media, unless otherwise credited or noted.
I am honored if you link to this essay, or print a copy for your own use.
Terms of Service:
All content on this blog is provided by Trewe LLC for informational purposes only. The owner of this blog makes no representations as to the accuracy or completeness of any information on this site or found by following any link on this site. The owner will not be liable for any errors or omissions in this information nor for the availability of this information. The owner will not be liable for any losses, injuries, or damages from the display or use of this information. These terms and conditions of use are subject to change at anytime and without notice.