International Workers' Day (May 1) and the New Class: Mobile Creatives (May 1, 2014)

The Mobile Creative credo: trust the network, not the corporation or the state.

In America's Nine Classes: The New Class Hierarchy, I described a "wild card" new class of workers that doesn't fit the conventional paradigms: Mobile Creatives. I use the word mobile here not to suggest mobility between physical places (though that is one factor in this class's flexibility) but mobility between sectors, tools and ways of earning income.

The key characteristic of the Mobile Creative class is that they live by this credo: trust the network, not the corporation or the state. The essence of neofeudalism is debt penury and wage-slave loyalty to the New Nobility that owns the debt.

The essence of state-cartel capitalism (the dominant form of capitalism) is the state dismantles all social connections and wealth between the state and the atomized individual recipient of state welfare so the individual depends entirely on the state for his/her identity and essentials of life.

Where once existed a complex ecosystem of public life, social capital and networks of reciprocity and economic meaning, now lies a wasteland, stripmined by the state to leave nothing but the state and its ever-growing armies of dependents.

The global corporation profits from this same wasteland: the ideal arrangement to maximize debt-based consumption is an atomized individual who has no identity or self-worth other than consumerist worship of brands and corporate-supplied convenience, in other words, a permanent adolescent driven by insecurity, fear and impulse-driven consumption.

The Mobile Creative class operates outside these two states of dependency. It also operates outside the conventional labor-management divide of Marxism and socialism. Since global capital is mobile, and the state enforces central banking and cartel pricing, the class of "owners" and the state are one entity.

You either resist the entire state-cartel system or your resistance is nothing but meaningless gestures aimed at chimera.

Longtime correspondent Kevin Mercadante (Out of Your Rut) noted that being a Mobile Creative isn't just a different mode of livelihood--it's a different way of living, thinking and being.

"Mobile Creatives" describes me to the letter - I felt as if I was reading a script of my own life (at least since the financial meltdown). It also takes in a few of my friends, so it's a very real category.

This is beyond the scope of the article, but one of the things I've found to be a revelation is that the mobile creative lifestyle extends well beyond career and workstyle. Once you adopt it, everything else in your life falls in behind it.

Because of the creativity and independence that the lifestyle provides, there's less need for high cost entertainment. Vacations and weekends are less important - there's joy and adventure to be had every day. You're less concerned with retirement. You develop a sense that you'll survive what ever happens. You see more opportunities and fewer obstacles. At the same time, you're also painfully aware that things don't always work out. But you also learn that failure isn't terminal. That's huge.

Spending patterns change too. You find less expensive ways to do everything - to buy food and clothing, to fix your car, and even to entertain yourself. Free thought expands, and you find yourself drawn to other mobile creatives. Conversations with others are deeper and more meaningful - when you meet to discuss work, you're really paying attention, always on high alert for new opportunities and potential joint ventures.

On the surface, being a mobile creative is less secure than traditional careers, but I wouldn't trade it. I've been in so-called stable careers, only to discover that they're only secure until the big picture game changes. Being a mobile creative enables you to adapt to change, rather than getting rolled over by it.

By giving this emergent class a name, you're contributing to it's survival and growth. Mobile creatives could be the class that finally replaces the factory- and service-workers classes as the new "backbone" of American socio-economic life. That's what's been missing for at least 15 years. By giving the class a name you're formally declaring its existence, providing a framework for the lifestyle, and even establishing it as a legitimate goal.

Thank you, Kevin, for describing the Mobile Creative class better than I could. Who better to describe this way of living better than one who is living it every day?

In essence, my new book Get a Job, Build a Real Career and Defy a Bewildering Economy is a blueprint for becoming a Mobile Creative.


---
Want to give an enduringly practical graduation gift? Then give my new book Get a Job, Build a Real Career and Defy a Bewildering Economy, a mere $9.95 for the Kindle ebook edition and $17.76 for the print edition.
---
Get a Job, Build a Real Career and Defy a Bewildering Economy
(Kindle, $9.95)(print, $20)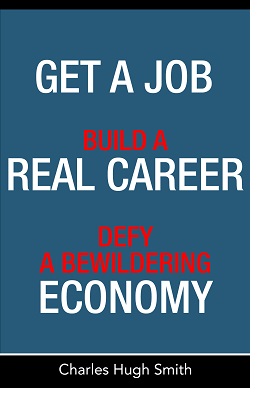 Are you like me?
Ever since my first summer job decades ago, I've been chasing financial security. Not win-the-lottery, Bill Gates riches (although it would be nice!), but simply a feeling of financial control. I want my financial worries to if not disappear at least be manageable and comprehensible.
And like most of you, the way I've moved toward my goal has always hinged not just on having a job but a career.
You don't have to be a financial blogger to know that "having a job" and "having a career" do not mean the same thing today as they did when I first started swinging a hammer for a paycheck.
Even the basic concept "getting a job" has changed so radically that jobs--getting and keeping them, and the perceived lack of them--is the number one financial topic among friends, family and for that matter, complete strangers.
So I sat down and wrote this book: Get a Job, Build a Real Career and Defy a Bewildering Economy.
It details everything I've verified about employment and the economy, and lays out an action plan to get you employed.
I am proud of this book. It is the culmination of both my practical work experiences and my financial analysis, and it is a useful, practical, and clarifying read.
Test drive the first section and see for yourself. Kindle, $9.95 print, $20
"I want to thank you for creating your book Get a Job, Build a Real Career and Defy a Bewildering Economy. It is rare to find a person with a mind like yours, who can take a holistic systems view of things without being captured by specific perspectives or agendas. Your contribution to humanity is much appreciated."
Laura Y.

---
---
NOTE: Contributions/subscriptions are acknowledged in the order received. Your name and email remain confidential and will not be given to any other individual, company or agency.
| | | |
| --- | --- | --- |
| Thank you, Nathan W. ($5/month), for your supremely generous re-subscription to this site -- I am greatly honored by your steadfast support and readership. | | Thank you, William B. ($50), for your stupendously generous contribution to this site -- I am greatly honored by your support and readership. |
---
"This guy is THE leading visionary on reality. He routinely discusses things which no one else has talked about, yet, turn out to be quite relevant months later."
--Walt Howard, commenting about CHS on another blog.
"You shine a bright and piercing light out into an ever-darkening world."
Jeremy Beck

---
Contributors and subscribers enable Of Two Minds to post 275+ free essays annually. It is for this reason they are Heroes and Heroines of New Media. Without your financial support, the free content would disappear for the simple reason that I cannot keep body and soul together on my meager book sales alone.
Or send coins, stamps or quatloos via mail--please request P.O. Box address.
Subscribers ($5/mo) and those who have contributed $50 or more annually (or made multiple contributions totalling $50 or more) receive weekly exclusive Musings Reports via email ($50/year is about 96 cents a week).
Each weekly Musings Report offers five features:
1. Exclusive essay on a diverse range of topics
2. Summary of the blog this week
3. Best thing that happened to me this week
4. Market Musings--commentary on the economy & global markets
5. From Left Field (a limited selection of interesting links)
At readers' request, there is also a $10/month option.
What subscribers are saying about the Musings (Musings samples here):
The "unsubscribe" link is for when you find the usual drivel here insufferable.
All content, HTML coding, format design, design elements and images copyright © 2014 Charles Hugh Smith, All global rights reserved in all media, unless otherwise credited or noted.
I am honored if you link to this essay, or print a copy for your own use.
Terms of Service:
All content on this blog is provided by Trewe LLC for informational purposes only. The owner of this blog makes no representations as to the accuracy or completeness of any information on this site or found by following any link on this site. The owner will not be liable for any errors or omissions in this information nor for the availability of this information. The owner will not be liable for any losses, injuries, or damages from the display or use of this information. These terms and conditions of use are subject to change at anytime and without notice.