---

---
The Counter-Intuitive Rise of the U.S. Dollar
September 22, 2014


As things get dicier globally, assets in periphery nations typically get dumped as mobile capital flees risk and migrates to lower risk core nations and currencies.
I received many thoughtful comments on Why the Dollar May Remain Strong For Longer Than We Think. Given the many weaknesses of the U.S.--ballooning social-welfare and crony-capitalist liabilities, free money for financiers monetary policies, etc.--a strengthening dollar (USD) strikes many as counter-intuitive.
The dynamic complexities of fiscal and monetary policies, global capital flows and the foreign exchange (FX) market complicate any inquiry, so I try to keep it simple.
In my view, the USD serves both transactional (global trade) markets and the global need for currency reserves (i.e. as a store-of-value). Sorting out the various influences on its relative value in each capacity is complex enough, but there is also the X Factor--the hard-to-quantify components of any currency's relative value.
For the USD, the X Factor is hegemony, which includes financial dominance based on debt issued/denominated in USD and what might be called the real-world assets of the issuing nation: that nation's food, energy and water security (what I call the FEW resources), its proximity to potential enemies, its external environmental costs, its overseas financial assets, the strength of its legal system in protecting private assets,its demographic profile and of course its ability to project power to defend its interests.
By these basic measures, the U.S. scores pretty well. We can get some perspective on this by putting ourselves in the shoes of wealthy people in periphery nations where the risks of capital controls, currency devaluation, etc. are perceived to be high, or in the shoes of corrupt elites in countries where they fear their ill-gotten gains might not survive blowback (hence the almost universal desire of elites to leave China with their loot).
The strength of the USD is attractive to at-risk capital, even if transferring at-risk wealth into dollars requires a significant foreign-exchange haircut. Better to preserve 75% of your wealth in USD than leave it exposed to confiscation, capital control, etc. This is the basic flight-to-safety mechanism.
Ubiquity also counts. The USD is the proxy global currency. A $100 USD bill is recognized as money virtually everywhere. If you're stranded just about anywhere, USD will buy you food, transport, official "assistance" via bribes, etc. No other paper currency is even close to ubiquity/recognition. (Clean, crisp $100 USD bills are recommended--dirty crumpled bills are not highly esteemed.)
It's also critical to look at the relative scale of the money-printing that erodes the value of currencies: -China's credit expansion is much larger as a percentage of its economy and financial system than the Fed's money-printing as a percentage of the U.S. financial system.
Then there's the scramble-for-yield issue: imagine you're managing $10 billion. You need to preserve this wealth but you also need to earn a yield, or you'll be fired at the end of the quarter. Since FX (foreign exchange) is a much larger market than stocks or bonds, you're highly attuned to FX so you don't get blindsided by a shift in FX that wipes out your yield. You might wisely build an "insurance" position in precious metals, but because you need yield then you have exposure to bonds, stocks and as a result, FX.
As things get dicier globally, assets in periphery nations typically get dumped as mobile capital flees risk and migrates to lower risk core nations and currencies.
For money managers, the USD is an FX safe haven--especially since the capital flowing out of the riskier periphery pushes the USD higher. This makes for a secondary yield--as the USD rises, any asset denominated in USD will gain in relative value. So there's a self-reinforcing feedback loop: as the USD value rises, it attracts more of the money fleeing risk.
In a way, the USD acts as a currency equivalent of the English language. There are many languages and many currencies, but at present the indispensable language/currency in the global economy is English/USD.
How can we summarize this discussion?
1. FX is the "master market" of the global financial system.
2. The flow of mobile capital out of the periphery into the core will turn into a flood as global risks rise.
Both of these conditions favor the USD.


---
---
Get a Job, Build a Real Career and Defy a Bewildering Economy
(Kindle, $9.95)(print, $17.76)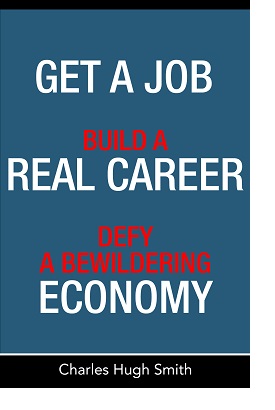 Are you like me?
Ever since my first summer job decades ago, I've been chasing financial security. Not win-the-lottery, Bill Gates riches (although it would be nice!), but simply a feeling of financial control. I want my financial worries to if not disappear at least be manageable and comprehensible.
And like most of you, the way I've moved toward my goal has always hinged not just on having a job but a career.
You don't have to be a financial blogger to know that "having a job" and "having a career" do not mean the same thing today as they did when I first started swinging a hammer for a paycheck.
Even the basic concept "getting a job" has changed so radically that jobs--getting and keeping them, and the perceived lack of them--is the number one financial topic among friends, family and for that matter, complete strangers.
So I sat down and wrote this book: Get a Job, Build a Real Career and Defy a Bewildering Economy.
It details everything I've verified about employment and the economy, and lays out an action plan to get you employed.
I am proud of this book. It is the culmination of both my practical work experiences and my financial analysis, and it is a useful, practical, and clarifying read.
Test-drive the first section and see for yourself. Kindle, $9.95 print, $17.76
"I want to thank you for creating your book Get a Job, Build a Real Career and Defy a Bewildering Economy. It is rare to find a person with a mind like yours, who can take a holistic systems view of things without being captured by specific perspectives or agendas. Your contribution to humanity is much appreciated."
Laura Y.
Gordon Long and I discuss The New Nature of Work: Jobs, Occupations & Careers (25 minutes, YouTube)
---
---
HUGE GIANT BIG FAT DISCLAIMER: Nothing on this site should be construed as investment advice or guidance. It is not intended as investment advice or guidance, nor is it offered as such.... (read more)
WHY EMAIL TO THIS SITE IS READ BUT MAY NOT BE ACKNOWLEDGED: Regrettably, I am so sorely pressed for time and energy that I am unable to respond to the vast majority of emails. Please know I read all emails, but I can only devote a very limited number of hours to this blog and all correspondence....
---
This Month's entries:
The Counter-Intuitive Rise of the U.S. Dollar
September 22, 2014
Are We Ready for Daily-Life Drones?
September 20, 2014
My Sexploitation Foray: Bare Naked Breasts Galore!
September 19, 2014
Which Global Hegemon Is on Shifting Sands?
September 18, 2014
Why the Dollar May Remain Strong For Longer Than We Think
September 17, 2014
Janus Yellen and the Great Transition from Risk-On to Risk-Off
September 16, 2014
Is Risk-On About to Switch to Risk-Off?
September 15, 2014
The Hidden Value of Gardens
September 13, 2014
What If the Easy Money Is Now on the Bear Side?
September 12, 2014
Why Has Classical Capitalism Devolved to Crony-Capitalism?
September 11, 2014
How the China Boom Unravels: One Person at a Time
September 10, 2014
Could the Alibaba Model Undo the Wal-Mart Model?
September 9, 2014
The China Boom Story: Alibaba and the 40 Thieves
September 8, 2014
Stocks Have Reached a Permanently High Plateau
September 6, 2014
Here's Why the Market Could Crash--Not in Two Years, But Now
September 5, 2014
Have We Reached a Financial Singularity?
September 4, 2014
Central Bank Monetary Policy Enables Us to Put Off Real Reforms
September 3, 2014
The Underbelly of Corporate America: Insider Selling, Stock Buy-Backs, Dodgy Profits
September 2, 2014
Labor Day 2014: In Praise of Messiness
September 1, 2014


August 2014 entries
Contributions and Subscriptions
Contributors and subscribers enable Of Two Minds to post 275+ free essays annually. It is for this reason they are Heroes and Heroines of New Media. Without your financial support, the free content would disappear for the simple reason that I cannot keep body and soul together on my meager book sales alone.
NOTE: Contributions/subscriptions are acknowledged in the order received. Your name and email remain confidential and will not be given to any other individual, company or agency. All contributors are listed below in acknowledgement of my gratitude.

---
| | | |
| --- | --- | --- |
| | Thank you, John S.P. ($50), for yet another extraordinarily generous contribution to this site-- I am greatly honored by your steadfast support and readership. | |
---
SPECIAL APPEAL TO READERS OF OFTWOMINDS
from longtime correspondent Cheryl A.:
I don't recall exactly how I discovered Of Two Minds in late 2005, but it is hard to express how grateful I am that I did. As a result of the insight I have gained from the information Charles has shared over these past 9 years, I have been able to navigate this turbulent period much more successfully than most of my acquaintances. I'm sure that those of you who visit OTM with any regularity have similarly benefitted in numerous ways.

The addition of the weekly musings has been an extra bonus for supporters that has provided further insight into the markets, as well as the world around us (often providing a much needed smile).

I have no doubt that those who generously contribute to this site recognize the value that it offers. I hope that those of you who visit, but have not yet contributed, will consider doing so. Your support is essential in helping to maintain such an important resource.
Thank you, Cheryl, for this vote of confidence.
I can only promise that I will continue to do my best.
---