---

---
How Long Can the Top 10% Households Prop Up the "Recovery"?
October 31, 2014


The question of "recovery" really boils down to this: how much longer can the top 10% prop up the expansion?
A flurry of recent media stories have addressed housing unaffordability, for example Why Middle-Class Americans Can't Afford to Live in Liberal Cities.
The topic of housing unaffordability crosses party lines: Housing Ownership Back to 1995 Levels (U.S. Census Bureau).
Other stories reflect an enduring interest in the questions, what is a living wage? and what is a middle-class income? These questions express the anxiety that naturally arises from the sense that we're sliding downhill in terms of our purchasing power--a reality that is confirmed by this chart: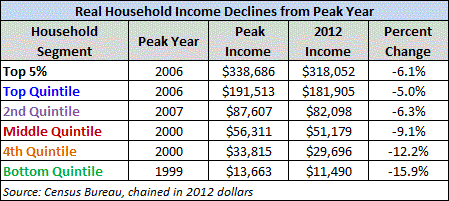 Here's a recent story that delves into the question of "getting by" versus "middle class": How Much Money Does the Middle Class Need to Get By?
"Just getting by" in costly coastal cities requires an income in the top 20%: around $60,000 for individuals and $100,000 for households.
The article references MIT's Living Wage Calculator, which I found to be unrealistic in terms of the high-cost cities I know well (Honolulu and the San Francisco Bay Area). It appears the calculator data does not represent actual rents or food prices; the general estimates it uses woefully under-represent on-the-ground reality.
Current market rents in the S.F. Bay Area far exceed the estimated housing costs in this calculator, and that one line item pushes the living wage from $36,000 for two adults closer to $45,000 in my estimate--roughly the average wage in the U.S. (not the median wage, which is $28,000).
If you want to know where you stand income-wise, here is a handy calculator: What Is Your U.S. Income Percentile Ranking?
Here are the data sources:
Wage Statistics for 2013 (Social Security Administration)
2013 Household Income Data Tables (U.S. Census Bureau)
There are many complexities in these questions. For example, Social Security data does not include food stamps, housing and healthcare subsidies provided by the government, etc., so lower-income households' real (equivalent) income is much higher than the published data.
Then there are the regional differences, which are considerable; $50,000 in a Left or Right Coast city is "just getting by" but it buys much more in other less pricey regions.
As for what household income qualifies as "middle class"--it depends on your definition of middle class. In my view, the definition has been watered down to the point that "middle class" today is actually working class, if we list attributes of the "middle class" that were taken for granted in the postwar era of widespread prosperity circa the 1960s.
In What Does It Take To Be Middle Class? (December 5, 2013), I listed 10 basic "threshold" attributes and two higher qualifications for membership in the middle class. Please have a look if you're interested.
I came up with an annual income of $106,000 for two self-employed wage earners and the mid-$90,000 range for two employed wage earners, the difference being the self-employed couple have to pay 100% of their healthcare insurance, as there is no employer to cover that staggering expense.
$90,000 puts a household in the top 25%, and $101,000 places the household in the top 20%. $150,000 a year qualifies as a top 10% household income.
If we set aside income and consider net worth, net worth (i.e. ownership of assets and wealth) of most households is modest: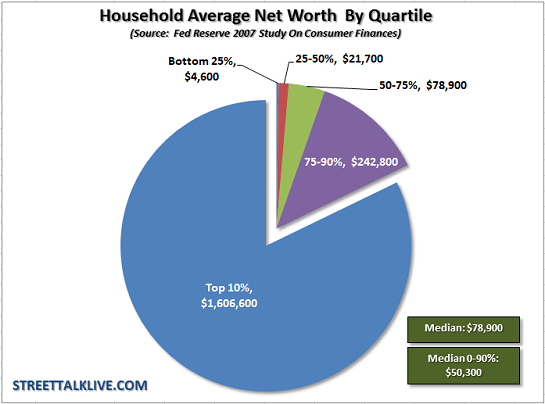 This shows the decline in household wealth since 2003:
Can an economy in which the majority of households are "just getting by" experience robust growth, i.e. "recovery"? If we discount the millions of households who are paying for today's consumption with tomorrow's earnings, i.e. credit cards, auto loans, student loans, etc., I think it's self-evident that only the top 20% (and perhaps really only the top 10%) have the income and net worth to expand a $16 trillion economy.
By definition, the top 10% cannot be "middle class." Yet it seems that these top 12 million households are propping up the "recovery"--dining out at pricey bistros, paying $200 a night for hotels, buying homes that cost $500,000 and up, paying slip fees for their boats, funding their children's college education with cash rather than loans, etc.
The question of "recovery" really boils down to this: how much longer can the increasing debt of the bottom 90% and the wealth of the top 10% prop up the expansion?


---
---
Get a Job, Build a Real Career and Defy a Bewildering Economy
(Kindle, $9.95)(print, $17.76)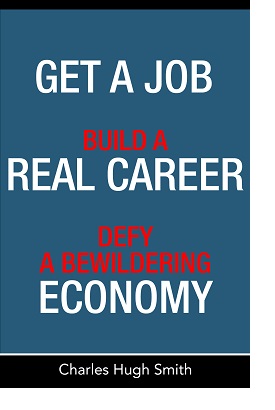 Are you like me?
Ever since my first summer job decades ago, I've been chasing financial security. Not win-the-lottery, Bill Gates riches (although it would be nice!), but simply a feeling of financial control. I want my financial worries to if not disappear at least be manageable and comprehensible.
And like most of you, the way I've moved toward my goal has always hinged not just on having a job but a career.
You don't have to be a financial blogger to know that "having a job" and "having a career" do not mean the same thing today as they did when I first started swinging a hammer for a paycheck.
Even the basic concept "getting a job" has changed so radically that jobs--getting and keeping them, and the perceived lack of them--is the number one financial topic among friends, family and for that matter, complete strangers.
So I sat down and wrote this book: Get a Job, Build a Real Career and Defy a Bewildering Economy.
It details everything I've verified about employment and the economy, and lays out an action plan to get you employed.
I am proud of this book. It is the culmination of both my practical work experiences and my financial analysis, and it is a useful, practical, and clarifying read.
Test-drive the first section and see for yourself. Kindle, $9.95 print, $17.76
"I want to thank you for creating your book Get a Job, Build a Real Career and Defy a Bewildering Economy. It is rare to find a person with a mind like yours, who can take a holistic systems view of things without being captured by specific perspectives or agendas. Your contribution to humanity is much appreciated."
Laura Y.
Gordon Long and I discuss The New Nature of Work: Jobs, Occupations & Careers (25 minutes, YouTube)
---
---
HUGE GIANT BIG FAT DISCLAIMER: Nothing on this site should be construed as investment advice or guidance. It is not intended as investment advice or guidance, nor is it offered as such.... (read more)
WHY EMAIL TO THIS SITE IS READ BUT MAY NOT BE ACKNOWLEDGED: Regrettably, I am so sorely pressed for time and energy that I am unable to respond to the vast majority of emails. Please know I read all emails, but I can only devote a very limited number of hours to this blog and all correspondence....
---
This Month's entries:
How Long Can the Top 10% Households Prop Up the "Recovery"?
October 31, 2014
Why We're Poorer: Inflation and Deflation Are Now Globalized
October 30, 2014
Globalization = Permanent Instability
October 29, 2014
Forget "Free Trade"--Focus on Capital Flows
October 28, 2014
We Don't Have One Problem--We Have Three Interlocking Sets of Problems
October 27, 2014
From Home-Grown Tomatoes to Home-Made Pasta Sauce
October 25, 2014
Does Anyone Else Think the Stock Market Is Living on Reds, Vitamin C and Cocaine?
October 24, 2014
What's Avant-Garde Now? Social Innovation
October 23, 2014
What Happens When Cash Is No Longer Trash?
October 22, 2014
In Uncharted Waters
October 21, 2014
The Artists' Road to Serfdom: The Commoditization of Creative Content
October 20, 2014
Our New Robot Overlords & The Third Type of Capital
October 18, 2014
Why Nations (and organizations) Fail: Self-Serving Elites
October 17, 2014
Why the State Has Failed to Reform Our Broken Financial System
October 16, 2014
What Options Are Left for Central Banks?
October 15, 2014
Why Is the Put-Call Ratio (Fear Gauge) Higher Than in the Lehman Collapse of 2008?
October 14, 2014
Will the Fed Let the Stock Market Crash Before an Election?
October 13, 2014
Did Oil's Decline Take the Stock Market Down?
October 11, 2014
The Stronger Dollar = Stealth QE
October 10, 2014
Social Schizophrenia, Social Depression
October 9, 2014
End of the Empire
October 8, 2014
The Critical Difference Between Rentier Wealth and Wealth Creation
October 7, 2014
Crony Capitalism Is Kryptonite to Democracy and the Real Economy
October 6, 2014
At Home in Two Places
October 4, 2014
What Are We So Afraid Of?
October 3, 2014
The Sources of America's Political & Financial Dysfunction
October 2, 2014
Oil, Empire and Playing the Great Game
October 1, 2014


September 2014 entries
Contributions and Subscriptions
Contributors and subscribers enable Of Two Minds to post 275+ free essays annually. It is for this reason they are Heroes and Heroines of New Media. Without your financial support, the free content would disappear for the simple reason that I cannot keep body and soul together on my meager book sales alone.
NOTE: Contributions/subscriptions are acknowledged in the order received. Your name and email remain confidential and will not be given to any other individual, company or agency. All contributors are listed below in acknowledgement of my gratitude.

---
| | | |
| --- | --- | --- |
| | Thank you, John S. ($100), for your outrageously generous contribution to this site-- I am greatly honored by your steadfast support and readership. | |
---
SPECIAL APPEAL TO READERS OF OFTWOMINDS
from longtime correspondent Cheryl A.:
I don't recall exactly how I discovered Of Two Minds in late 2005, but it is hard to express how grateful I am that I did. As a result of the insight I have gained from the information Charles has shared over these past 9 years, I have been able to navigate this turbulent period much more successfully than most of my acquaintances. I'm sure that those of you who visit OTM with any regularity have similarly benefitted in numerous ways.

The addition of the weekly musings has been an extra bonus for supporters that has provided further insight into the markets, as well as the world around us (often providing a much needed smile).

I have no doubt that those who generously contribute to this site recognize the value that it offers. I hope that those of you who visit, but have not yet contributed, will consider doing so. Your support is essential in helping to maintain such an important resource.

10/20/14 P.S. Over a year ago, Charles wrote about the coming rise in the dollar, a story that is just now gaining traction in the mainstream media. He was also early to recognize that the price of oil was going to fall. For readers who want foresight into where we are headed, these are further examples of why Charles deserves your support.
Thank you, Cheryl, for this vote of confidence.
I can only promise that I will continue to do my best.
---