The Keynesian Cult Has Failed: "Emergency" Stimulus Is Now Permanent
May 24, 2017
Can we finally admit that eight years of following the Keynesian coloring-book have not just failed, but failed spectacularly?
What do we call a status quo in which "emergency measures" have become permanent props? A failure. The "emergency" responses to the Global Financial Meltdown of 2008-09 are, eight years on, permanent fixtures. Everyone knows what would happen if the deficit spending, money-printing, zero interest rates, shadow banking, asset purchases by central banks and all the rest of the Keynesian Cult's program stopped: the status quo falls apart.
Keynesianism Vs The Real World
Let's start by reviewing the core contexts of the economy.
1. The dominant socio-economic structures since around 1500 AD are profit-maximizing capital ("the market") and nation-states ("the government").
2. The dominant economic theory for the past 80 years is Keynesianism, i.e. the notion that the state and central bank must aggressively manage private-sector consumption (demand) and lending via centrally planned and funded fiscal and monetary stimulus during downturns (recessions/depressions).
Simply put, the conventional view holds that there are two (and only two) solutions for whatever ails the economy: the market (profit-maximizing capital) or the government (nation-states and their central banks). Proponents of each blame all economic and social ills on the other one.
In the real world, the vast majority of Earth's inhabitants operate in economies with both market and state-controlled dynamics in varying degrees.
The Keynesian world-view is doggedly simplistic. The economy is based on aggregate demand for more goods and services. People want more stuff and services, and as long as they have the means to buy more stuff and services, they will avidly do so (this urge is known as animal spirits).
The greatest single invention of all time in the Keynesian universe is credit, because credit enables people to borrow from their future earnings to consume more in the present. Credit thus expands aggregate demand for more goods and services, which is the whole purpose of existence in this world-view: buy more stuff.
But credit, aggregate demand for more stuff and animal spirits make for a volatile cocktail. The euphoria of those making scads of profit lending money to those euphorically buying more stuff with credit leads to standards of financial prudence being loosened. In effect, lenders and borrowers start seeing opportunities for profit and more consumption through the distorted lens of vodka goggles.
Lenders reckon that even marginal borrowers will earn more in the future and therefore are good credit risks, and borrowers reckon they'll make more in the future (i.e. the house they just bought to flip will greatly increase their wealth), and so borrowing enormous sums is really an excellent idea—why not make more money/enjoy life more now?
But the real world isn't actually changed by vodka goggles, and so marginal borrowers default on the loans they should never have been issued, and lenders start losing scads of money as the value of the collateral supporting the defaulted loans (used cars, swampland, McMansions, etc.) falls.
Oh dear! The hangover of credit expansion is brutal, as lenders go bankrupt, wiping out their owners, and borrowers go bankrupt as they are unable to make their payments or sell the collateral to pay off the loan.
Just as credit expansion feeds on itself—everybody's making a fortune buying and flipping houses, let's go buy a house or two on credit—the hangover is also self-reinforcing: the value of collateral falling pushes more marginal borrowers into insolvency, and the lenders who made the loans are pushed into insolvency as defaults increase and collateral melts like ice in Death Valley.
In the Keynesian universe, this self-reinforcing contraction of imprudent credit and widespread losses of speculative wealth are Bad Things. Very Bad Things. Important, Powerful People tend to own issuers of credit (banks), and losses are not something they signed up for.
If all the Little People stop borrowing more money, the Powerful Owners of the credit-issuing machines (banks) can no longer reap enormous profits from issuing more credit, and that is a Very Bad Thing.
As a nasty side-effect of the credit hangover, businesses that depended on people borrowing more money to buy more stuff also shrink, and this contraction is also self-reinforcing: as sales decline, businesses must cut costs to stay solvent, which means laying off employees, abandoning under-utilized offices, closing factories, etc.
The euphoria of credit expansion turns to painful contraction. Nobody's happy in the hangover phase, and people naturally cry out, Somebody do something to stop the pain!
The Keynesian answer is simple: the government should borrow and spend lots of money to replace all the money that the private sector is no longer borrowing and spending, and the central bank should lower interest rates and create a lot of new money that private banks can borrow cheaply to loan out to private-sector businesses and consumers.
In the simplistic Keynesian Universe, the credit contraction is like a temporary drought: all the government and central bank have to do to fix the drought is release a flood of new money onto the parched landscape of the credit-starved private sector, and aggregate demand and new loans will blossom like spring flowers.
Horray for central states and banks! Given the power to borrow (or create out of thin air) as much money as they need to flood the private sector with fresh money and credit, the drought ends, animal spirits are revived, people get to buy more stuff by promising to give their future earnings to banks and Powerful Owners of banks are once again earning great gobs of cash from lending to the Little People (i.e. borrowers in danger of becoming debt-serfs, whose earnings go largely to service their debts).
In the crayon-coloring book of Keynesian ideology, this is The Way the Universe Works. The problem is always a temporary drought of aggregate demand caused by a temporary drought of private-sector credit, and the solution is always a state-central-bank issued flood of money and credit: the government borrows and spends more money to replace declining private spending, and central banks make it cheaper and easier for private banks to issue new loans to enterprises and Little People.
That this coloring-book ideology no longer describes the problem or solution is incomprehensible to the Keynesians. That neither "the market" nor "the government" can solve the current set of problems is equally incomprehensible—not just to Keynesians, but to everyone who unthinkingly accepted that the market and/or the state can always fix whatever problems arise.
Oops! The Flood of Money and Credit Didn't Fix the Economy
The post-credit/asset bubble crashes in 2000 and 2008 and the state/central-bank responses--fiscal and monetary stimulus, a.k.a. flood the land with borrowed money—seemed to confirm the Keynesian world-view: marginal borrowers, lenders and collateral all went south and the stimulus restored animal spirits, which promptly inflated a new credit/asset bubble.
But this time around, the drought never ended, no matter how much money was poured into the economy, and the earnings of borrowers stagnated or declined. (Recall that debt is borrowed from future earnings; if earnings decline, it becomes much more difficult to service existing debt, much less borrow more.)
Federal debt has more than doubled just since 2009 (and tripled since 2001) as the government flooded the land with fiscal stimulus:
Central banks have flooded the global economy with trillions of dollars, euros, yen and yuan, and continue to do so to the tune of $200 billion per month:
Central banks have dumped over $1 trillion in new monetary stimulus in the first four months of 2017—eight years after the "emergency" stimulus began:
Meanwhile, wages are stagnant or declining for the vast majority of wage-earners—even the highly educated:
Household income has fallen across the board:
Stagnating incomes is not a new issue for the bottom 90%; it's a structural reality going back four decades:
Clearly, fiscal and monetary stimulus policies that were supposed to be temporary are now permanent. That isn't what was supposed to happen.
Earnings were supposed to rise once private-sector credit and consumption returned to expansion. As we see here, bank credit and consumer credit have surged higher, but the incomes of the bottom 90% have gone nowhere.
Meanwhile, total debt—government, corporate and household—has rocketed higher, more than doubling from 280% of GDP in 2000 to 584% of GDP in 2016:
As if these weren't bad enough, wealth and income inequality have soared during the era of permanent fiscal-monetary stimulus:
In sum: nothing has worked as the Keynesians expected. Instead, state/central bank measures that were supposed to be temporary are now permanent, and the expansion of private-sector debt has failed to "trickle down" to earnings.
The Keynesian solution—borrowing from future earnings to "bring consumption forward"—has expanded consumption at the cost of enormous increases in debt throughout the economy, which has exacerbated income-wealth inequality and declining real incomes.
Can we finally admit that eight years of following the Keynesian coloring-book plan have not just failed, but failed spectacularly, and not just failed spectacularly, but made the economy even more vulnerable and fragile, as more and more future income must be devoted to service the skyrocketing debts?
Isn't it obvious that there are deeply structural problems in the economy that inflating yet another credit/asset bubble won't fix?
Clearly, the real-world economy does not function like the simplistic Keynesian coloring-book model.
What Comes Next: Contraction
Given the extraordinary failure of both Keynesian stimulus and private-sector credit growth to create a self-sustaining cycle of expansion whose benefits flow to the entire workforce rather than to the top few percent, what can we expect going forward? Can we just keep doubling and tripling the economy's debt load every few years? What if household incomes continue declining? Are these trends sustainable?
In Part 2: Prepare For The Great Global Contraction, we detail why the economy's structural problems languish unaddressed, and how the inflating of yet another speculative credit-asset bubble has not fixed these problems. Instead, the current credit-asset bubble has dramatically increased the fragility of the economy by diverting capital from potentially productive investments to unproductive speculative gambles, and by increasing the unproductive burdens of soaring debt.
When the Great Reflation does finally roll over, there will be plenty of time to ponder what investments might do well—but only those who exit well before the rollover will have the cash to take advantage of the opportunities.
Click here to read the report (free executive summary, enrollment required for full access)
This essay was first published on Peak Prosperity.com under the title "How Long Can The Great Global Reflation Continue?"


If you found value in this content, please join me in seeking solutions by becoming a $1/month patron of my work via patreon.com.
Check out both of my new books, Inequality and the Collapse of Privilege ($3.95 Kindle, $8.95 print) and Why Our Status Quo Failed and Is Beyond Reform ($3.95 Kindle, $8.95 print, $5.95 audiobook) For more, please visit the OTM essentials website.
---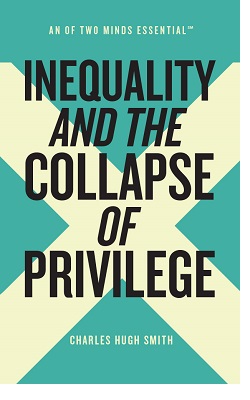 Inequality is rising globally, and rising inequality is destabilizing. A status quo of increasing inequality self-destructs. To avoid this fate, we must answer this question: why is the gulf between the wealthy and everyone else widening so dramatically?
The answer boils down to one word: privilege.
What is privilege? There are many types of privilege, but they all share two characteristics: privilege delivers benefits, wealth and power that are unearned.
Privilege is destabilizing for many reasons: the dead weight of privilege reduces productivity, generates perverse incentives and fuels social injustice. Innovation and competition are threats to privileged monopolies and are therefore suppressed.
The only way to foster sustainable stability is to dismantle institutionalized privilege.
We have a moral imperative to eradicate privilege: privilege is immoral, as rising inequality is the only possible output of privilege. Privilege is exploitive, parasitic, predatory and destructive to the society and economy, and generates inequality by its very nature.
Stripped to its essence, privilege is nothing but institutionalized racketeering.
The only way to reverse rising inequality is to eradicate its source: privilege.
Inequality and the Collapse of Privilege ($3.95 Kindle ebook, $8.95 print edition)
---
Recent entries:
The Keynesian Cult Has Failed: "Emergency" Stimulus Is Now Permanent May 24, 2017
Does the World End in Fire or Ice? Thoughts on Japan and the Inflation/Deflation Debate May 23, 2017
TINA's Legacy: Free Money, Bread and Circuses and Collapse May 22, 2017
Want to Understand Rising Wealth Inequality? Look at Debt and Interest May 19, 2017
The Soft Underbelly of Scandinavian "High-Tax Happy-Capitalism" May 18, 2017
Why We're Fragmenting: The Status Quo Is Disintegrating May 17, 2017
State of Denial: The Economy No Longer Works As It Did in the Past May 16, 2017
Globalization and the Rural-Urban Divide May 15, 2017
Mao and the Middle Class: What's the Source of Political Power? May 11, 2017
How Higher Education Became an Obscenely Profitable Racket That Enriches the Few at the Expense of the Many (Student Debt-Serfs) May 10, 2017
What's Killing the Middle Class? (Part 2) May 9, 2017
What's Killing the Middle Class? (Part 1) May 8, 2017
There Is One Way Out of Debt-Serfdom: Fanatic Frugality May 4, 2017
Redefining the Middle Class: It Isn't What You Earn and Owe, It's What You Own That Generates Income May 3, 2017
The Elites Have Destroyed the Status Quo's Ability to Self-Correct May 2, 2017
International Workers' Day: Profitable Work Will Be Automated, The Rest Will Be Left to Us May 1, 2017


May 2017 April 2017 March 2017 February 2017 January 2017 2016 Archives 2015 Archives Archives 2005-2016
---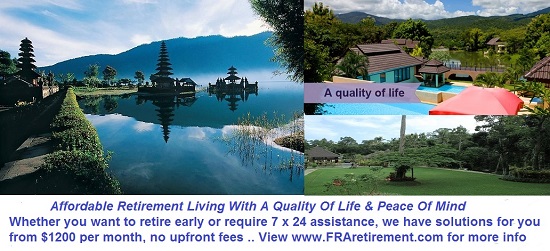 Discover why I'm looking to retire in a SE Asia luxury resort for $1,200/month.

---
Contributions/subscriptions are acknowledged in the order received. Your name and email remain confidential and will not be given to any other individual, company or agency. All contributors are listed below in acknowledgement of my gratitude.
| | | |
| --- | --- | --- |
| Thank you, Guy T. ($50), for your splendidly generous contribution to this site -- I am greatly honored by your steadfast support and readership. | | Thank you, Lien D. ($50), for your massively generous contribution to this site -- I am greatly honored by your support and readership. |
---
---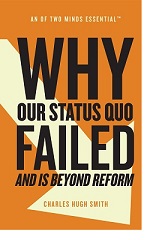 Our status quo--the pyramid of wealth and power dominated by the few at the top--has failed and is beyond reform.
This failure is not rooted in superficial issues such as politics or governmental regulations; the failure is structural.
The very foundation of the status quo has rotted away, and brushing on another coat of reformist paint will not save our societal house from collapse.
Yet those who benefit from our status quo naturally deny it has failed, for the reason that it has yet to fail them personally—either pretending to not understand that all unsustainable systems eventually collapse, or hoping to postpone it.
Our status quo is not only failing to solve humanity's six core problems--it has become the problem.
Since this failure is now inevitable, something is coming to replace it.
Why Our Status Quo Failed and Is Beyond Reform ($3.95 Kindle ebook, $8.95 print edition, $5.95 audiobook)


---
A Radically Beneficial World
: Automation, Technology & Creating Jobs for All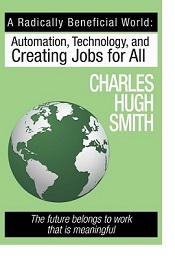 Kindle $9.95
print $25
audiobook $18
Automation is upending the global order by eliminating human labor on an unprecedented scale--and the status quo has no solution to this wholesale loss of jobs.
What if we could hit the reset button on the way we create money, work, commerce and community? What if we could design a social economy rather than a merely financial one? These are not idle questions, for technology now enables us to hit that reset button and organize the creation of money, work, commerce and community in new ways.
If we could start from scratch, what would a new system look like? Clearly, we need a system that offers what the current system cannot: meaningful work for all.
This book is the practical blueprint of a new system that offers opportunities for meaningful work and ownership of the sources of prosperity not just to a few, but to everyone.
A radically beneficial world beckons—what are we waiting for? Introduction Chapter One (free PDF)
---
Get a Job, Build a Real Career and Defy a Bewildering Economy
(Kindle, $9.95)(print, $17.76)
audiobook, $19.95
(Audible.com)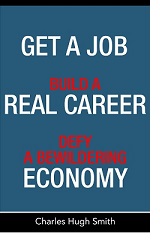 "Don't give this to a recent grad. Read it when your kids are born and then read it with them around eighth grade."
"Finally a book that gives practical career advice. The author does an excellent job describing the current economic and political system and how this affects employment opportunities. Times have changed dramatically, and will continue to do so faster than ever. I'm glad I stumbled upon this excellent book, and will begin preparing myself accordingly." Joseph
"I want to thank you for creating your book Get a Job. It is rare to find a person with a mind like yours, who can take a holistic systems view of things without being captured by specific perspectives or agendas. Your contribution to humanity is much appreciated." Laura Y. Test-drive the first section and see for yourself.
---
---
Of Two Minds Site Links
home musings my books archives books/films policies/disclosures social media/search Aphorisms How to Contribute, Subscribe/Unsubscribe sites/blogs of interest original music/songs Get a Job (book) contributors my definition of success why readers donate/subscribe to Of Two Minds mobile site (Blogspot) mobile site (m.oftwominds.com)