---

---
This Is How Empires Collapse
April 23, 2014

This is how empires collapse: one complicit participant at a time.
Before an empire collapses, it first erodes from within. The collapse may appear sudden, but the processes of internal rot hollowed out the resilience, resolve, purpose and vitality of the empire long before its final implosion.
What are these processes of internal rot? Here are a few of the most pervasive and destructive forces of internal corrosion:
1. Each institution within the system loses sight of its original purpose of serving the populace and becomes self-serving. This erosion of common purpose serving the common good is so gradual that participants forget there was a time when the focus wasn't on gaming the system to avoid work and accountability but serving the common good.
2. The corrupt Status Quo corrupts every individual who works within the system. Once an institution loses its original purpose and becomes self-serving, everyone within either seeks to maximize their own personal share of the swag and minimize their accountability, or they are forced out as a potentially dangerous uncorrupted insider.
The justification is always the same: everybody else is getting away with it, why shouldn't I? Empires decline one corruptible individual at a time.
3. Self-serving institutions select sociopathic leaders whose skills are not competency or leadership but conning others into believing the institution is functioning optimally when in reality it is faltering/failing.
The late Roman Empire offers a fine example: entire Army legions in the hinterlands were listed as full-strength on the official rolls in Rome and payroll was issued accordingly, but the legions only existed on paper: corrupt officials pocketed the payroll for phantom legions.
Self-serving institutions reward con-artists in leadership roles because only con-artists can mask the internal rot with happy-story PR and get away with it.
4. The institutional memory rewards conserving the existing Status Quo and punishes innovation. Innovation necessarily entails risk, and those busy feathering their own nests (i.e. accepting money for phantom work, phantom legions, etc.) have no desire to place their share of the swag at risk just to improve sagging output and accountability.
So reforms and innovations that might salvage the institution are shelved or buried.
5. As the sunk costs of the subsystems increase, the institutional resistance to new technologies and processes increases accordingly. Those manufacturing steam locomotives in the early 20th century had an enormous amount of capital and institutional knowledge sunk in their factories. Tossing all of that out to invest in building diesel-electric locomotives that were much more efficient than the old-tech steam locomotives made little sense to those looking at sunk costs.
As a result, the steam locomotive manufacturers clung to the old ways and went out of business. The sunk costs of empire are enormous, as is the internal resistance to change.
6. Institutional memory and knowledge support "doing more of what worked in the past" even when it is clearly failing. I refer to this institutional risk-avoidance and lack of imagination as doing more of what has failed spectacularly.
Inept leadership keeps doing more of what once worked, even when it is clearly failing, in effect ignoring real-world feedback in favor of magical-thinking. The Federal Reserve is an excellent example.
7. These dynamics of eroding accountability, effectiveness and purpose lead to systemic diminishing returns. Each failing institution now needs more money to sustain its operations, as inefficiencies, corruption and incompetence reduce output while dramatically raising costs (phantom legions still get paid).
8. Incompetence is rewarded and competence punished. The classic example of this was "Good job, Brownie:" cronies and con-artists are elevated to leadership roles to reward loyalty and the ability to mask the rot with good PR. Serving the common good is set aside as sychophancy (obedient flattery) to incompetent leaders is rewarded and real competence is punished as a threat to the self-serving leadership.
9. As returns diminish and costs rise, systemic fragility increases. This can be illustrated as a rising wedge: as output declines and costs rise, the break-even point keeps edging higher, until even a modest reduction of input (revenue, energy, etc.) causes the system to break down: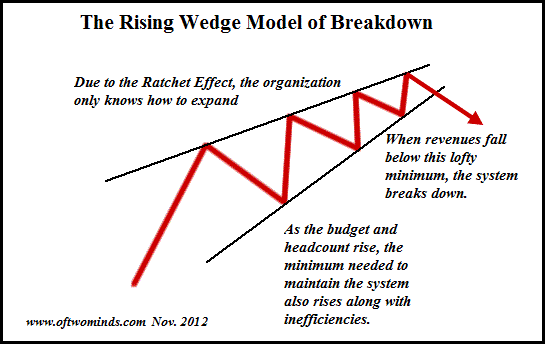 A modern-day example is oil-exporting states that have bought the complicity of their citizenry with generous welfare benefits and subsidies. As their populations and welfare benefits keep rising, the revenues they need to keep the system going require an ever-higher price of oil. Should the price of oil decline, these regimes will be unable to fund their welfare. With the social contract broken, there is nothing left to stem the tide of revolt.
10. Economies of scale no longer generate returns. In the good old days, stretching out supply lines to reach lower-cost suppliers and digitizing management reaped huge gains in productivity. Now that the scale of enterprise is global, the gains from economies of scale have faltered and the high overhead costs of maintaining this vast managerial infrastructure have become a drain.
11. Redundancy is sacrificed to preserve a corrupt and failing core. Rather than demand sacrifices of the Roman Elites and the entertainment-addicted bread-and-circus masses to maintain the forces protecting the Imperial borders, late-Roman Empire leaders eliminated defense-in-depth (redundancy). This left the borders thinly defended. With no legions in reserve, an invasion could no longer be stopped without mobilizing the entire border defense, in effect leaving huge swaths of the border undefended to push back the invaders.
Phantom legions line the pockets of insiders and cronies while creating a useful illusion of stability and strength.
12. The feedback from those tasked with doing the real work of the Empire is ignored as Elites and vested interests dominate decision-making. As I noted yesterday in The Political Poison of Vested Interests, when this bottoms-up feedback is tossed out, ignored or marginalized, all decisions are necessarily unwise because they are no longer grounded in the consequences experienced by the 95% doing the real work.
This lack of feedback from the bottom 95% is captured by the expression "Let them eat cake." (Though attributed to Marie Antoinette, there is no evidence that she actually said Qu'ils mangent de la brioche.)
The point is that decisions made with no feedback from the real-world of the bottom 95%, that is, decisions made solely in response to the demands of cronies, vested interests and various elites, are intrinsically unsound and doomed to fail catastrophically.
How does an Empire end up with phantom legions? The same way the U.S. ended up with ObamaCare/Affordable Care Act. The payroll is being paid but there is no real-world feedback, no accountability, no purpose other than private profit/gain and no common good being served.
That's how empires collapse: one corrupted, self-serving individual at a time, gaming one corrupted, self-serving institution or another; it no longer matters which one because they're all equally compromised. It's not just the border legions that are phantom; the entire stability and strength of the empire is phantom. The uncorruptible and competent are banished or punished, and the corrupt, self-serving and inept are lavished with treasure.
This is how empires collapse: one complicit participant at a time.


---
Want to give an enduringly practical graduation gift? Then give my new book Get a Job, Build a Real Career and Defy a Bewildering Economy, a mere $9.95 for the Kindle ebook edition and $17.76 for the print edition.
---
Join me on May 2 for the Sonoma Wine Country Conference: Investment Ideas Hidden In Plain Sight: great speakers, good cause (benefits Autism Society of America):
---
---
Get a Job, Build a Real Career and Defy a Bewildering Economy
(Kindle, $9.95)(print, $17.76)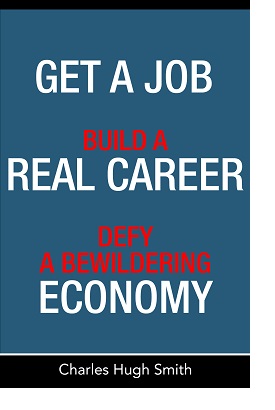 Are you like me?
Ever since my first summer job decades ago, I've been chasing financial security. Not win-the-lottery, Bill Gates riches (although it would be nice!), but simply a feeling of financial control. I want my financial worries to if not disappear at least be manageable and comprehensible.
And like most of you, the way I've moved toward my goal has always hinged not just on having a job but a career.
You don't have to be a financial blogger to know that "having a job" and "having a career" do not mean the same thing today as they did when I first started swinging a hammer for a paycheck.
Even the basic concept "getting a job" has changed so radically that jobs--getting and keeping them, and the perceived lack of them--is the number one financial topic among friends, family and for that matter, complete strangers.
So I sat down and wrote this book: Get a Job, Build a Real Career and Defy a Bewildering Economy.
It details everything I've verified about employment and the economy, and lays out an action plan to get you employed.
I am proud of this book. It is the culmination of both my practical work experiences and my financial analysis, and it is a useful, practical, and clarifying read.
Test-drive the first section and see for yourself. Kindle, $9.95 print, $17.76
"I want to thank you for creating your book Get a Job, Build a Real Career and Defy a Bewildering Economy. It is rare to find a person with a mind like yours, who can take a holistic systems view of things without being captured by specific perspectives or agendas. Your contribution to humanity is much appreciated."
Laura Y.
---
---
HUGE GIANT BIG FAT DISCLAIMER: Nothing on this site should be construed as investment advice or guidance. It is not intended as investment advice or guidance, nor is it offered as such.... (read more)
WHY EMAIL TO THIS SITE IS READ BUT MAY NOT BE ACKNOWLEDGED: Regrettably, I am so sorely pressed for time and energy that I am unable to respond to the vast majority of emails. Please know I read all emails, but I can only devote a very limited number of hours to this blog and all correspondence....
---
This Month's entries:
This Is How Empires Collapse
April 23, 2014
The Political Poison of Vested Interests
April 22, 2014
Sorry, Fed Inflationistas: Technology Is Deflationary
April 21, 2014
What's Cooking at Our House: Ciambella
April 19, 2014
It's Time to Retire Gross Domestic Product (GDP) as a Measure of Prosperity
April 18, 2014
It's Time to Ditch the Consumer Price Index (CPI)
April 17, 2014
What's the Difference Between Fascism, Communism and Crony-Capitalism? Nothing
April 16, 2014
The Alienation of Work
April 15, 2014
How To Get a Job Despite the Economy
April 14, 2014
What's Cooking at our House: Appam and Sambar
April 12, 2014
Are We Losing Practical Life-Skills?
April 11, 2014
Now That the U.S. and China Have Picked the Low-Hanging Fruit, Peak Everything Looms
April 10, 2014
Fed to the Sharks, Part 2: Housing and the Death of the Middle Class
April 9, 2014
Fed to the Sharks, Part 1: The Fed Takes Our Money, Gives It to Banks Who Loan It Back to Us at 16%
April 8, 2014
And the Next Big Thing Is ... Degrowth?
April 7, 2014
What's Cooking at Our House: Local Aquaculture Trout
April 5, 2014
My Wish for 2016: We Finally Get a President Who Doesn't Kiss Wall Street's Rear End
April 4, 2014
It's Not Just the Stock Market That's Rigged: the Entire Status Quo Is Rigged
April 3, 2014
What Happens After the Low-Hanging Fruit Has Been Picked?
April 2, 2014
April 2016: Dow Jones-30 Suspended Due to Lack of Interest
April 1, 2014





March 2014 entries
Contributions and Subscriptions
Contributors and subscribers enable Of Two Minds to post 275+ free essays annually. It is for this reason they are Heroes and Heroines of New Media. Without your financial support, the free content would disappear for the simple reason that I cannot keep body and soul together on my meager book sales alone.
NOTE: Contributions/subscriptions are acknowledged in the order received. Your name and email remain confidential and will not be given to any other individual, company or agency. All contributors are listed below in acknowledgement of my gratitude.

---
| | | |
| --- | --- | --- |
| Thank you, Joe G. ($10/month), for your outrageously generous re-subscription to this site -- I am greatly honored by your steadfast support and readership. | | Thank you, John K. ($100), for your outrageously generous contribution to this site -- I am greatly honored by your support and readership. |
---
SPECIAL APPEAL TO READERS OF OFTWOMINDS
from longtime correspondent Cheryl A.:
Charles has warned and informed us about the collapse in housing, peak oil, international affairs and a wide variety of other subjects, including the long-term societal changes that we face.

His analyses/advisories are uncannily prescient and are generally followed several weeks, months, or years later by news stories in the general press that are offered too late to provide protection to a misled/uninformed public.

I am unaware of any other website that provides such broad based commentary with such a level of accuracy.

If you could find an analyst or financial advisor with the depth of knowledge Charles possesses, you would have to pay a handsome sum for the information that he writes about daily.

If you are one of the many readers of oftwominds who has benefitted in any way from the information you receive at this site, I hope that you will make a donation to help keep OTM going. This is one resource we cannot afford to lose!
Thank you, Cheryl, for this vote of confidence.
I can only promise that I will continue to do my best.
---