---

---
Obamacare is a Catastrophe That Cannot Be Fixed
December 6, 2013

Obamacare is a catastrophe that cannot be fixed, because it doesn't fix what's broken in American healthcare.
I just finished a detailed comparison of my current grandfathered health insurance plan from Kaiser Permanente (kp.org), a respected non-profit healthcare provider, and Kaiser's Affordable Care Act (Obamacare) options. I reviewed all the information and detailed tables of coverage and then called a Kaiser specialist to clarify a few questions.
First, the context of my analysis: we are self-employed, meaning there is no employer to pay our healthcare insurance. We pay the full market-rate cost of healthcare insurance. We have had a co-pay plan with kp.org for the past 20+ years that we pay in full because there's nobody else to pay it.
What we pay is pretty much what employers pay. In other words, if I went to work for a company that offered full healthcare coverage, that company would pay what we pay.
Kaiser Permanente (kp.org) is a non-profit. That doesn't mean it can lose money on providing healthcare; if it loses millions of dollars a year (and some years it does lose millions of dollars), eventually it goes broke. All non-profit means is that kp.org does not have to charge a premium to generate profits that flow to shareholders. But it must generate enough profit to maintain its hospitals, clinics, etc., build reserves against future losses, and have capital to reinvest in plant, equipment, training, etc.
As an employer in the 1980s, a manager in non-profit organizations in the early 1990s and self-employed for 20+ years, I have detailed knowledge of previous healthcare insurance costs and coverage. As an employer in the 1980s, I paid for standard 80/20 deductible healthcare insurance for my employees. The cost was about $50 per month per employee, who were mostly in their 20s and 30s. In today's money, that equals $108 per month.
In other words, I have 30+ years of knowledgeable experience with the full (real) costs of healthcare insurance and what is covered by that insurance.
Our grandfathered Kaiser Plan costs $1,217 per month. There is no coverage for medications, eyewear or dental. That is $14,604 per year for two 60-year old adults. We pay a $50 co-pay for any office visit and $10 for lab tests. Maximum out-of-pocket costs per person are $3,500, or $7,000 for the two of us.
We pay $500 per day for all hospital stays and related surgery; out-patient surgery has a $250 co-pay.
So if I suffered a heart attack and was hospitalized and required surgery, I would pay a maximum of $3,500 for services that would be billed out at $100,000 or more were Kaiser providing those services to Medicare.
(Yes, I know Medicare wouldn't pay the full charges, but if Medicare is billed $150,000--not uncommon for a few days in the hospital and surgery-- it will pay $80,000+ for a few days in the hospital and related charges. All of this is opaque to the patient, so it's hard to know what's actually billed and paid.)
In other words, this plan offers excellent coverage of major catastrophic expenses and relatively affordable co-pays for all services.
The closest equivalent coverage under Obamacare is Kaiser's Gold Plan. The cost to us is $1,937 per month or $23,244 a year. The Gold Plan covers medications ($50 per prescription for name-brand, $19 for generics) and free preventive-health visits and tests, but otherwise the coverage is inferior: the out-of-pocket limits are $6,350 per person or $12,700 for the two of us. Lab tests are also more expensive, as are X-rays, emergency care co-pays and a host of other typical charges. Specialty doctor's visits have a $50 co-pay.
The Obamacare Gold Plan would cost us $8,640 more per year. This is a 60% increase. It could be argued that the meds coverage is worth more, but since we don't have any meds that cost more than $8 per bottle at Costco (i.e. generics), the coverage is meaningless to us.
The real unsubsidized cost of Obamacare for two healthy adults ($23,244 annually) exceeds the cost of rent or a mortgage for the vast majority of Americans. Please ponder this for a moment: buying healthcare insurance under Obamacare costs as much or more as buying a house.
A close examination of lower-cost Obamacare options (Bronze) reveals that they are simulacra of actual healthcare insurance, facsimiles of coverage rather than meaningful insurance. The coverage requires subscribers to pay 40% of costs after the deductible, which is $9,000 per family. Total maximum out-of-pocket expenses are $12,700 per family. This coverage would cost us $1,150 per month, and considerably less for younger people.
How many families in America have $9,000 in cash to pay the deductibles, plus the $13,800 annual insurance fees? That totals $22,800 per year. If some serious health issue arose, the family would have to come up with $12,700 (out-of-pocket maximum) and $13,800 (annual cost of insurance), or $26,500 annually.
Is healthcare that costs $26,500 per year truly "insurance"? I would say it is very expensive catastrophic insurance in a system with runaway costs.
The entire Obamacare scheme depends on somebody paying stupendous fees for coverage which then subsidizes the costs for lower-income families and individuals. How many households can afford $23,244 a year for Gold coverage plus $12,700 out-of-pocket for a total of $35,944 annually? How many can afford $26,500 for Bronze coverage?
Recall that the median household income in the U.S. is around $50,000.
How many companies can afford to pay almost $2,000 a month for healthcare insurance per employee? Even if employees pay a few hundred dollars a month, the employers are still paying $20,000 a year per (older) employee.
If an employer can hire someone in a country with considerably lower social-welfare/healthcare costs to do the same work as an American costing them $2,000 per month for healthcare insurance, they'd be crazy to keep the worker in America, unless the worker was so young that the Obamacare costs were low or the worker was a contract/free-lance employee who has to pay his own healthcare costs.
Uninformed "progressives" have suggested that "Medicare for all" is the answer. Their ignorance of exactly how Medicare functions is appalling; recall that Medicare is the system in which an estimated 40% of all expenditures are fraudulent, unneccessary or counter-productive, where a few days in the hospital is billed at $120,000 (first-hand knowledge) and a one-hour out-patient operation is billed at $12,000, along with a half-hour wait in a room that's billed at several thousand more dollars for "observation." (Also first-hand knowledge.)
Medicare is the acme of an out-of-control program that invites profiteering, fraud, billing for phantom services, services that add no value to care, and services designed to game the system's guidelines for maximum profit. If an evil genius set out to design a system that provided the least effective care for the highest possible cost while incentivizing the most egregious profiteering and fraud, he would come up with Medicare.
Does Medicare look remotely sustainable to you? Strip out inventory builds and adjustments from imports/exports and the real economy is growing at about 1.5% annually. As noted yesterday in What Does It Take To Be Middle Class?, the real income of the bottom 90% hasn't changed for 40 years, and has declined by 7% since 2000 when adjusted for inflation.
Here is Medicare's twin for under-age-65 care for low-income households, Medicaid: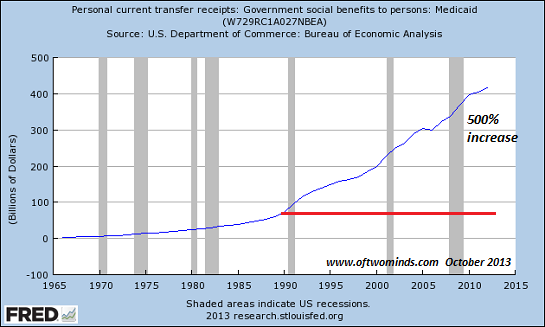 As I have observed for years, Obamacare and Medicare/Medicaid do not tackle the underlying problems of Sickcare costs in America. If you haven't read these analyses, please have a look:
Why "Healthcare Reform" Is Not Reform, Part I (December 28, 2009)
Why "Healthcare Reform" Is Not Reform, Part II (December 29, 2009)
Type sickcare into the custom search box at the top of the left-hand column of the main blog page and you will find dozens of essays addressing what's broken with American healthcare.
Obamacare is a catastrophe that cannot be fixed, because it doesn't fix what's broken in American healthcare. It is a phony reform that extends everything that makes the U.S. healthcare unsustainable sickcare.


If You Seek Practical Gifts, Consider These Everyday Kitchen Tools


---
The Nearly Free University and The Emerging Economy:
The Revolution in Higher Education

Reconnecting higher education, livelihoods and the economy

With the soaring cost of higher education, has the value a college degree been turned upside down? College tuition and fees are up 1000% since 1980. Half of all recent college graduates are jobless or underemployed, revealing a deep disconnect between higher education and the job market.

It is no surprise everyone is asking: Where is the return on investment? Is the assumption that higher education returns greater prosperity no longer true? And if this is the case, how does this impact you, your children and grandchildren?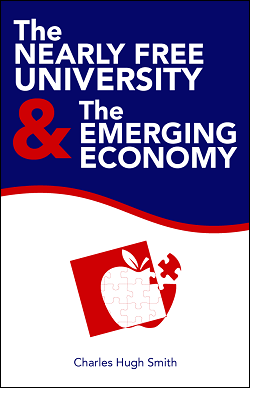 We must thoroughly understand the twin revolutions now fundamentally changing our world: The true cost of higher education and an economy that seems to re-shape itself minute to minute.
The Nearly Free University and the Emerging Economy clearly describes the underlying dynamics at work - and, more importantly, lays out a new low-cost model for higher education: how digital technology is enabling a revolution in higher education that dramatically lowers costs while expanding the opportunities for students of all ages.
The Nearly Free University and the Emerging Economy provides clarity and optimism in a period of the greatest change our educational systems and society have seen, and offers everyone the tools needed to prosper in the Emerging Economy.
Read the Foreword, first section and the Table of Contents.

print ($20) Kindle ($9.95)

---
Things are falling apart--that is obvious. But why are they falling apart?
The reasons are complex and global. Our economy and society have structural problems that cannot be solved by adding debt to debt. We are becoming poorer, not just from financial over-reach, but from fundamental forces that are not easy to identify. We will cover the five core reasons why things are falling apart: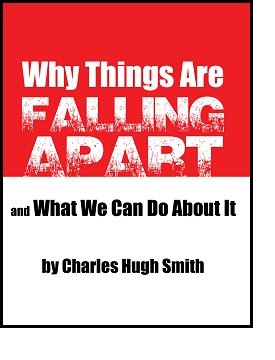 1. Debt and financialization
2. Crony capitalism
3. Diminishing returns
4. Centralization
5. Technological, financial and demographic changes in our economy
Complex systems weakened by diminishing returns collapse under their own weight and are replaced by systems that are simpler, faster and affordable. If we cling to the old ways, our system will disintegrate. If we want sustainable prosperity rather than collapse, we must embrace a new model that is Decentralized, Adaptive, Transparent and Accountable (DATA).
We are not powerless. Once we accept responsibility, we become powerful.
HUGE GIANT BIG FAT DISCLAIMER: Nothing on this site should be construed as investment advice or guidance. It is not intended as investment advice or guidance, nor is it offered as such.... (read more)
WHY EMAIL TO THIS SITE IS READ BUT MAY NOT BE ACKNOWLEDGED: Regrettably, I am so sorely pressed for time and energy that I am unable to respond to the vast majority of emails. Please know I read all emails, but I can only devote a very limited number of hours to this blog and all correspondence....
---
SPECIAL APPEAL TO READERS OF OFTWOMINDS
from longtime correspondent Cheryl A.:
Charles has warned and informed us about the collapse in housing, peak oil, international affairs and a wide variety of other subjects, including the long-term societal changes that we face.

His analyses/advisories are uncannily prescient and are generally followed several weeks, months, or years later by news stories in the general press that are offered too late to provide protection to a misled/uninformed public.

I am unaware of any other website that provides such broad based commentary with such a level of accuracy.

If you could find an analyst or financial advisor with the depth of knowledge Charles possesses, you would have to pay a handsome sum for the information that he writes about daily.

If you are one of the many readers of oftwominds who has benefitted in any way from the information you receive at this site, I hope that you will make a donation to help keep OTM going. This is one resource we cannot afford to lose!
Thank you, Cheryl, for this vote of confidence.
I can only promise that I will continue to do my best.
NOTE: gifts/donations are acknowledged in the order received. Your name and email remain confidential and will not be given to any other individual, company or agency. All contributors are listed below in acknowledgement of my gratitude.
| | | |
| --- | --- | --- |
| | Thank you, Gwyneth M. ($50), for your superbly generous contribution to this site-- I am greatly honored by your support and readership. | |
---
"This guy is THE leading visionary on reality. He routinely discusses things which no one else has talked about, yet, turn out to be quite relevant months later."
--Walt Howard, commenting about CHS on another blog.
"You shine a bright and piercing light out into an ever-darkening world."
Jeremy Beck

---
Or send him coins, stamps or quatloos via mail--please request P.O. Box address.
Gifts/donations in any amount are greatly appreciated.

---
Subscribers ($5/mo) and contributors of $50 or more this year will receive a weekly email of exclusive (though not necessarily coherent) musings and amusings ($50/year is about 96 cents a week).
At readers' request, there is also a $10/month subscription option.
What subscribers are saying about the Musings (Musings samples here):

"What makes you a channel worth paying for? It's actually pretty simple - you possess a clarity of thought that most of us can only dream of, and a perspective that allows you to focus on the truth with laser-like precision." Jim S.
The "unsubscribe" link is for when you find the usual drivel here insufferable.

Your readership is greatly appreciated with or without a donation. This Month's entries:

Obamacare is a Catastrophe That Cannot Be Fixed
December 6, 2013

What Does It Take To Be Middle Class?
December 5, 2013

Looming U.S. Retail Implosion: DeGrowth 2014
December 4, 2013

Dow 40,000, SPX 4,000: Is this Fed-Fueled Stock Rally Sustainable?
December 3, 2013

America's Excuse Book: Take Your Choice, Victim or Heartless Hypocrite
December 2, 2013

Thankfulness: Abundance, Opportunity, Openness
December 1, 2013


Metallic Money (Gold/Silver) vs. Credit Money: Know the Difference
November 29, 2013

What I'm Grateful For
November 28, 2013

Why Is Debt the Source of Income Inequality and Serfdom? It's the Interest, Baby
November 27, 2013


November 2013 entries

December 2012 entries





Heroes and Heroines of New Media--2013
Subscribers ($5/mo) and contributors who have donated $50 or more (or made multiple donations totalling $50 or more) this year will receive a weekly email of exclusive (though not necessarily coherent) Musings and amusings ($50/year is about 96 cents a week). (read samples here).
Outrageously Generous Supporters
Into this category fall those kind contributors who not only overlook the peculiar mix of topics and inconsistent quality of the site but who have perversely chosen to reward this anachronism with contributions of $100 or more.
Massively Generous Supporters
Into this category fall those kind contributors who are so insanely generous that they have supported the site with contributions of $200 or more.
Thank you all for your ongoing support and encouragement.
| | | | | | |
| --- | --- | --- | --- | --- | --- |
| Massively | Generous: | ($200+) | | | |
| Darren B. | Peter K. | Charles C. | Cudick A. | David K. | David P. |
| Paul L. | Brian K. | Jerzy W. | John K. | Michael N. | Robert M. |
| Stephen B. | Kathy K. | Karl L. | Thomas B. | | |
| | | | | | |
| Outrageously | Generous: | ($100+) | | | |
| Keith B. | Timothy S. | Michael M. | Paul K. | Riley T. | Scott C. |
| Steven C. | Al I. | Allen C. | Andrew M. | Bryan S. | Charles R. |
| Cheryl A. | Chris H. | Christine C. | Christopher H. | Christopher T. | Craig H. |
| D. Shannon | Daniel D. | Dennis C. | Don S. | DW M. | Edward D. |
| Eugene M. | Frank S. | G.D. T. | Gary G. | Gary R. | Gregory J. |
| Gregory U. | Guy T. | Harvey D. | James B. | Jan K. | John D'A. |
| John S. | John V. | Jonathan F. | Lewis D. | Michael M. | Michael R. |
| Mike B. | Mike G. | Mike K. | Miles H. | Rob M. | Robert B. |
| Robert B. | Robert D. | Robert P. | Robert Z. | Royce M. | Sam R. |
| Scott S. | Eriram E. | Stace W. | Stephen N. | Steven M. | Thomas B. |
| Tim L. | Willard S. | William B. | William H. | William S. | Kevin K. |
| Steve M. | | | | | |
| | | | | | |
| --- | --- | --- | --- | --- | --- |
| SUBSCRIBERS | ($10/month) | (offered | at | readers' | request) |
| Barry B. | Chad W. | Creig F. | Dana F. | Daniel E.B. | David C. |
| David L. | Deck H. | Donald L. | Donna D. | Doris K. | George B. |
| Gerald O. | Gregory L. | Helen S.C. | Ian C. | James B. | Jeroen T. |
| John F. | John L. | John R. | John S. | John T. | Kevin L. |
| Michael J.R. | Michael R. | MJ M. | Mumtaz S. | Nicolas B. | Richard B. |
| Rita P. | Robb D. | Robert B. | Robert G.N. | Ronald E. | Ryan S. |
| Susan M. | Anthony H. | | | | |
| | | | | | |
| SUBSCRIBERS | ($5/month) | | | | |
| Brendan L.M. | Brian C. | Camille G. | Carl B.T. | Cheryl L.S. | Clyde D. |
| Dan T. | Daniel L.I. | Daniel S. | David C. | David H. | David H. |
| David M. | David R. | David S. | David S. | Denise S. | Dennis M. |
| Deward T. | Doreen H. | Eduardo B. | Edward H. | Edward P. | Fallen Angels Thrash |
| Gail E. | Garrett R. | Gaylan P. | Grace B. | Greg G. | Gregory W. |
| Henry G. | Heriberto V. | Hudon C. | Hugh W. | J Blair C. | James S. |
| Jason B. | Jeffrey C. | Jim S. | Joe G. | John C. | John D. |
| John E. | Ishabaka | John G. | John G. | John H. | John R. |
| Keith K. | Keith M. | Kendall H. | Kenji K. | Kevin K. | Kevin M. |
| Kurt A. | Larry S. | Marcia M. | Matthew N. | Max J. | Michael C. |
| Michael M.H. | Michael S. | Michael W. | Millie N. | Nathan J. | Pamela U. |
| Paul B. | Peter B.C. | Quentin V.T. | Ralph M. | Ralph S. | Rekha S. |
| Rick E. | Robert B. | Robert E. | Robert G. | Robert M. | Robert M. |
| Robert P. | Roy M. | Russ J. | Russ R. | Ryan L. | Santiago A. |
| Scott F. | Kevin O. | Steve S. | Steven B. | Steven L. | Stuart O. |
| Sue K. | T.D. B. | Thomas K. | Thomas O'C. | Todd B. G. | Tracy P. |
| Tyrone B. | Venkatesh P. | Vera K. | William T. | Bejoy O. | |
| | | | | | |
Heroes
and
Heroines
($50+)
David H.
Bryce W.
Jeffrey W.
Kerry W.
Lynn M.
Michael P.
Michael S.
Philip B.
Richard M.
Steven K.
Robert B.
Alan D.
Dan A.
Eric T.
J.M. S.
James M.
James M.
James P.
Marilyn B.
Michael V.
Richard G.
Richard N.
Scott B.
Vladimir T.
William K.W.
Amy C.
Kenneth C.
Anthony B.
ADR Int'l
Alfred V.
Barney S.
Brenda C.-W.
Brian L.
Bud W.
C. William S.
Christi N.
Christopher B.
Christopher B.
Christopher L.
Claire B.
Craig H.
Dale F.
David B.
David B.
David T.
Dennis G.
Diana S.
Dominick B.
Donald B.
Edward P.
Elizabeth B.
Frank K.
Fredrik A.
G. Wayne A.
Gunnar A.
Gustavo G.
Harry P.
Harry R.
Ilya Z.
J.J. L.
James K.
Jan D. L.
Jim L.
John H.
John V.
Jose S.
Joseph M.
Karen G.
Karl L.
Karsten O.
Kenneth E.
Kenneth M.
Loren F.
Lori U.
Margaret R.
Mark A.
Mark F.
Max M.
Melissa A.
Michael L.
Michael Y.
Mike M.
Nancy E.
Nathan W.
Patricia S.
Paul O'D.
Peter C.
Peter C.
R. Stephen D.
Ralph W.
Ray W.
Rhonda S.G.
Richard P.
Robert C.
Robert M.
Robert V.T.
Robin B.
Ronald L.
Ronald R.
Roy S.
Sharon J.
Shawn B.
Simon C.
Stephen B.
Steven K.
Susan H.
Ted F.
Thomas K.
Toby B.
Tracey T.
Wade P.
Walter J.
William M.
William S.
Yoni F.
Clifford S.
Erle H.
Karen B.
Lee B.
Marsha F.
Mary D.
Michael J.
Roger H.
David C.
Stephen L.
Tony M.
Our Financial Contributors--2013
Thank you all for your gracious and generous support of this modest site.
| | | | | | |
| --- | --- | --- | --- | --- | --- |
| Robert C. | Lance D. | Scott S. | James C. | J.D. Z. | Tyson C. |
| Stephen W. | Naimul C. | Jaebin L. | Charles S. | Gene B. | Roman P. |
| Stephen C. | Paul F. | Arnold N. | Barbara B. | Jack T. | Esoteric Resource Corp. |
| Lawrence R. | Kenneth L. | Michael S. | Hilgenstock C. | George S. | Lawrence M. |
| John L. | Andrew K. | Duane S. | Richard C. | Lakshmanan T. | Susan V. |
| Saurabh K. | Daniel M. | Anne B. | George F. | Ann K.S. | Stephen L. |
| William W. | Michael M. | | | | |
| | | | | | |
If I incorrectly entered your name or contribution category, please email me so I can correct it. It's a one-man shop here and I do make mistakes, but want to remedy them as soon as possible. Thank you.
All content, HTML coding, format design, design elements and images copyright © 2013 Charles Hugh Smith, All rights reserved in all media, unless otherwise credited or noted.
Extra-Special Bonus Aphorisms:
"There is no security on this earth; there is only opportunity."
(Douglas MacArthur)
"We are what we repeatedly do." (Aristotle)
"Do the thing and you shall have the power." (Ralph Waldo Emerson)
"Any intelligent fool can make things bigger, more complex, and more violent. It takes a touch of genius and a lot of courage to move in the opposite direction." (E.F. Schumacher, via Tom R.)
"He who will not risk cannot win." (John Paul Jones)
"When we drink coffee, ideas march in like the army." (Honore de Balzac)
"Progress is not possible without deviation." (Frank Zappa, via Richard Metzger)
"Victory favors those who take pains." (amat victoria curam)
"The man who has a garden and a library has everything." (Cicero, via Lee Bentley)
"A healthy homecooked family meal and a home garden are revolutionary acts." CHS
"Do you know what amazes me more than anything else? The impotence of force to organize anything." (Napoleon Bonaparte)
"The way of the Tao is reversal." (Lao Tzu)
"Chance favours the prepared mind." (Louis Pasteur)
"Success consists of going from failure to failure without loss of enthusiasm." (Winston Churchill)
"Where there is ruin, there is hope for treasures." (Rumi)
"The grand essentials to happiness in this life are something to do, something to love and something to hope for." Joseph Addison (via Susan J.)
"The object of life is not to be on the side of the majority, but to escape finding oneself in the ranks of the insane." (Marcus Aurelius, Meditations, via Wayne H.)
"Passive absorption of marketing-dominated media is the primary activity on the plantation of the mind, and that of course is the goal of the colonial overlords: distraction, passivity, confusion, divide and conquer, and the old stand-by, financial desperation." (CHS)
"While we can always buy back into a trending market, we cannot go back in time and recover a profit lost to greed or complacency." (CHS)
"Whatever remains unconscious emerges later as fate." (Carl Jung)
"Any sufficiently advanced cartel's actions are indistinguishable from magic." (CHS)