The Demise of Dissent: Why the Web Is Becoming Homogenized
November 17, 2017
In other words, we'll be left with officially generated and sanctioned fake news and "approved" dissent.
We've all heard that the problem with the web is fake news, i.e. unsubstantiated or erroneous content that's designed to mislead or sow confusion.
The problem isn't just fake news--it's the homogenization of the web, that is, the elimination or marginalization of independent voices of skepticism and dissent.
There are four drivers of this homogenization:
1. The suppression of dissent under the guise of ridding the web of propaganda and fake news--in other words, dissent is labeled fake news as a cover for silencing critics and skeptics.
2. The sharp decline of advertising revenues flowing to web publishers, both major outlets and small independent publishers like Of Two Minds.
3. The majority of advert revenues now flow into the coffers of the quasi-monopolies Facebook and Google.
4. Publishers are increasingly dependent on these quasi-monopolies for readers and visibility: any publisher who runs afoul of Facebook and Google and is sent to Digital Siberia effectively vanishes.
The reason why publishers' advert incomes are plummeting are four-fold:
1. Most of the advert revenues in the digital market are being skimmed by Facebook and Google, as the chart below illustrates.
2. Ad blockers have become ubiquitous.
3. Few people click on the display ads that are the standard in desktop web publishing; in other words, these ads simply don't work very well, and much of the revenue being generated is click-fraud, i.e. bots not real people clicking on adverts because they're interested in the product/service. As a result, advertisers are pulling away from these type of ads as they search for advert models that aren't so vulnerable to click-fraud.
4. The web is increasingly shifting to mobile, which has fewer advert spots due to the small size of the display. In addition, major third-party advert services such as Google Adsense place restrictions on the number and size of ads being displayed on publishers' sites.
The systemic erosion of advert revenues for everyone other than FB and Google is evident everywhere: for example, BuzzFeed Set to Miss Revenue Target, Signaling Turbulence in Media Prospects for a 2018 initial public offering by the high-profile publisher now appear remote.
Digital publisher BuzzFeed is on track to miss its revenue target this year by a significant amount, the latest sign that troubles in the online-ad business are making it tough for new-media upstarts to live up to lofty expectations.
As a result of these two dynamics--the censorship of dissenting views under the excuse of limiting fake news, and the erosion of advert income--independent publishers are losing ground. While those posting on Facebook and other social media sites have little expectation of monetizing their content, many web publishers made enough income off adverts or affiliated income (from YouTube channels, for example) to justify the enormous time and effort they expended keeping their channel/site going.
As advert income has dwindled, there are only two other revenue models available to publishers: a subscription service or Patreon, i.e. the direct financial support of users/readers/viewers. Major publishers are struggling to build a subscription base large enough to fund their operations, a task made more difficult by the expectation that all content is free or should be free.
Patreon has been a boon for thousands of independent writers, journalists, cartoonists, filmmakers and other creators of content. The Patreon model (as I understand it, and yes I have a Patreon campaign) is not based on content that's behind a paywall available to subscribers only, but on providing incentives in the form of content or other rewards to those who choose to contribute.
The Patreon model only works if enough users/readers/viewers step up to support content creators they value. I think the success of Patreon suggests that many people are willing to support the content creators they value. But like all voluntary revenue models, there's the free-rider issue: people who may have the income to pay a bit for content choose not to, and in essence free-ride on those few who do contribute/pay for content.
Some people have advanced the model of micropayments as the solution to the problem of compensating content creators fairly. While this model has some obvious benefits--pennies charged for access to content might add up to a living for content creators if their audience was large enough--it would still be a voluntary system, and thus it would have the same free-rider issue as every other voluntary payment-for-content idea.
Posting "free" content on social media ends up driving advert revenues to the social media and search monopolies, leaving nothing for the content creators. There is only so much serious content that can be created for free.
If what we're left with is "free" content (i.e. the creator gets no income for creating and posting content), Facebook, Google and click-bait link farms of sensationalist headlines, we'll end up with a thoroughly homogenized web of "approved content" underwritten by lobbyists, the entertainment industry and elitist foundations/think tanks, and little in the way of real dissent or diversity of independent analysis.
In other words, we'll be left with officially generated and sanctioned fake news and "approved" dissent: unemployment is at record lows, inflation is near zero, the "recovery" is alive and well, Russia is the enemy and any suggestion to the contrary is propaganda that must be eradicated as fake news, etc.
Simply put, the web is becoming Orwellian. There's plenty of approved "diversity of opinion," but dissent is being sidelined to the fringes as a risk to the perfection of managed content.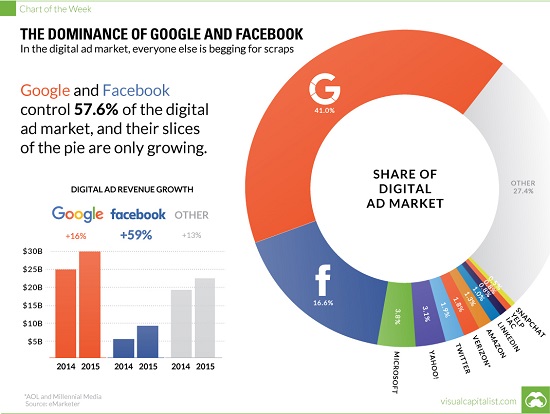 If you found value in this content, please join me in seeking solutions by becoming a $1/month patron of my work via patreon.com.
Check out both of my new books, Inequality and the Collapse of Privilege ($3.95 Kindle, $8.95 print) and Why Our Status Quo Failed and Is Beyond Reform ($3.95 Kindle, $8.95 print, $5.95 audiobook) For more, please visit the OTM essentials website.
---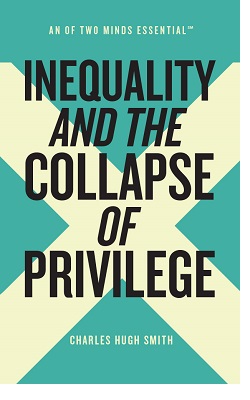 Inequality is rising globally, and rising inequality is destabilizing. A status quo of increasing inequality self-destructs. To avoid this fate, we must answer this question: why is the gulf between the wealthy and everyone else widening so dramatically?
The answer boils down to one word: privilege.
What is privilege? There are many types of privilege, but they all share two characteristics: privilege delivers benefits, wealth and power that are unearned.
Privilege is destabilizing for many reasons: the dead weight of privilege reduces productivity, generates perverse incentives and fuels social injustice. Innovation and competition are threats to privileged monopolies and are therefore suppressed.
The only way to foster sustainable stability is to dismantle institutionalized privilege.
We have a moral imperative to eradicate privilege: privilege is immoral, as rising inequality is the only possible output of privilege. Privilege is exploitive, parasitic, predatory and destructive to the society and economy, and generates inequality by its very nature.
Stripped to its essence, privilege is nothing but institutionalized racketeering.
The only way to reverse rising inequality is to eradicate its source: privilege.
Inequality and the Collapse of Privilege ($3.95 Kindle ebook, $8.95 print edition)
---
Recent entries:
The Demise of Dissent: Why the Web Is Becoming Homogenized November 17, 2017
The Superhero Complex: Are We Incapable of Saving Ourselves? November 16, 2017
Is This Why Productivity Has Tanked and Wealth Inequality Has Soared? November 15, 2017
Mideast Turmoil: Follow the Oil, Follow the Money November 14, 2017
Forget the Bogus Republican "Reform": Here's What Real Tax Reform Would Look Like November 13, 2017
Beat the Crowd November 11, 2017
The Fetid Swamp of Tax Reform November 10, 2017
Where are Europe's Fault Lines? November 9, 2017
Our Culture of Rape November 8, 2017
How Will Bitcoin React in a Financial Crisis Like 2008? November 7, 2017
The Big Reversal: Inflation and Higher Interest Rates Are Coming Our Way November 6, 2017
Let's Clear Up One Confusion About Bitcoin November 3, 2017
What's Driving Social Discord: Russian Social Media Meddling or Soaring Wealth/Power Inequality? November 2, 2017
What the Kennedy Assassination Records Reveal: Uncontrollable Incompetence November 1, 2017
Why Is Bitcoin a Big Deal? October 31, 2017
Japan Just Killed the "Bitcoin Will Be Banned" Meme October 30, 2017
What Could Pop The Everything Bubble? October 28, 2017
Observations on Wealth-Income Inequality (from Federal Reserve Reports) October 27, 2017
Where To Invest When (Almost) Everything's in a Bubble October 26, 2017
Stagnation Nation: Middle Class Wealth Is Locked Up in Housing and Retirement Funds October 25, 2017
How Much of our Discord Is the Result of the "Engagement" Advert Revenue Model of Social Media? October 24, 2017
Why Governments Will Not Ban Bitcoin October 23, 2017


October 2017 September 2017 August 2017 July 2017 June 2017 May 2017 April 2017 March 2017 February 2017 January 2017 2016 Archives 2015 Archives Archives 2005-2016
---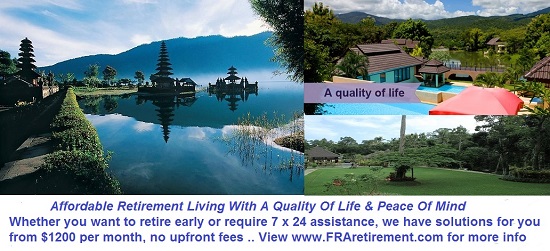 Discover why I'm looking to retire in a SE Asia luxury resort for $1,200/month.

---
Contributions/subscriptions are acknowledged in the order received. Your name and email remain confidential and will not be given to any other individual, company or agency. All contributors are listed below in acknowledgement of my gratitude.
| | | |
| --- | --- | --- |
| | Thank you, George R. ($5), for your most generous contribution to this site-- I am greatly honored by your support and readership. | |
---
---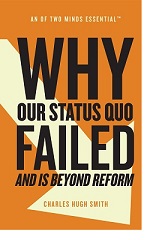 Our status quo--the pyramid of wealth and power dominated by the few at the top--has failed and is beyond reform.
This failure is not rooted in superficial issues such as politics or governmental regulations; the failure is structural.
The very foundation of the status quo has rotted away, and brushing on another coat of reformist paint will not save our societal house from collapse.
Yet those who benefit from our status quo naturally deny it has failed, for the reason that it has yet to fail them personally—either pretending to not understand that all unsustainable systems eventually collapse, or hoping to postpone it.
Our status quo is not only failing to solve humanity's six core problems--it has become the problem.
Since this failure is now inevitable, something is coming to replace it.
Why Our Status Quo Failed and Is Beyond Reform ($3.95 Kindle ebook, $8.95 print edition, $5.95 audiobook)


---
A Radically Beneficial World
: Automation, Technology & Creating Jobs for All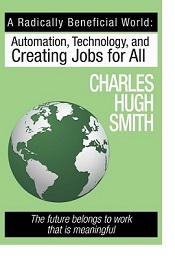 Kindle $9.95
print $25
audiobook $18
Automation is upending the global order by eliminating human labor on an unprecedented scale--and the status quo has no solution to this wholesale loss of jobs.
What if we could hit the reset button on the way we create money, work, commerce and community? What if we could design a social economy rather than a merely financial one? These are not idle questions, for technology now enables us to hit that reset button and organize the creation of money, work, commerce and community in new ways.
If we could start from scratch, what would a new system look like? Clearly, we need a system that offers what the current system cannot: meaningful work for all.
This book is the practical blueprint of a new system that offers opportunities for meaningful work and ownership of the sources of prosperity not just to a few, but to everyone.
A radically beneficial world beckons—what are we waiting for? Introduction Chapter One (free PDF)
---
Get a Job, Build a Real Career and Defy a Bewildering Economy
(Kindle, $9.95)(print, $17.76)
audiobook, $19.95
(Audible.com)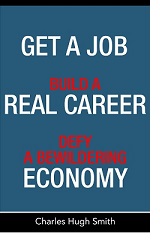 "Don't give this to a recent grad. Read it when your kids are born and then read it with them around eighth grade."
"Finally a book that gives practical career advice. The author does an excellent job describing the current economic and political system and how this affects employment opportunities. Times have changed dramatically, and will continue to do so faster than ever. I'm glad I stumbled upon this excellent book, and will begin preparing myself accordingly." Joseph
"I want to thank you for creating your book Get a Job. It is rare to find a person with a mind like yours, who can take a holistic systems view of things without being captured by specific perspectives or agendas. Your contribution to humanity is much appreciated." Laura Y. Test-drive the first section and see for yourself.
---
---
Of Two Minds Site Links
home musings my books archives books/films policies/disclosures social media/search Aphorisms How to Contribute, Subscribe/Unsubscribe sites/blogs of interest original music/songs Get a Job (book) contributors my definition of success why readers donate/subscribe to Of Two Minds mobile site (Blogspot) mobile site (m.oftwominds.com)