The Increasingly Fragile Upper-Middle Class
February 8, 2016
Many of these apparently high incomes are completely absorbed by high-cost upper middle class expenses.
Since the top 10% takes home 50% of all household income, it follows that this top slice has most of the discretionary cash, i.e. net income left after taxes, servicing debt and paying for essentials such as food, utilities and housing.
It also follows that the discretionary spending of the top 10% is supporting much of the economy that is dependent on discretionary spending: tourism, eating out, personal trainers, etc.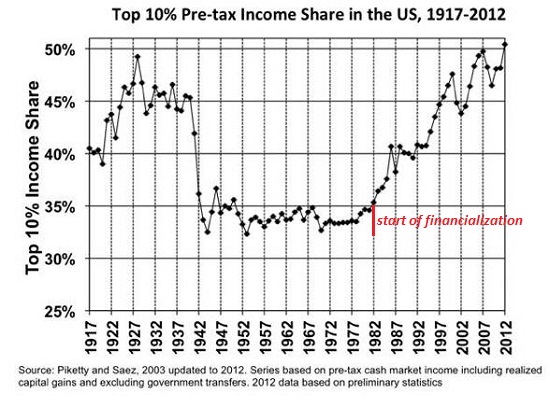 The top 10% includes the thin slice of Financial Oligarchy (top .01%) and the top 1%. This skews the income and wealth of the top 10%. But if we set aside the top 1%, the next 10% still earns the lion's share of household income.
The top .1% can prop up Maserati sales and buy $5 million vacation homes, but there simply aren't enough super-wealthy to support the U.S. economy. As for the top 1%, they can prop up the local Porsche dealership and pay dock fees at the yacht club, but there aren't enough of them to support the entire economy, either: around 1.5 million qualify as top 1%.
So that leaves the upper-middle class, the roughly 12 million households that earn a disproportionate share of household income, with the task of spending enough discretionary cash to prop up an economy that depends heavily on consumer spending.
Many of these upper-middle class households are far more financially fragile than their substantial incomes suggest. The vast majority of these high-income households depend on two earners, each making substantial salaries, bonuses and benefits such as 401K retirement contributions.
Many of these apparently high incomes are completely absorbed by high-cost upper middle class expenses. $250,000 a year may look like a lot until you throw in a couple of kids attending private prep schools or college, healthcare costs that aren't covered by insurance, an enormous mortgage and sky-high property taxes.
The upper-middle class includes many people with wealth, but it also includes many people who have saved very little, and what they do have is in IRAs and 401Ks trapped in the stock market. Their slide to insolvency can be very quick once one high-earner loses their job and can't find another equally lucrative position in a few months.
Many of these people are vulnerable to a downturn because they own/operate small businesses in discretionary spending sectors--the ones that will get creamed as people cut discretionary spending. Others are sandwiched between kids in college and elderly parents, and their seemingly big incomes are fully allotted to essentials and the generations they are sandwiched between.
One job loss will crumble the entire house of cards. As local government revenues start crumbling along with corporate profits, many high-cost jobs in both thr public and private sectors will suddenly be vulnerable as managers are forced to seek the largest possible savings from job cuts.
The upper-middle class that's supported the "recovery" with massive discretionary spending is far more vulnerable to implosion/insolvency than is generally appreciated.
Subscribers: If you did not receive your Musings Report this week, your subscription has expired. If you would like to resubscribe, you can do so via this page: How to Contribute, Subscribe/Unsubscribe to Of Two Minds.com.
Admin note: I will be busy with family commitments until mid-month. As a result, blog posts will be sporadic and email responses will be near-zero. Thank you for your understanding.
---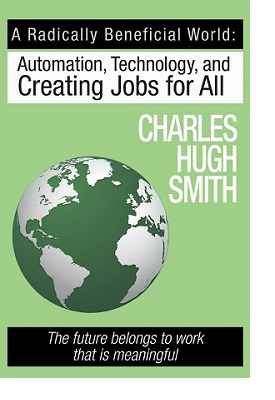 A Radically Beneficial World: Automation, Technology and Creating Jobs for All: The Future Belongs to Work That Is Meaningful (Kindle, $8.95)(print, $25).
The print edition is $25, but there's a $6 discount through my publisher's page for the book: use the code JPW86XRB to get the $6 discount. Note this does not include shipping, and requires purchasing through Createspace.
Here is the link to the book's Amazon.com listing, Introduction and Chapter One (free PDF).
"Certainly the author is decades ahead of his time. Humanity will eventually adopt the author's principles written in all of his books. Currently, humanity lives in delusion that the system will continue to serve them. We will see massive changes even in the next decade. Don't waste your money on college--buy the author's books and succeed." Book Reader (via Amazon.com)
---
Recent entries:
The Increasingly Fragile Upper-Middle Class February 8, 2016
The Chart of Doom: When Private Credit Stops Expanding... February 5, 2016
The Opaque Process of Collapse February 4, 2016
Why We Won't Have a "Lehman Moment" in the 2016 Crash February 3, 2016
The Global Economy Could Fall Farther and Faster Than Pundits Expect February 2, 2016
Stupor Bowl 2016 February 1, 2016
Be Your Own Medicine January 29, 2016
Success Is a Source of Destabilization January 28, 2016
The Illusion of Safety: Index Funds Are Not Low-Risk January 27, 2016
The Self-Serving Apologists for Student Debt-Serfdom January 26, 2016
Top-Down "Solutions" = Institutionalized Serfdom, Bottom-Up Solutions = Reviving Opportunity January 25, 2016


January 2016 entries 2015 Archives Archives 2005-2014
---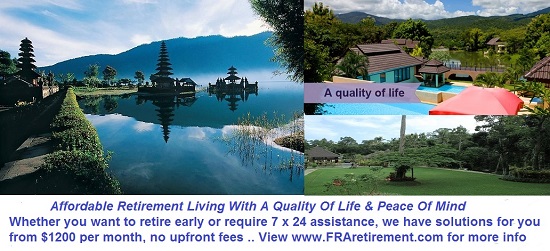 Discover why I'm looking to retire in a SE Asia luxury resort for $1,200/month.
---
Contributions/subscriptions are acknowledged in the order received. Your name and email remain confidential and will not be given to any other individual, company or agency. All contributors are listed below in acknowledgement of my gratitude.
| | | |
| --- | --- | --- |
| Thank you, Sarah M. ($50), for your wondrously generous contribution to this site -- I am greatly honored by your steadfast support and readership. | | Thank you, Clyde D. ($50), for your monstrously generous contribution to this site -- I am greatly honored by your steadfast support and readership. |
---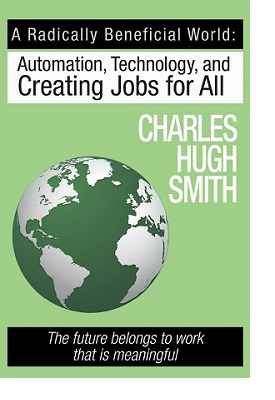 Kindle, $9.95
print, $25
Automation is upending the global order by eliminating human labor on an unprecedented scale--and the status quo has no solution to this wholesale loss of jobs.
What if we could hit the reset button on the way we create money, work, commerce and community? What if we could design a social economy rather than a merely financial one? These are not idle questions, for technology now enables us to hit that reset button and organize the creation of money, work, commerce and community in new ways.
If we could start from scratch, what would a new system look like? Clearly, we need a system that offers what the current system cannot: meaningful work for all.
This book is the practical blueprint of a new system that offers opportunities for meaningful work and ownership of the sources of prosperity not just to a few, but to everyone.
In this system, every individual has the power to change the system for the betterment of themselves and every other participant. Being at the top of the heap is no longer a prerequisite. Everyone who is powerless in the current arrangement is empowered in the new system. Empowered to not just better themselves and their family, but better their community and the larger community of Planet Earth.
A radically beneficial world beckons—what are we waiting for? Introduction Chapter One (free PDF)
---
Get a Job, Build a Real Career and Defy a Bewildering Economy
(Kindle, $9.95)(print, $17.76)
audiobook, $19.95
(Audible.com)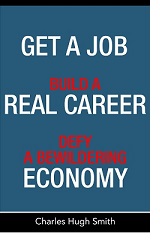 "Don't give this to a recent grad. Read it when your kids are born and then read it with them around eighth grade."
"Finally a book that gives practical career advice. The author does an excellent job describing the current economic and political system and how this affects employment opportunities. Times have changed dramatically, and will continue to do so faster than ever. I'm glad I stumbled upon this excellent book, and will begin preparing myself accordingly." Joseph
"I want to thank you for creating your book Get a Job. It is rare to find a person with a mind like yours, who can take a holistic systems view of things without being captured by specific perspectives or agendas. Your contribution to humanity is much appreciated." Laura Y. Test-drive the first section and see for yourself.


---
Of Two Minds Site Links
home musings my books archives books/films policies/disclosures social media/search Aphorisms How to Contribute, Subscribe/Unsubscribe sites/blogs of interest original music/songs Get a Job (book) contributors my definition of success why readers donate/subscribe to Of Two Minds mobile site (Blogspot) mobile site (m.oftwominds.com)