Regulating Cryptocurrencies--and Why It Matters
December 18, 2017
Nations that attempt to limit cryptocurrencies' ability to solve these problems will find that protecting high costs and systemic friction will grind their economies into dust.
There's a great deal of confusion right now about the regulation of cryptocurrencies such as bitcoin. Many observers seem to confuse "regulation" and "banning bitcoin," as if regulation amounts to outlawing bitcoin.
Further confusing things is the regulation of cryptocurrency exchanges, where cryptocurrencies are bought and sold.
In China, for example, cryptocurrencies are not outlawed, but exchanges were shut down until regulators could get a handle on how to deal with the potential for excesses such as fraud, misrepresentation, etc.
A Wild West free-for-all is conducive to scammers, and so some thoughtful regulation that protects users is to be welcomed.
Governments tax income and capital gains. This is how they fund their activities. Clearly, gains reaped from cryptocurrencies are no different from gains reaped from other speculations and investments, so they should be recorded and taxed in the same manner.
Some enthusiasts of cryptocurrencies seem to think that regulations requiring the reporting and taxation of gains made buying and selling cryptocurrencies is tantamount to destroying cryptocurrencies.
I think this view has it backwards: fully legalizing and regulating cryptocurrencies as financial instruments legitimizes them in a much wider circle of potential users, and common-sense regulations are to be encouraged and welcomed, not viewed as threats to cryptocurrencies.
I want to stress that beneath all the speculative frenzy we see in the cryptocurrencies, what will retain value and remain scarce and in demand is whatever solves problems.
Cryptocurrencies have the potential to solve two problems:
1. reducing the cost and friction of financial intermediaries.
2. holding value as the $250 trillion in phantom wealth created in the asset bubbles of the past 12 years vanishes.
These are real problems: financial intermediaries introduce a great amount of friction and cost globally, and even a modest reduction in cost and friction (time, effort, compliance, recording transactions, etc.) would add up very quickly.
The global value of real estate, stocks, bonds and debt-assets such as mortgages and auto loans is around $500 trillion. By my rough estimate, about half of this was created in the past 12 years as central banks inflated enormous bubbles.
A house that was worth $200,000 in 2005 is now worth $500,000, but it provides no additional value as shelter; it is the exact same house with the exact same utility value. So the additional $300,000 of current market value is entirely phantom wealth.
The same can be said of all the other assets whose value has skyrocketed: the underlying assets/collateral haven't changed enough to justify the current valuations.
Once the bubbles in stocks, bonds, housing, commercial real estate and debt-assets start popping, the owners of all that phantom wealth will be desperate to sell what is dropping in value and convert that wealth into assets that are either holding their value or appreciating.
Virtually all of this newly created financial "wealth" is ephemeral. Bitcoin et al. are routinely criticized as being "worthless" due to their digital/ephemeral nature.
But critics rarely if ever examine the equally ephemeral nature of $250 trillion in financial "wealth."
Bitcoin in particular has two features which may be viewed as having value as all these coordinated bubbles pop:
1. The organization and distribution of bitcoin is mathematical. It is not something that can be changed at the whim of a handful of self-serving people in a room (i.e. central bankers).
2. It is limited in quantity.
Some critics claim this can be changed, but that's not the way it works. A group of bitcoin miners can propose a new version of bitcoin that will issue a trillion coins, but if nobody supports their new version, it dies.
In other words, the marketplace of users decides what has value and what doesn't.
Regulations that enable cryptocurrencies to solve the two problems listed above should be welcomed, as these problems are structural and impact everyone in some fashion.
Nations that attempt to limit cryptocurrencies' ability to solve these problems will find that protecting high costs and systemic friction will grind their economies into dust.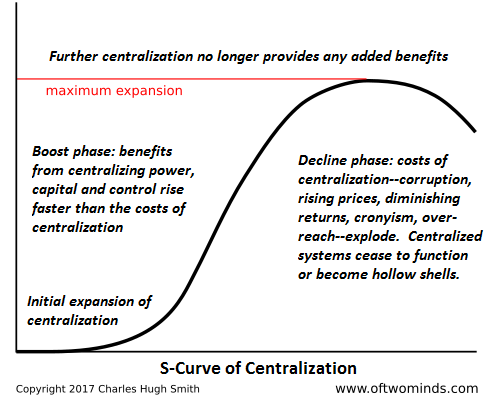 I'm offering my new book Money and Work Unchained at a 10% discount ($8.95 for the Kindle ebook and $18 for the print edition) through December, after which the price goes up to retail ($9.95 and $20).
Read the first section for free in PDF format.


If you found value in this content, please join me in seeking solutions by becoming a $1/month patron of my work via patreon.com.
---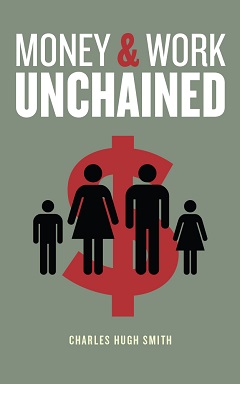 (Kindle ebook $8.95, print $18
10% discount
)
This is the most important book I have written. It started when I asked myself a question: when we dream of the future of our society, are we hoping for the right things?
The current conventional-wisdom view of our soon-to-be future is rose-tinted: automation will free millions of people from the drudgery of work, then by taxing the robots doing all the work, we can pay everyone Universal Basic Income (UBI), enabling a life of leisure and artistic pursuit for all. The result: A future of Universal Happiness.
But is this accurate? Is this what UBI is actually capable of doing? More importantly, is this what we want?
And even more importantly: will this "future" be our best future? Will it account for and manage the practicalities of work, money and automation, given the limits of endless growth on a finite planet?
Money and Work Unchained drags the now-popular concept of Universal Basic Income (UBI) from the shadows of Pundit blather into a harsh, illuminating light, and in doing so presents an entirely new view of the future that upends our conventional, foundational, understanding of work and money.
This book lays out a practical pathway that realigns work, money and human fulfillment into a sustainable system that sheds the inequalities and injustices of the status quo in favor of a human-scale way of living.
And – it gives us a future to truly hope for.
Kindle ebook $8.95, print $18 (10% discount)
---
Recent entries:
Regulating Cryptocurrencies--and Why It Matters December 18, 2017
Have We Reached Peak NFL? December 15, 2017
The Christmas Letter I'd Like To See December 14, 2017
Could Central Banks Dump Gold in Favor of Bitcoin? December 13, 2017
Three Bubbles/Strikes and You're Out December 12, 2017
Bitcoin vs Fiat Currency: Which Fails First? December 11, 2017
Marx, Robotics and the Collapse of Profits December 9, 2017
Misunderstanding the Economics of Robotics December 8, 2017
What Is Money? (Yes, We're Talking About Bitcoin) December 7, 2017
A Radical Critique of Universal Basic Income December 6, 2017
The Cost Basis of our Economy is Spiraling Out of Control December 5, 2017
Stock Market 2018: The Tao vs. Central Banks December 4, 2017
The Path to Impeachment December 2, 2017
The Internecine Deep State Conflict Moves to Stage Two December 1, 2017


November 2017 October 2017 September 2017 August 2017 July 2017 June 2017 May 2017 April 2017 March 2017 February 2017 January 2017 2016 Archives 2015 Archives Archives 2005-2016
---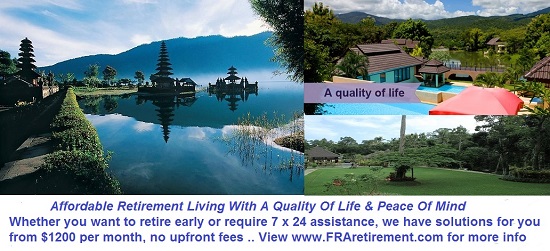 Discover why I'm looking to retire in a SE Asia luxury resort for $1,200/month.

---
Contributions/subscriptions are acknowledged in the order received. Your name and email remain confidential and will not be given to any other individual, company or agency. All contributors are listed below in acknowledgement of my gratitude.
| | | |
| --- | --- | --- |
| | Thank you, Susan M. ($10/month), for your outrageously generous pledge to this site-- I am greatly honored by your most steadfast support and readership. | |
---
---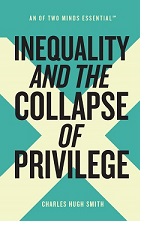 Inequality is rising globally, and rising inequality is destabilizing. A status quo of increasing inequality self-destructs. To avoid this fate, we must answer this question: why is the gulf between the wealthy and everyone else widening so dramatically?
The answer boils down to one word: privilege.
What is privilege? There are many types of privilege, but they all share two characteristics: privilege delivers benefits, wealth and power that are unearned.
Privilege is destabilizing for many reasons: the dead weight of privilege reduces productivity, generates perverse incentives and fuels social injustice. The only way to foster sustainable stability is to dismantle institutionalized privilege.
We have a moral imperative to eradicate privilege: privilege is immoral, as rising inequality is the only possible output of privilege.
Stripped to its essence, privilege is nothing but institutionalized racketeering. The only way to reverse rising inequality is to eradicate its source: privilege.
Inequality and the Collapse of Privilege ($3.95 Kindle ebook, $8.95 print edition)
---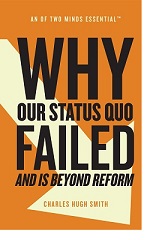 Our status quo--the pyramid of wealth and power dominated by the few at the top--has failed and is beyond reform.
This failure is not rooted in superficial issues such as politics or governmental regulations; the failure is structural.
The very foundation of the status quo has rotted away, and brushing on another coat of reformist paint will not save our societal house from collapse.
Yet those who benefit from our status quo naturally deny it has failed, for the reason that it has yet to fail them personally—either pretending to not understand that all unsustainable systems eventually collapse, or hoping to postpone it.
Our status quo is not only failing to solve humanity's six core problems--it has become the problem.
Since this failure is now inevitable, something is coming to replace it.
Why Our Status Quo Failed and Is Beyond Reform ($3.95 Kindle ebook, $8.95 print edition, $5.95 audiobook)


---
A Radically Beneficial World
: Automation, Technology & Creating Jobs for All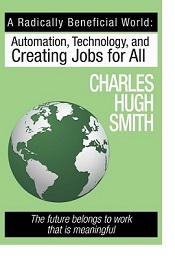 Kindle $9.95
print $25
audiobook $18
Automation is upending the global order by eliminating human labor on an unprecedented scale--and the status quo has no solution to this wholesale loss of jobs.
What if we could hit the reset button on the way we create money, work, commerce and community? What if we could design a social economy rather than a merely financial one? These are not idle questions, for technology now enables us to hit that reset button and organize the creation of money, work, commerce and community in new ways.
If we could start from scratch, what would a new system look like? Clearly, we need a system that offers what the current system cannot: meaningful work for all.
This book is the practical blueprint of a new system that offers opportunities for meaningful work and ownership of the sources of prosperity not just to a few, but to everyone.
A radically beneficial world beckons—what are we waiting for? Introduction Chapter One (free PDF)
---
Get a Job, Build a Real Career and Defy a Bewildering Economy
(Kindle, $9.95)(print, $17.76)
audiobook, $19.95
(Audible.com)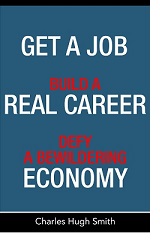 "Don't give this to a recent grad. Read it when your kids are born and then read it with them around eighth grade."
"Finally a book that gives practical career advice. The author does an excellent job describing the current economic and political system and how this affects employment opportunities. Times have changed dramatically, and will continue to do so faster than ever. I'm glad I stumbled upon this excellent book, and will begin preparing myself accordingly." Joseph
"I want to thank you for creating your book Get a Job. It is rare to find a person with a mind like yours, who can take a holistic systems view of things without being captured by specific perspectives or agendas. Your contribution to humanity is much appreciated." Laura Y. Test-drive the first section and see for yourself.
---
---
Of Two Minds Site Links
home musings my books archives books/films policies/disclosures social media/search Aphorisms How to Contribute, Subscribe/Unsubscribe sites/blogs of interest original music/songs Get a Job (book) contributors my definition of success why readers donate/subscribe to Of Two Minds mobile site (Blogspot) mobile site (m.oftwominds.com)