What Can We Say About a System that Criminalizes a Safe Painkiller (0 Deaths) and Promotes Big Pharma Opiates that Have Killed 165,000 Americans?
August 25, 2016
So when will the citizens wake up to the criminality of their government in favoring killer corporate opiates over safe natural painkillers?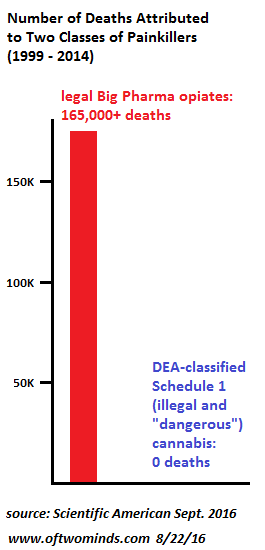 Set your mindset to objective and come with me to the little-known but plucky nation of Lower Slobovia. The residents of Lower Slobovia have two choices when they are suffering from chronic pain:
1. A natural, non-addictive medication that they can grow themselves that has never caused a single fatality due to overdose, adverse reactions or mixing with other drugs (polypharmacy), or
2. synthetic opiates manufactured by pharmaceutical corporations that are highly addictive, trigger multiple adverse reactions, manifest dangerous polypharmaceutical attributes and have killed over 165,000 people in the past 15 years-- 28 times the nation's 5,790 combat deaths in recent military conflicts.
The corporations manufacturing and distributing the synthetic opiates as "safe" hid the truth about their medications from doctors, patients and the media: 'You Want a Description of Hell?' Oxycontin's 12-Hour Problem (via John F.) OxyContin's stunning success masked a fundamental problem: The drug wears off hours early in many people, a Los Angeles Times investigation found. OxyContin is a chemical cousin of heroin, and when it doesn't last, patients can experience excruciating symptoms of withdrawal, including an intense craving for the drug.
So take a guess which class of drugs is perfectly legal and widely promoted by Lower Slobovia's healthcare system, and which one is classified as a restricted Schedule 1 drug by the nation's Drug Enforcement Agency (DEA), i.e. as dangerous as heroin?
I suspect you saw this coming, right? The natural painkiller that never killed a single soul and can be grown at home is criminalized, while the drugs that have already killed 165,000 people (a number that grossly understates the total number of deaths at least partly attributable to synthetic opiates) and addicted and/or harmed millions of other users is perfectly legal, declared "safe" by the pushers (oops, I mean pharmaceutical manufacturers) and the government, and distributed in the tens of millions of doses by the "healthcare" system.
Lower Slobovia's DEA, the corporate manufacturers of the killer-opiates and its healthcare system that slavishly distributes millions of the killer pills should be immediately escorted to Devil's Island and left to rot, right? And the insane laws reversed so the killer corporate synthetic opiates are declared Schedule 1 and heavily criminalized, and the natural nobody-dies painkiller legalized and distributed, right?
Isn't this obvious? Yes, I realize cannabis and opiates are not apples to apples, but you get the point--the drugs that have killed more than 165,000 people and ruined the lives of hundreds of thousands of others should be on Lower Slobovia DEA's Schedule 1 of criminalized drugs instead of being passed out like candy by its "healthcare" system-- a distribtion that has reaped tens of billions of dollars in sales and profits for the pharmaceutical sector.
If you need some official statement to accept the obvious, well then, here you go: Could Medical Cannabis Break the Painkiller Epidemic? (Scientific American, September 2016 issue) A body of research suggests yes, but scientists are having to fight red tape to study whether medical marijuana could substitute for opioid drugs.
The U.S. "is in the midst of an unprecedented opioid epidemic," according to the Department of Health and Human Services. Prescription opioid overdoses killed more than 165,000 Americans between 1999 and 2014, and the health and social costs of abusing such drugs are estimated to be as much as $55 billion a year. The problem has led experts to scramble for a less dangerous alternative for pain relie--and some research points to medical marijuana.
Published in 2014, the study revealed an intriguing trend: between 1999 and 2010, states that permitted medical marijuana had an average of almost 25 percent fewer opioid overdose deaths each year than states where cannabis remained illegal.
So when will the citizens of Lower Slobovia wake up to the criminality of their government in favoring killer corporate opiates over safe natural painkillers, the criminality of the pharmaceutical racketeers who hid the truth from doctors and patients, and the complicity of a "healthcare" industry that has been happy to pass out deadly drugs like candy--at a profit, of course.
As you might have guessed, there is no Lower Slobovia. There is only the U.S.A., a nation "in the midst of an unprecedented opioid epidemic," a nation blind to the lethality of its Destruction Enforcement Agency (DEA), its corporate pushers and its government-funded and enforced "healthcare" system.
Disclosure: I am not a user of either recreational or medicinal cannabis or any corporate opiate. I just think it's time we finally confront the terrible, needless cost in human lives and suffering from our nation's insane, benighted drug laws and our needlessly costly, destructive but oh-so-profitable "healthcare" system.


My new book is #9 on Kindle short reads -> politics and social science: Why Our Status Quo Failed and Is Beyond Reform ($3.95 Kindle ebook, $8.95 print edition) For more, please visit the book's website.
---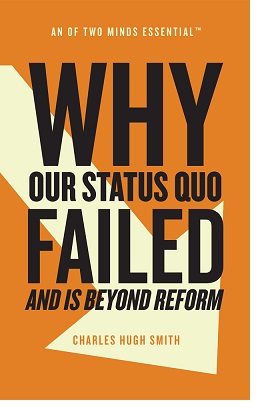 Our status quo--the pyramid of wealth and power dominated by the few at the top--has failed and is beyond reform.
This failure is not rooted in superficial issues such as politics or governmental regulations; the failure is structural.
The very foundation of the status quo has rotted away, and brushing on another coat of reformist paint will not save our societal house from collapse.
Yet those who benefit from our status quo naturally deny it has failed, for the reason that it has yet to fail them personally—either pretending to not understand that all unsustainable systems eventually collapse, or hoping to postpone it.
Our status quo is not only failing to solve humanity's six core problems--it has become the problem.
Since this failure is now inevitable, something is coming to replace it. We must each understand why our status quo has failed, and why the usual menu of reforms can't stop this failure, so we can prepare ourselves for the radical transformations ahead.
Why Our Status Quo Failed and Is Beyond Reform ($3.95 Kindle ebook, $8.95 print edition)
---
Recent entries:
What Can We Say About a System that Criminalizes a Safe Painkiller (0 Deaths) and Promotes Big Pharma Opiates that Have Killed 165,000 Americans? August 25, 2016
The Stock Market 2015-2016: Ugly Chopfest with an Equally Ugly Megaphone August 24, 2016
What Are the Odds that the 2020-2022 Olympics Will Be Cancelled? August 23, 2016
Our Society Is Sick, Our Economy Exploitive and our Politics Corrupt August 22, 2016
What the Fed Hasn't Fixed (and Actually Made Worse) August 19, 2016
It's Time to Abolish the DEA and America's "War on Drugs" Gulag August 18, 2016
The Odds of a Global Food Crisis Are Rising August 17, 2016
The Deep State's Catch-22 August 16, 2016
Here's Why Wages Have Stagnated--and Will Continue to Stagnate August 15, 2016
The Ultimate Long Game: Autarky and Resilience August 12, 2016
The Mainstream Has Failed August 11, 2016
The More the Establishment Freaks Out Over Trump, the More Attractive He Becomes August 10, 2016
Could the Deep State Be Sabotaging Hillary? August 9, 2016
If "Everybody Knows the Economy's Doing Better," What Is That Information Worth? August 8, 2016
Could Inflation Break the Back of the Status Quo? August 5, 2016
What Happens When Rampant Asset Inflation Ends? August 4, 2016
Revealing the Real Rate of Inflation Would Crash the System August 3, 2016
Inflation Hidden in Plain Sight August 2, 2016


August 2016 July 2016 June 2016 May 2016 April 2016 March 2016 February 2016 January 2016 2015 Archives Archives 2005-2016
---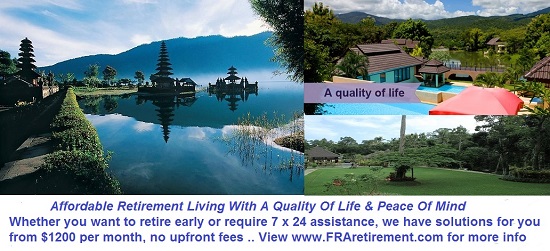 Discover why I'm looking to retire in a SE Asia luxury resort for $1,200/month.

---
Contributions/subscriptions are acknowledged in the order received. Your name and email remain confidential and will not be given to any other individual, company or agency. All contributors are listed below in acknowledgement of my gratitude.
| | | |
| --- | --- | --- |
| | Thank you, Albert B. ($20), for yet another splendidly generous contribution to this site-- I am greatly honored by your steadfast support and readership. | |
---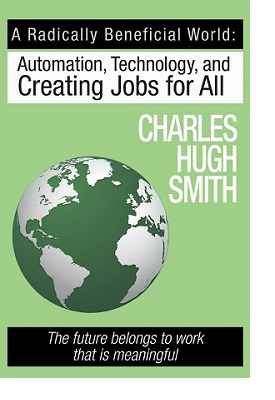 Kindle, $9.95
print, $25
Automation is upending the global order by eliminating human labor on an unprecedented scale--and the status quo has no solution to this wholesale loss of jobs.
What if we could hit the reset button on the way we create money, work, commerce and community? What if we could design a social economy rather than a merely financial one? These are not idle questions, for technology now enables us to hit that reset button and organize the creation of money, work, commerce and community in new ways.
If we could start from scratch, what would a new system look like? Clearly, we need a system that offers what the current system cannot: meaningful work for all.
This book is the practical blueprint of a new system that offers opportunities for meaningful work and ownership of the sources of prosperity not just to a few, but to everyone.
"Certainly the author is decades ahead of his time. Humanity will eventually adopt the author's principles written in all of his books. Currently, humanity lives in delusion that the system will continue to serve them. We will see massive changes even in the next decade. Don't waste your money on college--buy the author's books and succeed." Book Reader (via Amazon.com)
A radically beneficial world beckons—what are we waiting for? Introduction Chapter One (free PDF)
---
Get a Job, Build a Real Career and Defy a Bewildering Economy
(Kindle, $9.95)(print, $17.76)
audiobook, $19.95
(Audible.com)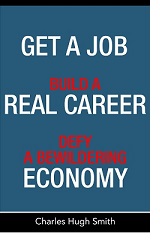 "Don't give this to a recent grad. Read it when your kids are born and then read it with them around eighth grade."
"Finally a book that gives practical career advice. The author does an excellent job describing the current economic and political system and how this affects employment opportunities. Times have changed dramatically, and will continue to do so faster than ever. I'm glad I stumbled upon this excellent book, and will begin preparing myself accordingly." Joseph
"I want to thank you for creating your book Get a Job. It is rare to find a person with a mind like yours, who can take a holistic systems view of things without being captured by specific perspectives or agendas. Your contribution to humanity is much appreciated." Laura Y. Test-drive the first section and see for yourself.


---
Of Two Minds Site Links
home musings my books archives books/films policies/disclosures social media/search Aphorisms How to Contribute, Subscribe/Unsubscribe sites/blogs of interest original music/songs Get a Job (book) contributors my definition of success why readers donate/subscribe to Of Two Minds mobile site (Blogspot) mobile site (m.oftwominds.com)