A Stock Market Crash Scenario
June 26, 2017
The one thing we can know with certainty is it won't be easy to profit from the crash.
After 8+ years of phenomenal gains, it's pretty obvious the global stock market rally is overdue for a credit-cycle downturn, and many research services of Wall Street heavyweights are sounding the alarm about the auto industry's slump, the slowing of new credit and other fundamental indicators that a recession is becoming more likely.
Few have taken the risk of projecting a date for the crash, this gent being a gutsy outlier: Hedge Fund CIO Sets The Day When The Next Crash Begins.
Next February is a good guess, as recessions and market downturns tend to lag the credit market by about 9 months.
My own scenario is based not on cycles or technicals or fundamentals, but on the psychology of the topping process, which tends to follow this basic script: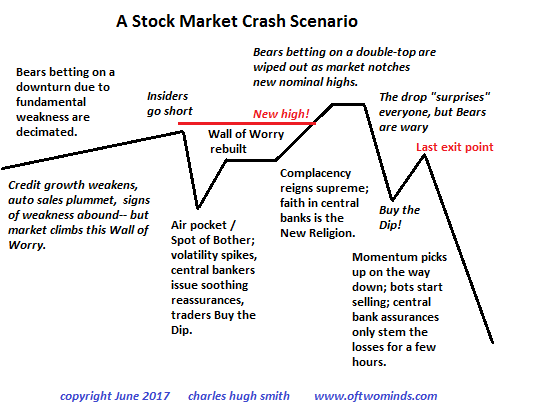 When there are too many bearish reports of gloomy data, and too many calls to go long volatility or go to cash, the market perversely goes up, not down.
Why? This negativity creates a classic Wall of Worry that markets can continue climbing. (Central banks buying $300 billion of assets a month helps power this gradual ascent most admirably.) The Bears betting on a decline based on deteriorating fundamentals are crushed by the steady advance.
As Bears give up, the window for a Spot of Bother decline creaks open, however grudgingly, as central banks make noises about ending their extraordinary monetary policies by raising interest rates a bit (so they can lower them when the next recession grabs the global economy by the throat).
As bearish short interest and bets on higher volatility fade, insiders go short.
A sudden air pocket takes the market down, triggered by some bit of "news." (Nothing like a well-engineered bout of panic selling to set up a profitable Buy the Dip opportunity.)
And since traders have been well-trained to Buy the Dips, the Spot of Bother is quickly retraced.
Nonetheless, doubts remain and fundamental data is still weak; this overhang of negativity rebuilds the wall of Worry.
Some Bears will reckon the weakened market will double-top, i.e. be unable to break out to new highs given the poor fundamentals, and as a result we can anticipate a nominal new high after the Wall of Worry has been rebuilt, just to destroy all those who reckoned a double-top would mark The Top.
Mr. Market (and the central banks) won't make it that easy to reap a fortune by going short.
As the market lofts to new nominal highs, the remaining Bears will be hesitant to go short, and Bulls will note that despite the dire warnings of analysts and the gloomy data on auto sales, credit expansion, productivity, wages, etc., the market keeps chugging higher.
This will infuse participants with complacency and a general sense that the market has weathered the worst than could be thrown at it.
When the surviving Bears have become wary, and the market's resilience in the tide of negative news seems to point to further gains--at that point, the market finally rolls over and "surprises" everyone.
Nice, but when will this happen? Nobody knows, but the key is there can't be a crowd of analysts predicting a decline and begging everyone to go to cash. There can't be huge short interest and massive bets on higher volatility. Everyone betting the farm on a decline and a spike in volatility must first be destroyed before the market can possibly fall.
The crash has to catch almost everyone off guard--those who lost their shirts betting on the market responding rationally to deteriorating data (i.e. those who bet on rising volatility and a market decline), those steeped in complacency and those secure in their quasi-religious faith that the central banks "have our backs and will never let the market drop."
When these conditions are met, the Crash-o-Meter pegs the upper limit of vulnerability.
Pavlovian training is deeply embedded, so the first drop will trigger a Buy the Dip frenzy. This reverses the downturn and creates the last exit point. But so well-trained are traders, few take the last exit; most feel assured that further gains are just ahead.
Central banks are presumed to be all-powerful, and the past 8 years support the conventional belief that a new central bank policy announcement will always reverse any downturn.
But contrary to expectations, selling momentum builds and the trading bots start selling in earnest, the goal being to liquidate the position entirely to escape risk. Central bank pronouncements steady the market and trigger wild spikes higher--but only for a few hours. Things have changed. Central banks cannot reverse the tide of fear, and spikes higher are seen as selling opportunities.
Alas, every bot has the same goal, and the bid disappears. That's one crash scenario; there are many others. The one thing we can know with certainty is it won't be easy to profit from the crash.


If you found value in this content, please join me in seeking solutions by becoming a $1/month patron of my work via patreon.com.
Check out both of my new books, Inequality and the Collapse of Privilege ($3.95 Kindle, $8.95 print) and Why Our Status Quo Failed and Is Beyond Reform ($3.95 Kindle, $8.95 print, $5.95 audiobook) For more, please visit the OTM essentials website.
---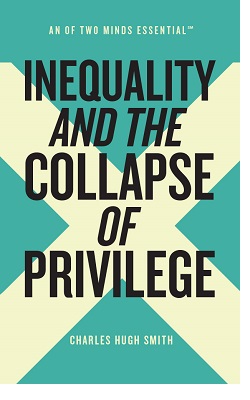 Inequality is rising globally, and rising inequality is destabilizing. A status quo of increasing inequality self-destructs. To avoid this fate, we must answer this question: why is the gulf between the wealthy and everyone else widening so dramatically?
The answer boils down to one word: privilege.
What is privilege? There are many types of privilege, but they all share two characteristics: privilege delivers benefits, wealth and power that are unearned.
Privilege is destabilizing for many reasons: the dead weight of privilege reduces productivity, generates perverse incentives and fuels social injustice. Innovation and competition are threats to privileged monopolies and are therefore suppressed.
The only way to foster sustainable stability is to dismantle institutionalized privilege.
We have a moral imperative to eradicate privilege: privilege is immoral, as rising inequality is the only possible output of privilege. Privilege is exploitive, parasitic, predatory and destructive to the society and economy, and generates inequality by its very nature.
Stripped to its essence, privilege is nothing but institutionalized racketeering.
The only way to reverse rising inequality is to eradicate its source: privilege.
Inequality and the Collapse of Privilege ($3.95 Kindle ebook, $8.95 print edition)
---
Recent entries:
A Stock Market Crash Scenario June 26, 2017
The Over-Criminalization of American Life June 23, 2017
Automation's Destruction of Jobs: You Ain't Seen Nothing Yet June 21, 2017
What Is the Market Telling Us? June 20, 2017
We're in a Boiling-Point Crisis of Exploitive Elites June 19, 2017
Can We See a Bubble If We're Inside the Bubble? June 16, 2017
When the System Thwarts Sincere, Hard-Working People, the System Has Failed June 15, 2017
The Dead Giveaways of Imperial Decline June 13, 2017
We've Lost All Sense of the Common Good June 12, 2017
Debt Has No Consequences? Color Me Skeptical June 8, 2017
The False Promise of Infrastructure Spending June 6, 2017
The Path to Inflation: "Helicopter Money" June 5, 2017
Projecting the Price of Bitcoin June 2, 2017
When the "Fix" Increases Systemic Fragility, Things Fall Apart June 1, 2017


May 2017 April 2017 March 2017 February 2017 January 2017 2016 Archives 2015 Archives Archives 2005-2016
---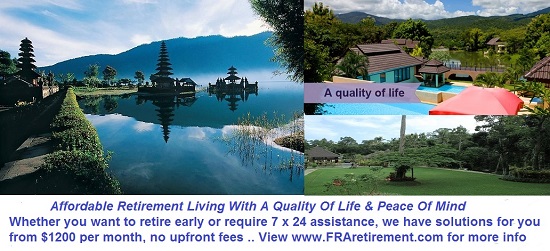 Discover why I'm looking to retire in a SE Asia luxury resort for $1,200/month.

---
Contributions/subscriptions are acknowledged in the order received. Your name and email remain confidential and will not be given to any other individual, company or agency. All contributors are listed below in acknowledgement of my gratitude.
| | | |
| --- | --- | --- |
| Thank you, Laura R. ($5/month), for your stupendously generous pledge to this site -- I am greatly honored by your support and readership. | | Thank you, Jeffrey B. ($5/month), for your magnificently generous pledge to this site -- I am greatly honored by your support and readership. |
---
---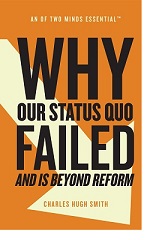 Our status quo--the pyramid of wealth and power dominated by the few at the top--has failed and is beyond reform.
This failure is not rooted in superficial issues such as politics or governmental regulations; the failure is structural.
The very foundation of the status quo has rotted away, and brushing on another coat of reformist paint will not save our societal house from collapse.
Yet those who benefit from our status quo naturally deny it has failed, for the reason that it has yet to fail them personally—either pretending to not understand that all unsustainable systems eventually collapse, or hoping to postpone it.
Our status quo is not only failing to solve humanity's six core problems--it has become the problem.
Since this failure is now inevitable, something is coming to replace it.
Why Our Status Quo Failed and Is Beyond Reform ($3.95 Kindle ebook, $8.95 print edition, $5.95 audiobook)


---
A Radically Beneficial World
: Automation, Technology & Creating Jobs for All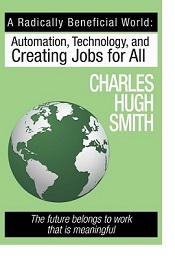 Kindle $9.95
print $25
audiobook $18
Automation is upending the global order by eliminating human labor on an unprecedented scale--and the status quo has no solution to this wholesale loss of jobs.
What if we could hit the reset button on the way we create money, work, commerce and community? What if we could design a social economy rather than a merely financial one? These are not idle questions, for technology now enables us to hit that reset button and organize the creation of money, work, commerce and community in new ways.
If we could start from scratch, what would a new system look like? Clearly, we need a system that offers what the current system cannot: meaningful work for all.
This book is the practical blueprint of a new system that offers opportunities for meaningful work and ownership of the sources of prosperity not just to a few, but to everyone.
A radically beneficial world beckons—what are we waiting for? Introduction Chapter One (free PDF)
---
Get a Job, Build a Real Career and Defy a Bewildering Economy
(Kindle, $9.95)(print, $17.76)
audiobook, $19.95
(Audible.com)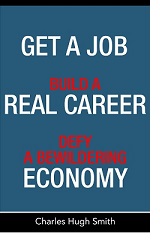 "Don't give this to a recent grad. Read it when your kids are born and then read it with them around eighth grade."
"Finally a book that gives practical career advice. The author does an excellent job describing the current economic and political system and how this affects employment opportunities. Times have changed dramatically, and will continue to do so faster than ever. I'm glad I stumbled upon this excellent book, and will begin preparing myself accordingly." Joseph
"I want to thank you for creating your book Get a Job. It is rare to find a person with a mind like yours, who can take a holistic systems view of things without being captured by specific perspectives or agendas. Your contribution to humanity is much appreciated." Laura Y. Test-drive the first section and see for yourself.
---
---
Of Two Minds Site Links
home musings my books archives books/films policies/disclosures social media/search Aphorisms How to Contribute, Subscribe/Unsubscribe sites/blogs of interest original music/songs Get a Job (book) contributors my definition of success why readers donate/subscribe to Of Two Minds mobile site (Blogspot) mobile site (m.oftwominds.com)