---

---
The Case for a Bull or Bear Market in Two Charts
July 28, 2014

Which appears more likely--a straight-line extension of the past two years' rise in stocks, or another "impossible" decline to complete the megaphone pattern?
There are dozens of charts and data points supporting the case for a continuation of the Bull market in stocks or a reversal into a Bear market. For the sake of brevity I've distilled the two arguments into two charts, one for the Bull case and one for the Bear case.
The Bull case is easy: the economy has reached self-sustaining expansion, a.k.a. escape velocity; hotel occupancy rates are high, home valuations are rising, stocks are fairly valued based on forward earnings, debt has been paid down/written off, and the Fed has tapered its quantitative easing (QE) bond and mortgage buying with no ill effect.
Looking ahead, there is no fundamental or technical reason for stocks to drop significantly; stocks always go up in years ending in 5, and there is nothing magical about 2016 in terms of a decline, either. The market could advance for years.
Bottom line: the advance since early 2012 is founded on solid fundamentals and there's no reason the advance can't continue along with strengthening fundamentals such as corporate profits, rising tax revenues, etc.
The Bear case is based on sentiment, but this reliance on extremes of bullish sentiment is misplaced; the fact that everyone is talking about a bubble in stocks and expecting a correction just goes to show there is no bubble and a correction will simply offer another opportunity to buy the dip, a strategy that has been richly rewarded.
The Fed (and other central banks) have our back: any decline in risk assets will be washed away with another tsunami of near-zero-interest money, liquidity and credit.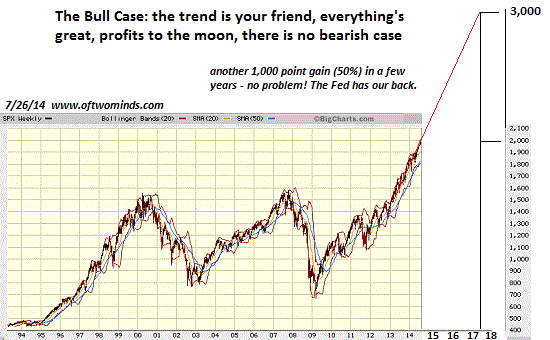 The Bear Case is also simple: the supposedly solid fundamentals of earnings, stock buybacks, etc. are all based on an unprecedented expansion of debt, central bank monetary easing, leverage and systemic risk.
Finance trumps economic data, and financial risk has reached a tipping point: shadow banking is unraveling in China, the Fed already owns most of the new home mortgages that have been issued and has to taper lest it own the entire mortgage/Treasury markets, junk bonds have been bid to the moon, etc.
Debt, leverage and risk have reached bubble heights, and simple cause and effect means the stock market has also reached bubble heights.
Faith in the central banks' ability and willingness to push stock markets higher has reached extremes. Volatility and complacency have both reached levels that historically correspond to major highs.
Take away massive buybacks funded by cheap credit and the market's dependence on financial one-offs will be revealed: the Bull market was never about earnings; it was always about cheap credit, central banks pushing investors into risk assets like stocks and corporate buybacks. Bulls claiming hotel bookings, auto sales and profits are "proof" of a self-sustaining economy are looking at the effects, not the causes.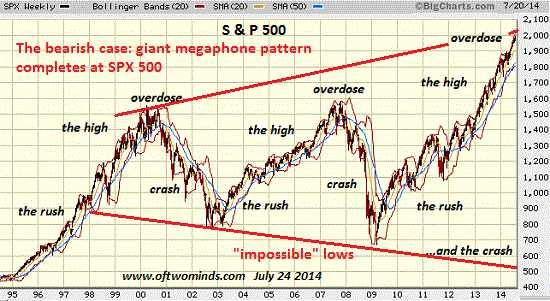 To understand the cycle of credit addiction, please read Are We Addicted to Failure?
Bulls and Bears alike tend to marry their convictions. As we all know, the human mind is uncomfortable with uncertainty, and so once a person chooses the Bull case, recency bias and confirmation bias kick in and the Bull selects recent data that confirms his conviction.
The same tropism toward certainty takes hold of Bears, and those of us without the conviction of marriage watch from the sidelines.
I have long been skeptical of the Bull case based on the unprecedented scale of central bank/state intervention, support and manipulation. If everything's so great, then why does the Fed need to buy trillions of dollars in assets and manipulate markets with reverse repos, etc. and direct purchases via proxies? If a market only rises as a result of such outlandish one-off intervention, how can anyone claim it has any fundamental foundation?
Which appears more likely--a straight-line extension of the past two years' rise in stocks, or another "impossible" decline to complete the megaphone pattern? If stocks continue climbing once the Fed ends its bond-buying in and stock buybacks drop to less frenzied levels, that will be evidence the Bulls are right about the economy's escape velocity.
If the market tanks as soon as the monetary heroin is withdrawn, that will support the Bear's case that financial legerdemain trumps economic data.
Two things favor the Bear case in my view: if volume is the weapon of the Bull (i.e. rising volume drives Bull markets), then the fact that volume has been declining for years is not supportive of the Bulls.
Secondly, I don't see how the economy can reach escape velocity with household income declining in real terms: Five Decades of Middle Class Wages (Doug Short).


---
---
---
Get a Job, Build a Real Career and Defy a Bewildering Economy
(Kindle, $9.95)(print, $17.76)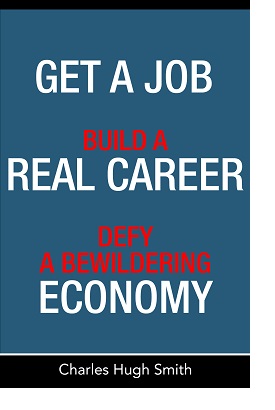 Are you like me?
Ever since my first summer job decades ago, I've been chasing financial security. Not win-the-lottery, Bill Gates riches (although it would be nice!), but simply a feeling of financial control. I want my financial worries to if not disappear at least be manageable and comprehensible.
And like most of you, the way I've moved toward my goal has always hinged not just on having a job but a career.
You don't have to be a financial blogger to know that "having a job" and "having a career" do not mean the same thing today as they did when I first started swinging a hammer for a paycheck.
Even the basic concept "getting a job" has changed so radically that jobs--getting and keeping them, and the perceived lack of them--is the number one financial topic among friends, family and for that matter, complete strangers.
So I sat down and wrote this book: Get a Job, Build a Real Career and Defy a Bewildering Economy.
It details everything I've verified about employment and the economy, and lays out an action plan to get you employed.
I am proud of this book. It is the culmination of both my practical work experiences and my financial analysis, and it is a useful, practical, and clarifying read.
Test-drive the first section and see for yourself. Kindle, $9.95 print, $17.76
"I want to thank you for creating your book Get a Job, Build a Real Career and Defy a Bewildering Economy. It is rare to find a person with a mind like yours, who can take a holistic systems view of things without being captured by specific perspectives or agendas. Your contribution to humanity is much appreciated."
Laura Y.
Gordon Long and I discuss The New Nature of Work: Jobs, Occupations & Careers (25 minutes, YouTube)
---
---
HUGE GIANT BIG FAT DISCLAIMER: Nothing on this site should be construed as investment advice or guidance. It is not intended as investment advice or guidance, nor is it offered as such.... (read more)
WHY EMAIL TO THIS SITE IS READ BUT MAY NOT BE ACKNOWLEDGED: Regrettably, I am so sorely pressed for time and energy that I am unable to respond to the vast majority of emails. Please know I read all emails, but I can only devote a very limited number of hours to this blog and all correspondence....
---
This Month's entries:
The Case for a Bull or Bear Market in Two Charts
July 28, 2014
Our Peach Pie Workshop
July 26, 2014
Are We Addicted to Failure?
July 25, 2014
The Rot Within, Part III: Our Political Order Is Defined by Favoritism and Extortion
July 24, 2014
The Rot Within, Part II: Inflation Is Not "Growth"
July 23, 2014
The Rot Within, Part I: Our Ponzi Economy
July 22, 2014
The Insiders' Case for a Stock Market Mini-Crash
July 21, 2014
Degrowth Solutions: Half-Farmer, Half-X
July 19, 2014
The Coming Crash Is Simply the Normalization of a Mispriced Market
July 18, 2014
Finding Shelter from the Storm Part 2
July 17, 2014
Why America's Healthcare (Sickcare) System Is Broken and Unfixable
July 16, 2014
Why We're Doomed: Interest and Debt
July 15, 2014
You Want a Solution? Try Not to Get Hurt When It Collapses, Then Start Over
July 14, 2014
A Reader Asks: How to Find Shelter from the Coming Storms?
July 11, 2014
Neofeudalism's Tax Donkeys (Yes, You) and the Battle for Control of Resources
July 10, 2014
Why Housing Will Crash Again--But For Different Reasons Than Last Time
July 9, 2014
How Recession-Proof Is Your Job Sector?
July 8, 2014
What's Lurking Beneath the Glossy Veneer of the Jobs Report?
July 7, 2014
What's Cooking at Our House: Stir-Fried Prawns with Black Beans
July 5, 2014
(In)Dependence Day 2014: Freedom from Pain, or Freedom from Dysfunction?
July 4, 2014
Is This a Self-Sustaining Recovery or As Good As It Gets?
July 3, 2014
The Inevitable Stock Market Reversal: The New Normal Is Just Another Bubble Awaiting a Pop
July 2, 2014
The Next Global Meltdown Is Baked In: Connecting the Dots Between Oil, Debt, Interest Rates and Risk
July 1, 2014


June 2014 entries
Contributions and Subscriptions
Contributors and subscribers enable Of Two Minds to post 275+ free essays annually. It is for this reason they are Heroes and Heroines of New Media. Without your financial support, the free content would disappear for the simple reason that I cannot keep body and soul together on my meager book sales alone.
NOTE: Contributions/subscriptions are acknowledged in the order received. Your name and email remain confidential and will not be given to any other individual, company or agency. All contributors are listed below in acknowledgement of my gratitude.

---
| | | |
| --- | --- | --- |
| Thank you, Paul W. ($120), for your wondrously generous contribution to this site -- I am greatly honored by your steadfast support and readership. | | Thank you, Simon C. ($50), for your astonishingly generous contribution to this site -- I am greatly honored by your steadfast support and readership. |
---
SPECIAL APPEAL TO READERS OF OFTWOMINDS
from longtime correspondent Cheryl A.:
I don't recall exactly how I discovered Of Two Minds in late 2005, but it is hard to express how grateful I am that I did. As a result of the insight I have gained from the information Charles has shared over these past 9 years, I have been able to navigate this turbulent period much more successfully than most of my acquaintances. I'm sure that those of you who visit OTM with any regularity have similarly benefitted in numerous ways.

The addition of the weekly musings has been an extra bonus for supporters that has provided further insight into the markets, as well as the world around us (often providing a much needed smile).

I have no doubt that those who generously contribute to this site recognize the value that it offers. I hope that those of you who visit, but have not yet contributed, will consider doing so. Your support is essential in helping to maintain such an important resource.
Thank you, Cheryl, for this vote of confidence.
I can only promise that I will continue to do my best.
---