Welcome to Neocolonialism, Exploited Peasants!
October 21, 2016
The U.S. peasantry has been stripmined exactly like the powerless colonial peasantry in the old colonial model.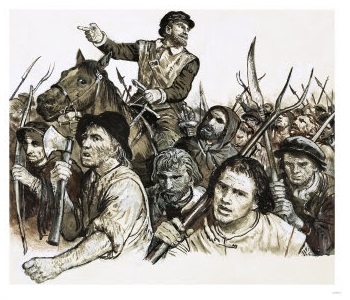 In my latest interview with Max Keiser, Max asked a question of fundamental importance: (I paraphrase, as the interview has not yet been posted): now that the current iteration of capitalism has occupied every corner of the globe, where can it expand to for its "growth"?
My answer: neocolonialism, my term for the financialized quasi-colonial exploitation of the home domestic population. I described this dynamic in The E.U., Neofeudalism and the Neocolonial-Financialization Model (May 24, 2012).
We all know how old-fashioned colonialism worked: the imperial power takes political and economic control of previously independent lands.
In the traditional colonial model, there are two primary benefits:
1. The imperial power (the core) extracts valuable commodities and low-cost labor from its colony (the periphery)
2. The imperial power sells its own high-margin manufactured goods to the captured-market of its colony.
This buy low, sell high dynamic is the heart of colonialism, which can be understood as one example of the The Core-Periphery Model (June 11, 2013).
The book Sweetness and Power: The Place of Sugar in Modern History is an excellent history of how this model worked for Great Britain.
The Imperial Core controls finance and credit via its multinational banking sector, and it maintains high profit margins via its state-cartel model of production. The state enforces a cartel-crony-capitalist pricing structure in which competition is strictly limited to street stalls and black markets, and the corporatocracy can raise prices at will: for example, pharmaceutical products such as Epi-Pens can be repriced at will from $60 to $600 each.
If the colonists resist, the resisters are silenced and the media brought under control of the Imperial Deep State. (Sound familar? It should.)
This traditional model of colonialism was forcibly dismantled in the 1940s-1960s. Former colonies established their political independence, a process that diminished the wealth and global reach of former colonial powers.
In response, global financial powers sought financial control rather than political control. This is the key dynamic in the Neocolonial-Financialization Model, which substitutes the economic power of financialization (debt, leverage and speculation fueled by globalized mobile capital) for the raw power of political conquest.
The main strategy of financialization is: extend cheap credit to those with limited access to capital. Those with limited access to capital will agree to penalties, high interest rates, etc. because they have no other way to acquire a university degree, a mortgage, a vehicle, etc.
These tactics have been well-documented in books such as The Shock Doctrine: The Rise of Disaster Capitalism and Confessions of an Economic Hit Man.
But the economic pillaging of former colonies has limits, and as a consequence the Imperial financial powers developed the Neocolonial Model, which turns these same techniques on their domestic populations.
In the E.U. version of Neocolonialism, the forces of financialization are used to indenture the peripheral Elites and populaces to the financial core: the peripheral "colonials" borrow money to buy the finished goods manufactured in the core economies, enriching the ruling Elites with A) the profits made selling goods to the debtors B) interest on credit extended to the peripheral colonies to buy the core economies' goods and "live large", and C) the transactional skim of financializing peripheral assets such as real estate and State debt.
In essence, the core banks of the EU colonized the peripheral nations via the financializing euro, which enabled a massive expansion of debt and consumption in the periphery. The banks and exporters of the core extracted enormous profits from this expansion of debt and consumption.
Now that the financialization scheme of the euro has run its course, the periphery's neocolonial standing is starkly revealed: the assets and income of the periphery are flowing to the core as interest on the private and sovereign debts that are owed to the core's central bank and its money-center private banks.
Note how little of the Greek "bailout" actually went to the citizenry of Greece and how much was interest paid to the financial powers.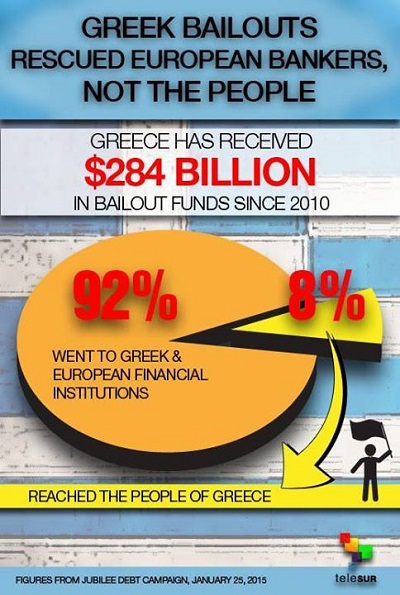 This is not just the perfection of neocolonialism but of neofeudalism as well. The peripheral nations of the EU are effectively neocolonial debtors of the core, and the taxpayers of the core nations are now feudal serfs whose labor is devoted to making good on any loans to the periphery that go bad.
Neocolonialism benefits the financial Aristocracy of both the core and periphery. This is ably demonstrated in the recent essay Misrule of the Few: How the Oligarchs Ruined Greece.
In the U.S., the Neocolonial-Financialization Model now dominates the U.S. economy. America's debt-serfs now toil their entire lives to pay down student loans, mortgages, auto loans and a host of other debts. High debt loads stripmine their earnings (already declining due to hidden inflation) and makes it difficult to acquire any income-producing assets of their own.
Note that the wealthy own productive assets while the peasantry "own" debt.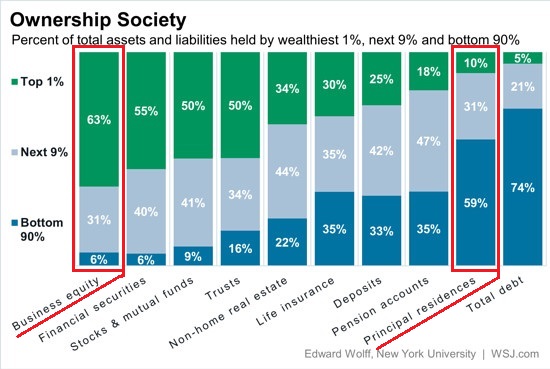 We are now reaching the limis of the predatory, parasitic Neocolonial-Financialization Model. There are no more markets to exploit with financialization, the incomes of the debt-serfs have stagnated to the point they cannot take on any more debt and the reality that the mountains of debt are unpayable can no longer be masked.
No wonder the Ruling Elite Has Lost the Consent of the Governed. The U.S. peasantry has been stripmined exactly like the powerless colonial peasantry in the old colonial model, and they are finally identifying their oppressors: the ruling Elite of the U.S.


Join me in seeking solutions by becoming a $1/month patron of my work via patreon.com.
My new book is #8 on Kindle short reads -> politics and social science: Why Our Status Quo Failed and Is Beyond Reform ($3.95 Kindle ebook, $8.95 print edition) For more, please visit the book's website.
---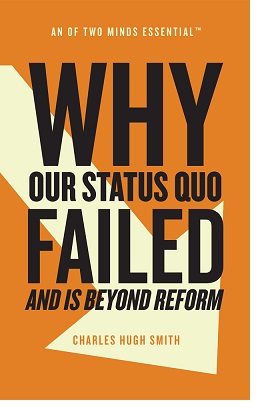 Our status quo--the pyramid of wealth and power dominated by the few at the top--has failed and is beyond reform.
This failure is not rooted in superficial issues such as politics or governmental regulations; the failure is structural.
The very foundation of the status quo has rotted away, and brushing on another coat of reformist paint will not save our societal house from collapse.
Yet those who benefit from our status quo naturally deny it has failed, for the reason that it has yet to fail them personally—either pretending to not understand that all unsustainable systems eventually collapse, or hoping to postpone it.
Our status quo is not only failing to solve humanity's six core problems--it has become the problem.
Since this failure is now inevitable, something is coming to replace it. We must each understand why our status quo has failed, and why the usual menu of reforms can't stop this failure, so we can prepare ourselves for the radical transformations ahead.
Why Our Status Quo Failed and Is Beyond Reform ($3.95 Kindle ebook, $8.95 print edition)
---
Recent entries:
Welcome to Neocolonialism, Exploited Peasants! October 21, 2016
The Ruling Elite Has Lost the Consent of the Governed October 20, 2016
What Happens When the Electricity Is Off for Three Days? October 19, 2016
What Triggers Collapse? October 18, 2016
QE/ZIRP Is Crushing the Global Supply Chain, Product Quality and Profits October 17, 2016
Ending a Taking Economy and Creating a Giving Economy (Part 2) October 15, 2016
Ending a Taking Economy and Creating a Giving Economy (Part 1) October 14, 2016
Where Will All the Money Go When All Three Market Bubbles Pop? October 13, 2016
Please Assume Crash Positions October 12, 2016
Ungovernable Nation, Ungovernable Economy October 11, 2016
USA 2017-2020: An Ungovernable Nation? October 10, 2016
"The Island Where People Forget to Die" and Social Ecosystems October 9, 2016
This Is How Quiet Fascism Works October 8, 2016
Sorry, Central Banks: Risk and Volatility Cannot be Extinguished October 7, 2016
The "Nuclear Options:" Oil Pinned Below $30/barrel, US Dollar Rising October 6, 2016
It's Time We Crush the Putrid Roach Motels of Philanthro-Crony-Capitalism, Starting with the Clinton Foundation October 5, 2016
When Did Our Elites Become Self-Serving Parasites? October 4, 2016
Is the U.S. Dollar Set to Soar? October 3, 2016
How Do We Create Value When Knowledge Is Almost Free? October 1, 2016


October 2016 September 2016 August 2016 July 2016 June 2016 May 2016 April 2016 March 2016 February 2016 January 2016 2015 Archives Archives 2005-2016
---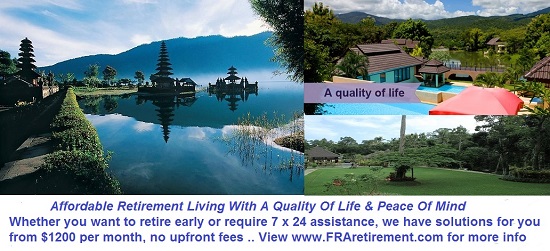 Discover why I'm looking to retire in a SE Asia luxury resort for $1,200/month.

---
Contributions/subscriptions are acknowledged in the order received. Your name and email remain confidential and will not be given to any other individual, company or agency. All contributors are listed below in acknowledgement of my gratitude.
| | | |
| --- | --- | --- |
| | Thank you, George B. ($5/month), for your superbly generous pledge to this site-- I am greatly honored by your steadfast support and readership. | |
---
A Radically Beneficial World
: Automation, Technology & Creating Jobs for All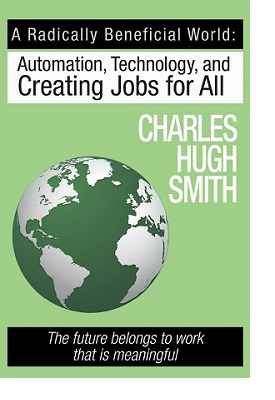 Kindle $9.95
print $25
audiobook $18
Automation is upending the global order by eliminating human labor on an unprecedented scale--and the status quo has no solution to this wholesale loss of jobs.
What if we could hit the reset button on the way we create money, work, commerce and community? What if we could design a social economy rather than a merely financial one? These are not idle questions, for technology now enables us to hit that reset button and organize the creation of money, work, commerce and community in new ways.
If we could start from scratch, what would a new system look like? Clearly, we need a system that offers what the current system cannot: meaningful work for all.
This book is the practical blueprint of a new system that offers opportunities for meaningful work and ownership of the sources of prosperity not just to a few, but to everyone.
"Certainly the author is decades ahead of his time. Humanity will eventually adopt the author's principles written in all of his books. Currently, humanity lives in delusion that the system will continue to serve them. We will see massive changes even in the next decade. Don't waste your money on college--buy the author's books and succeed." Book Reader (via Amazon.com)
A radically beneficial world beckons—what are we waiting for? Introduction Chapter One (free PDF)
---
Get a Job, Build a Real Career and Defy a Bewildering Economy
(Kindle, $9.95)(print, $17.76)
audiobook, $19.95
(Audible.com)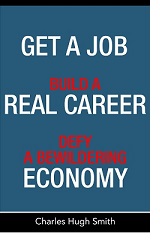 "Don't give this to a recent grad. Read it when your kids are born and then read it with them around eighth grade."
"Finally a book that gives practical career advice. The author does an excellent job describing the current economic and political system and how this affects employment opportunities. Times have changed dramatically, and will continue to do so faster than ever. I'm glad I stumbled upon this excellent book, and will begin preparing myself accordingly." Joseph
"I want to thank you for creating your book Get a Job. It is rare to find a person with a mind like yours, who can take a holistic systems view of things without being captured by specific perspectives or agendas. Your contribution to humanity is much appreciated." Laura Y. Test-drive the first section and see for yourself.


---
Of Two Minds Site Links
home musings my books archives books/films policies/disclosures social media/search Aphorisms How to Contribute, Subscribe/Unsubscribe sites/blogs of interest original music/songs Get a Job (book) contributors my definition of success why readers donate/subscribe to Of Two Minds mobile site (Blogspot) mobile site (m.oftwominds.com)