A Moment of Gratitude for My Readers and Supporters
December 3, 2016
Ultimately, this site is about solutions.
I want to take a moment to thank every reader who took the time to email me after spotting oftwominds.com on the Washington Post's absurd "list of Russian propaganda sites." You all got the joke, so to speak, and so we enjoyed the laughably bogus list together.
I also want to thank everyone who chose this moment to become a patron of my work via patreon.com or PayPal. Dozens of you backed up your support with cash--moving your commitment to independent journalism up a very big notch.
Every $1/month pledge means a lot to me. Money is tight for most people nowadays, and $1 or $5 per month means there is a bit less disposable cash at month's end. I am acutely aware that your commitment is not cost-free.
While I understand the necessity and appeal of year-end fundraising by many of my fellow bloggers, I don't have any formal fundraising effort or drive. The site is free, and patrons/ contributors of $5/month or more receive a weekly Musings Report filled with goodies reserved for the Inner Circle of oftwominds supporters.
This is my way of thanking the financial supporters who keep the site going.
I also appreciate everyone who takes a moment to place their amazon.com order through this site. The modest commission paid to this site doesn't add a penny to your cost. To place your order to the benefit of oftwominds.com, just use the amazon.com search box in the right sidebar.
Max Keiser and Stacy Herbert asked for my reaction to being on the WaPo propaganda list; here is my commentary (also included in Max and Stacy's 1000th episode Keiser Report #1000: The Memewar Has Started.)
Ultimately, this site is about solutions. I have written numerous books outlining solutions for the individual/household and for the society/economy as a whole. Please take a quick glance at my eleven books on our systemic problems and the many potential solutions.
If you are unfamiliar with my work here on oftwominds.com, I suggest reviewing my voluminous archives on the shrinking middle class. Here is a small selection of recent essays on the structural/ systemic decline of the middle class.
Honey, I Shrunk the Middle Class: Perhaps 1/3 of Households Qualify (December 28, 2015)
Endangered Species: The Self-Employed Middle Class (May 2015)
How Many Slots Are Open in the Upper Middle Class? Not As Many As You Might Think (March 30, 2015)
Rich Middle Class, Poor Middle Class (April 9, 2015)
America's Nine Classes: The New Class Hierarchy (April 29, 2014)
What Killed the Middle Class? (March 24, 2016)
What Does It Take To Be Middle Class? (December 5, 2013)
What Does It take to Be Upper Middle Class? (June 22, 2016)
The Decline of Small Business and the Middle Class (May 9, 2014)
Financialization and Crony Capitalism Have Gutted the Middle Class (July 13, 2012)
The Self-Employed Middle Class Hardly Exists Anymore (May 2015)
Neofeudalism 101: Strip-Mining the Upper Middle Class (April 8, 2015)

For what it's worth, my copy editor reckons Inequality and the Collapse of Privilege ($3.95 Kindle ebook, $8.95 print edition) is my best book. It is, if nothing else, highly relevant to today's economic/social schisms.


Join me in seeking solutions by becoming a $1/month patron of my work via patreon.com.
Check out both of my new books, Inequality and the Collapse of Privilege ($3.95 Kindle, $8.95 print) and Why Our Status Quo Failed and Is Beyond Reform ($3.95 Kindle, $8.95 print). For more, please visit the OTM essentials website.
---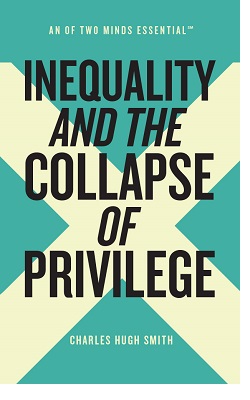 Inequality is rising globally, and rising inequality is destabilizing. A status quo of increasing inequality self-destructs. To avoid this fate, we must answer this question: why is the gulf between the wealthy and everyone else widenings o dramatically?
The answer boils down to one word: privilege.
What is privilege? There are many types of privilege, but they all share two characteristics: privilege delivers benefits, wealth and power that are unearned.
Privilege is destabilizing for many reasons: the dead weight of privilege reduces productivity, generates perverse incentives and fuels social injustice. Innovation and competition are threats to privileged monopolies and are therefore suppressed.
The only way to foster sustainable stability is to dismantle institutionalized privilege.
We have a moral imperative to eradicate privilege: privilege is immoral, as rising inequality is the only possible output of privilege. Privilege is exploitive, parasitic, predatory and destructive to the society and economy, and generates inequality by its very nature.
Stripped to its essence, privilege is nothing but institutionalized racketeering.
The only way to reverse rising inequality is to eradicate its source: privilege.
Inequality and the Collapse of Privilege ($3.95 Kindle ebook, $8.95 print edition)
---
Recent entries:
A Moment of Gratitude for My Readers and Supporters December 3, 2016
Beyond Income Inequality December 2, 2016
The Role of Technology in Limiting Privilege and Bias December 1, 2016
Six Narratives on the Ascendancy of Trump November 30, 2016
The Corporate Media's Gulag of the Mind November 29, 2016
The Engine of Inequality: Privilege November 28, 2016
The Washington Post: Useful-Idiot Shills for a Failed, Frantic Status Quo That Has Lost Control of the Narrative November 26, 2016
Why Is the US Dollar Rising? November 25, 2016
A Thanksgiving Suggestion: Stop at That Charming Place You've Zoomed Past for Years November 24, 2016
Why Reshore Manufacturing? It's the Only Way to Avoid Defective Pirated Parts November 23, 2016
The Triumph of the Empty Gesture November 22, 2016
The Age of Disintegration: Political Disunity and Elites At War November 21, 2016


November 2016 October 2016 September 2016 August 2016 July 2016 June 2016 May 2016 April 2016 March 2016 February 2016 January 2016 2015 Archives Archives 2005-2016
---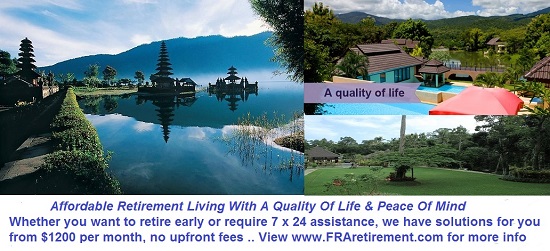 Discover why I'm looking to retire in a SE Asia luxury resort for $1,200/month.

---
Contributions/subscriptions are acknowledged in the order received. Your name and email remain confidential and will not be given to any other individual, company or agency. All contributors are listed below in acknowledgement of my gratitude.
| | | |
| --- | --- | --- |
| Thank you, Chris T. ($10/month), for your outrageously generous pledge to this site -- I am greatly honored by your steadfast | | Thank you, Mary T. ($50), for your wondrously generous pledge to this site -- I am greatly honored by your support and readership. |
---
---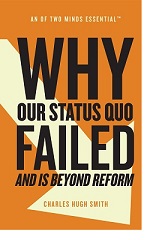 Our status quo--the pyramid of wealth and power dominated by the few at the top--has failed and is beyond reform.
This failure is not rooted in superficial issues such as politics or governmental regulations; the failure is structural.
The very foundation of the status quo has rotted away, and brushing on another coat of reformist paint will not save our societal house from collapse.
Yet those who benefit from our status quo naturally deny it has failed, for the reason that it has yet to fail them personally—either pretending to not understand that all unsustainable systems eventually collapse, or hoping to postpone it.
Our status quo is not only failing to solve humanity's six core problems--it has become the problem.
Since this failure is now inevitable, something is coming to replace it.
Why Our Status Quo Failed and Is Beyond Reform ($3.95 Kindle ebook, $8.95 print edition)


---
A Radically Beneficial World
: Automation, Technology & Creating Jobs for All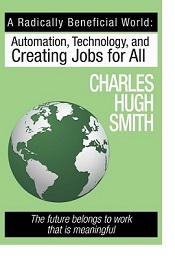 Kindle $9.95
print $25
audiobook $18
Automation is upending the global order by eliminating human labor on an unprecedented scale--and the status quo has no solution to this wholesale loss of jobs.
What if we could hit the reset button on the way we create money, work, commerce and community? What if we could design a social economy rather than a merely financial one? These are not idle questions, for technology now enables us to hit that reset button and organize the creation of money, work, commerce and community in new ways.
If we could start from scratch, what would a new system look like? Clearly, we need a system that offers what the current system cannot: meaningful work for all.
This book is the practical blueprint of a new system that offers opportunities for meaningful work and ownership of the sources of prosperity not just to a few, but to everyone.
A radically beneficial world beckons—what are we waiting for? Introduction Chapter One (free PDF)
---
Get a Job, Build a Real Career and Defy a Bewildering Economy
(Kindle, $9.95)(print, $17.76)
audiobook, $19.95
(Audible.com)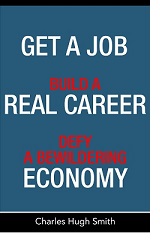 "Don't give this to a recent grad. Read it when your kids are born and then read it with them around eighth grade."
"Finally a book that gives practical career advice. The author does an excellent job describing the current economic and political system and how this affects employment opportunities. Times have changed dramatically, and will continue to do so faster than ever. I'm glad I stumbled upon this excellent book, and will begin preparing myself accordingly." Joseph
"I want to thank you for creating your book Get a Job. It is rare to find a person with a mind like yours, who can take a holistic systems view of things without being captured by specific perspectives or agendas. Your contribution to humanity is much appreciated." Laura Y. Test-drive the first section and see for yourself.
---
---
Of Two Minds Site Links
home musings my books archives books/films policies/disclosures social media/search Aphorisms How to Contribute, Subscribe/Unsubscribe sites/blogs of interest original music/songs Get a Job (book) contributors my definition of success why readers donate/subscribe to Of Two Minds mobile site (Blogspot) mobile site (m.oftwominds.com)