The Demise of the Dollar: Don't Hold Your Breath
September 22, 2017
So let's look at currency flows, reserves and debt.
The demise of the U.S. dollar has been a staple of the financial media for decades. The latest buzzword making the rounds is de-dollarization, which describes the move away from USD in global payments.
De-dollarization is often equated with the demise of the dollar, but this reflects a fundamental misunderstanding of the currency markets.
Look, I get it: the U.S. dollar arouses emotions because it's widely seen as one of the more potent tools of U.S. hegemony. Lots of people are hoping for the demise of the dollar, for all sorts of reasons that have nothing to do with the actual flow of currencies or the role of currencies in the global economy and foreign exchange (FX) markets.
So there is a large built-in audience for any claim that the dollar is on its deathbed.
I understand the emotional appeal of this, but investors and traders can't afford to make decisions on the emotional appeal of superficial claims--not just in the FX markets, but in any markets.
So let's ground the discussion of the demise of the USD in some basic fundamentals. Now would be a good time to refill your beverage/drip-bag because we're going to cover some dynamics that require both emotional detachment and focus.
First, forget what currency we're talking about. If the USD raises your hackles, then substitute quatloos for USD.
There are three basic uses for currency:
1. International payments. This can be thought of as flow: if I buy a load of bat guano and the seller demands payment in quatloos, I convert my USD to quatloos--a process that is essentially real-time--render payment, and I'm done with the FX part of the transaction.
It doesn't matter what currency I start with or what currency I convert my payment into to satisfy the seller--I only hold that currency long enough to complete the transaction: a matter of seconds.
If sellers demand I use quatloos, pesos, rubles or RMB for those few moments, the only thing that matters is the availability of the currency and the exchange rate in those few moments.
2. Foreign reserves. Nation-states keep reserves for a variety of reasons, one being to support their own currency if imbalances occur that push their currency in unwanted directions.
The only nations that don't need to hold much in the way of currency reserves are those that issue a reserve currency--a so-called "hard currency" that is stable enough and issued in sufficient size to be worth holding in reserve.
3. Debt. Everybody loves to borrow money. We know this because global debt keeps rising at a phenomenal rate, in every sector: government (public), corporate and household (private sectors).(see chart below)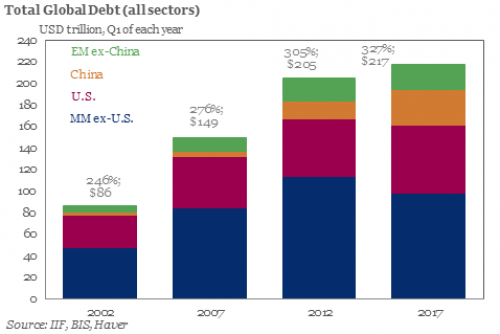 Every form of credit/debt is denominated in a currency. A Japanese bond is denominated in yen, for example. The bond is purchased with yen, the interest is paid in yen, and the coupon paid at maturity is in yen.
What gets tricky is debt denominated in some other currency. Let's say I take out a loan denominated in quatloos. The current exchange rates between USD and quatloos is 1 to 1: parity. So far so good. I convert 100 USD to 100 quatloos every month to make the principal and interest payment of 100 quatloos.
Then some sort of kerfuffle occurs in the FX markets, and suddenly it takes 2 USD to buy 1 quatloo. Oops: my loan payments just doubled. Where it once only cost 100 USD to service my loan denominated in quatloos, now it takes $200 to make my payment in quatloos. Ouch.
Notice the difference between payments, reserves and debt: payments/flows are transitory, reserves and debt are not. What happens in flows is transitory: supply and demand for currencies in this moment fluctuate, but flows are so enormous--trillions of units of currency every day--that flows don't affect the value or any currency much.
FX markets typically move in increments of 1/100 of a percentage point. So flows don't matter much. De-dollarization of flows is pretty much a non-issue.
What matters is demand for currencies that is enduring: reserves and debt. The same 100 quatloos can be used hundreds of times daily in payment flows; buyers and sellers only need the quatloos for a few seconds to complete the conversion and payment.
But those needing quatloos for reserves or to pay long-term debts need quatloos to hold. The 100 quatloos held in reserve essentially disappear from the available supply of quatloos.
Another source of confusion is trade flows. If the U.S. buys more stuff from China than China buys from the U.S., goods flow from China to the U.S. and U.S. dollars flow to China.
As China's trade surplus continues, the USD just keep piling up. What to do with all these billions of USD? One option is to buy U.S. Treasury bonds (debt denominated in dollars), as that is a vast, liquid market with plenty of demand and supply. Another is to buy some other USD-denominated assets, such as apartment buildings in Seattle.
This is the source of the petro-dollar trade. All the oil/gas that's imported into the U.S. is matched by a flow of USD to the oil-exporting nations, who then have to do something with the steadily increasing pile of USD.
Note what happens to countries using gold as their currency when they run large, sustained trade deficits. All their gold is soon transferred overseas to pay for their imports. So any nation using gold as a currency can't run trade deficits, lest their gold drain away.
Nations aspiring to issue a reserve currency have the opposite problem. They need enough fresh currency to inject into the global FX markets to supply those wanting to hold their currency in reserve.
This means any nation running structural trade surpluses will have difficulty issuing a reserve currency. Nations shipping goods and services overseas in surplus end up with a bunch of foreign currencies--whatever currencies their trading partners issue. This is opposite of the global markets need, i.e. a surplus (supply) of the reserve currency.
Any nation that wants to issue a reserve currency has to emit enough currency into the global economy to supply the demand for reserves. One way to get that currency into the global system is run trade deficits, as the world effectively trades its goods and services in exchange for the currency.
A reserve currency cannot be pegged; it must float freely on the global FX exchange. China's currency, the RMB, is informally pegged to the USD; it doesn't float freely according to supply and demand on global FX markets.
Nobody wants to hold a currency that can be devalued overnight by some central authority. The only security in the realm of currencies is the transparent FX market, which is large enough that it's difficult to manipulate for long.
(Global FX markets trade trillions of dollars, yen, RMB and euros daily.)
This is why China isn't keen on allowing its currency to float. Once you let your currency float, you lose control of its exchange rate/value. The value of every floating currency is set by supply and demand, period. No pegs, no "official" rate, just supply and demand.
If traders lose faith in your economy, your ability to service debt, etc., your currency crashes.
So let's look at currency flows, reserves and debt. In terms of currencies used for payments, the euro and USD are in rough parity. Note the tiny slice of payments made in RMB/yuan. This suggests 1) low demand for RMB and/or 2) limited supply of RMB in FX markets.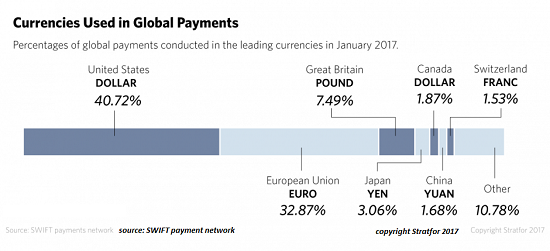 The USD is still the dominant reserve currency, despite decades of diversification. Global reserves (allocated and unallocated) are over $12 trillion. Note that China's RMB doesn't even show up in allocated reserves--it's a non-player because it's pegged to the USD. Why hold RMB when the peg can be changed at will? It's lower risk to just hold USD.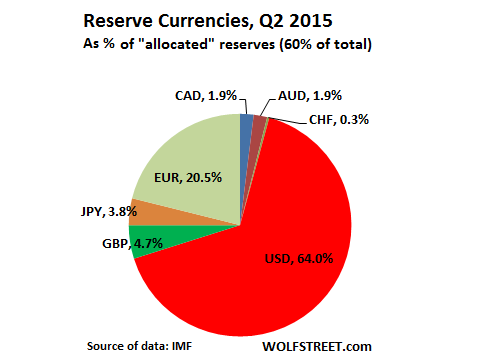 While total global debt denominated in USD is about $50 trillion, the majority of this is domestic, i.e. within the U.S. economy. $11 trillion has been issued to non-banks outside the U.S., including developed and emerging market debt: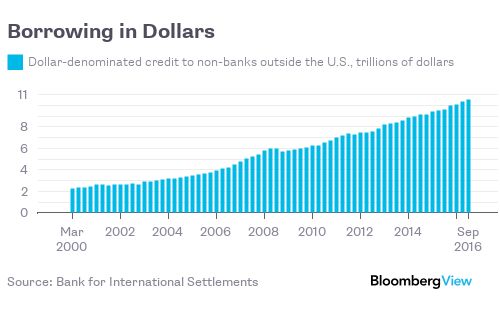 According to the BIS, if we include off-balance sheet debt instruments, this external debt is more like $22 trillion. FX swaps and forwards: missing global debt?
Every day, trillions of dollars are borrowed and lent in various currencies. Many deals take place in the cash market, through loans and securities. But foreign exchange (FX) derivatives, mainly FX swaps, currency swaps and the closely related forwards, also create debt-like obligations. For the US dollar alone, contracts worth tens of trillions of dollars stand open and trillions change hands daily. And yet one cannot find these amounts on balance sheets. This debt is, in effect, missing.
The debt remains obscured from view. Accounting conventions leave it mostly off-balance sheet, as a derivative, even though it is in effect a secured loan with principal to be repaid in full at maturity. Only footnotes to the accounts report it.
Focusing on the dominant dollar segment, we estimate that non-bank borrowers outside the United States have very large off-balance sheet dollar obligations in FX forwards and currency swaps. They are of a size similar to, and probably exceeding, the $10.7 trillion of on-balance sheet debt.
So let's wrap this up. To understand any of this, we have to start with Triffin's Paradox, a topic I've addressed numerous times here. The idea is straightforward: every currency serves two different audiences, the domestic economy and the FX/global economy. The needs and priorities of each are worlds apart, so no currency can meet the conflicting demands of domestic and global users.
Understanding the "Exorbitant Privilege" of the U.S. Dollar (November 19, 2012)
So if a nation refuses to float its currency for domestic reasons, it can't issue a reserve currency. Period.
If a nation runs trade surpluses, it has few means to emit enough currency into the FX market to fulfill all three needs: payment, reserves and debt.
As for replacing the USD with a currency convertible to gold: first, the issuer would need to emit trillions for the use of its domestic economy and global trade (let's say $7 trillion as an estimate). Then it would need to issue roughly $6 trillion for reserves held by other nations, and then another $11 trillion (or maybe $22 trillion) for those who wish to replace their USD-denominated debt with debt denominated in the new gold-backed currency.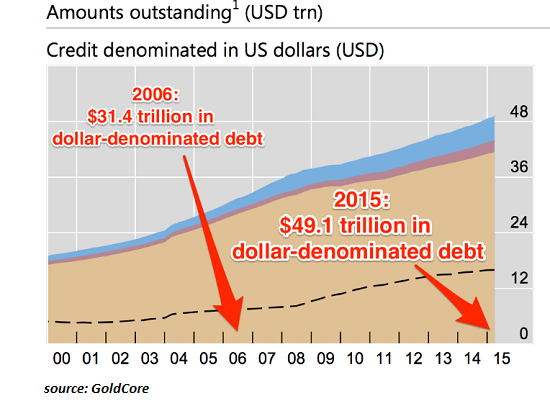 So that's at least $24 trillion required to replace the USD in global markets, roughly three times the current value of all the gold in existence. Given the difficulty in acquiring more than a small percentage of available gold to back the new currency, this seems like a bridge too far, even if gold went to $10,000 per ounce.
Personally, I would like to see a free-floating completely convertible-to-gold currency. Such a currency need not be issued by a nation-state; a private gold fund could issue such a currency. Such a currency would fill a strong demand for a truly "hard" currency. The point here is that such a currency would have difficulty becoming a reserve currency and replacing the USD in the global credit market.
Issuing a reserve currency makes heavy demands on the issuing nation. Many observers feel the benefits are outweighed by the costs. Be that as it may, the problem of replacing the USD in all its roles is that no other issuer has a large enough economy and is willing to shoulder the risks and burdens of issuing a free-floating currency in sufficient size to meet global demands.
Of related interest:
How Dangerous Is Emerging Markets Dollar Debt?
$10.5 trillion in dollar-denominated debt
The Fed's Global Dollar Problem Borrowers around the world have gone on a dollar binge. This makes them vulnerable when interest rates rise.


If you found value in this content, please join me in seeking solutions by becoming a $1/month patron of my work via patreon.com.
Check out both of my new books, Inequality and the Collapse of Privilege ($3.95 Kindle, $8.95 print) and Why Our Status Quo Failed and Is Beyond Reform ($3.95 Kindle, $8.95 print, $5.95 audiobook) For more, please visit the OTM essentials website.
---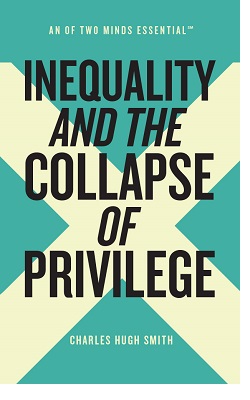 Inequality is rising globally, and rising inequality is destabilizing. A status quo of increasing inequality self-destructs. To avoid this fate, we must answer this question: why is the gulf between the wealthy and everyone else widening so dramatically?
The answer boils down to one word: privilege.
What is privilege? There are many types of privilege, but they all share two characteristics: privilege delivers benefits, wealth and power that are unearned.
Privilege is destabilizing for many reasons: the dead weight of privilege reduces productivity, generates perverse incentives and fuels social injustice. Innovation and competition are threats to privileged monopolies and are therefore suppressed.
The only way to foster sustainable stability is to dismantle institutionalized privilege.
We have a moral imperative to eradicate privilege: privilege is immoral, as rising inequality is the only possible output of privilege. Privilege is exploitive, parasitic, predatory and destructive to the society and economy, and generates inequality by its very nature.
Stripped to its essence, privilege is nothing but institutionalized racketeering.
The only way to reverse rising inequality is to eradicate its source: privilege.
Inequality and the Collapse of Privilege ($3.95 Kindle ebook, $8.95 print edition)
---
Recent entries:
The Demise of the Dollar: Don't Hold Your Breath September 22, 2017
Loving Our Debt-Serfdom: Our Neofeudal Status Quo September 21, 2017
Financialization and The Destruction of the Real Economy September 20, 2017
What Is Real Wealth? September 19, 2017
Are Facebook and Google the New Colonial Powers? September 18, 2017
Hey Advertisers: The Data-Mining Emperor Has No Clothes September 15, 2017
Dear Jamie Dimon: Predict the Crash that Takes Down Your Produces-Nothing, Parasitic Bank and We'll Listen to your Bitcoin "Prediction" September 14, 2017
Yes, This Time It Is Different: But Not in Good Ways September 13, 2017
Housing Bubble Symmetry: Look Out Below September 12, 2017
On Repairing/Rebuilding 100,000+ Damaged Houses September 11, 2017
The Real Reason Wages Have Stagnated: Our Economy is Optimized for Financialization September 8, 2017
Is the High Cost of Housing Crushing Wages? September 7, 2017
The Insanity of Pushing Inflation Higher When Wages Can't Rise September 6, 2017
The Trouble with Asset Bubbles: If You Stop Pumping, They Pop September 5, 2017
Bitcoin, Sour Grapes and the Institutional Herd September 4, 2017
Why We're Doomed: Stagnant Wages September 1, 2017
Why Wages Have Lost Ground in the 21st Century August 31, 2017
Systemic Uncertainty, Meet Fragility August 30, 2017
The 5 Steps to World Domination August 29, 2017
Ideology as Addiction August 28, 2017


August 2017 July 2017 June 2017 May 2017 April 2017 March 2017 February 2017 January 2017 2016 Archives 2015 Archives Archives 2005-2016
---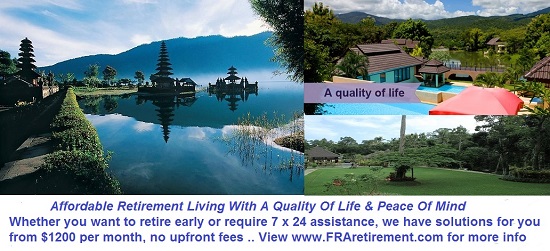 Discover why I'm looking to retire in a SE Asia luxury resort for $1,200/month.

---
Contributions/subscriptions are acknowledged in the order received. Your name and email remain confidential and will not be given to any other individual, company or agency. All contributors are listed below in acknowledgement of my gratitude.
| | | |
| --- | --- | --- |
| Thank you, Dan E. ($5), for yet another marvelously generous contribution to this site -- I am greatly honored by your steadfast support and readership. | | Thank you, Ivan D. ($10/month), for your outrageously generous pledge to this site -- I am greatly honored by your support and readership. |
---
---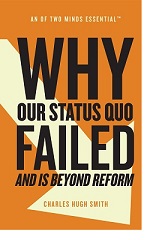 Our status quo--the pyramid of wealth and power dominated by the few at the top--has failed and is beyond reform.
This failure is not rooted in superficial issues such as politics or governmental regulations; the failure is structural.
The very foundation of the status quo has rotted away, and brushing on another coat of reformist paint will not save our societal house from collapse.
Yet those who benefit from our status quo naturally deny it has failed, for the reason that it has yet to fail them personally—either pretending to not understand that all unsustainable systems eventually collapse, or hoping to postpone it.
Our status quo is not only failing to solve humanity's six core problems--it has become the problem.
Since this failure is now inevitable, something is coming to replace it.
Why Our Status Quo Failed and Is Beyond Reform ($3.95 Kindle ebook, $8.95 print edition, $5.95 audiobook)


---
A Radically Beneficial World
: Automation, Technology & Creating Jobs for All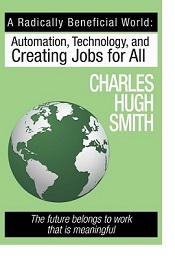 Kindle $9.95
print $25
audiobook $18
Automation is upending the global order by eliminating human labor on an unprecedented scale--and the status quo has no solution to this wholesale loss of jobs.
What if we could hit the reset button on the way we create money, work, commerce and community? What if we could design a social economy rather than a merely financial one? These are not idle questions, for technology now enables us to hit that reset button and organize the creation of money, work, commerce and community in new ways.
If we could start from scratch, what would a new system look like? Clearly, we need a system that offers what the current system cannot: meaningful work for all.
This book is the practical blueprint of a new system that offers opportunities for meaningful work and ownership of the sources of prosperity not just to a few, but to everyone.
A radically beneficial world beckons—what are we waiting for? Introduction Chapter One (free PDF)
---
Get a Job, Build a Real Career and Defy a Bewildering Economy
(Kindle, $9.95)(print, $17.76)
audiobook, $19.95
(Audible.com)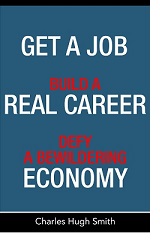 "Don't give this to a recent grad. Read it when your kids are born and then read it with them around eighth grade."
"Finally a book that gives practical career advice. The author does an excellent job describing the current economic and political system and how this affects employment opportunities. Times have changed dramatically, and will continue to do so faster than ever. I'm glad I stumbled upon this excellent book, and will begin preparing myself accordingly." Joseph
"I want to thank you for creating your book Get a Job. It is rare to find a person with a mind like yours, who can take a holistic systems view of things without being captured by specific perspectives or agendas. Your contribution to humanity is much appreciated." Laura Y. Test-drive the first section and see for yourself.
---
---
Of Two Minds Site Links
home musings my books archives books/films policies/disclosures social media/search Aphorisms How to Contribute, Subscribe/Unsubscribe sites/blogs of interest original music/songs Get a Job (book) contributors my definition of success why readers donate/subscribe to Of Two Minds mobile site (Blogspot) mobile site (m.oftwominds.com)