The Deep State's Dominant Narratives and Authority Are Crumbling
March 24, 2017
This is why the Deep State is fracturing: its narratives no longer align with the evidence.
As this chart from Google Trends illustrates, interest in the Deep State has increased dramatically in 2017. The term/topic has clearly moved from the specialist realm to the mainstream. I've been writing about the Deep State, and specifically, the fractures in the Deep State, for years.
Amusingly, now that "Progressives" have prostituted themselves to the Security Agencies and the Neocons/Neoliberals, they are busy denying the Deep State exists. For example, There is No Deep State (The New Yorker).
In this risible view, there is no Deep State "conspiracy" (the media's favorite term of dismissal/ridicule), just a bunch of "good German" bureaucrats industriously doing the Empire's essential work of undermining democracies that happen not to prostrate themselves at the feet of the Empire, murdering various civilians via drone strikes, surveilling the U.S. populace, planting bugs in new iPhones, issuing fake news while denouncing anything that questions the dominant narratives as "fake news," arranging sweetheart deals with dictators and corporations, and so on.
The New Yorker is right about one thing--the Deep State is not a "conspiracy:" it is a vast machine of control that is largely impervious to the views or demands of elected representatives or the American people. The key to understanding this social-political-economic control is to grasp that control of the narratives, expertise and authority is control of everything. Allow me to illustrate how this works.
The typical politician has a busy daily schedule of speaking at the National Motherhood and Apple Pie Day celebration, listening to the "concerns" of important corporate constituents, attending a lunch campaign fundraiser, meeting with lobbyists and party committees, being briefed by senior staff, and so on.
Senior administrators share similarly crowded schedules, minus the fundraising but adding budget meetings, reviewing employee complaints and multiple meetings with senior managers and working groups.
Both senior elected officials and senior state administrators must rely on narratives, expertise and authority because they have insufficient time and experience to do original research and assessment.
Narratives create an instant context that "makes sense" of various data points and events. Narratives distill causal factors into an explanatory story with an implicit teleology--because of this and that, the future will be thus and so.
For example: because Iraq has weapons of mass destruction (WMD), the future promises the terrible likelihood (more than a possibility, given Iraqi deployment of poison gas in the Iraq-Iran War) that America or its allies will be devastated by Iraqi weapons of mass destruction. This teleology leads to the inescapable need to eliminate Iraq's weapons of mass destruction by any means necessary, and remove the political will to use them by removing Iraq's leader from power.
Politicos and senior administrators rely on expertise and authority as the basis of deciding whether something is accurate and actionable. Professional specialists are assumed to have the highest available levels of expertise, and their position in institutions that embody the highest authority give their conclusions the additional weight of being authoritative. The experts' conclusion doesn't just carry the weight of expertise, it has been reviewed by senior officials of the institution, and so it also carries the weight of institutional authority.
So when the C.I.A. briefing by its experts claims Iraq has WMD, and the briefing includes various threads of evidence that the institution declares definitive, who is a non-expert to challenge this conclusion and teleology? On what technical basis does the skeptic reject the expertise and authority of the institution?
We can now define the Deep State with some precision. The Deep State is fundamentally the public-private centralized nodes that collect, archive and curate dominant narratives and their supporting evidence, and disseminate these narratives (and their implicit teleologies) to the public via the media and to the state agencies via formal and informal inter-departmental communication channels.
By gaining control of the narratives, evidence, curation and teleology, each node concentrates power. the power to edit out whatever bits contradict the dominant narrative is the source of power, for once the contradictory evidence is buried or expunged, it ceases to exist.
For example, the contradictory evidence in the Pentagon Papers was buried by being declared Top Secret. The bureaucratic means to bury skeptical (i.e. heretical) views or evidence are many. Sending the authors to figurative Siberia is remarkably effective, as is burying the heretical claims in a veritable mountain of data that few if any will ever survey.
Curation is a critical factor in maintaining control of the narrative and thus of control; the evidence is constantly curated to best support the chosen narrative which in turn supports the desired teleology, which then sets the agenda and the end-game.
The senior apparatchiks of the old Soviet Union were masters of curation; when a Soviet leader fell from favor, he was literally excised from the picture--his image was erased from photos.
This is how narratives are adjusted to better fit the evidence. Thus the accusation that "the Russians hacked our election" has been tabled because it simply doesn't align with any plausible evidence. That narrative has been replaced with variants, such as "the Russians hacked the Democratic National Committee." Now that this claim has also been shown to be false, new variants are popping up weekly, with equally poor alignment with evidence.
The primary claim of each Deep State node is that its expertise and authority cannot be questioned. In other words, while the dominant narrative can be questioned (but only cursorily, of course), the expertise and authority of the institutional node cannot be questioned.
This is why the Deep State is fracturing: the expertise and authority of its nodes are delaminating because its narratives no longer align with the evidence. If various Security Agencies sign off on the narrative that "Russia hacked our election" (a nonsense claim from the start, given the absurd imprecision of the "hacking"--hacking into what? Voting machines? Electoral tallies?), and that narrative is evidence-free and fact-free, i.e. false, then the expertise and authority of those agencies comes into legitimate question.
Once the legitimacy of the expertise and authority is questioned, control of the narrative is imperiled. The control of the narrative is control of the teleology, the agenda and the end-game--in other words, everything. If the institution loses control of the dominant narrative, it loses its hold on power.
This is why the Deep State is in turmoil--its narratives no longer make sense, or are in direct conflict with other nodes' narratives or have been delegitimized by widening gaps between "definitive" claims and actual evidence.
There is indeed a Deep State, but its control of dominant narratives, and thus its source of control and power, is crumbling. The gap between the narratives and the evidence that supports them has widened to the point of collapse.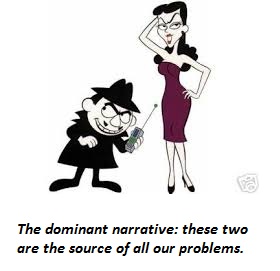 If you found value in this content, please join me in seeking solutions by becoming a $1/month patron of my work via patreon.com.
Check out both of my new books, Inequality and the Collapse of Privilege ($3.95 Kindle, $8.95 print) and Why Our Status Quo Failed and Is Beyond Reform ($3.95 Kindle, $8.95 print). For more, please visit the OTM essentials website.
---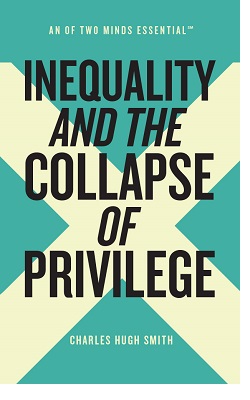 Inequality is rising globally, and rising inequality is destabilizing. A status quo of increasing inequality self-destructs. To avoid this fate, we must answer this question: why is the gulf between the wealthy and everyone else widening so dramatically?
The answer boils down to one word: privilege.
What is privilege? There are many types of privilege, but they all share two characteristics: privilege delivers benefits, wealth and power that are unearned.
Privilege is destabilizing for many reasons: the dead weight of privilege reduces productivity, generates perverse incentives and fuels social injustice. Innovation and competition are threats to privileged monopolies and are therefore suppressed.
The only way to foster sustainable stability is to dismantle institutionalized privilege.
We have a moral imperative to eradicate privilege: privilege is immoral, as rising inequality is the only possible output of privilege. Privilege is exploitive, parasitic, predatory and destructive to the society and economy, and generates inequality by its very nature.
Stripped to its essence, privilege is nothing but institutionalized racketeering.
The only way to reverse rising inequality is to eradicate its source: privilege.
Inequality and the Collapse of Privilege ($3.95 Kindle ebook, $8.95 print edition)
---
Recent entries:
The Deep State's Dominant Narratives and Authority Are Crumbling March 24, 2017
The Divided Deep State is a Symptom, Not the Disease March 23, 2017
Our Hopelessly Dysfunctional Democracy March 22, 2017
Dear America: Better Read the Fine Print on Your Credit Card Statement March 21, 2017
Don't You Hate Spammy, Sensationalist Click-Bait Like this? March 20, 2017
When Money Is "Free," Discipline Evaporates; When Discipline Evaporates, Decisions Are Disastrous March 17, 2017
Now That Everyone's Been Pushed into Risky Assets... March 16, 2017
Why Fragmentation Is the Solution, Not the Problem March 15, 2017
Are Cities the Incubators of Decentralized Solutions? March 14, 2017
Solutions Abound--on the Local Level March 13, 2017
The Conflict within the Deep State Just Broke into Open Warfare March 10, 2017
Are Central Banks Losing Control? March 9, 2017


March 2017 February 2017 January 2017 2016 Archives 2015 Archives Archives 2005-2016
---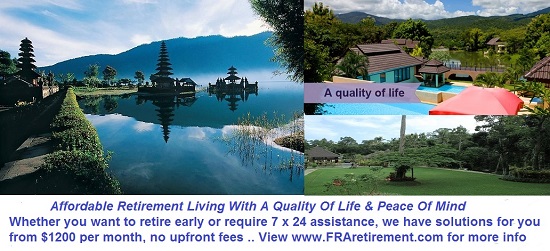 Discover why I'm looking to retire in a SE Asia luxury resort for $1,200/month.

---
Contributions/subscriptions are acknowledged in the order received. Your name and email remain confidential and will not be given to any other individual, company or agency. All contributors are listed below in acknowledgement of my gratitude.
| | | |
| --- | --- | --- |
| Thank you, David K. ($250), for your beyond outrageously generous contribution to this site -- I am greatly honored by your steadfast support and readership. | | Thank you, Brendan M. ($50), for your wondrously generous subscription to this site -- I am greatly honored by your steadfast support and readership. |
---
---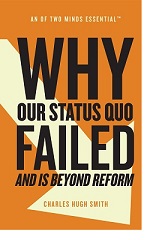 Our status quo--the pyramid of wealth and power dominated by the few at the top--has failed and is beyond reform.
This failure is not rooted in superficial issues such as politics or governmental regulations; the failure is structural.
The very foundation of the status quo has rotted away, and brushing on another coat of reformist paint will not save our societal house from collapse.
Yet those who benefit from our status quo naturally deny it has failed, for the reason that it has yet to fail them personally—either pretending to not understand that all unsustainable systems eventually collapse, or hoping to postpone it.
Our status quo is not only failing to solve humanity's six core problems--it has become the problem.
Since this failure is now inevitable, something is coming to replace it.
Why Our Status Quo Failed and Is Beyond Reform ($3.95 Kindle ebook, $8.95 print edition)


---
A Radically Beneficial World
: Automation, Technology & Creating Jobs for All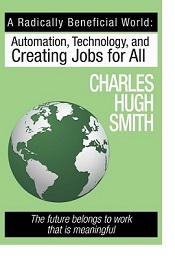 Kindle $9.95
print $25
audiobook $18
Automation is upending the global order by eliminating human labor on an unprecedented scale--and the status quo has no solution to this wholesale loss of jobs.
What if we could hit the reset button on the way we create money, work, commerce and community? What if we could design a social economy rather than a merely financial one? These are not idle questions, for technology now enables us to hit that reset button and organize the creation of money, work, commerce and community in new ways.
If we could start from scratch, what would a new system look like? Clearly, we need a system that offers what the current system cannot: meaningful work for all.
This book is the practical blueprint of a new system that offers opportunities for meaningful work and ownership of the sources of prosperity not just to a few, but to everyone.
A radically beneficial world beckons—what are we waiting for? Introduction Chapter One (free PDF)
---
Get a Job, Build a Real Career and Defy a Bewildering Economy
(Kindle, $9.95)(print, $17.76)
audiobook, $19.95
(Audible.com)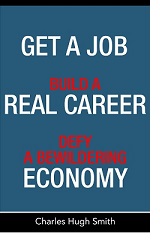 "Don't give this to a recent grad. Read it when your kids are born and then read it with them around eighth grade."
"Finally a book that gives practical career advice. The author does an excellent job describing the current economic and political system and how this affects employment opportunities. Times have changed dramatically, and will continue to do so faster than ever. I'm glad I stumbled upon this excellent book, and will begin preparing myself accordingly." Joseph
"I want to thank you for creating your book Get a Job. It is rare to find a person with a mind like yours, who can take a holistic systems view of things without being captured by specific perspectives or agendas. Your contribution to humanity is much appreciated." Laura Y. Test-drive the first section and see for yourself.
---
---
Of Two Minds Site Links
home musings my books archives books/films policies/disclosures social media/search Aphorisms How to Contribute, Subscribe/Unsubscribe sites/blogs of interest original music/songs Get a Job (book) contributors my definition of success why readers donate/subscribe to Of Two Minds mobile site (Blogspot) mobile site (m.oftwominds.com)