When We Can No Longer Tell the Truth...
July 21, 2017
Lies, half-truths and cover-ups are all manifestations of fatal weakness.
When we can no longer tell the truth because the truth will bring the whole rotten, fragile status quo down in a heap of broken promises and lies, we've reached the perfection of dysfunction.
You know the one essential guideline to "leadership" in a doomed dysfunctional system: when it gets serious, you have to lie. In other words, the status quo's secular goddess is TINA--there is no alternative to lying, because the truth will bring the whole corrupt structure tumbling down.
This core dynamic of dysfunction is scale-invariant, meaning that hiding the truth is the core dynamic in dysfunctional relationships, households, communities, enterprises, cities, corporations, states, alliances, nations and empires: when the truth cannot be told because it threatens the power structure of the status quo, that status quo is doomed.
Lies, half-truths and cover-ups are all manifestations of fatal weakness. What lies, half-truths and cover-ups communicate is: we can no longer fix our real problems, and rather than let this truth out, we must mask it behind lies and phony reassurances.
Truth is power, lies are weakness. All we get now are lies, statistics designed to mislead and phony reassurances that the status quo is stable and permanent. The truth is powerful because it is the core dynamic of solving problems. Lies, gamed statistics and false reassurances are fatal because they doom any sincere efforts to fix what's broken before the system reaches the point of no return.
We are already past the point of no return. The expediency of lies has already doomed us.
Honest accounts of hugely successful corporations that implode share one key trait: in every case, managers were pressured to hide the truth from top management, which then hid the truth from investors and clients.
This is the key dynamic in failed oligarchies as well: if telling the truth gets you sent to Siberia (or worse), then nobody with any instinct for self-preservation will tell the truth.
If obscuring the truth saves one's job, then that's what people do. That this dooms the organization is secondary to immediate self-preservation.
A distorted sense of loyalty to the family, community, company, institution, agency or nation furthers lying as the "solution" to unsavory problems. Daddy a drunk? Hide the bottle. Church a hotbed of adultery and thieving? Maintain the facade of holiness at all costs. Company products are failing? Put some lipstick on the pig. The statistical truth doesn't support the party's happy story? Distort the stats until they "do what's needed." The agency failed to fulfill its prime directive? Blame the managerial failure on a scapegoat.
Pathological liars and cheats rely on self-preservation and misplaced loyalty to mask their own failure and corruption. A hint here, a comment there, and voila, a culture of lying is created and incentivized.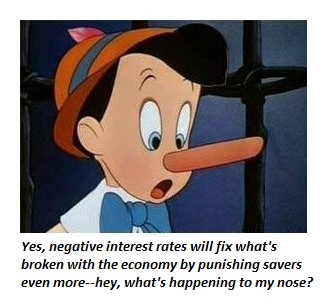 Obscuring the truth is the ultimate short-term expediency. Now that it's serious, we have to lie. We'll start telling the truth later, after everything's stabilized.
But lying insures nothing can ever be truly stabilized, so there will never be a point at which the system is strong enough and stable enough to survive the truth.
We are now an empire of lies. The status quo--politically, socially and economically-- depends on lies, half-truths, scapegoats and cover-ups for its very survival. Any truth that escapes the prison of lies endangers the entire rotten edifice.
In an empire of lies, "leaders" say what people want to hear. This wins the support of the masses, who would rather hear false reassurances that require no sacrifices, no difficult trade-offs, no hard choices, no discipline.
The empire of lies is doomed. Lies are weakness, and they prohibit any real solutions. Truth is power, but we can no longer tolerate the truth because it frightens us. Our weakness is systemic and fatal.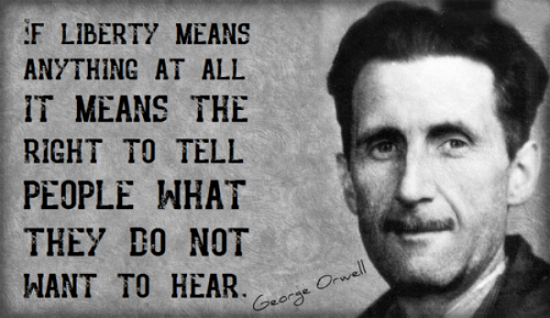 If you found value in this content, please join me in seeking solutions by becoming a $1/month patron of my work via patreon.com.
Check out both of my new books, Inequality and the Collapse of Privilege ($3.95 Kindle, $8.95 print) and Why Our Status Quo Failed and Is Beyond Reform ($3.95 Kindle, $8.95 print, $5.95 audiobook) For more, please visit the OTM essentials website.
---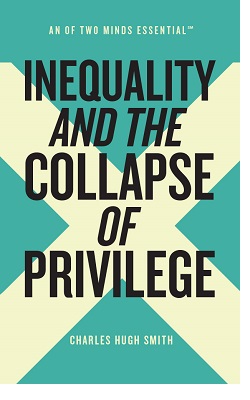 Inequality is rising globally, and rising inequality is destabilizing. A status quo of increasing inequality self-destructs. To avoid this fate, we must answer this question: why is the gulf between the wealthy and everyone else widening so dramatically?
The answer boils down to one word: privilege.
What is privilege? There are many types of privilege, but they all share two characteristics: privilege delivers benefits, wealth and power that are unearned.
Privilege is destabilizing for many reasons: the dead weight of privilege reduces productivity, generates perverse incentives and fuels social injustice. Innovation and competition are threats to privileged monopolies and are therefore suppressed.
The only way to foster sustainable stability is to dismantle institutionalized privilege.
We have a moral imperative to eradicate privilege: privilege is immoral, as rising inequality is the only possible output of privilege. Privilege is exploitive, parasitic, predatory and destructive to the society and economy, and generates inequality by its very nature.
Stripped to its essence, privilege is nothing but institutionalized racketeering.
The only way to reverse rising inequality is to eradicate its source: privilege.
Inequality and the Collapse of Privilege ($3.95 Kindle ebook, $8.95 print edition)
---
Recent entries:
When We Can No Longer Tell the Truth... July 21, 2017
The Death Spiral of Financialization July 20, 2017
The Over-Quantification of Life July 19, 2017
Why 2017 Is Like 1969 July 18, 2017
Earth's Economy Glorifies Waste, Exploitation, Debt, Expediency and Magical Thinking July 17, 2017
We Do These Things Because They're Easy: Our All-Consuming Dependence on Debt July 14, 2017


July 2017 June 2017 May 2017 April 2017 March 2017 February 2017 January 2017 2016 Archives 2015 Archives Archives 2005-2016
---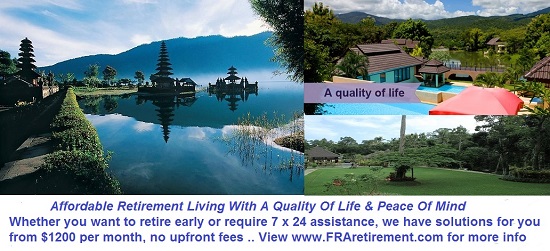 Discover why I'm looking to retire in a SE Asia luxury resort for $1,200/month.

---
Contributions/subscriptions are acknowledged in the order received. Your name and email remain confidential and will not be given to any other individual, company or agency. All contributors are listed below in acknowledgement of my gratitude.
| | | |
| --- | --- | --- |
| Thank you, David C. ($5/month), for your splendidly generous pledge to this site -- I am greatly honored by your support and readership. | | Thank you, Stuart M. ($50), for your superbly generous pledge to this site -- I am greatly honored by your support and readership. |
---
---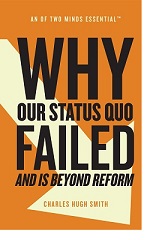 Our status quo--the pyramid of wealth and power dominated by the few at the top--has failed and is beyond reform.
This failure is not rooted in superficial issues such as politics or governmental regulations; the failure is structural.
The very foundation of the status quo has rotted away, and brushing on another coat of reformist paint will not save our societal house from collapse.
Yet those who benefit from our status quo naturally deny it has failed, for the reason that it has yet to fail them personally—either pretending to not understand that all unsustainable systems eventually collapse, or hoping to postpone it.
Our status quo is not only failing to solve humanity's six core problems--it has become the problem.
Since this failure is now inevitable, something is coming to replace it.
Why Our Status Quo Failed and Is Beyond Reform ($3.95 Kindle ebook, $8.95 print edition, $5.95 audiobook)


---
A Radically Beneficial World
: Automation, Technology & Creating Jobs for All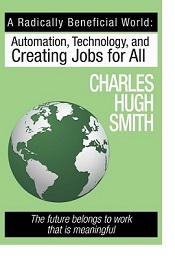 Kindle $9.95
print $25
audiobook $18
Automation is upending the global order by eliminating human labor on an unprecedented scale--and the status quo has no solution to this wholesale loss of jobs.
What if we could hit the reset button on the way we create money, work, commerce and community? What if we could design a social economy rather than a merely financial one? These are not idle questions, for technology now enables us to hit that reset button and organize the creation of money, work, commerce and community in new ways.
If we could start from scratch, what would a new system look like? Clearly, we need a system that offers what the current system cannot: meaningful work for all.
This book is the practical blueprint of a new system that offers opportunities for meaningful work and ownership of the sources of prosperity not just to a few, but to everyone.
A radically beneficial world beckons—what are we waiting for? Introduction Chapter One (free PDF)
---
Get a Job, Build a Real Career and Defy a Bewildering Economy
(Kindle, $9.95)(print, $17.76)
audiobook, $19.95
(Audible.com)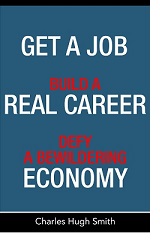 "Don't give this to a recent grad. Read it when your kids are born and then read it with them around eighth grade."
"Finally a book that gives practical career advice. The author does an excellent job describing the current economic and political system and how this affects employment opportunities. Times have changed dramatically, and will continue to do so faster than ever. I'm glad I stumbled upon this excellent book, and will begin preparing myself accordingly." Joseph
"I want to thank you for creating your book Get a Job. It is rare to find a person with a mind like yours, who can take a holistic systems view of things without being captured by specific perspectives or agendas. Your contribution to humanity is much appreciated." Laura Y. Test-drive the first section and see for yourself.
---
---
Of Two Minds Site Links
home musings my books archives books/films policies/disclosures social media/search Aphorisms How to Contribute, Subscribe/Unsubscribe sites/blogs of interest original music/songs Get a Job (book) contributors my definition of success why readers donate/subscribe to Of Two Minds mobile site (Blogspot) mobile site (m.oftwominds.com)