Housing's Echo Bubble Now Exceeds the 2006-07 Bubble Peak
April 25, 2017
If you need some evidence that the echo-bubble in housing is global, take a look at this chart of Sweden's housing bubble.
A funny thing often occurs after a mania-fueled asset bubble pops: an echo-bubble inflates a few years later, as monetary authorities and all the institutions that depend on rising asset valuations go all-in to reflate the crushed asset class.
Take a quick look at the Case-Shiller Home Price Index charts for San Francisco, Seattle and Portland, OR. Each now exceeds its previous Housing Bubble #1 peak: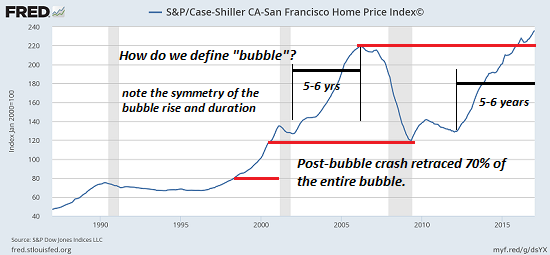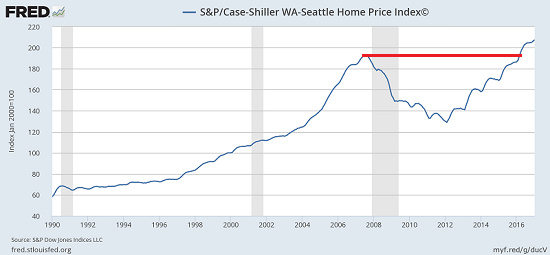 Is an asset bubble merely in the eye of the beholder? This is what the multitudes of monetary authorities (central banks, realty industry analysts, etc.) are claiming: there's no bubble here, just a "normal market" in action.
This self-serving justification--a bubble isn't a bubble because we need soaring asset prices--ignores the tell-tale characteristics of bubbles. Even a cursory glance at these charts reveals various characteristics of bubbles: a steep, sustained lift-off, a defined peak, a sharp decline that retraces much or all of the bubble's rise, and a symmetrical duration of the time needed to inflate and deflate the bubble extremes.
It seems housing bubbles take about 5 to 6 years to reach their bubble peaks, and about half that time to retrace much or all of the gains.
Bubbles have a habit of overshooting on the downside when they finally burst. The Federal Reserve acted quickly in 2009-10 to re-inflate the housing bubble by lowering interest rates to near-zero and buying over $1 trillion of mortgage-backed securities.
When bubbles are followed by echo-bubbles, the bursting of the second bubble tends to signal the end of the speculative cycle in that asset class. There is no fundamental reason why housing could not round-trip to levels below the 2011 post-bubble #1 trough.
Consider the fundamentals of China's remarkable housing bubble. The consensus view is: sure, China's housing prices could fall modestly, but since Chinese households buy homes with cash or large down payments, this decline won't trigger a banking crisis like America's housing bubble did in 2008.
The problem isn't a banking crisis; it's a loss of household wealth, the reversal of the wealth effect and the decimation of local government budgets and the construction sector.
China is uniquely dependent on housing and real estate development. This makes it uniquely vulnerable to any slowdown in construction and sales of new housing.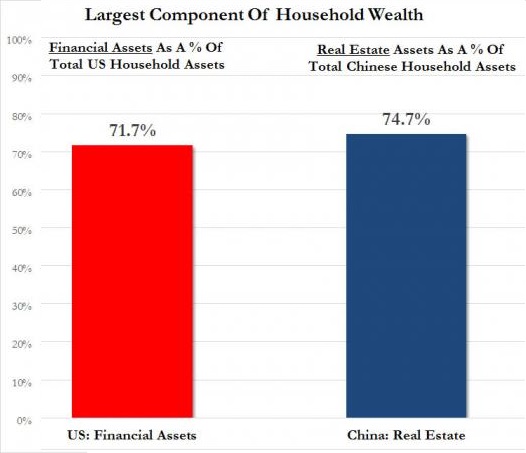 About 15% of China's GDP is housing-related. This is extraordinarily high. In the 2003-08 housing bubble, housing's share of U.S. GDP barely cracked 5%.
Of even greater concern, local governments in China depend on land development sales for roughly 2/3 of their revenues. (These are not fee simple sales of land, but the sale of leasehold rights, as all land in China is owned by the state.)
There is no substitute source of revenue waiting in the wings should land sales and housing development grind to a halt. Local governments will lose a majority of their operating revenues, and there is no other source they can tap to replace this lost revenue.
Since China authorized private ownership of housing in the late 1990s, homeowners in China have only experienced rising prices and thus rising household wealth. The end of that "rising tide raises all ships" gravy train will dramatically alter China's household wealth and local government income.
If you need some evidence that the echo-bubble in housing is global, take a look at this chart of Sweden's housing bubble. Oops, did I say bubble? I meant "normal market in action."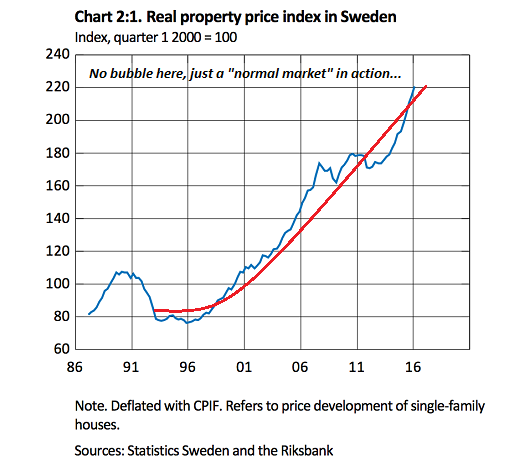 Who is prepared for the inevitable bursting of the echo bubble in housing? Certainly not those who cling to the fantasy that there is no bubble in housing.
NOTE: James Collins, please email me re: your generous contribution via Dwolla.


If you found value in this content, please join me in seeking solutions by becoming a $1/month patron of my work via patreon.com.
Check out both of my new books, Inequality and the Collapse of Privilege ($3.95 Kindle, $8.95 print) and Why Our Status Quo Failed and Is Beyond Reform ($3.95 Kindle, $8.95 print, $5.95 audiobook) For more, please visit the OTM essentials website.
---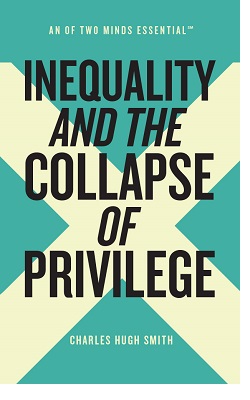 Inequality is rising globally, and rising inequality is destabilizing. A status quo of increasing inequality self-destructs. To avoid this fate, we must answer this question: why is the gulf between the wealthy and everyone else widening so dramatically?
The answer boils down to one word: privilege.
What is privilege? There are many types of privilege, but they all share two characteristics: privilege delivers benefits, wealth and power that are unearned.
Privilege is destabilizing for many reasons: the dead weight of privilege reduces productivity, generates perverse incentives and fuels social injustice. Innovation and competition are threats to privileged monopolies and are therefore suppressed.
The only way to foster sustainable stability is to dismantle institutionalized privilege.
We have a moral imperative to eradicate privilege: privilege is immoral, as rising inequality is the only possible output of privilege. Privilege is exploitive, parasitic, predatory and destructive to the society and economy, and generates inequality by its very nature.
Stripped to its essence, privilege is nothing but institutionalized racketeering.
The only way to reverse rising inequality is to eradicate its source: privilege.
Inequality and the Collapse of Privilege ($3.95 Kindle ebook, $8.95 print edition)
---
Recent entries:
Housing's Echo Bubble Now Exceeds the 2006-07 Bubble Peak April 25, 2017
Who Will Live in the Suburbs if Millennials Favor Cities? April 24, 2017
Our State-Corporate Plantation Economy April 21, 2017
Marx, Orwell and State-Cartel Socialism April 20, 2017
Our Intellectual Bankruptcy: The "Religion" of Economics, UBI and Medicare For All April 19, 2017
The Left's Descent to Fascism April 18, 2017
What's Your Plan B? April 17, 2017
The U.S. and China: Why the Sudden Convergence on North Korea? April 14, 2017
Millennials Are Homesteading, Buying Affordable Homes, Building Community April 13, 2017
Millennials Are Abandoning the Postwar Engines of Growth: Suburbs and Autos April 12, 2017
Who's Playing The Long Game--and What's Their Game Plan? April 11, 2017
The Media's Missing the Point: Syria, Empire and the Power of Signaling April 10, 2017


April 2017 March 2017 February 2017 January 2017 2016 Archives 2015 Archives Archives 2005-2016
---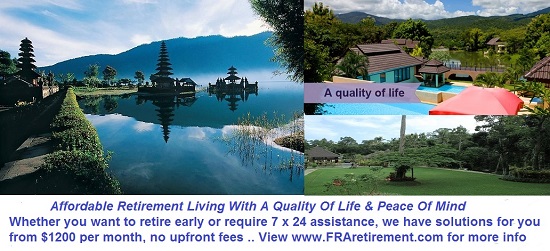 Discover why I'm looking to retire in a SE Asia luxury resort for $1,200/month.

---
Contributions/subscriptions are acknowledged in the order received. Your name and email remain confidential and will not be given to any other individual, company or agency. All contributors are listed below in acknowledgement of my gratitude.
| | | |
| --- | --- | --- |
| Thank you, T.G.N. ($5/month), for your marvelously generous pledge to this site -- I am greatly honored by your support and readership. | | Thank you, Don Y. ($5/month), for your splendidly generous pledge to this site -- I am greatly honored by your support and readership. |
---
---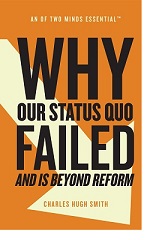 Our status quo--the pyramid of wealth and power dominated by the few at the top--has failed and is beyond reform.
This failure is not rooted in superficial issues such as politics or governmental regulations; the failure is structural.
The very foundation of the status quo has rotted away, and brushing on another coat of reformist paint will not save our societal house from collapse.
Yet those who benefit from our status quo naturally deny it has failed, for the reason that it has yet to fail them personally—either pretending to not understand that all unsustainable systems eventually collapse, or hoping to postpone it.
Our status quo is not only failing to solve humanity's six core problems--it has become the problem.
Since this failure is now inevitable, something is coming to replace it.
Why Our Status Quo Failed and Is Beyond Reform ($3.95 Kindle ebook, $8.95 print edition, $5.95 audiobook)


---
A Radically Beneficial World
: Automation, Technology & Creating Jobs for All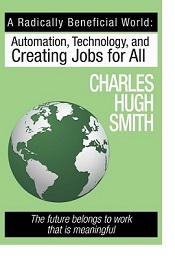 Kindle $9.95
print $25
audiobook $18
Automation is upending the global order by eliminating human labor on an unprecedented scale--and the status quo has no solution to this wholesale loss of jobs.
What if we could hit the reset button on the way we create money, work, commerce and community? What if we could design a social economy rather than a merely financial one? These are not idle questions, for technology now enables us to hit that reset button and organize the creation of money, work, commerce and community in new ways.
If we could start from scratch, what would a new system look like? Clearly, we need a system that offers what the current system cannot: meaningful work for all.
This book is the practical blueprint of a new system that offers opportunities for meaningful work and ownership of the sources of prosperity not just to a few, but to everyone.
A radically beneficial world beckons—what are we waiting for? Introduction Chapter One (free PDF)
---
Get a Job, Build a Real Career and Defy a Bewildering Economy
(Kindle, $9.95)(print, $17.76)
audiobook, $19.95
(Audible.com)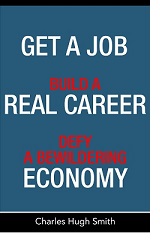 "Don't give this to a recent grad. Read it when your kids are born and then read it with them around eighth grade."
"Finally a book that gives practical career advice. The author does an excellent job describing the current economic and political system and how this affects employment opportunities. Times have changed dramatically, and will continue to do so faster than ever. I'm glad I stumbled upon this excellent book, and will begin preparing myself accordingly." Joseph
"I want to thank you for creating your book Get a Job. It is rare to find a person with a mind like yours, who can take a holistic systems view of things without being captured by specific perspectives or agendas. Your contribution to humanity is much appreciated." Laura Y. Test-drive the first section and see for yourself.
---
---
Of Two Minds Site Links
home musings my books archives books/films policies/disclosures social media/search Aphorisms How to Contribute, Subscribe/Unsubscribe sites/blogs of interest original music/songs Get a Job (book) contributors my definition of success why readers donate/subscribe to Of Two Minds mobile site (Blogspot) mobile site (m.oftwominds.com)