Does a Rogue Deep State Have Trump's Back?
January 18, 2017
Rather than being the bad guys, as per the usual Liberal world-view, the Armed Forces may well play a key role in reducing the utterly toxic influence of neocon-neoliberals within the Deep State.
Suddenly everybody is referring to the Deep State, typically without offering much of a definition.
The general definition is the unelected government that continues making and implementing policy regardless of who is in elected office.
I have been writing about this structure for 10 years and studying it from the outside for 40 years. Back in 2007, I called it the Elite Maintaining and Extending Global Dominance, which is a more concise description of the structure than Deep State. Going to War with the Political Elite You Have (May 14, 2007).
I've used this simplified chart to explain the basic structure of the Deep State, which is the complex network of state-funded and/or controlled institutions, agencies, foundations, university research projects, media ties, etc.
The key point here is you can't separate these network nodes: you cannot separate DARPA, the national labs (nukes, energy, etc.), the National Science Foundation, DoD (Department of Defense), the National Security State (alphabet soup of intelligence/black budget agencies: CIA, NSA, DIA, etc.), Silicon Valley and the research universities: they are all tied together by funding, information flows, personnel and a thousand other connections.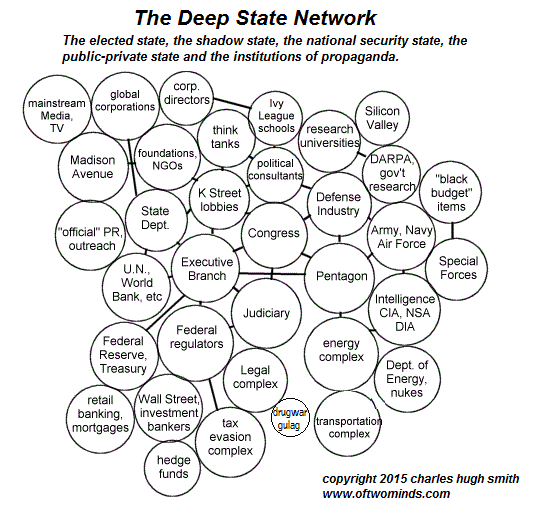 For the past few years, I have been suggesting there is a profound split in the Deep State that is not just about power or ideology, but about the nature and future of National Security: in other words, what policies and priorities are actually weakening or threatening the long-term security of the United States?
I have proposed that there are progressive elements within the sprawling Deep State that view the dominant neocon-neoliberal agenda of the past 24 years as a disaster for the long-term security of the U.S. and its global interests (a.k.a. the Imperial Project).
There are also elements within the Deep State that view Wall Street's dominance as a threat to America's security and global interests. (This is not to say that American-based banks and corporations aren't essential parts of the Imperial Project; it's more about the question of who is controlling whom.)
So let's dig in by noting that the warmongers in the Deep State are civilians, not military. It's popular among so-called Liberals (the vast majority of whom did not serve nor do they have offspring in uniform--that's fallen to the disenfranchised and the working class) to see the military as a permanent source of warmongering.
(It's remarkably easy to send other people's children off to war, while your own little darlings have cush jobs in Wall Street, foundations, think tanks, academia, government agencies, etc.)
These misguided souls are ignoring that it's civilians who order the military to go into harm's way, not the other way around. The neocons who have waged permanent war as policy are virtually all civilians, few of whom served in the U.S. armed forces and none of whom (to my knowledge) have actual combat experience.
These civilian neocons were busily sacking and/or discrediting critics of their warmongering within the U.S. military all through the Iraqi debacle. now that we got that straightened out--active-duty service personnel have borne the brunt of civilian planned, ordered and executed warmongering--let's move on to the split between the civilian Central Intelligence Agency (CIA) and the DoD (Department of Defense) intelligence and special ops agencies: DIA, Army Intelligence, Navy Intelligence, etc.
Though we have to be careful not to paint a very large agency with one brush, it's fair to say that the civilian leadership of the CIA (and of its proxies and crony agencies) has long loved to "play army". The CIA has its own drone (a.k.a. Murder, Inc.) division, as well as its own special ops ("play army" Special Forces), and a hawkish mentality that civilians reckon is "play army special forces" (mostly from films, in which the CIA's role is carefully managed by the CIA itself: How the CIA Hoodwinked Hollywood (The Atlantic)
Meanwhile, it's not exactly a secret that when it comes to actual combat operations and warfighting, the CIA's in-theater intelligence is either useless, misleading or false. This is the result of a number of institutional failings of the CIA, number one of which is the high degree of politicization within its ranks and organizational structure.
The CIA's reliance on "analysis" rather than human agents (there's a lot of acronyms for all these, if you find proliferating acronyms of interest), and while some from-30,000-feet analysis can be useful, it's just as often catastrophically wrong.
We can fruitfully revisit the Bay of Pigs disaster, the result of warmongering civilians in the CIA convincing incoming President Kennedy that the planned invasion would free Cuba of Castro's rule in short order. There are many other examples, including the failure to grasp Saddam's willingness to invade Kuwait, given the mixed signals he was receiving from U.S. State Department personnel.
Simply put, if you are actually prosecuting a war, then you turn to the services' own intelligence agencies to help with actual combat operations, not the CIA. This is of course a sort of gossip, and reading between the lines of public information; nobody is going to state this directly in writing.
As I have noted before:
If you want documented evidence of this split in the Deep State--sorry, it doesn't work that way. Nobody in the higher echelons of the Deep State is going to leak anything about the low-intensity war being waged because the one thing everyone agrees on is the Deep State's dirty laundry must be kept private.
As a result, the split is visible only by carefully reading between the lines, by examining who is being placed in positions of control in the Trump Administration, and reading the tea leaves of who is "retiring" (i.e. being fired) or quitting, which agencies are suddenly being reorganized, and the appearance of dissenting views in journals that serve as public conduits for Deep State narratives.
Many so-called Liberals are alarmed by the number of military officers Trump has appointed. Once you realize it's the neocon civilians who have promoted and led one disastrous military intervention (either with U.S. Armed Forces or proxies managed by the CIA) after another, then you understand Trump's appointments appear to be a decisive break from the civilian warmongers who've run the nation into the ground.
If you doubt this analysis, please consider the unprecedentedly politicized (and pathetically childish) comments by outgoing CIA director Brennan against an incoming president. Even if you can't stand Trump, please document another instance in which the CIA director went off on an incoming president-- and this after the CIA spewed a blatant misinformation campaign claiming a hacked Democratic Party email account constituted a successful Russian effort to influence the U.S. election--a surreal absurdity.
Let me translate for you: our chosen Insider lost the election; how dare you!
A number of observers are wondering if the CIA and its Deep State allies and cronies will work out a way to evict Trump from office or perhaps arrange a "lone gunman" or other "accident" to befall him. The roots of such speculations stretch back to Dallas, November 1963, when a "long gunman" with ties to the CIA and various CIA proxies assassinated President Kennedy, an avowed foe of the CIA.
Setting aside the shelfloads of books on the topic, both those defending the "lone gunman" thesis and those contesting it, the unprecedented extremes of institutionally organized and executed anti-Trump campaigns is worthy of our attention.
Given my thesis of a profound disunity in the Deep State, and the emergence of a progressive element hostile to neocons and neoliberalism (including Wall Street), then it's not much of a stretch to speculate that this rogue Deep State opposed to neocon-neoliberalism has Trump's back, as a new administration is pretty much the only hope to rid the nation's top echelons of the neocon-neoliberal policies that have driven the U.S. into the ground.
Rather than being the bad guys, as per the usual Liberal world-view, the Armed Forces may well play a key role in reducing the utterly toxic influence of neocon-neoliberals within the Deep State.
If you have wondered why academics like Paul Krugman and the CIA are on the same page, it's because they are simply facets of the same structure. Krugman is a vocal neoliberal, the CIA is vocally neocon: two sides of the same coin. I invite you to study the chart above with an open mind, and ponder the possibility that the Deep State is not monolithic, but deeply divided along the fault lines of Wall-Street-Neocons-Neoliberals and the progressive elements that rightly view the dominant neocon-neoliberals as a threat to U.S. national security, U.S. global interests and world peace.
We can speculate that some of these progressive elements view Trump with disdain for all the same reasons those outside the Deep State disdain him, but their decision tree is simple: if you want to rid America's Deep State of toxic neocon-neoliberalism before it destroys the nation, you hold your nose and go with Trump because he's the only hope you have.


If you found value in this content, please join me in seeking solutions by becoming a $1/month patron of my work via patreon.com.
Check out both of my new books, Inequality and the Collapse of Privilege ($3.95 Kindle, $8.95 print) and Why Our Status Quo Failed and Is Beyond Reform ($3.95 Kindle, $8.95 print). For more, please visit the OTM essentials website.
---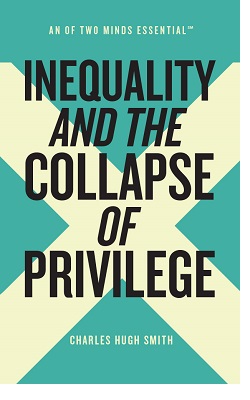 Inequality is rising globally, and rising inequality is destabilizing. A status quo of increasing inequality self-destructs. To avoid this fate, we must answer this question: why is the gulf between the wealthy and everyone else widening so dramatically?
The answer boils down to one word: privilege.
What is privilege? There are many types of privilege, but they all share two characteristics: privilege delivers benefits, wealth and power that are unearned.
Privilege is destabilizing for many reasons: the dead weight of privilege reduces productivity, generates perverse incentives and fuels social injustice. Innovation and competition are threats to privileged monopolies and are therefore suppressed.
The only way to foster sustainable stability is to dismantle institutionalized privilege.
We have a moral imperative to eradicate privilege: privilege is immoral, as rising inequality is the only possible output of privilege. Privilege is exploitive, parasitic, predatory and destructive to the society and economy, and generates inequality by its very nature.
Stripped to its essence, privilege is nothing but institutionalized racketeering.
The only way to reverse rising inequality is to eradicate its source: privilege.
Inequality and the Collapse of Privilege ($3.95 Kindle ebook, $8.95 print edition)
---
Recent entries:
Does a Rogue Deep State Have Trump's Back? January 18, 2017
Trump as Lightning Rod--Not Just for Disaffected Progressives, But For Panicked Insiders January 17, 2017
Will Our Grandchildren Wonder Why We Didn't Build a Renewable Power Grid When It Was Still Affordable? January 16, 2017
The Eight Forces That Are Pressuring Profits January 13, 2017
What's Truly Progressive? January 12, 2017
The Path to $10,000 Bitcoin January 11, 2017
Dear Self-Proclaimed "Progressives": as Apologists for the Neocon-Neoliberal Empire, You Are as Evil as the Empire You've Enabled January 10, 2017
Why Don't the U.S. Dollar and Bitcoin Drop to Their Tangible Value, i.e. Zero? January 9, 2017
We Can Only Afford One, So Choose Wisely: Social Security/Medicare, Cartel Cronyism or Inflation (a.k.a. Central Banking) January 6, 2017
Trump Aims to Cut the Neocon Deep State Off at the Knees January 5, 2017
Why Profits Are Faltering January 4, 2017
Prosperity = Abundant Work + Low Cost of Living January 3, 2017
Fragmentation and the De-Optimization of Centralization January 2, 2017


December 2016 &nbsp November 2016 October 2016 September 2016 August 2016 July 2016 June 2016 May 2016 April 2016 March 2016 February 2016 January 2016 2015 Archives Archives 2005-2016
---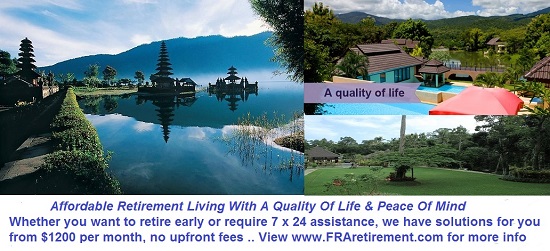 Discover why I'm looking to retire in a SE Asia luxury resort for $1,200/month.

---
Contributions/subscriptions are acknowledged in the order received. Your name and email remain confidential and will not be given to any other individual, company or agency. All contributors are listed below in acknowledgement of my gratitude.
| | | |
| --- | --- | --- |
| Thank you, Rutger C. ($50), for your splendidy generous contribution to this site -- I am greatly honored by your support and readership. | | Thank you, Ben G. ($50), for your supremely generous contribution to this site -- I am greatly honored by your steadfast support and readership. |
---
---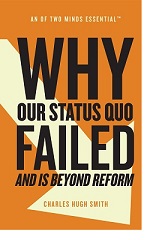 Our status quo--the pyramid of wealth and power dominated by the few at the top--has failed and is beyond reform.
This failure is not rooted in superficial issues such as politics or governmental regulations; the failure is structural.
The very foundation of the status quo has rotted away, and brushing on another coat of reformist paint will not save our societal house from collapse.
Yet those who benefit from our status quo naturally deny it has failed, for the reason that it has yet to fail them personally—either pretending to not understand that all unsustainable systems eventually collapse, or hoping to postpone it.
Our status quo is not only failing to solve humanity's six core problems--it has become the problem.
Since this failure is now inevitable, something is coming to replace it.
Why Our Status Quo Failed and Is Beyond Reform ($3.95 Kindle ebook, $8.95 print edition)


---
A Radically Beneficial World
: Automation, Technology & Creating Jobs for All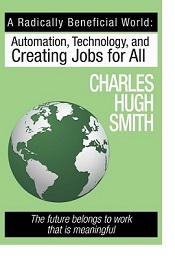 Kindle $9.95
print $25
audiobook $18
Automation is upending the global order by eliminating human labor on an unprecedented scale--and the status quo has no solution to this wholesale loss of jobs.
What if we could hit the reset button on the way we create money, work, commerce and community? What if we could design a social economy rather than a merely financial one? These are not idle questions, for technology now enables us to hit that reset button and organize the creation of money, work, commerce and community in new ways.
If we could start from scratch, what would a new system look like? Clearly, we need a system that offers what the current system cannot: meaningful work for all.
This book is the practical blueprint of a new system that offers opportunities for meaningful work and ownership of the sources of prosperity not just to a few, but to everyone.
A radically beneficial world beckons—what are we waiting for? Introduction Chapter One (free PDF)
---
Get a Job, Build a Real Career and Defy a Bewildering Economy
(Kindle, $9.95)(print, $17.76)
audiobook, $19.95
(Audible.com)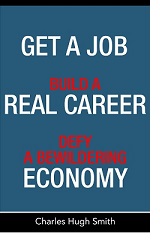 "Don't give this to a recent grad. Read it when your kids are born and then read it with them around eighth grade."
"Finally a book that gives practical career advice. The author does an excellent job describing the current economic and political system and how this affects employment opportunities. Times have changed dramatically, and will continue to do so faster than ever. I'm glad I stumbled upon this excellent book, and will begin preparing myself accordingly." Joseph
"I want to thank you for creating your book Get a Job. It is rare to find a person with a mind like yours, who can take a holistic systems view of things without being captured by specific perspectives or agendas. Your contribution to humanity is much appreciated." Laura Y. Test-drive the first section and see for yourself.
---
---
Of Two Minds Site Links
home musings my books archives books/films policies/disclosures social media/search Aphorisms How to Contribute, Subscribe/Unsubscribe sites/blogs of interest original music/songs Get a Job (book) contributors my definition of success why readers donate/subscribe to Of Two Minds mobile site (Blogspot) mobile site (m.oftwominds.com)