The Divided Deep State is a Symptom, Not the Disease
March 23, 2017
If we understand the profound political disunity fracturing the nation and its Imperial Project, we understand the Deep State must also fracture along the same fault lines.
I've been writing about the divided Deep State for a number of years, most recently in The Conflict within the Deep State Just Broke into Open Warfare. The topic appears to be one of widespread interest, as this essay drew over 300,000 views.
It's impossible to understand the divided Deep State unless we situate it in the larger context of profound political disunity, a concept I learned from historian Michael Grant, whose slim but insightful volume The Fall of the Roman Empire I have been recommending since 2009.
As I noted in my 2009 book Survival+, this was a key feature of the Roman Empire in its final slide to collapse. The shared values and consensus which had held the Empire's core together dissolved, leaving petty fiefdoms to war among themselves for what power and swag remained.
A funny thing happens when a nation allows itself to be ruled by Imperial kleptocrats: such rule is intrinsically destabilizing, as there is no longer any moral or political center to bind the nation together. The public sees the value system at the top is maximize my personal profit by whatever means are available, i.e. complicity, corruption, monopoly and rentier rackets, and they follow suit by pursuing whatever petty frauds and rackets are within reach: tax avoidance, cheating on entrance exams, gaming the disability system, lying on mortgage and job applications, and so on.
But the scope of the rentier rackets is so large, the bottom 95% cannot possibly keep up with the expanding wealth and income of the top .1% and their army of technocrats and enablers, so a rising sense of injustice widens the already yawning fissures in the body politic.
Meanwhile, diverting the national income into a few power centers is also destabilizing, as Central Planning and Market Manipulation (a.k.a. the Federal Reserve) are intrinsically unstable as price can no longer be discovered by unfettered markets. As a result, imbalances grow until some seemingly tiny incident or disruption triggers a cascading collapse, a.k.a. a phase shift or system re-set.
As the Power Elites squabble over the dwindling crumbs left by the various rentier rackets, there's no one left to fight for the national interest because the entire Status Quo of self-interested fiefdoms and cartels has been co-opted and is now wedded to the Imperial Oligarchy as their guarantor of financial security.
The divided Deep State is a symptom of this larger systemic political disunity. I have characterized the divide as between the Wall Street-Neocon-Globalist Neoliberal camp--currently the dominant public face of the Deep State, the one desperately attempting to exploit the "Russia hacked our elections and is trying to destroy us" narrative--and a much less public, less organized "rogue Progressive" camp, largely based in the military services and fringes of the Deep State, that sees the dangers of a runaway expansionist Empire and the resulting decay of the nation's moral/political center.
What few observers seem to understand is that concentrating power in centralized nodes is intrinsically unstable. Contrast a system in which power, control and wealth is extremely concentrated in a few nodes (the current U.S. Imperial Project) and a decentralized network of numerous dynamic nodes.
The disruption of any of the few centralized nodes quickly destabilizes the entire system because each centralized node is highly dependent on the others. This in effect what happened in the 2008-09 Financial Meltdown: the Wall Street node failed and that quickly imperiled the entire economy and thus the entire political order, up to and including the Global Imperial Project.
Historian Peter Turchin has proposed that the dynamics of profound political disunity (i.e. social, financial and political disintegration) can be quantified in a Political Stress Index, a concept he describes in his new book Ages of Discord.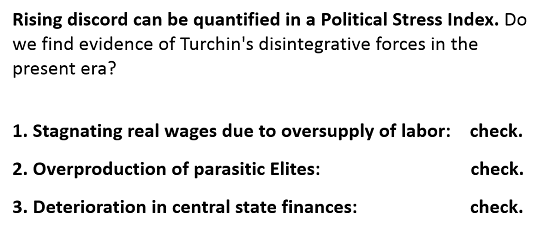 If we understand the profound political disunity fracturing the nation and its Imperial Project, we understand the Deep State must also fracture along the same fault lines. There is no other possible output of a system of highly concentrated nodes of power, wealth and control and the competing rentier rackets of these dependent, increasingly fragile centralized nodes.
Of related interest:
Is the Deep State Fracturing into Disunity? (March 14, 2014)


If you found value in this content, please join me in seeking solutions by becoming a $1/month patron of my work via patreon.com.
Check out both of my new books, Inequality and the Collapse of Privilege ($3.95 Kindle, $8.95 print) and Why Our Status Quo Failed and Is Beyond Reform ($3.95 Kindle, $8.95 print). For more, please visit the OTM essentials website.
---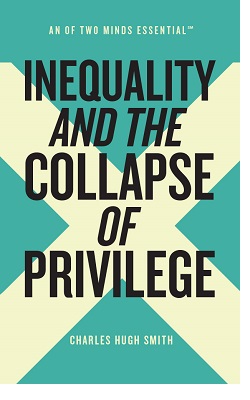 Inequality is rising globally, and rising inequality is destabilizing. A status quo of increasing inequality self-destructs. To avoid this fate, we must answer this question: why is the gulf between the wealthy and everyone else widening so dramatically?
The answer boils down to one word: privilege.
What is privilege? There are many types of privilege, but they all share two characteristics: privilege delivers benefits, wealth and power that are unearned.
Privilege is destabilizing for many reasons: the dead weight of privilege reduces productivity, generates perverse incentives and fuels social injustice. Innovation and competition are threats to privileged monopolies and are therefore suppressed.
The only way to foster sustainable stability is to dismantle institutionalized privilege.
We have a moral imperative to eradicate privilege: privilege is immoral, as rising inequality is the only possible output of privilege. Privilege is exploitive, parasitic, predatory and destructive to the society and economy, and generates inequality by its very nature.
Stripped to its essence, privilege is nothing but institutionalized racketeering.
The only way to reverse rising inequality is to eradicate its source: privilege.
Inequality and the Collapse of Privilege ($3.95 Kindle ebook, $8.95 print edition)
---
Recent entries:
The Divided Deep State is a Symptom, Not the Disease March 23, 2017
Our Hopelessly Dysfunctional Democracy March 22, 2017
Dear America: Better Read the Fine Print on Your Credit Card Statement March 21, 2017
Don't You Hate Spammy, Sensationalist Click-Bait Like this? March 20, 2017
When Money Is "Free," Discipline Evaporates; When Discipline Evaporates, Decisions Are Disastrous March 17, 2017
Now That Everyone's Been Pushed into Risky Assets... March 16, 2017
Why Fragmentation Is the Solution, Not the Problem March 15, 2017
Are Cities the Incubators of Decentralized Solutions? March 14, 2017
Solutions Abound--on the Local Level March 13, 2017
The Conflict within the Deep State Just Broke into Open Warfare March 10, 2017
Are Central Banks Losing Control? March 9, 2017
Why I Have to Agree with Tim Geithner on This March 8, 2017
The Next Domino to Fall: Commercial Real Estate March 7, 2017
It's What's Happening Beneath the Surface That Matters: Moral Decay and Rising Inequality March 6, 2017
Why Is the Cost of Living so Unaffordable? March 3, 2017
The Illusion of Progress March 2, 2017
Dear President Trump: If You Want to Lower Healthcare Costs and Stem the Opiate Death Spiral, Legalize Marijuana March 1, 2017


February 2017 &nbsp January 2017 &nbsp December 2016 &nbsp November 2016 October 2016 September 2016 August 2016 July 2016 June 2016 May 2016 April 2016 March 2016 February 2016 January 2016 2015 Archives Archives 2005-2016
---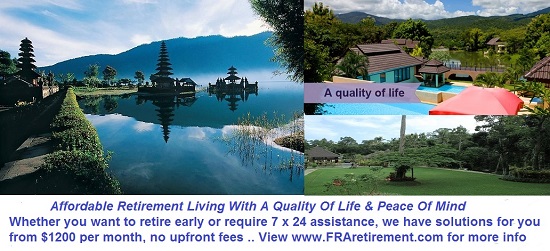 Discover why I'm looking to retire in a SE Asia luxury resort for $1,200/month.

---
Contributions/subscriptions are acknowledged in the order received. Your name and email remain confidential and will not be given to any other individual, company or agency. All contributors are listed below in acknowledgement of my gratitude.
| | | |
| --- | --- | --- |
| Thank you, George M. ($50), for your monumentally generous contribution to this site -- I am greatly honored by your support and readership. | | Thank you, Lawrence M. ($50), for your wondrously generous subscription to this site -- I am greatly honored by your steadfast support and readership. |
---
---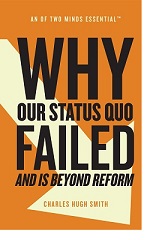 Our status quo--the pyramid of wealth and power dominated by the few at the top--has failed and is beyond reform.
This failure is not rooted in superficial issues such as politics or governmental regulations; the failure is structural.
The very foundation of the status quo has rotted away, and brushing on another coat of reformist paint will not save our societal house from collapse.
Yet those who benefit from our status quo naturally deny it has failed, for the reason that it has yet to fail them personally—either pretending to not understand that all unsustainable systems eventually collapse, or hoping to postpone it.
Our status quo is not only failing to solve humanity's six core problems--it has become the problem.
Since this failure is now inevitable, something is coming to replace it.
Why Our Status Quo Failed and Is Beyond Reform ($3.95 Kindle ebook, $8.95 print edition)


---
A Radically Beneficial World
: Automation, Technology & Creating Jobs for All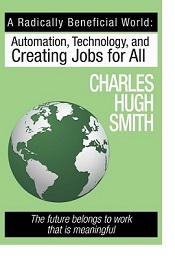 Kindle $9.95
print $25
audiobook $18
Automation is upending the global order by eliminating human labor on an unprecedented scale--and the status quo has no solution to this wholesale loss of jobs.
What if we could hit the reset button on the way we create money, work, commerce and community? What if we could design a social economy rather than a merely financial one? These are not idle questions, for technology now enables us to hit that reset button and organize the creation of money, work, commerce and community in new ways.
If we could start from scratch, what would a new system look like? Clearly, we need a system that offers what the current system cannot: meaningful work for all.
This book is the practical blueprint of a new system that offers opportunities for meaningful work and ownership of the sources of prosperity not just to a few, but to everyone.
A radically beneficial world beckons—what are we waiting for? Introduction Chapter One (free PDF)
---
Get a Job, Build a Real Career and Defy a Bewildering Economy
(Kindle, $9.95)(print, $17.76)
audiobook, $19.95
(Audible.com)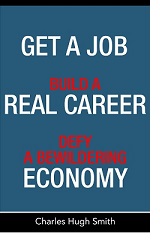 "Don't give this to a recent grad. Read it when your kids are born and then read it with them around eighth grade."
"Finally a book that gives practical career advice. The author does an excellent job describing the current economic and political system and how this affects employment opportunities. Times have changed dramatically, and will continue to do so faster than ever. I'm glad I stumbled upon this excellent book, and will begin preparing myself accordingly." Joseph
"I want to thank you for creating your book Get a Job. It is rare to find a person with a mind like yours, who can take a holistic systems view of things without being captured by specific perspectives or agendas. Your contribution to humanity is much appreciated." Laura Y. Test-drive the first section and see for yourself.
---
---
Of Two Minds Site Links
home musings my books archives books/films policies/disclosures social media/search Aphorisms How to Contribute, Subscribe/Unsubscribe sites/blogs of interest original music/songs Get a Job (book) contributors my definition of success why readers donate/subscribe to Of Two Minds mobile site (Blogspot) mobile site (m.oftwominds.com)