---

---
U.S. Households Under Pressure: Stagnant Incomes, Rising Basic Expenses
May 29, 2015

How do you support a consumer economy with stagnant incomes for the bottom 90%, rising basic expenses and crashing employment for males ages 25-54? Answer: you don't.
Frequent contributor B.C. passed along a sobering set of charts that provide context for How The Average U.S. Consumer Spends Their Paycheck. The basic story is well-known to the bottom 90%: most of the household income goes to taxes, housing, food and transportation, with healthcare and insurance, pensions and retirement contributions rounding out the big-ticket items. (Higher education is, as we all know, paid with student loans by all but the top-tier of families.)
Here's the question this raises: is the sliver that's left enough to support a $17 trillion consumer economy? The answer is obvious: no.
Stagnant household income has a number of systemic causes, including the generational decline of full-time employment (A Rising Share of Young Adults Live in Their Parentsí Home) and the concentration of wage gains in the top 10%. These dynamics are not easily addressed, for the simple yet profound reason that the amount of human labor that generates a meaningful profit in a stagnant, over-indebted, financialized economy is declining.
The only way most enterprises can sustainably earn a profit is to offload costly human labor (with its immense burdens of healthcare, pensions, workers compensation, disability insurance, etc., and the heavy regulatory burdens of workplace rules) and replace it with networked software and smart machines.
The types of human labor that generate hefty profits are increasingly scarce, and as a result entry-level pay and employment are both capped by the high costs of human labor (even at minimum wage) and the relatively meager profits generated by conventional labor.
Most of the big profits are generated not by labor but by financialization, stock buybacks and other financial gaming of debt and leverage.
The few areas of human labor that generate hefty profits are either in the protected fiefdoms of state-enforced cartels, or in financial services (i.e. those playing the financial games with debt and leverage) or those creating the software and machinery that replaces costly human labor.
Here are B.C.'s comments on the data:
Nearly half of disposable income is spent on housing and food.
More than 50% of disposable household income is spent on housing and transportation (overwhelmingly autos).
25% of disposable income is spent on autos and health care.
Two-thirds of gross income is spent on taxes, housing, transportation, and health care.
Millennials, most especially males, coming of age since the mid- to late 2000s do not earn enough to afford the major components of household spending, i.e., taxes, housing, autos, and health care (insurance).
The self-reinforcing feedback effect of lack of gainful employment and after-tax earned income causing insufficient purchasing power for housing, auto transport, and healthcare insurance that then results in lack of growth of demand for same will persist indefinitely hereafter, i.e., permanently, including reducing the rate of coupling, marriage, fertility, household formation, etc.
Here is a chart of housing and vehicle costs, broken down by age group. Note that only the peak-earnings middle groups spend less than 50% on housing and transportation.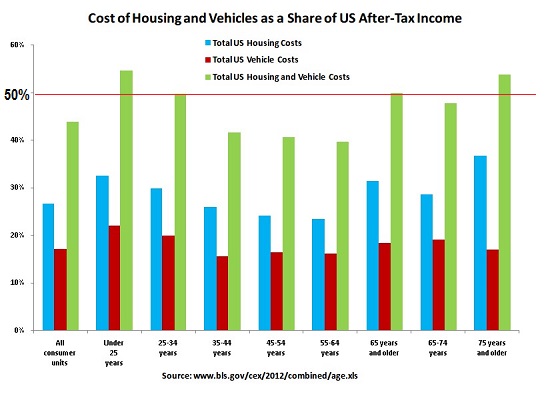 The concentration of earnings in the top 10% and 5% is clear: the bottom 50% of households earn a fraction of the top 10%, and the bottom 90% get by with less than a third of the income of the top 5%: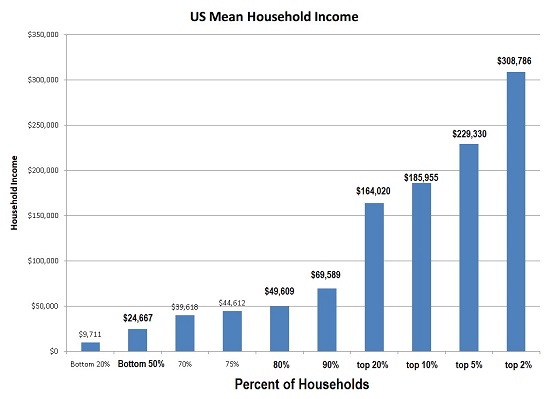 The recent decline in male employment in the peak earning years (ages 25-54) is striking: the employment rate for males ages 25-54 has been stairstepping down for 30 years, but it literally fell off a cliff in 2009: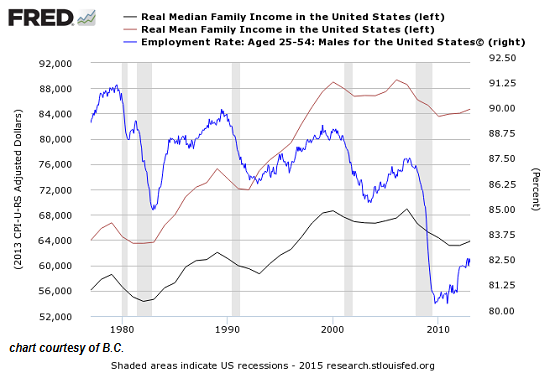 How do you support a consumer economy with stagnant incomes for the bottom 90%, rising basic expenses and crashing employment for males ages 25-54? Answer: you don't. The media shills, government lackeys and PR-pimps can spin the GDP and other gamed statistics as much as they want, but no amount of statistical gaming will change the stagnation that results from generational declines in employment, flat wages and rising basic household expenses.


---
---
Get a Job, Build a Real Career and Defy a Bewildering Economy
(Kindle, $9.95)(print, $17.76)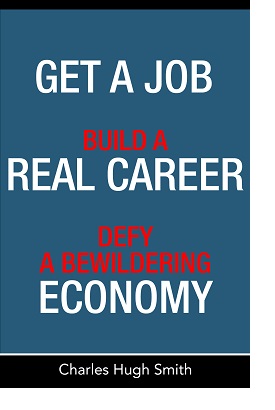 Are you like me?
Ever since my first summer job decades ago, I've been chasing financial security. Not win-the-lottery, Bill Gates riches (although it would be nice!), but simply a feeling of financial control. I want my financial worries to if not disappear at least be manageable and comprehensible.
And like most of you, the way I've moved toward my goal has always hinged not just on having a job but a career.
You don't have to be a financial blogger to know that "having a job" and "having a career" do not mean the same thing today as they did when I first started swinging a hammer for a paycheck.
Even the basic concept "getting a job" has changed so radically that jobs--getting and keeping them, and the perceived lack of them--is the number one financial topic among friends, family and for that matter, complete strangers.
So I sat down and wrote this book: Get a Job, Build a Real Career and Defy a Bewildering Economy.
It details everything I've verified about employment and the economy, and lays out an action plan to get you employed.
I am proud of this book. It is the culmination of both my practical work experiences and my financial analysis, and it is a useful, practical, and clarifying read.
Test-drive the first section and see for yourself. Kindle, $9.95 print, $17.76
"I want to thank you for creating your book Get a Job, Build a Real Career and Defy a Bewildering Economy. It is rare to find a person with a mind like yours, who can take a holistic systems view of things without being captured by specific perspectives or agendas. Your contribution to humanity is much appreciated."
Laura Y.
Gordon Long and I discuss The New Nature of Work: Jobs, Occupations & Careers (25 minutes, YouTube)
The Old Models of Work Are Broken
---
---
HUGE GIANT BIG FAT DISCLAIMER: Nothing on this site should be construed as investment advice or guidance. It is not intended as investment advice or guidance, nor is it offered as such.... (read more)
WHY EMAIL TO THIS SITE IS READ BUT MAY NOT BE ACKNOWLEDGED: Regrettably, I am so sorely pressed for time and energy that I am unable to respond to the vast majority of emails. Please know I read all emails, but I can only devote a very limited number of hours to this blog and all correspondence....
---

This Month's entries:
Contributions and Subscriptions
Contributors and subscribers enable Of Two Minds to post 275+ free essays annually. It is for this reason they are Heroes and Heroines of New Media. Without your financial support, the free content would disappear for the simple reason that I cannot keep body and soul together on my meager book sales alone.
NOTE: Contributions/subscriptions are acknowledged in the order received. Your name and email remain confidential and will not be given to any other individual, company or agency. All contributors are listed below in acknowledgement of my gratitude.

---
| | | |
| --- | --- | --- |
| | Thank you, anonymous from Seattle ($200), for your beyond-outrageously generous contribution to this site-- I am greatly honored by your steadfast support and readership. | |
---
SPECIAL APPEAL TO READERS OF OFTWOMINDS
from longtime correspondent Cheryl A.:
I don't recall exactly how I discovered Of Two Minds in late 2005, but it is hard to express how grateful I am that I did. As a result of the insight I have gained from the information Charles has shared over these past 9 years, I have been able to navigate this turbulent period much more successfully than most of my acquaintances. I'm sure that those of you who visit OTM with any regularity have similarly benefitted in numerous ways.

The addition of the weekly musings has been an extra bonus for supporters that has provided further insight into the markets, as well as the world around us (often providing a much needed smile).

I have no doubt that those who generously contribute to this site recognize the value that it offers. I hope that those of you who visit, but have not yet contributed, will consider doing so. Your support is essential in helping to maintain such an important resource.

10/20/14 P.S. Over a year ago, Charles wrote about the coming rise in the dollar, a story that is just now gaining traction in the mainstream media. He was also early to recognize that the price of oil was going to fall. For readers who want foresight into where we are headed, these are further examples of why Charles deserves your support.
Thank you, Cheryl, for this vote of confidence.
I can only promise that I will continue to do my best.
---