---

---


Generation X: An Inconvenient Era (guest post)

May 23, 2013

A data-based look at the financial context of the past 30 years from the perspective of Gen X.

I am honored to publish an insightful essay by longtime contributor Eric A. on the inconvenient financial era Generation X finds itself in. What sets this essay apart from most other generational analyses is its focus on data and charts.

(Eric's most recent essays here were A Brief History of Cycles and Time, Part 1 and Part 2.)

In The Brewing Generational Conflict (May 15, 2013), I mentioned the Cultural Monster Id (CMI) that arises whenever inter-generational emotions are freely expressed. Every generation-- the Baby Boomers, Gen X and Gen Y/Millennials--is slammed for its supposed character flaws.

Personally, I don't find much value in these outpourings of Cultural Monster Id, for several reasons. One is that generations do not naturally divide into crisp cohorts; people are shaped by the events and shifting myths/worldviews of their culture. As a result there is an inescapable arbitrariness to bright lines between generations.

There's also a bit of intrinsic falsity in defining generational characteristics. Were the draftees of the Vietnam Era any less heroic than the draftees of World War II? Were the volunteers of World War II and Vietnam any more heroic than the volunteers of Desert Storm?

We can while away many a night around the campfire lambasting or lauding various supposedly generational traits, but I don't think that gets us anywhere useful. Ultimately, there is an element of luck in history, and it doesn't neatly favor generations evenly.

For example, the Silent Generation (born 1925-42) got stuck with a thankless war in Korea (1950-53), but was handed a golden opportunity to buy housing in the late 1960s before Boomer demand and geographical constraints sent it skyrocketing. Homes in high-demand areas purchased in the late 60s (before most Boomers could afford to buy a house) doubled in value in a few years and went on to rise 10 or even 15-fold in the ensuing 35 years.

Luck matters, timing matters, but so does context.

There are four Grand Narratives at work: demographics, resource extraction/pillaging, geopolitical conflict and the nature of the economy. The last two are heavily influenced by the first two; some studies suggest that large cohorts of unmarried, under-employed males are precursors to war, as political leaders channel that restless and potentially disruptive force against external enemies.

Economies based on endless resource extraction founder when the resources are found to be less than endless.

The Grand Narrative of the U.S. economy is a global empire that has substituted financialization for authentic, sustainable economic expansion. In shorthand, those people with capital and access to credit can take advantage of the many asset bubbles financialization inflates. They have a chance to do very well for themselves, if they have the presence of mind to exit the asset bubble before it deflates.

Those people who do not have capital or access to credit become poorer. That is the harsh reality of neofeudal, neocolonial financialization. Neofeudalism and the Neocolonial-Financialization Model (May 24, 2012)

Large cohorts generate their own self-referential feedback loops. A large cohort of home buyers drives up real estate as demand exceeds supply, and those who get in early are handsomely rewarded. Those seeking similar returns provide the fuel for further advances. This is the basic story of housing from 1970 to 2006 and the stock market from 1981-2013, as the Baby Boom cohort bought houses and saved for retirement via stock and bond mutual funds.

As the Boomer cohort sells its homes and stocks, supply will exceed demand and prices will decline, especially if household capital and access to credit are also declining. This selling cycle will also be self-reinforcing.

In my view, the reality Eric describes is part of the larger destructive narrative of financialization. Those people who are prepared for the inevitable collapse of the financialization era of debt, centralized manipulation and fantasy will do well for themselves and their families.

My position on the entitlements promised to the Baby Boomers has been clear since 2005 (Boomers, Prepare to Fall on Your Swords June 2005): demographics, the changing job market and the destructive consequence of financializing the U.S. economy render the entitlements promised (Social Security and Medicare) unpayable.

Here is Eric's essay:

---
Lately there has been some talk about Generation X and retirement.
ďThe typical Gen X couple, born between 1966 and 1975, only has enough savings to replace half of its pre-retirement earnings. Married Americans born during the first part of the baby boom, from 1946 to 1955, can expect to retire with about 82 percent of their income.Ē (Gen X Has New Reason to Resent Boomers as Retirement Looks Bleak).
The response from some circles has been that the net worth of GenX is half that of their parents because theyíre slackers who blew the money. Really?
Setting aside how the Boomers have been the most spendthrift generation in American history, quadrupling personal household debt and doubling US Federal debt in a single lifetime, Iíd like to focus on something much simpler: 6th grade math.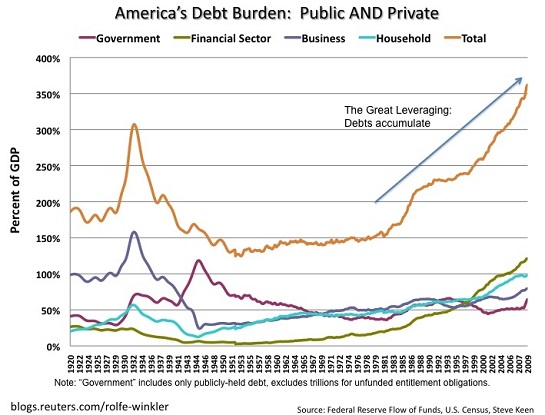 Financial people should easily recognize this chart: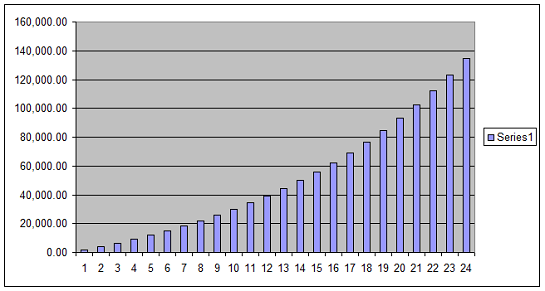 This is your standard net worth chart, starting with an income of $20,000 at age 20 and increasing income by 3% a year to a pleasant $40,000/year at age 43. This person saved a standard 10% of their income, and invested at the standard 6%/year compounded.
Standard lifetime incomes have a tendency to rise from your 20s to your 50s and level off, so your real income-generating years are strongly back-loaded. This earnings chart from Canada is pretty standard: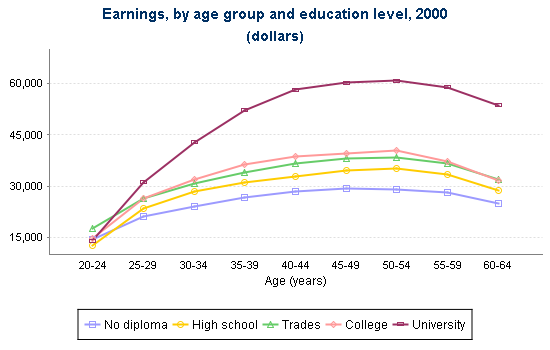 As for 6% compounding markets, this is what portfolios from 1980-2000 looked like: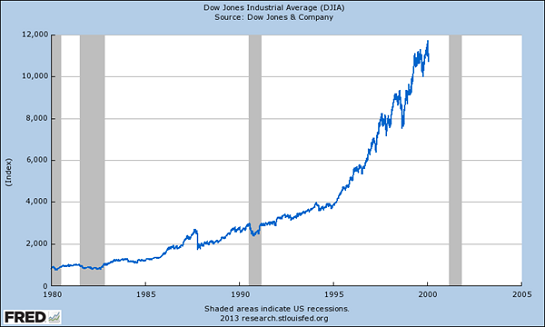 Wow, this investing stuff is easy! But we know what happened after that. The Dow has since gone sideways for a brutal 13 year Bear market: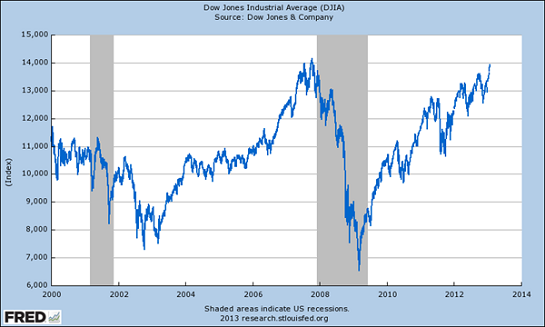 Oh well, those are the breaks. Markets tend to have a periodicity that rise for >20 years, but then reverse or at least stall in a bear market for <20 years.
So what does this have to do with GenX?
Everything. Investing is an exponential function. One of the interesting aspects of the exponential function is that interest compounds very slowly at first, then increasing the amount contributed by interest ever-faster as time goes on. This is why Brokers are adamant about people beginning to invest when they are young: no realistic level of interest can make up for the compounding effect of time. Here is the same assumption as aboveó3% income rise, 10% savings with 6% compounding -- taken from age 20 to 65, halting peak income at a reasonable $55,000/year: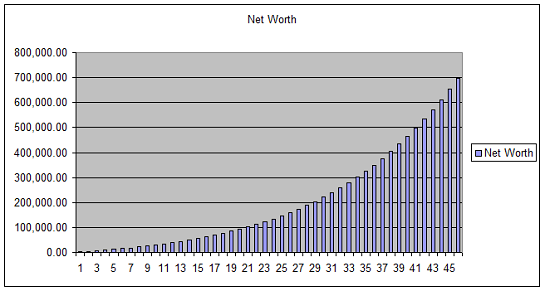 Note it takes 21 years to reach the first $100k, but only 8 to reach the $200k and 4 to reach $300k. This compounding-made-real actually happened from 1980-2000.
Here is a matrix of the 4 Generations: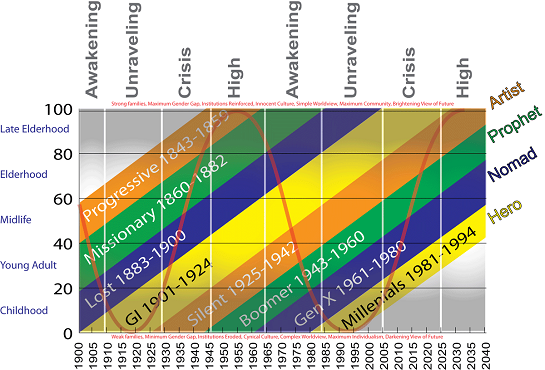 Note anything on this chart? The Boomer generation had a rough start in the bear market of the 70ís, but were only about 25 when it ended, so the Bull run coinciding with 20 of their core income years. Very nice.
Quick look to the right and youíll see GenX. When did they come into their equivalent earning years? Year 2000, just as the market was cut in half: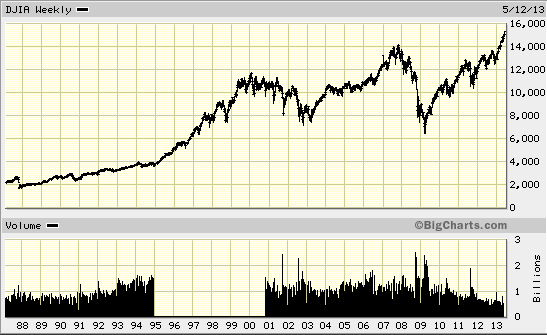 Why should that matter? The Dow has now recovered and gone to new highs of 14,000.
Well, letís run the charts and see. Again assuming $20k starting income, 3% income growth, 10% savings, and full investment in the Dow as a proxy, letís compare GenX income theory to reality: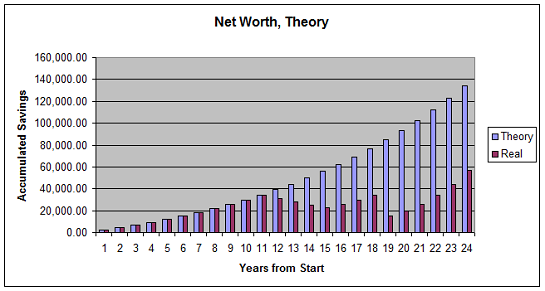 Wow! Right at the 10-year compounding point in 2000, the X-erís market clock was re-set to zero. Then in 2008, the next 10-year compounding point, they were re-set to zero again!
Remember what we said about compounding being strongly back-loaded? The difference in 6% compounding vs the market stalling at the critical 10 year mark has cut GenX net worth in half! And if this chart was inflation-adjusted their net worth would be another 30-50% lower!
This is even assuming the massively optimistic assumption that GenX incomes are neatly rising from $20k to $55k. Theyíre not: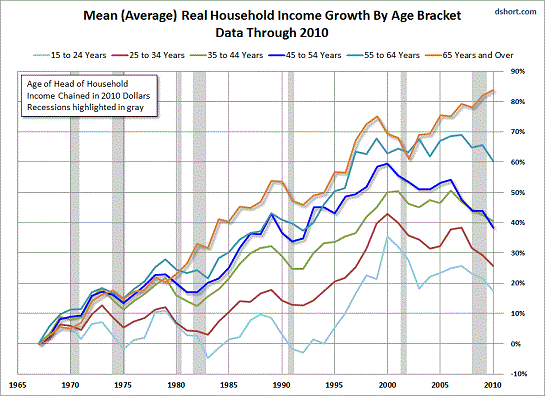 What did the Bloomberg article say again, that GenX has half the retirement savings of their parents? That reality is exactly what we predicted given the math. Anybody want to argue about how Boomers worked hard to succeed but GenX and Y are slacking wastrels? Or does math trump all?
But okay, maybe despite advertising to the contrary GenX should have known better than to trust a 19 year-old bull market. Maybe they should have gone short. If so, when? Going short in 2001, they would have to have reversed and gone long in í03, then short in Ď08, then long in í09, and possibly short again sometime soon? Is asking a whole generation to pick 5 exact tops and bottoms reasonable? Perhaps not. If not, where should they have put their money?
Bonds? Interest has averaged under 3% since 2000: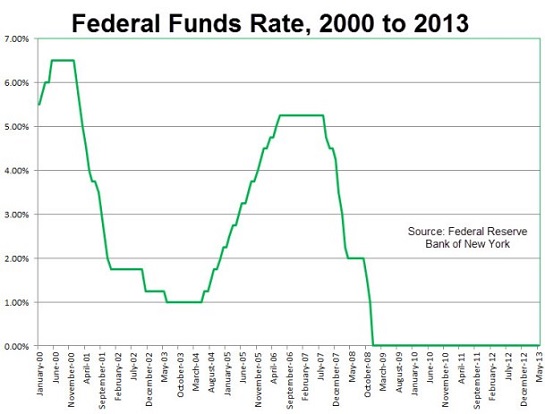 The chart of 3% vs 6% interest: a 25% difference over 10 years: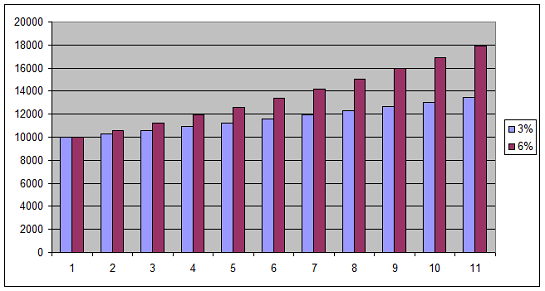 Maybe they should have invested in houses. Hereís your table of average buying ages: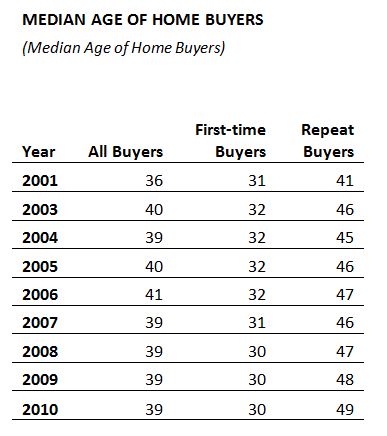 Severely burned by stocks, GenX statistically became first-time homebuyers at the age of 32, not much older than when their parents did. However, they bought their first home in 2005, not 1985. How did that work out?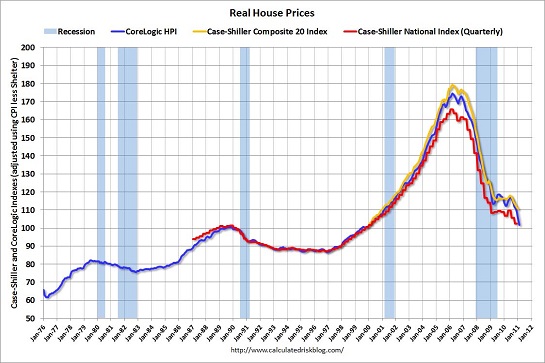 Whoops! Sorry, suckers, stole your money again: your peak home-buying years coincided with another bubble! Housing was no safe-haven. Not only that, but again, the catastrophe is not the up-front losses but the 10 years of lost compounding that can never be re-made. The math says that if GenX worked until they were 80, they will NEVER recover.
But there is only one national economy, all the same houses, same stocks, same companies: to some extent itís not a matter of national wealth, but the DISTRIBUTION of wealth in the nation. So if GenX was systematically disenfranchised by engineered stock and housing bubbles plus low interest rates, who was their expected slice of GDP transferred to?
Again: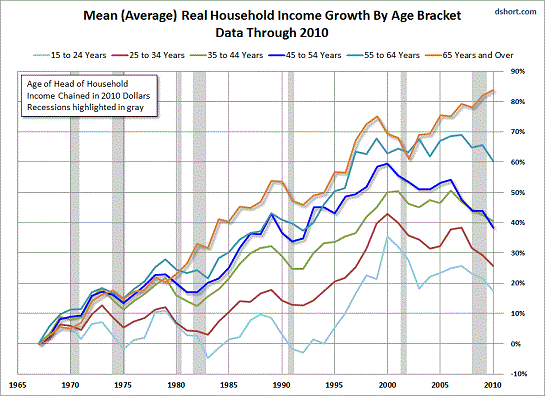 Thatís right, the Boomers, in allegiance with the financial elite, engineered a transfer of all other generationsí income to themselves. This, plus being born in an expanding demographic, was the totality of their investing genius.
Why should anyone protest this observation? What do you think the decades-old phrase ďthe national debt has enslaved our childrenĒ means? It means that the Boomers, who were in power at that time, took all the wealth of the nation for themselves and left their children with the bill.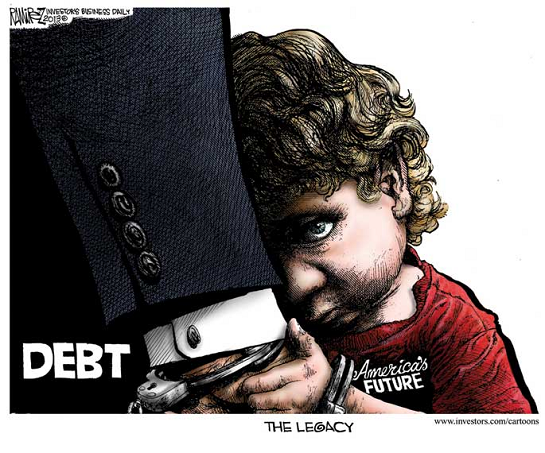 Thatís not a surprise, itís well-known fact that has been approved of by everyone in power for 20 years. Iíve been hearing it openly stated since before the National Commission on Social Security in 1983. When I was 13, my national parents said that I would pay their debts so they could get wealthy at my expense, and they have fully kept their promise. Now I am 43 and not only had the $80,000 of my net worth systematically stolen, but being unable to outvote them, have been saddled against my will with the $50,000/person of the national debt. An estimate of $130,000 per person has been transferred. From us, GenX and Y, to them. And with 10,000 Boomers a day retiring and a 1:1 worker to recipient ratio, they expect much, much more.
So think again before you so easily dismiss the 25% unemployment rate and 3rd-world incomes of Generations X and Y and start with a short lesson on the problems of exponential functions.
Yet this terrible math leaves the question of what's next? Can this unequal state of affairs remain a permanent feature of American life? Can the work of one group-- the very hours of their life--be morally claimed and transferred to another by dictate? That is to say, does one generation have the right to enslave another, whether physically with chains they never earned, or financially with debts they never accrued? And if this transfer was voted into power by a generation and enforced by government dictate, why canít Generation X and Y vote to transfer all the Boomersí wealth back to themselves?
We donít know at this time, but with the Dow at all-time highs it would seem that, one way or another, incomes and prices can only revert to the mean. And brother, speaking from the bottom, itís a long way down to here.
by Eric A.
Links:
Income by age and education attainment (Canada)
Dow Jones Industrial Average historical charts
U.S. House Prices - Nominal, Real, Price-to-Rent
---
---
Things are falling apart--that is obvious. But why are they falling apart? The reasons are complex and global. Our economy and society have structural problems that cannot be solved by adding debt to debt. We are becoming poorer, not just from financial over-reach, but from fundamental forces that are not easy to identify or understand. We will cover the five core reasons why things are falling apart: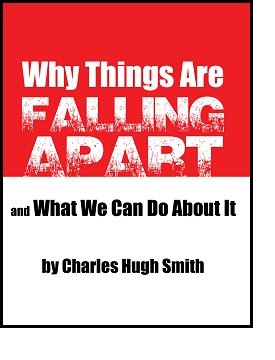 1. Debt and financialization
2. Crony capitalism and the elimination of accountability
3. Diminishing returns
4. Centralization
5. Technological, financial and demographic changes in our economy
Complex systems weakened by diminishing returns collapse under their own weight and are replaced by systems that are simpler, faster and affordable. If we cling to the old ways, our system will disintegrate. If we want sustainable prosperity rather than collapse, we must embrace a new model that is Decentralized, Adaptive, Transparent and Accountable (DATA).
We are not powerless. Not accepting responsibility and being powerless are two sides of the same coin: once we accept responsibility, we become powerful.

Kindle edition: $9.95 print edition: $24 on Amazon.com
To receive a 20% discount on the print edition: $19.20 (retail $24), follow the link, open a Createspace account and enter discount code SJRGPLAB. (This is the only way I can offer a discount.)

HUGE GIANT BIG FAT DISCLAIMER: Nothing on this site should be construed as investment advice or guidance. It is not intended as investment advice or guidance, nor is it offered as such.... (read more)
WHY EMAIL TO THIS SITE IS READ BUT MAY NOT BE ACKNOWLEDGED: Regrettably, I am so sorely pressed for time and energy that I am unable to respond to the vast majority of emails. Please know I read all emails, but I can only devote a very limited number of hours to this blog and all correspondence....
---
SPECIAL APPEAL TO READERS OF OFTWOMINDS
from longtime correspondent Cheryl A.:
Charles has warned and informed us about the collapse in housing, peak oil, international affairs and a wide variety of other subjects, including the long-term societal changes that we face.

His analyses/advisories are uncannily prescient and are generally followed several weeks, months, or years later by news stories in the general press that are offered too late to provide protection to a misled/uninformed public.

I am unaware of any other website that provides such broad based commentary with such a level of accuracy.

If you could find an analyst or financial advisor with the depth of knowledge Charles possesses, you would have to pay a handsome sum for the information that he writes about daily.

If you are one of the many readers of oftwominds who has benefitted in any way from the information you receive at this site, I hope that you will make a donation to help keep OTM going. This is one resource we cannot afford to lose!
Thank you, Cheryl, for this vote of confidence.
I can only promise that I will continue to do my best.
NOTE: gifts/donations are acknowledged in the order received. Your name and email remain confidential and will not be given to any other individual, company or agency. All contributors are listed below in acknowledgement of my gratitude.
| | | |
| --- | --- | --- |
| Thank you, Riley T. ($120), for your outrageously generous contribution to this site -- I am greatly honored by your steadfast support and readership. | | Thank you, Matt S. ($5/month), for your most excellently generous subscription to this site -- I am greatly honored by your support and readership. |
---
"This guy is THE leading visionary on reality. He routinely discusses things which no one else has talked about, yet, turn out to be quite relevant months later."
--Walt Howard, commenting about CHS on another blog.
---
Or send him coins, stamps or quatloos via mail--please request P.O. Box address.
Gifts/donations in any amount are greatly appreciated.

---
Subscribers ($5/mo) and contributors of $50 or more this year will receive a weekly email of exclusive (though not necessarily coherent) musings and amusings ($50/year is about 96 cents a week).
At readers' request, there is also a $10/month subscription option.
What subscribers are saying about the Musings (Musings samples here):

"What makes you a channel worth paying for? It's actually pretty simple - you possess a clarity of thought that most of us can only dream of, and a perspective that allows you to focus on the truth with laser-like precision." Jim S.
The "unsubscribe" link is for when you find the usual drivel here insufferable.

Your readership is greatly appreciated with or without a donation. This Month's entries:

Generation X: An Inconvenient Era (guest post)
(May 23, 2013)

Present Shock and the Loss of History and Context
(May 22, 2013)

Centralization and Sociopathology
(May 21, 2013)

The Number of the Beast Is 1667
(May 20, 2013)

What's Cooking at Our House: Dosas and Pizza
(May 18, 2013)

Tune In, Turn On, Opt Out
(May 17, 2013)

The Trick to Suppressing Revolution: Keeping Debt/Tax Serfdom Bearable
(May 16, 2013)

The Brewing Generational Conflict
(May 15, 2013)

A Brief History of Cycles and Time, Part 2 (guest essay)
(May 14, 2013)

A Brief History of Cycles and Time, Part 1 (guest essay)
(May 13, 2013)

What's Cooking at Our House: Tacos
(May 11, 2013)

A Funny Thing Happened on the Way to the Next Bull Market
(May 10, 2013)

Degrowth and Anti-Consumerism
(May 9, 2013)

The Widening Chasm
(May 8, 2013)

Bernanke's Neofeudal Rentier Economy
(May 7, 2013)

What Is Obvious About This Market?
(May 6, 2013)

Part 46: An unstable elixir ready to boil over (serialized fiction)
(May 4, 2013)

College Grads: It's a Different Economy
(May 3, 2013)

The Mobile Gold Rush
(May 2, 2013)

The Fatal Disease of the Status Quo: Diminishing Returns
(May 1, 2013)


Bubble Symmetry and Housing
(April 30, 2013)

Wall Street Is a Rentier Rip-Off: Index Funds Beat 99.6% of Managers Over Ten Years
(April 29, 2013)

What's Been Cooking at Our House
(April 27, 2013)

China 2.0 Is in Trouble
(April 26, 2013)

The Way Forward
(April 25, 2013)

Why Krugman and the Keynesians Are Lackeys for the Neofeudal Debtocracy
(April 24, 2013)


April 2013 entries

December 2012 entries





Heroes and Heroines of New Media--2013
Subscribers ($5/mo) and contributors who have donated $50 or more (or made multiple donations totalling $50 or more) this year will receive a weekly email of exclusive (though not necessarily coherent) Musings and amusings ($50/year is about 96 cents a week). (read samples here).
Outrageously Generous Supporters
Into this category fall those kind contributors who not only overlook the peculiar mix of topics and inconsistent quality of the site but who have perversely chosen to reward this anachronism with contributions of $100 or more.
Massively Generous Supporters
Into this category fall those kind contributors who are so insanely generous that they have supported the site with contributions of $200 or more.
Thank you all for your ongoing support and encouragement.
| | | | | | |
| --- | --- | --- | --- | --- | --- |
| Massively | Generous: | ($200+) | | | |
| Darren B. | Peter K. | Charles C. | Cudick A. | David K. | David P. |
| Paul L. | Brian K. | Jerzy W. | John K. | Michael N. | Robert M. |
| Stephen B. | Kathy K. | Karl L. | Thomas B. | | |
| | | | | | |
| Outrageously | Generous: | ($100+) | | | |
| Keith B. | Timothy S. | Michael M. | Paul K. | Riley T. | Scott C. |
| Steven C. | Al I. | Allen C. | Andrew M. | Bryan S. | Charles R. |
| Cheryl A. | Chris H. | Christine C. | Christopher H. | Christopher T. | Craig H. |
| D. Shannon | Daniel D. | Dennis C. | Don S. | DW M. | Edward D. |
| Eugene M. | Frank S. | G.D. T. | Gary G. | Gary R. | Gregory J. |
| Gregory U. | Guy T. | Harvey D. | James B. | Jan K. | John D'A. |
| John S. | John V. | Jonathan F. | Lewis D. | Michael M. | Michael R. |
| Mike B. | Mike G. | Mike K. | Miles H. | Rob M. | Robert B. |
| Robert B. | Robert D. | Robert P. | Robert Z. | Royce M. | Sam R. |
| Scott S. | Eriram E. | Stace W. | Stephen N. | Steven M. | Thomas B. |
| Tim L. | Willard S. | William B. | William H. | William S. | Kevin K. |
| Steve M. | | | | | |
| | | | | | |
| --- | --- | --- | --- | --- | --- |
| SUBSCRIBERS | ($10/month) | (offered | at | readers' | request) |
| Barry B. | Chad W. | Creig F. | Dana F. | Daniel E.B. | David C. |
| David L. | Deck H. | Donald L. | Donna D. | Doris K. | George B. |
| Gerald O. | Gregory L. | Helen S.C. | Ian C. | James B. | Jeroen T. |
| John F. | John L. | John R. | John S. | John T. | Kevin L. |
| Michael J.R. | Michael R. | MJ M. | Mumtaz S. | Nicolas B. | Richard B. |
| Rita P. | Robb D. | Robert B. | Robert G.N. | Ronald E. | Ryan S. |
| Susan M. | Anthony H. | | | | |
| | | | | | |
| SUBSCRIBERS | ($5/month) | | | | |
| Brendan L.M. | Brian C. | Camille G. | Carl B.T. | Cheryl L.S. | Clyde D. |
| Dan T. | Daniel L.I. | Daniel S. | David C. | David H. | David H. |
| David M. | David R. | David S. | David S. | Denise S. | Dennis M. |
| Deward T. | Doreen H. | Eduardo B. | Edward H. | Edward P. | Fallen Angels Thrash |
| Gail E. | Garrett R. | Gaylan P. | Grace B. | Greg G. | Gregory W. |
| Henry G. | Heriberto V. | Hudon C. | Hugh W. | J Blair C. | James S. |
| Jason B. | Jeffrey C. | Jim S. | Joe G. | John C. | John D. |
| John E. | Ishabaka | John G. | John G. | John H. | John R. |
| Keith K. | Keith M. | Kendall H. | Kenji K. | Kevin K. | Kevin M. |
| Kurt A. | Larry S. | Marcia M. | Matthew N. | Max J. | Michael C. |
| Michael M.H. | Michael S. | Michael W. | Millie N. | Nathan J. | Pamela U. |
| Paul B. | Peter B.C. | Quentin V.T. | Ralph M. | Ralph S. | Rekha S. |
| Rick E. | Robert B. | Robert E. | Robert G. | Robert M. | Robert M. |
| Robert P. | Roy M. | Russ J. | Russ R. | Ryan L. | Santiago A. |
| Scott F. | Kevin O. | Steve S. | Steven B. | Steven L. | Stuart O. |
| Sue K. | T.D. B. | Thomas K. | Thomas O'C. | Todd B. G. | Tracy P. |
| Tyrone B. | Venkatesh P. | Vera K. | William T. | Bejoy O. | |
| | | | | | |
Heroes
and
Heroines
($50+)
David H.
Bryce W.
Jeffrey W.
Kerry W.
Lynn M.
Michael P.
Michael S.
Philip B.
Richard M.
Steven K.
Robert B.
Alan D.
Dan A.
Eric T.
J.M. S.
James M.
James M.
James P.
Marilyn B.
Michael V.
Richard G.
Richard N.
Scott B.
Vladimir T.
William K.W.
Amy C.
Kenneth C.
Anthony B.
ADR Int'l
Alfred V.
Barney S.
Brenda C.-W.
Brian L.
Bud W.
C. William S.
Christi N.
Christopher B.
Christopher B.
Christopher L.
Claire B.
Craig H.
Dale F.
David B.
David B.
David T.
Dennis G.
Diana S.
Dominick B.
Donald B.
Edward P.
Elizabeth B.
Frank K.
Fredrik A.
G. Wayne A.
Gunnar A.
Gustavo G.
Harry P.
Harry R.
Ilya Z.
J.J. L.
James K.
Jan D. L.
Jim L.
John H.
John V.
Jose S.
Joseph M.
Karen G.
Karl L.
Karsten O.
Kenneth E.
Kenneth M.
Loren F.
Lori U.
Margaret R.
Mark A.
Mark F.
Max M.
Melissa A.
Michael L.
Michael Y.
Mike M.
Nancy E.
Nathan W.
Patricia S.
Paul O'D.
Peter C.
Peter C.
R. Stephen D.
Ralph W.
Ray W.
Rhonda S.G.
Richard P.
Robert C.
Robert M.
Robert V.T.
Robin B.
Ronald L.
Ronald R.
Roy S.
Sharon J.
Shawn B.
Simon C.
Stephen B.
Steven K.
Susan H.
Ted F.
Thomas K.
Toby B.
Tracey T.
Wade P.
Walter J.
William M.
William S.
Yoni F.
Clifford S.
Erle H.
Karen B.
Lee B.
Marsha F.
Mary D.
Michael J.
Roger H.
David C.
Stephen L.
Tony M.
Our Financial Contributors--2013
Thank you all for your gracious and generous support of this modest site.
| | | | | | |
| --- | --- | --- | --- | --- | --- |
| Robert C. | Lance D. | Scott S. | James C. | J.D. Z. | Tyson C. |
| Stephen W. | Naimul C. | Jaebin L. | Charles S. | Gene B. | Roman P. |
| Stephen C. | Paul F. | Arnold N. | Barbara B. | Jack T. | Esoteric Resource Corp. |
| Lawrence R. | Kenneth L. | Michael S. | Hilgenstock C. | George S. | Lawrence M. |
| John L. | Andrew K. | Duane S. | Richard C. | Lakshmanan T. | Susan V. |
| Saurabh K. | Daniel M. | Anne B. | George F. | Ann K.S. | Stephen L. |
| William W. | Michael M. | | | | |
| | | | | | |
If I incorrectly entered your name or contribution category, please email me so I can correct it. It's a one-man shop here and I do make mistakes, but want to remedy them as soon as possible. Thank you.
All content, HTML coding, format design, design elements and images copyright © 2013 Charles Hugh Smith, All rights reserved in all media, unless otherwise credited or noted.
Extra-Special Bonus Aphorisms:
"There is no security on this earth; there is only opportunity."
(Douglas MacArthur)
"We are what we repeatedly do." (Aristotle)
"Do the thing and you shall have the power." (Ralph Waldo Emerson)
"Any intelligent fool can make things bigger, more complex, and more violent. It takes a touch of genius and a lot of courage to move in the opposite direction." (E.F. Schumacher, via Tom R.)
"He who will not risk cannot win." (John Paul Jones)
"When we drink coffee, ideas march in like the army." (Honore de Balzac)
"Progress is not possible without deviation." (Frank Zappa, via Richard Metzger)
"Victory favors those who take pains." (amat victoria curam)
"The man who has a garden and a library has everything." (Cicero, via Lee Bentley)
"Do you know what amazes me more than anything else? The impotence of force to organize anything." (Napoleon Bonaparte)
"The way of the Tao is reversal." (Lao Tzu)
"Chance favours the prepared mind." (Louis Pasteur)
"Success consists of going from failure to failure without loss of enthusiasm." (Winston Churchill)
"Where there is ruin, there is hope for treasures." (Rumi)
"The grand essentials to happiness in this life are something to do, something to love and something to hope for." Joseph Addison (via Susan J.)
"The object of life is not to be on the side of the majority, but to escape finding oneself in the ranks of the insane." (Marcus Aurelius, Meditations, via Wayne H.)
"Passive absorption of marketing-dominated media is the primary activity on the plantation of the mind, and that of course is the goal of the colonial overlords: distraction, passivity, confusion, divide and conquer, and the old stand-by, financial desperation." (CHS)
"While we can always buy back into a trending market, we cannot go back in time and recover a profit lost to greed or complacency." (CHS)
"Whatever remains unconscious emerges later as fate." (Carl Jung)
"Any sufficiently advanced cartel's actions are indistinguishable from magic." (CHS)