A Psychiatric Diagnosis of the U.S. Market: Schizophrenic Disconnect From Reality, Bipolar Mania, Psychotic Delusions of Wealth
July 27, 2016
If you think a delusional market is healthy, it's time for a psychiatric exam.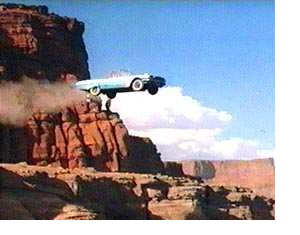 What diagnosis would an experienced psychiatrist offer when presented with the bizarre behavior of the U.S. stock market? We assume that the wild mood swings of greed and fear are "normal" for markets devoted to short-term profit and speculation, but the stock market's disconnect from reality is far beyond mere mood swings.
The stock market thinks it's solidly on pavement, but in reality it's like a car flying off a cliff: the Wiley E. Coyote moment is just ahead. There's nothing but air beneath the stock market.
Consider the reality of PE expansion from a price-earnings (PE) of 10 at the bottom in 2009 to 18+ today, while profits are stagnant. And what is driving this expansion other than a delusional belief that profits will magically reverse and log massive gains in the second half of 2016?
If we strip out "one-time expenses" and other accounting flim-flam, profits are plummeting. How else can we characterize this disconnect between stagnant sales (look at Apple, CAT, etc.) and "profits" that are one step away from outright fraud as anything other than delusional?
As global trade, U.S. rail traffic and other non-gameable measures of economic activity stagnate or decline, how can anyone connected to reality expect sales and profits to rise sharply?
The stock market is hitting new highs for what reason? The typical answer is: more central bank stimulus is on the way, the Fed/ BoJ /Bank of China/ European Central Bank have our back, etc. etc. etc.
But the reality is obvious to all: the returns on central bank stimulus have declined to near-zero. Trillions in additional stimulus are needed to just keep the delusional markets from experiencing gravity (see car photo above).
And how about the manic mood swings from panic in February (i.e. a whiff of reality) and the euphoria of new highs in summer? If this isn't the acme of bipolar delusion, then what is?
Perhaps the greatest delusion is the confidence that this ephemeral bubble "wealth" is actual wealth that can be counted on to fund pensions and insurance claims in the future. Pity the deranged souls who actually believe that stock gains based on fraudulent claims of "profit" and delusional expectations of rising profits as the dollar strengthens and the global economy implodes are "wealth" that can be considered permanent.
The only possible diagnosis of this stock market behavior:
1. Patient (the U.S. stock market) is suffering a schizophrenic disconnect from reality.
2. Patient (the U.S. stock market) is suffering from bipolar mania that leads to delusional beliefs in delusional profits and delusional central bank omnipotence.
3. Patient is suffering from psychotic delusions of wealth, akin to the delusion that the patient is ruler of the world, galaxy, universe, central banks are all-powerful, etc.
If you think a delusional market is healthy, it's time for a psychiatric exam.


My new book is #3 on Kindle short reads -> politics and social science: Why Our Status Quo Failed and Is Beyond Reform ($3.95 Kindle ebook, $8.95 print edition) For more, please visit the book's website.
---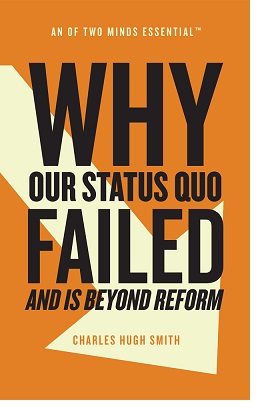 Our status quo--the pyramid of wealth and power dominated by the few at the top--has failed and is beyond reform.
This failure is not rooted in superficial issues such as politics or governmental regulations; the failure is structural.
The very foundation of the status quo has rotted away, and brushing on another coat of reformist paint will not save our societal house from collapse.
Yet those who benefit from our status quo naturally deny it has failed, for the reason that it has yet to fail them personally—either pretending to not understand that all unsustainable systems eventually collapse, or hoping to postpone it.
Our status quo is not only failing to solve humanity's six core problems--it has become the problem.
Since this failure is now inevitable, something is coming to replace it. We must each understand why our status quo has failed, and why the usual menu of reforms can't stop this failure, so we can prepare ourselves for the radical transformations ahead.
Why Our Status Quo Failed and Is Beyond Reform ($3.95 Kindle ebook, $8.95 print edition)
---
Recent entries:
A Psychiatric Diagnosis of the U.S. Market: Schizophrenic Disconnect From Reality, Bipolar Mania, Psychotic Delusions of Wealth July 27, 2016
Why Real Reform Is Impossible: We Can't Believe the Mighty Titanic Could Actually Sink July 26, 2016
How Do We Make America Strong Again? Start Telling the Truth July 25, 2016
If We Can't Be Honest, No Solution Is Possible July 22, 2016
Could This Rally Be a Head-Fake? July 21, 2016
Globalization's Few Winners and Many Losers July 20, 2016
We've Entered an Era of Rising Instability and Uncertainty July 18, 2016
"Helicopter Money" Won't Fix What's Broken July 15, 2016
What If the Consensus on Small-Scale Toolmaking and Agriculture Is Wrong? July 14, 2016
Why Helicopter Money Won't Push Stocks Higher July 13, 2016
The Unintended Consequences of the $15/Hour Minimum Wage July 12, 2016
Risk On/Risk Off: What Schizophrenic Markets Are Telling Us July 11, 2016


July 2016 June 2016 May 2016 April 2016 March 2016 February 2016 January 2016 2015 Archives Archives 2005-2016
---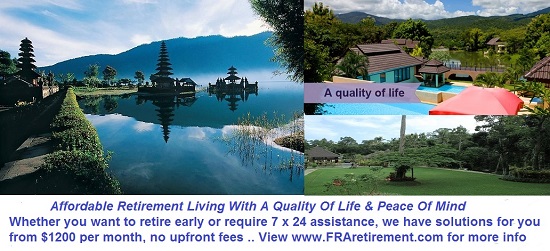 Discover why I'm looking to retire in a SE Asia luxury resort for $1,200/month.

---
Contributions/subscriptions are acknowledged in the order received. Your name and email remain confidential and will not be given to any other individual, company or agency. All contributors are listed below in acknowledgement of my gratitude.
| | | |
| --- | --- | --- |
| | Thank you, Frankie M. ($50), for your stupendously generous contribution to this site-- I am greatly honored by your support and readership. | |
---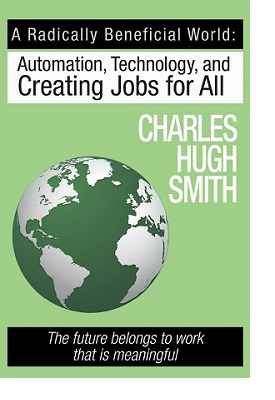 Kindle, $9.95
print, $25
Automation is upending the global order by eliminating human labor on an unprecedented scale--and the status quo has no solution to this wholesale loss of jobs.
What if we could hit the reset button on the way we create money, work, commerce and community? What if we could design a social economy rather than a merely financial one? These are not idle questions, for technology now enables us to hit that reset button and organize the creation of money, work, commerce and community in new ways.
If we could start from scratch, what would a new system look like? Clearly, we need a system that offers what the current system cannot: meaningful work for all.
This book is the practical blueprint of a new system that offers opportunities for meaningful work and ownership of the sources of prosperity not just to a few, but to everyone.
"Certainly the author is decades ahead of his time. Humanity will eventually adopt the author's principles written in all of his books. Currently, humanity lives in delusion that the system will continue to serve them. We will see massive changes even in the next decade. Don't waste your money on college--buy the author's books and succeed." Book Reader (via Amazon.com)
A radically beneficial world beckons—what are we waiting for? Introduction Chapter One (free PDF)
---
Get a Job, Build a Real Career and Defy a Bewildering Economy
(Kindle, $9.95)(print, $17.76)
audiobook, $19.95
(Audible.com)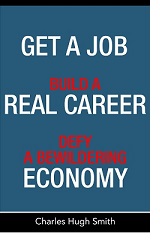 "Don't give this to a recent grad. Read it when your kids are born and then read it with them around eighth grade."
"Finally a book that gives practical career advice. The author does an excellent job describing the current economic and political system and how this affects employment opportunities. Times have changed dramatically, and will continue to do so faster than ever. I'm glad I stumbled upon this excellent book, and will begin preparing myself accordingly." Joseph
"I want to thank you for creating your book Get a Job. It is rare to find a person with a mind like yours, who can take a holistic systems view of things without being captured by specific perspectives or agendas. Your contribution to humanity is much appreciated." Laura Y. Test-drive the first section and see for yourself.


---
Of Two Minds Site Links
home musings my books archives books/films policies/disclosures social media/search Aphorisms How to Contribute, Subscribe/Unsubscribe sites/blogs of interest original music/songs Get a Job (book) contributors my definition of success why readers donate/subscribe to Of Two Minds mobile site (Blogspot) mobile site (m.oftwominds.com)