---

---
What's Cooking at Our House: Ciambella
April 19, 2014

As cakes go, this is a relatively easy recipe.
Though it is described on some websites as a doughnut, the classic ciambella is a ring-cake, often referred to as an Italian breakfast cake. We made one last week to celebrate the launch of my latest book (cue the shameless pitch) Get a Job, Build a Real Career and Defy a Bewildering Economy.
As cakes go, it's a relatively easy recipe; its disguishing features are four eggs and lemon zest. Here is one recipe.
Since we own a lemon tree, the zest was no problem; but we did that one better by adding a bit of home-made lemoncello, an easy-to-make liqueur of lemons and vodka.
I took these photos right after pulling the cake from the oven; pardon my poor presentation.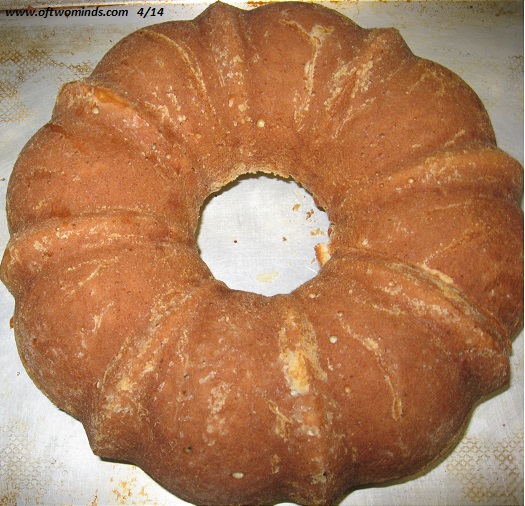 We used a heavy bundt pan, which gave the cake a nice texture.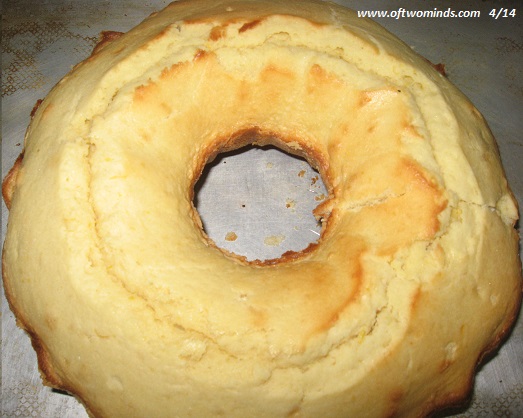 Sugar is once again in the public awareness as a health hazard. In the counterculture days of the late 1960s and early 1970s, it was widely known as "white death," so the negative consequences of consuming large quantities of refined sugar is not exactly a new bit of knowledge.
Like any other refined food, it is best consumed in moderation; this is common-sense. The negative consequences arise from daily over-doses (for example, the infamous 44 gallons of sugary soda the average American consumes annually), as opposed to small servings consumed after a meal of real unprocessed food.
As a culture, we got into trouble by turning foods that were once rare treats into daily treats and by forgetting that the mind and body are one. Recently, per capita soda consumption in the U.S. slipped to 701 8-ounce servings, the lowest since 1987, so the awareness of the benefits from reducing consumption of sugar and zero-value soft drinks is rising.
There is a place for treats. Baking a cake when you complete a multi-month project is a nice thing. Consuming cakes, sodas, fast food, ice cream, etc. a few times a year restores their role as celebratory treats.
"A healthy homecooked family meal and a home garden are revolutionary acts."


---
Want to give an enduringly practical graduation gift? Then give my new book Get a Job, Build a Real Career and Defy a Bewildering Economy, a mere $9.95 for the Kindle ebook edition and $17.76 for the print edition.
---
Join me on May 2 for the Sonoma Wine Country Conference: Investment Ideas Hidden In Plain Sight: great speakers, good cause (benefits Autism Society of America):
---
---
Get a Job, Build a Real Career and Defy a Bewildering Economy
(Kindle, $9.95)(print, $17.76)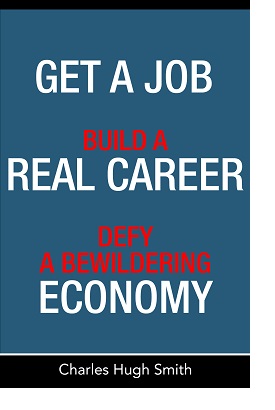 Are you like me?
Ever since my first summer job decades ago, I've been chasing financial security. Not win-the-lottery, Bill Gates riches (although it would be nice!), but simply a feeling of financial control. I want my financial worries to if not disappear at least be manageable and comprehensible.
And like most of you, the way I've moved toward my goal has always hinged not just on having a job but a career.
You don't have to be a financial blogger to know that "having a job" and "having a career" do not mean the same thing today as they did when I first started swinging a hammer for a paycheck.
Even the basic concept "getting a job" has changed so radically that jobs--getting and keeping them, and the perceived lack of them--is the number one financial topic among friends, family and for that matter, complete strangers.
So I sat down and wrote this book: Get a Job, Build a Real Career and Defy a Bewildering Economy.
It details everything I've verified about employment and the economy, and lays out an action plan to get you employed.
I am proud of this book. It is the culmination of both my practical work experiences and my financial analysis, and it is a useful, practical, and clarifying read.
Test-drive the first section and see for yourself. Kindle, $9.95 print, $17.76

---
---
HUGE GIANT BIG FAT DISCLAIMER: Nothing on this site should be construed as investment advice or guidance. It is not intended as investment advice or guidance, nor is it offered as such.... (read more)
WHY EMAIL TO THIS SITE IS READ BUT MAY NOT BE ACKNOWLEDGED: Regrettably, I am so sorely pressed for time and energy that I am unable to respond to the vast majority of emails. Please know I read all emails, but I can only devote a very limited number of hours to this blog and all correspondence....
---
This Month's entries:
What's Cooking at Our House: Ciambella
April 19, 2014
It's Time to Retire Gross Domestic Product (GDP) as a Measure of Prosperity
April 18, 2014
It's Time to Ditch the Consumer Price Index (CPI)
April 17, 2014
What's the Difference Between Fascism, Communism and Crony-Capitalism? Nothing
April 16, 2014
The Alienation of Work
April 15, 2014
How To Get a Job Despite the Economy
April 14, 2014
What's Cooking at our House: Appam and Sambar
April 12, 2014
Are We Losing Practical Life-Skills?
April 11, 2014
Now That the U.S. and China Have Picked the Low-Hanging Fruit, Peak Everything Looms
April 10, 2014
Fed to the Sharks, Part 2: Housing and the Death of the Middle Class
April 9, 2014
Fed to the Sharks, Part 1: The Fed Takes Our Money, Gives It to Banks Who Loan It Back to Us at 16%
April 8, 2014
And the Next Big Thing Is ... Degrowth?
April 7, 2014
What's Cooking at Our House: Local Aquaculture Trout
April 5, 2014
My Wish for 2016: We Finally Get a President Who Doesn't Kiss Wall Street's Rear End
April 4, 2014
It's Not Just the Stock Market That's Rigged: the Entire Status Quo Is Rigged
April 3, 2014
What Happens After the Low-Hanging Fruit Has Been Picked?
April 2, 2014
April 2016: Dow Jones-30 Suspended Due to Lack of Interest
April 1, 2014





March 2014 entries
Contributions and Subscriptions
Contributors and subscribers enable Of Two Minds to post 275+ free essays annually. It is for this reason they are Heroes and Heroines of New Media. Without your financial support, the free content would disappear for the simple reason that I cannot keep body and soul together on my meager book sales alone.
NOTE: Contributions/subscriptions are acknowledged in the order received. Your name and email remain confidential and will not be given to any other individual, company or agency. All contributors are listed below in acknowledgement of my gratitude.

---
| | | |
| --- | --- | --- |
| Thank you, Michael S. ($200), for your astoundingly generous contribution to this site -- I am greatly honored by your steadfast support and readership. | | Thank you, Marsha F. ($55), for your marvelously generous contribution to this site -- I am greatly honored by your steadfast support and readership. |
---
SPECIAL APPEAL TO READERS OF OFTWOMINDS
from longtime correspondent Cheryl A.:
Charles has warned and informed us about the collapse in housing, peak oil, international affairs and a wide variety of other subjects, including the long-term societal changes that we face.

His analyses/advisories are uncannily prescient and are generally followed several weeks, months, or years later by news stories in the general press that are offered too late to provide protection to a misled/uninformed public.

I am unaware of any other website that provides such broad based commentary with such a level of accuracy.

If you could find an analyst or financial advisor with the depth of knowledge Charles possesses, you would have to pay a handsome sum for the information that he writes about daily.

If you are one of the many readers of oftwominds who has benefitted in any way from the information you receive at this site, I hope that you will make a donation to help keep OTM going. This is one resource we cannot afford to lose!
Thank you, Cheryl, for this vote of confidence.
I can only promise that I will continue to do my best.
---