New Poll Puts Mayor of Cormorant, Minnesota Ahead of Hillary and Trump
September 30, 2016
For goodness sakes, people--ignore the rigged polls and vote for the candidate you believe in.
A new national poll has found that 54% of potential voters favor the mayor of Cormorant, Minnesota over either Hillary Clinton or Donald Trump. The poll surveyed a spectrum of potential voters and has a statistical margin of error of -3/+3%.
Here is the mayor of Cormorant, Minnesota: Duke, a nine-year-old Great Pyrenees. Duke has been re-elected twice, most recently at the end of August. (source: Zero Hedge)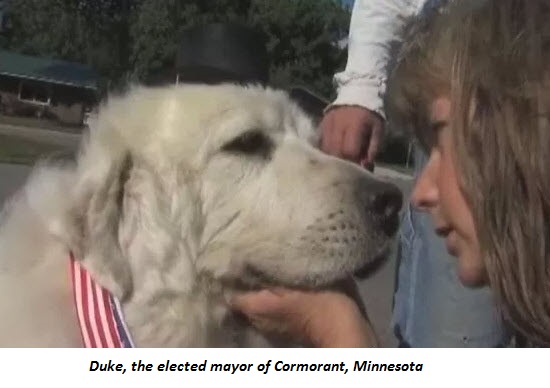 The point being made here is polling is easily gamed. First, pick your goal: you want the poll to find Duke is favored above Hillary and Trump.
Next, select groups that are likely to vote in line with your goal. For example, start with subscribers to the Bark, Dog Fancy and other dog-owner magazines.
Then select leading questions:
1. If you could select a candidate other than Hillary Clinton or Donald Trump, would you do so?
2. Would you be willing to take a chance on an elected official from small-town America, despite his/her lack of national experience?
3. Given that more Americans believe in BigFoot than believe the mainstream media is fair and accurate, are you open to an "outsider" candidate for the presidency?
4. Given the choice between the twice-re-elected mayor of Cormorant, Minnesota, and either Hillary Clinton or Donald Trump, who would you likely vote for?
And that's how you rig a poll to find that more Americans would vote for Duke the mayor than for either Hillary or Trump.
Please read this 17-page PDF explanation of a recent poll carefully and tease apart how it was carefully engineered to get the desired result. OK, I didn't want to invest all the time and energy, either, but fortunately for us, correspondent Mark G. has done the heavy lifting.
Ipsos Poll Conducted for Reuters (17 page PDF)
Here is Mark's analysis: "This one with Hillary +6% is a good example.
First, the sample on page two is very uninformative.
Democrats 752
Republicans 570
Independents 216
Total 1538
These affiliations don't sum to the stated survey size (1705), or the number of registered voters (1411), or "likely voters" (1041). We can note the political affiliations recorded exceed the number of those registered. How you can be affiliated without registering...? If this were the case, why were all 1,705 in the survey assigned to a group?
However, of the political affiliations that are disclosed, Democrats were 48.89% (752/1538) = 0.4889. in other words, 12 to 16 points higher than actual identification in the US population.
This is the composted manure these "polls" consist of now.
I think their sole purpose at this point is to game the poll averages and thus support a predetermined narrative in the MSM."
Thank you, Mark. Dear reader, do you notice the similarity of these polls to the rigged numbers for unemployment, median household incomes and inflation that I have dismantled?
Fun with Fake Statistics: The 5% "Increase" in Median Household Income Is Pure Illusion (September 19, 2016)
What's the Real Unemployment Rate? That's the Wrong Question (September 14, 2016)
Revealing the Real Rate of Inflation Would Crash the System (August 3, 2016)
Inflation Hidden in Plain Sight (August 2, 2016)
The Burrito Index: Consumer Prices Have Soared 160% Since 2001 (August 1, 2016)
How Reuters "Tweaked" Its Latest Poll (Again) To Show A Clinton Lead (Zero Hedge)
Polls engineered to manage perceptions are of a piece with statistics engineered to manage perceptions: both are designed to convince us that the status quo is unstoppable and everything is fine--really really fine.
This is what the status quo has devolved to: since it can't/ won't fix the real problems, it settles for perception management to keep the elites in power. I've laid bare this devolution in several books:
Why Things Are Falling Apart and What We Can Do About It
Why Our Status Quo Failed and Is Beyond Reform
If the status quo is so very very fine, why do I envy the township of Rabbit Hash, Kentucky, which had an unmatched spectrum of choices in their mayoral race?
"In Rabbit Hash, Ky., a Border Collie named Lucy Lou defeated 10 dogs, a cat, a possum, a jackass and even one human to become the town's third animal mayor-- all dogs--since 1998, says Bobbi Kayser, the current mayor's owner."
It's a tough call, but I think my vote goes to the possum. I like the way he/she makes the rounds at night, consuming all the left-over dog and cat food; you have to admit, that is a useful service to the town's cleanliness and hygiene.
For goodness sakes, people--ignore the rigged polls and vote for the candidate you believe in: Hillary, Trump, Stein, Johnson, or write in Duke or Lucy Lou, if your state allows write-ins.
As near as I can tell, Duke will not declare war on Russia or ensnare the nation in yet another "war of choice," and Lucy Lou's even willing to work with cats. What more can you ask for?
Granted, Duke and Lucy Lou are underdogs, but don't count them out just yet.


Join me in offering solutions by becoming a $1/month patron of my work via patreon.com.
My new book is #6 on Kindle short reads -> politics and social science: Why Our Status Quo Failed and Is Beyond Reform ($3.95 Kindle ebook, $8.95 print edition) For more, please visit the book's website.
---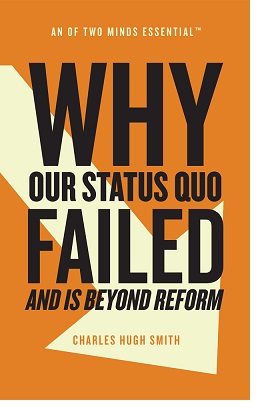 Our status quo--the pyramid of wealth and power dominated by the few at the top--has failed and is beyond reform.
This failure is not rooted in superficial issues such as politics or governmental regulations; the failure is structural.
The very foundation of the status quo has rotted away, and brushing on another coat of reformist paint will not save our societal house from collapse.
Yet those who benefit from our status quo naturally deny it has failed, for the reason that it has yet to fail them personally—either pretending to not understand that all unsustainable systems eventually collapse, or hoping to postpone it.
Our status quo is not only failing to solve humanity's six core problems--it has become the problem.
Since this failure is now inevitable, something is coming to replace it. We must each understand why our status quo has failed, and why the usual menu of reforms can't stop this failure, so we can prepare ourselves for the radical transformations ahead.
Why Our Status Quo Failed and Is Beyond Reform ($3.95 Kindle ebook, $8.95 print edition)
---
Recent entries:
New Poll Puts Mayor of Cormorant, Minnesota Ahead of Hillary and Trump September 30, 2016
You Want to Fix the Economy? Then First Fix Healthcare September 29, 2016
Are The 'Invisible Americans' the Key Players in This Election? September 28, 2016
Trump, Trade and Taxes September 27, 2016
Why the Deep State Is Dumping Hillary September 26, 2016
What If We're in a Depression But Don't Know It? September 23, 2016
Why the Coming Wave of Defaults Will Be Devastating September 22, 2016
The Three Stages of Empire September 21, 2016
The ZIRP/NIRP Gods and their PhD Priesthood Have Failed September 20, 2016
Fun with Fake Statistics: The 5% "Increase" in Median Household Income Is Pure Illusion September 19, 2016
On the Process of Awakening September 17, 2016
How About Presenting the Facts and Letting Voters Decide Who's "Fit to Serve"? September 16, 2016
The Mainstream Media Bet the Farm on Hillary--and Lost September 15, 2016
What's the Real Unemployment Rate? That's the Wrong Question September 14, 2016
It's Time to Bring Back Bernie September 13, 2016
If Everything Is So Great, How Come I'm Not Doing So Great? September 12, 2016
Control What You Can September 9, 2016
Our Selfie Society Is Incompatible with Democracy September 8, 2016
Identity Politics = Totalitarianism September 7, 2016
Our Impoverished, Pathological Society September 6, 2016
Labor Day Summary: Wage Earners Have Taken a Beating September 5, 2016
The High Cost of Honesty in a Sea of Low-Cost BS September 2, 2016
The "Secret Sauce" of the Byzantine Empire: Stable Currency, Social Mobility September 1, 2016


September 2016 August 2016 July 2016 June 2016 May 2016 April 2016 March 2016 February 2016 January 2016 2015 Archives Archives 2005-2016
---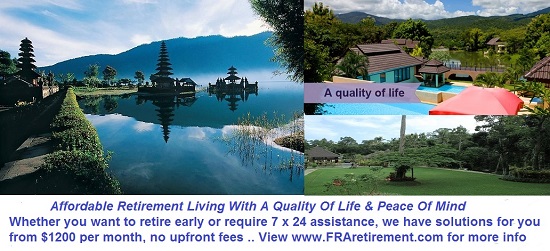 Discover why I'm looking to retire in a SE Asia luxury resort for $1,200/month.

---
Contributions/subscriptions are acknowledged in the order received. Your name and email remain confidential and will not be given to any other individual, company or agency. All contributors are listed below in acknowledgement of my gratitude.
| | | |
| --- | --- | --- |
| | Thank you, Harry W. ($10), for your most generous contribution to this site-- I am greatly honored by your support and readership. | |
---
A Radically Beneficial World
: Automation, Technology & Creating Jobs for All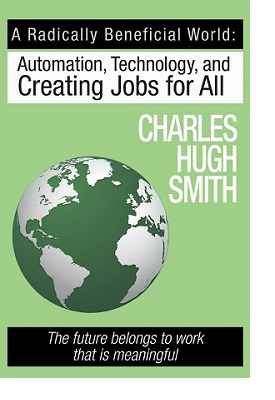 Kindle $9.95
print $25
audiobook $18
Automation is upending the global order by eliminating human labor on an unprecedented scale--and the status quo has no solution to this wholesale loss of jobs.
What if we could hit the reset button on the way we create money, work, commerce and community? What if we could design a social economy rather than a merely financial one? These are not idle questions, for technology now enables us to hit that reset button and organize the creation of money, work, commerce and community in new ways.
If we could start from scratch, what would a new system look like? Clearly, we need a system that offers what the current system cannot: meaningful work for all.
This book is the practical blueprint of a new system that offers opportunities for meaningful work and ownership of the sources of prosperity not just to a few, but to everyone.
"Certainly the author is decades ahead of his time. Humanity will eventually adopt the author's principles written in all of his books. Currently, humanity lives in delusion that the system will continue to serve them. We will see massive changes even in the next decade. Don't waste your money on college--buy the author's books and succeed." Book Reader (via Amazon.com)
A radically beneficial world beckons—what are we waiting for? Introduction Chapter One (free PDF)
---
Get a Job, Build a Real Career and Defy a Bewildering Economy
(Kindle, $9.95)(print, $17.76)
audiobook, $19.95
(Audible.com)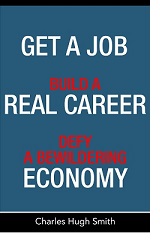 "Don't give this to a recent grad. Read it when your kids are born and then read it with them around eighth grade."
"Finally a book that gives practical career advice. The author does an excellent job describing the current economic and political system and how this affects employment opportunities. Times have changed dramatically, and will continue to do so faster than ever. I'm glad I stumbled upon this excellent book, and will begin preparing myself accordingly." Joseph
"I want to thank you for creating your book Get a Job. It is rare to find a person with a mind like yours, who can take a holistic systems view of things without being captured by specific perspectives or agendas. Your contribution to humanity is much appreciated." Laura Y. Test-drive the first section and see for yourself.


---
Of Two Minds Site Links
home musings my books archives books/films policies/disclosures social media/search Aphorisms How to Contribute, Subscribe/Unsubscribe sites/blogs of interest original music/songs Get a Job (book) contributors my definition of success why readers donate/subscribe to Of Two Minds mobile site (Blogspot) mobile site (m.oftwominds.com)