The criteria for recipes here are simple: the meal must be healthy, real (no packaged mixes, though canned goods are OK), cheap (ingredients which are either inexpensive or regularly go on sale) good-tasting, and homemade (can be prepared by anyone with basic cooking skills). We welcome your answer to: What's for Dinner at Your House? submit your cheap, good recipes (story, ingredients, instructions, cost-saving tips).

---
Winter/Spring 2009:
Barley with Tomato (for 2); Oven baked chicken breasts or pork loins; Shepherd's Pie; Garden Chicken Soup; Quick Easy Vegetable Soup; Pork Butt Stew; Chili and Corn Bread, Eggplant Parmesan; (updated 3/16/09)
---


Eggplant Parmesan submitted by Bill Murath

Eggplant Parmesan-- a mouthwatering photo-illustrated PDF from longtime contributor Bill Murath.


---



Chili and Corn Bread submitted by Jacqueline S.

When times were tight, my mother made a large pot of pinto beans. Sheíd learned the recipes from her mother. Weíd have beans and cornbread for a couple nights, then sheíd turn the leftover beans into chile. Good, very cheap, seems like a lot of steps but really pretty easy, and for me at least, beans and cornbread make wonderful comfort food. Now Iím teaching my son to cook them. My mom used to serve sliced oranges as a side dish; these days I make a green salad.

Two cups of dry beans turn into six cups of cooked beans. Thereís roughly 2 cups of beans in a one-pound bag. The following instructions assume youíre preparing 1 pound of dried beans. If you have a very large cooking pot, double or triple the recipe and freeze some for later.

Beans that work for this recipe: virtually any type of bean that is shaped like a kidney bean. Pinto, kidney, northern, black, borlotti, cranberry, white, lima, turtle, flageolots.... Beans that wonít work well: legumes not shaped like kidney beans, including lentils and peas. Dunno about garbanzos, as I havenít tried cooking them this way.

Part 1:

Pour 1 lb dry beans into a medium-large pot or bowl. (The beans will expand during soaking and cooking, so give them plenty of space.)

Add at least 7 cups of cold water. (Itís okay to estimate. As long as there is at least 3 times as much water, itíll work fine.)

Donít add anything else at this point. (Salt and acids such as vinegar interfere with the softening of the beans. You can add them at the end of cooking.)

Let the beans soak for 8-10 hours at room temperature. (You may want to put a towel over the pot to keep dust out.)

Part 2:

Pour out the soaking water. (The soaking water contains a lot of bean starches that give people gas!)

Add 5-6 cups water.

Add seasonings:

*one of the following: a smoked ham hock, 4-8 slices fried or raw bacon, a smoked turkey drumstick, a smoked pork chop, or Ĺ-1 cup chopped smoked sausage. (Bones give the beans body as well as flavor. I prefer a ham hock, but if I donít have any, Iíll use a couple raw chicken or beef bones and some bacon)

*1/2 cup chopped onion

*3 to 4 cloves chopped garlic or 1 teaspoon garlic powder

*1/2 teaspoon pepper

*optional (for a southern flavor): 1-2 stalks celery (chopped) or a pinch of celery seed; 1 cup chopped vegetables such as carrots;

*optional (for a southwestern flavor): 1 can diced tomatoes with can juice (or 4 chopped fresh tomatoes); Ĺ teaspoon cumin, 1 teaspoon chile powder, 1 or more chopped hot peppers.

Set the bean pot over high heat. When the beans start to boil, lower the heat so that the beans are just barely boiling (simmering). Let them simmer for one to two hours. Stir the beans occasionally to make sure they arenít sticking to the bottom of the pot. If they stick, lower the heat. There should always be about an inch of water above the beans, so add more water as needed.

After one hour, test for doneness: take a few beans from the pot, let them cool a bit, and then bit them. If any one of them feels firm to the bite, it isnít done. Cooked beans should be somewhat squishy. Beans cooked too long, however, turn into mush.

When the beans are done, add salt. Start with one teaspoon, stir in and let sit for a few minutes, then taste. Beans typically require a fairly large amount of salt to taste good to us. One way to intensify flavor without adding as much salt is to add 1-2 teaspoons lemon juic or vinegar)

Remove any bones. If the beans contain any large pieces of meat, chop it into small pieces and put back into the beans.

Part 3:

Heat the oven to 425 degrees F.

Youíll need a baking pan that is large enough to hold 4 cups of food. It can be any shape. Grease the sides and bottom of the pan using a spoonful of vegetable oil or margarine.

In a mixing bowl, stir together 1 cup cornmeal, 1 cup white flour, 1 tablespoon baking powder, 1 teaspoon salt and (optional) 1 tablespoon sugar.

In a separate bowl, mix 1 egg, 1 cup milk, and ľ cup vegetable oil. Beat well, until the egg is completely mixed in.

Pour the liquids into the cornmeal mixture. Gently stir until well mixed.

Scrape the cornbread batter into the greased baking pan and put the pan in the hot oven. If you are using a large pan so that the batter is only an inch or so thick, it will be done in about 12 minutes. If you are using a smalled pan so the batter is thick, it could take half an hour or longer. Cornbread is done when the edges look browned and the top is slightly puffed up. To check, insert a knife into the center. If batter isnít sticking to it when you pull the knife out, the cornbread is done.

Part 4:

Cut the hot cornbread into serving-sized squares. Put a slice of cornbread on a plate, top with a scoop of beans. Some people like to add a dab of butter.


---


Quick Easy Vegetable Soup submitted by Johan Eddebo

Here is a quick, easy, really cheap as well as nutritious soup, using ingredients we mostly have readily available during the winter months.

8 medium-sized potatoes
a pound of carrots
one large onion
two large parsnips
1-2 cloves of garlic
one cup of lentils


one tablespoon of salt, two tea spoons of pepper and oregano each, and one tea spoon of basil

Chop everything up, place in a pot and cover with water, add spices and salt, save basil. Heat it until it boils, and then let it simmer until the potatoes are done - about half an hour to forty-five minutes - crush add the dried basil just before serving.


---


Pork Butt Stew submitted by Bill K.

MANDATORY:

1 4-6qt soup pot (pressure cooker bottom works for me)
1 skillet
1 knife
1 can opener
1 fork (for stirring, forking and tasting)


2lbs pork rump roast (note; this is an inexpensive piece of meat and can be found on sale for $1.50/lb or less)
4 medium potates
2 medium onions
3 carrots
1 can of corn (or black beans)
2 small cloves of garlic


OPTIONAL

10 slices of jalapenos (deli style, in a jar, hot (recommended))
Celery - some people like it... me, I just wave a stalk over the pot and call it sufficient.

METHODOLOGY

Slice the roast into 1" slabs
Sear meat, in a hot skillet, till golden brown
Mince garlic cloves
Mince jalapenos
Dice onions
Braise (caramelize?) onion, garlic, and jalapenos, using the grease from the browning pork.
Peel and quarter potatoes, then slice into 1" chunks.
Peel and slice carrots into discs no more than 1/2" thick


When the pork is done, dice into edible portions, add water to the skillet (to capture all of the "drippings" (note; this is where a great deal of the taste comes from).


Put all ingredients in a pot, cover with water and simmer until potatoes are cooked.

Add salt, pepper and more jalapenos, to taste ;-).

To improve the healthfulness of this dish, put in refrigerator over-night and skim off the solids that rise to the surface. Additionally, you could remove obvious fat from the pork before browning.

Goes great with a nice baked bread

Cost is something like this, probably on the high side: Estimate of cost:

Pork $3
Potatoes $1
Carrots $1
Corn or beans $1
Garlic $0.35
-----------
$7


Makes approximately 8 bowls of stew. Great warm meal for about $1 a bowl.


---


Barley with Tomato (for 2) submitted by Eugenio M.

Ingredients:

pearled barley (5 ounces)
1/3 onion
tomato sauce
salt/pepper
oil and butter
1/3 of a vegetable stock


Instructions:

Put barley in a 4qt or 6qt Sauce Pan. (Cover the barley with 3/4 inches of water.)
Cut onion in small pieces.
Wait until waters boils.
Add onion, vegetable stock, 3 spoon of tomato sauce. You can add a little bit of red wine.
Add water as necessary to keep barlery cooking for 30 minutes (probably around a small wine glass of water), but makes sure not have the barley to watery. Once the water evaporates, add a little bit of oil, and a bit of butter.
It is a very light plate, very digestable and pretty quick to prepare.



---


Oven baked chicken breasts or pork loins submitted by Jeffrey Jensen

Here is a technique I use anytime I want something that is crispy and yummy (i.e. tastes fried), but is lowfat and carefree to cook.

Ingredients:

4 boneless chicken breasts, pork loins or cubed steak
Ĺ cup seasoned flour (garlic powder, salt, pepper, paprika)
1 egg or ľ cup egg beaters, well blended
Ĺ cup Italian seasoned bread crumbs.

Instructions:

1) Put the flour, eggs and breadcrumbs in 3 separate bowls.

2) Pat the meat dry, and dredge in the seasoned flour

3) Dunk the flour coated meat in the eggs

4) Dredge the egg/flour coated meat in the breadcrumbs.

5) Place the now nicely breaded meat in a greased pan and

bake at 400 degrees F for Ĺ hour.

6) Sit back and have a microbrew or glass of wine while the dish cooks.

Higher or lower temps are okay (350-425), shorter or longer times

depend on how moist/dry you like your meat. Higher temps for shorter times seems to make for a crispier coating.

The advantage of this technique is that the breading/coating seals the moisture in the meat while it cooks, and results in a crispy outer breading and a nice moist interior.

A word of caution: when coating the meat, your fingers will become covered with a gluey glop of flour, egg and breadcrumbs. Wait until you are done with all the meat before you try to wash it off. A wire brush and blowtorch work well for this:-)


---


Shepherd's Pie submitted by Colleen Mc.

This is a traditional recipe from the British Isles, and I am sure there are as many ways to make it as there are people who make it. It's a great recipe for the holidays, especially when you realize the leftovers aren't going to be eaten before they spoil. And, because it's based on leftovers, all of the ingredients can be substituted. Here's the way we make Shepherd's Pie:

Ingredients:

2 cups of mashed potatoes
3 tablespoons olive oil
1/2 onion, diced or coarsely chopped
4-6 cloves of garlic, minced (we LOVE garlic, adjust to suit your tastes)
1 lb ground beef or turkey
1/2 to 1 cup of the following vegetables, chopped into bite-size pieces (we use canned when we're not using leftovers):
corn
carrots
green beans
3/4 cup of gravy
1/2 cup of grated cheese

Instructions:

Pre-heat oven to 350 degrees F. Heat olive oil in a large skillet. Chop onions and garlic. Fry onions in olive oil on medium-high heat for 5 minutes or until golden brown, then add garlic and fry for about 2 minutes. I add the garlic after the onions because I mince it very fine and it burns quickly. Add ground beef or turkey to skillet and fry until brown. Drain the excess fat, then return to the stove over low heat. Mix in your leftover or canned vegetables and stir for 1-2 minutes. If you are using raw carrots, you may wanted to steam or boil them for ten minutes to soften them before adding to the mixture.

In a baking dish, spread the mashed potatoes so they cover the bottom of the dish, then add your meat-veggie mixture. Top with gravy and cheese and bake at 350 for 10-15 minutes or until cheese is melted. Serve hot and enjoy the warm feelings at the table and in your belly!

Substitutions:

Stuffing instead of mashed potatoes

Any type of meat, though you may want to skip the onions and garlic if it is leftover and already seasoned. When using leftover meat, we also "pull" it apart with two forks to break it up into smaller pieces

Any vegetables you love, though I've found tomatoes get pretty soggy in the oven.

Cheese is really expensive right now, and the seasoning for the meat is enough taste for me, so if you don't have cheese or don't want it, leave it off.


---


Garden Chicken Soup submitted by Freeacre

Here is another "post-collapse" recipe that I am making for today's dinner:

1 chicken ($4.40 - on sale for 99 cents per pound)

Go to garden and pick whatever vegetables you have that would work (or what's on sale at the Farmers Market). I used about 8 cups of Russian Kale and Swiss Chard and some green onions. I also used about a cup of Napa cabbage from the refrigerator, because I had to use it up, and a carrot, peeled and diced.

First, I boiled a chicken. Then, after about 45 min. I pulled or cut the meat off the bones. I saved the breast for another meal. I can make stir fry or chicken salad tomorrow. I used the dark meat for the soup. The skin can go to the pets.

So, the de-boned chicken goes back into the pot, along with the vegetables. I don't know how to calculate the cost of the vegetables. I spent a total of $45 dollars for all the seeds that I grew this year. I estimate that the vegetables that I use cost me less than 50 cents a day. You could put noodles or potatoes in the soup, but I can't afford the carbs. If you are slender, by all means, add noodles. Simmer until vegetables are soft.

I season the soup with thyme, celery salt, garlic salt, lemon grass, ginger, and lemon pepper.

So, this soup cost about $3 to make and will feed two of us at least twice. Plus, I still have the chicken breast to make another meal.

- I am serving this with a savory loaf of caraway onion rye bread hot out of the oven. Raisin-oatmeal cookies for dessert.


---
Freeacre's notes on eating cheap and healthy
I thought I'd send you my take on eating cheap and healthy. I tend to observe that pretty much all cultures have good, cheap, "peasant" food that most of us can diversify our diets with. Just to satisfy my own peculiar sensibilities, I also try to express my solidarity with whatever country we are currently occupying or bombing or exploiting in some way by eating their traditional dishes as well. During the current resource wars, for instance, I've eaten a lot of Tabouli and hummas. (See thegutsygourmet.net)

In general, though, I find that it is useful to not just focus on recipes, but on the infrastructure that lends itself to eating cheaper and healthier and more local. For instance, I bought a chicken on sale for $3.88. Actually, I bought several of them and froze them for future use. I can do that because last year we purchased a freezer that is energy efficient ($3 per month to run) and put it on our porch.

I roasted a chicken. The first night my husband and I each ate a leg and thigh. The next day, I attended a meeting that required a sack lunch. I made a chicken salad from the previous nights leftover chicken and salad, and wrapped it in a spinach wrap. So, the lunch cost me nothing, essentially, and was good. The next day, I made polenta (a corn grit mush which is really tasty). I made a layer of polenta at the bottom and then put the rest of the chicken breast (diced) on top. Then, diced up a couple of tomatoes, some onions, and a partial can of diced green chilies (added some chili powder & garlic salt & cayenne pepper) to make salsa, and put that over the chicken. Next I opened a can of black beans (seasoned with seasoned salt, red pepper, and spread it over the salsa. Then, grated some Monterey Jack cheese, put it over the top, and baked it until everything was melty and yummy.

Anyway, the point is not so much the recipe, but the fact that the $3.88 chicken fed us five meals.

If you figure out what type of foods you like to eat in general, then purchase many of the ingredients ahead of time when they are on sale or buy in bulk, then you only have to add one or two items, maybe, to put it together. Then, you make another meal or two from the leftovers. Roast some lamb. Then use it as a roast, shish-kabobs, and a stew.

Roast pork loin. The first night, you can serve slices with salad and potatoes or something. The next night, combine it with vegetables in a Chinese stir fry. If you still have some left, you can make it into frajitas.

Have lots of differing spices, so you can go Italian, Chinese, Mexican, Indian, Thai, French, Iranian, or whatever, to give you lots of variety from the same staple ingredient.

The same with vegetables. Keep in mind that they can be used in so many differing ways: salads, sandwiches, wraps, stir-fry, soups, stews, even breads, and lastly, food for chickens.

A bread machine, dehydrator, smoker, freezer, and rototiller are indispensable infrastructure items. Additionally, we keep five laying hens in our backyard. So, we get over two dozen eggs per week from them that we both use and gift and trade. For instance, a neighbor who we provide eggs for just called and told me he is bringing me some trout that he just caught. This happens all the time. I make homemade bread and bagels, too. I give these away, and I get back rhubarb, vegetables, venison, elk, and all sorts of things. A chick costs $3 and is very cheap to raise.

We also grow almost all of our vegetables with a combination of garden and greenhouse, despite living in the high desert of central Oregon. Since May, I have not had to purchase any salad greens. European mesclun mix salad greens come from the greenhouse. Soon they will be joined by green beans, white scallop summer squash, cucumbers (from which I can make pickles) and 5 kinds of tomatoes. Kale, chard, garlic, carrots, beets, peas, onions, and broccoli will come from the garden. Last year we blanched and froze vegetables from the garden that lasted until April. We also make beef and turkey jerky for far less than one can buy it in a store for. It also tastes better and has no chemicals in it.

All this is organic. We never throw away any organic thing. If we don't eat it, we put it in the compost heap, where the chickens have at it. They eat the leftovers and vegetable parings, then they provide the chicken poop with which we fertilize the garden. We also have friends with horses.

You get the idea. Nothing goes to waste. We have extra cardboard boxes or trimmed trees, or something that requires burning. After it is burned, we collect the ashes and put them in the garden or compost. Helps to balance our acidic soil.

Despite the fact that I make no money, and am living on $1,000 a month from my savings (which is running out, but next year I'll be able to get social security - I hope), we've never had it so good, foodwise. And, since we've been anticipating the economic collapse, we have been stocking up on food for years now, and now have about a year's worth ahead. Just as an experiment, we decided to not purchase anything at a store for the month of January 2008. Piece of cake. I only ran out of vanilla extract. This has lead to great peace of mind.

Anyway, I am not trying to brag, but I am attempting to turn you on to what can be done when money is tight and you don't want to be eating toxic commercial crap. Our efforts at becoming food sustainable have led to unexpected friendships and networking of all sorts. This has been an unanticipated reward.

This is our alternative working class "retirement." Rather than bitching about being on "a fixed income," playing Bingo, and going to Denny's, we are gardening and talking to the chickens, and having a good time in our own freedom-loving, Monsanto-hating, doomer, survivalist, anarchist way.
CHS kitchen-test note/disproving the propaganda that real food is "too expensive" and fast-food is "affordable": I bought the ingredients for Black Bean Chili (Summer/Fall 2008) at one of the local "Mexican" markets which cater to the Hispanic population. The total cost was:
1 pound black beans: $1.19
2 medium onions: $ .36 ($.33/pound)
garlic: $ .15 (5 heads for $1.30)
jalapeno chiles: $ .20
1 can tomatoes: $1.00
oil, cilantro, etc.: about $ .30

Total: $3.20
For 6 servings, that's $.53/serving. Add $2 for 4 dozen tortillas, slice up six medium raw carrots (12 oz.) for crunch and vitamins, and that brings it up to $5.60 or $ .93/serving.
If you wanted to add a pound of meat, and you buy on sale, then add another $3.40 or so for either beef (lean cut) or ground turkey. That boosts the cost to about $9.00 or $1.50 per serving for a hearty, protein- and fiber-rich meal.
Compare that to the cost of a supposedly "cheap" (and horribly unhealthy) fast-food "value" meal of burger, fries and a sugar-bomb soda for six: in California, over $30. And yet all we hear is how "poor people" (like me?) "can't afford healthy food." What rot! 93 cents beats the heck out of any fast-food garbage, it's easy to make and the ingredients are readily available virtually anywhere.
FROM WALLET TO WAISTLINE: THE HIDDEN COSTS OF "SUPER SIZING" (Prevention Institute)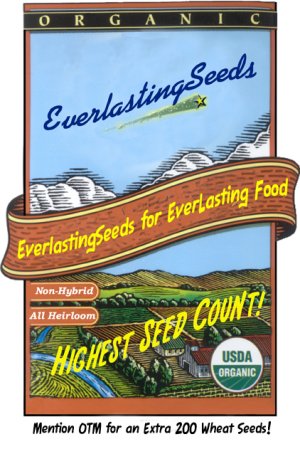 "A healthy homecooked family meal and a home garden are revolutionary acts." (CHS, May 2008)


Metric/U.S. Measurement equivalents