Calling All Crash Test Dummies: Big Crash Ahead (April 10, 2012)


If the stock market can never crash again due to the Bernanke Put, then why have all the crash test dummies been ordered up?

I know, I know: the stock market will never go down because Ben Bernanke and the other central bankers won't let it. It's funny how the "Bernanke/European Central Bank Put" is ranked alongside gravity as a rule of Nature until markets roll over; then talk shifts from purring adulation of central bankers' godlike powers to panicky calls for another flood of liquidity/free money to "save" the market from the harsh reality of global recession.

The crash test dummies know better: they've been called up for a humongous crash.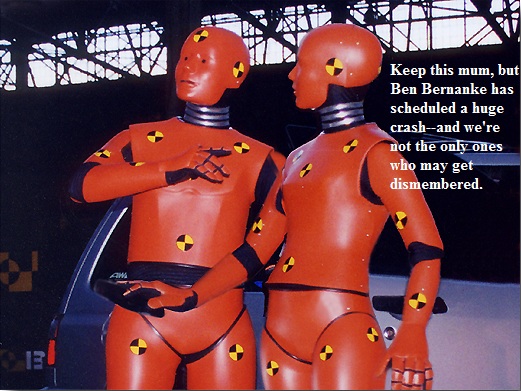 The basic mechanism that is being overlooked is Liquidity Resistance. This is akin to insulin resistance, where insulin becomes less effective at lowering blood sugars. The amount of insulin required to maintain normal blood sugar levels increases as resistance rises until even massive doses of insulin no longer have the desired effect and the system crashes.
Liquidity has the same dynamic. Back in the good old days of 2008-09, a $1 trillion tsunami of liquidity was enough to save the global debt machine from implosion and spark an enduring global stock market rally.
The current rally since late December required (by some estimates) over $3 trillion in global liquidity injections from central banks. In four years, the market's resistance has skyrocketed: where $1 trillion launched a multi-year global rally (goosed along with QE2 and Operation Twist when it began to falter), now $3 trillion yielded a 100-day rally that is already coming apart at the seams.
You see where this is going. To maintain the veneer of normalcy, i.e. a continuing Bull market, the next liquidity injection will have to be $5 trillion, and it will spawn a rally of perhaps 50 days. That $5 trillion will probably break the global market; if it doesn't, then the next tidal wave of $7 trillion (or whatever the market needs to trigger another high) most certainly will.
At some point, the liquidity injection will fail to boost the market at all, and that will trigger a panicky rush for the exits.
None of this is new or surprising. One technical tool of interest is the Coppock curve; this chart is courtesy of frequent contributor B.C.: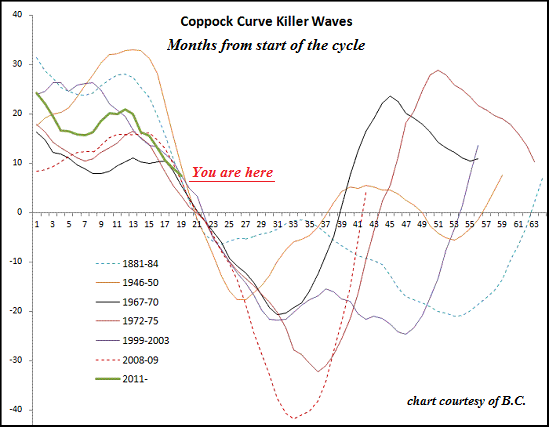 Those who argue that "this time it's different," i.e. that markets can inflate essentially forever on the "juice" of liquidity, are conveniently overlooking Liquidity Resistance. The crash test dummies have been ordered up, and not because "this time it's different:" they've been ordered up because central bank manipulation is not a law of Nature, it is an artifice of increasingly marginal effectiveness.


Planning your spring garden? Longtime oftwominds.com supporter Everlasting Seeds has a deal for you. At my request, Everlasting Seeds prepared a variety pack of non-hybrid seeds just for small gardeners like myself. If you've never planted a garden but always wanted to give it a try, this is the perfect opportunity to get started. Longtime gardeners will enjoy trying a different mix of veggies.

The Simple Garden - Special price: $29.95 + $8.00 shipping (USPS Priority Mail, insured and tracked)
Contains 30 seeds of each: Corn Broccoli Pea Onion Radish Carrot Cabbage Tomato Cauliflower Spinach Lettuce Pole Bean


Three New Podcasts now available: Macro Analytics podcasts with Gordon T. Long (about 20-25 minutes each). Each podcast is accompanied by a number of interesting charts; check out all the recent shows with Ty Andros, John Rubino, and three with Gordon and myself discussing these topics:
Fake Wealth Creation
The "Let's Pretend" Economy
Financialization

---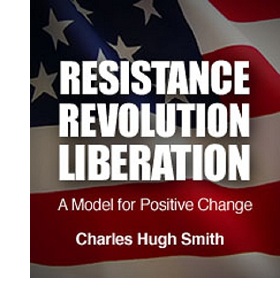 Resistance, Revolution, Liberation will be available in a print edition later in April; buy it now as a Kindle eBook for $9.95.
We cannot know when the Central State and financial system will destabilize, we only know they will destabilize. We cannot know which of the State's fast-rising debts and obligations will be renounced or written down; we only know the debts and obligations will be renounced in one fashion or another.

The process of the unsustainable collapsing under its own weight and being replaced with a new, more sustainable model is called revolution, and it combines cultural, technological, financial and political elements in a dynamic flux. Though these systemic transitions can be profitably understood as cycles, history only illuminates past transitions; what the new arrangement will be is our choice.
---
Readers forum: DailyJava.net.

Order Survival+: Structuring Prosperity for Yourself and the Nation (free bits) (Kindle) or Survival+ The Primer (Kindle) or Weblogs & New Media: Marketing in Crisis (free bits) (Kindle) or from your local bookseller.
Of Two Minds Kindle edition: Of Two Minds blog-Kindle
---

"This guy is THE leading visionary on reality. He routinely discusses things which no one else has talked about, yet, turn out to be quite relevant months later."
--Walt Howard, commenting about CHS on another blog.

---
NOTE: gifts/contributions are acknowledged in the order received. Your name and email remain confidential and will not be given to any other individual, company or agency.
| | | |
| --- | --- | --- |
| Thank you, Paul K. ($120), for your stupendously generous contribution to this site--I am greatly honored by your ongoing support and readership. | | Thank you, David T. ($50), for your wondrously generous contribution to this site--I am greatly honored by your steadfast support and readership. |
---
Or send him coins, stamps or quatloos via mail--please request P.O. Box address.
Subscribers ($5/mo) and contributors of $50 or more this year will receive a weekly email of exclusive (though not necessarily coherent) musings and amusings.
At readers' request, there is also a $10/month option.
The "unsubscribe" link is for when you find the usual drivel here insufferable.
Your readership is greatly appreciated with or without a donation.
---
For more on this subject and a wide array of other topics, please visit my weblog.





All content, HTML coding, format design, design elements and images copyright © 2012 Charles Hugh Smith, All rights reserved in all media, unless otherwise credited or noted.

I would be honored if you linked this essay to your site, or printed a copy for your own use.









Making your Amazon purchases
through this Search Box helps
support oftwominds.com
at no cost to you: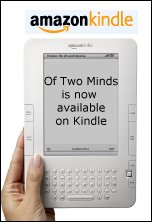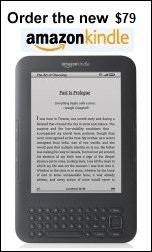 Add oftwominds.com to your reader: