The criteria for recipes here are simple: the meal must be healthy, real (no packaged mixes, though canned goods are OK), cheap (ingredients which are either inexpensive or regularly go on sale) good-tasting, and homemade (can be prepared by anyone with basic cooking skills). We welcome your answer to: What's for Dinner at Your House? submit your cheap, good recipes (story, ingredients, instructions, cost-saving tips).

---
Fall 2010:
Elsewhere Cafe Muffins; Louisa's Vegetarian Baked Beans; Favorite Practical Kitchen Tools For Your Home or Gifts (All Under $20)
---


Elsewhere Cafe Muffins submitted by Louisa

Here's an excellent recipe for muffins. It's unique in its versatility-- it works with whatever fruits, grains, anything you may have lying around. Today I made honey apricot muffins. last week it was tomato basil bread and strawberry rhubarb muffins. I eat it for breakfast often. And whatever version of it I make for the Cafe is always very popular.

This recipe makes 2 loaves or 24 muffins

* 2 cups sugar (brown or white), honey, agave nectar, or any combination thereof
* 1 cup vegetable oil, applesauce, fruit puree, or any combination
* 3 eggs, lightly beaten
* 1 tablespoon vanilla extract
* 3 cups flour, whole wheat or all purpose
* 2 teaspoons dried herbs or spices to go with whatever optional ingredients you choose
* 1 teaspoon baking powder
* 1 teaspoon baking soda
* 1 teaspoon salt
* 2 cups of whatever you have lying around.
Could be fruit chopped up, could be cooked grains (rice, oatmeal, quinoa), could be grated vegetables (beets, carrots, zuchinni), chopped tomatoes, mashed cooked beans or lentils, rhubarb, squash of any sort, leftover pie fillings. Anything goes.

1. In a mixing bowl, combine the sugar, oil and eggs; mix well.
2. Stir in the 2 cups of whatever you chose and vanilla.
3. Combine flour cinnamon, baking powder, baking soda and salt; stir into liquid ingredients just until moistened.
4. Pour into two greased loaf pans, or 24 lined muffin tins.
Bake at 325 F for 55-65 minutes for the bread, or 20-30 minutes for the muffins or until a wooden toothpick inserted near the center comes out clean. Cool in pan 10 minutes before removing to a wire rack.

Some combinations I love:

Savory--
Tomato and basil
Tomatoes, mashed beans, cumin and oregano
wild rice, lentils, rosemary

Sweet--
oatmeal, apples and cinnamon
Apricots, honey and ginger
Strawberry Rhubarb
leftover cream of wheat, lemon zest and thyme
any berries, lemon zest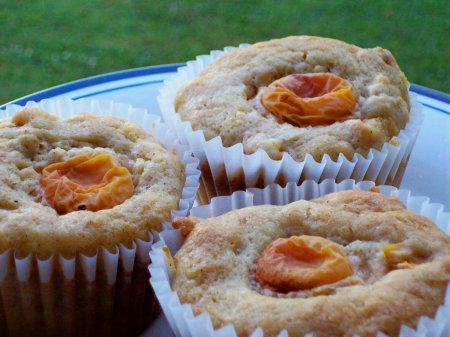 ---


Louisa's Vegetarian Baked Beans submitted by Louisa

* 2 1/2 cups dried beans, soaked 5 hours
* 1/3 cup molasses
* 1/4 cup brown sugar
* 1 1/2 Tbsp dry mustard
* 1/4 teaspoon powdered cayenne
* 1 tsp smoked paprika (or a drop of liquid smoke)
* 2 teaspoons soy sauce
* 2 medium onions, chopped into large pieces
* 2 bay leaves
* 3 cloves garlic, minced
* 1 large tomato, chopped
* 1 teaspoon salt
* olive oil or butter


Drain the soaked beans and place in a large pot with water to cover.

Simmer over medium heat for two hours or until soft, adding water if it's needed. Drain any remaining water.

Saute the onions in butter or olive oil until they soften. Mix with the rest of the ingredients and then the beans. Pour into an appropriately sized ovenproof dish and cover, either with a lid or tinfoil. Bake in a 350 degree oven for an hour, give or take 15 minutes or so. It's not a picky dish.

The beans can also sit in the fridge for a day or so, after being mixed together but before being baked. They're really very agreeable.

They make a great meal with cornbread and any green vegetable.


---
Favorite Practical Kitchen Tools
For Your Home or Gifts (All Under $20)
submitted by Cindy
NOTE: current prices may have changed from those listed here on the date of publication (12/12/10).
1. Pyrex 6021224 Storage 10-Piece Set, Clear with Blue Lids - $14.99
These 3 round bowls and 2 rectangular glass storage containers are just the right number and size for storing leftovers – practical and perfect. We all already own similar containers with lids (usually larger) but I now use these the most – one or two are always in use in our refrigerator. Bought my Mom a set, and she says it's always going up and down the road as she and her neighbor Gene trade dinners. Just bought a set for Gene in September as a gift.
2. Rubbermaid Easy Find Lid 24-Piece Food Storage Container Set - $17.94
I was introduced to this practical Rubbermaid set 2 years ago by my friends Dustin and Megan who received them as a wedding gift. They remarked "you should get this" -- I have since bought 3 sets for myself and as gifts. Yes, we all already have innumerable plastic food storage containers and resist adding more to our jumbled drawer-full. However, the clever system of locking the matching lid to the bottom of the container so they stay together convinced me to buy this set to add to our kitchen.
3. Hand Whip French, Stainless Steel Made in USA – 10" $9.40, 12" $10.50
(Select either 10", 12" or 16")
* Special Offer Buy 4 / Pay for 3 Promotion Item; lowest price item free
I have owned Best whisks from the 70s since learning about them in the Whole Earth Catalog. Thankfully, still USA made and indeed "crafted" (as described on Amazon) in Portland, Oregon, they are indeed the best. You will likely not need to replace a Best whisk in your lifetime. I personally prefer the 10" for home use.
4. Microplane Stainless Steel Zester - $8.95 (without handle – Made in USA)
Microplane 40020 Grater/Zester - $10.75 (with handle – not stated as USA made)
343 "5 star" reviews for with handle and 44 "5 star" reviews for without handle can't lead you astray. Being a stubborn Taurus and loyal to my traditional zester, I resisted this "new fangled" zester. A gift from my sister Lynette proved me absolutely wrong, and I now cannot do without it for grating lemon zest, nutmeg, and hard cheese. Great for hard baking chocolate as well but I usually bake with cocoa power. I prefer the clean, simple look of the zester without a handle – just my Taurean preference.
I was drawn to this zester for another reason--its lineage as a wood rasp/carpentry tool.
5. Kuhn Rikon Original 4-Inch Swiss Peeler, White - $5.06
Kuhn Rikon, original 3-set Red, Green and Yellow Swiss Peeler - $10.49
* Special Offer Buy 4 / Pay for 3 Promotion Item; lowest price item free
Our Irish green 4" Swiss peeler hangs on a cup hook above our sink – such a fine, sharp tool for peeling carrots, potatoes, long white Asian radish for Chinese/Japanese/Vietnamese pickles, Fuji apples for pie, the thin brown flesh off fresh coconut before grating, and hard skin off Asian pumpkins prior to steaming or cooking, Recently, I discovered the peeler efficiently remove the tough green skin of loofa squash – a vegetable new to me (previously I only used the dried version as a bath scrubber), and delicious prepared Chinese style with "tree ears" black fungus and green beans.
I think the 3-piece set for $10.49 is a great deal in itself, and it's also a Special Offer Buy 4/Pay for 3 promotion product.
6. Oxo Good Grips Cookie Scoop - $10.45 medium, $10.50 small, $13.77 large
* Special Offer Buy 4 / Pay for 3 Promotion Item; lowest price item free
Wonderful scoop for quick portion measuring of cookie dough, drippy muffin batter and Indian kofta meatballs. Two scoops of batter fills each paper lined muffin pan cup perfectly for perfect cupcakes. I like the medium size which makes for 4-across and 5-rows down size cookies on the cookie sheet. If you tend to bake smaller, more delicate sized cookies, you may prefer the small scoop. I bought the medium and small scoops, but found the small too small and gave it to a friend who likes making smaller cookies.
7. Dexter-Russell 6-by-3-Inch Dough Scraper Made in USA - $18.95
* Special Offer Buy 4 / Pay for 3 Promotion Item; lowest price item free
Now darkened with patina -- another tried, true and beautifully made kitchen tool in my culinary tool box for 35+ years bought from Kaya Cutlery on Mamo Street in Hilo, Hawaii –- wish I had marked the purchase year on the rosewood handle edge. An essential dough cutter and wood cutting board scraper for bread, pie crust and cut-out cookie makers, it's made of 3 excellent timeless materials –- stainless steel (blade), rosewood (handle) and 2 brass pins (to connect blade to handle).
This Dexter-Russell product was not always available on Amazon, and after reading a negative single Amazon review dated February 2, 2010, I settled for an imported Oxo dough cutter/scraper for a friend's wedding gift.
Actually, that one poor 2-star Amazon review of this S496 Dexter dough scraper/cutter mystified me because the one I own is such an excellent product. Like so many other reputable USA companies making previously well-make products in America, I surmised that Dexter-Russell had succumbed to global pricing pressure and now resorted to foreign manufacturing of their products.
Recently, while researching products for this list, I noticed a 5-star review added by P. Brady who declared this product "very well made and a worthy piece of equipment for professional use." His comments express my own sentiment. Still, I wanted to be sure before recommending the dough scraper. The disparity between 2 and 5-stars prompted me to search online for the Dexter-Russell company website and to call their Southbridge, MA phone number 1-800-343-6042.
Pat, who has worked for the company for 14 years, assured me that the S496 dough scraper has always been made in their Southbridge, MA location -- never manufactured abroad – and always with the same 3 fine quality materials of high grade stainless steel, rosewood and brass.
One last comment -- As P. Brady notes, the handle is made of rosewood, and not walnut as described by Amazon.
8. Victorinox 3-1/4-Inch Paring Knife - $8.13 (3 ¼" blade, 7" total length)
Heard frequently in our home: "Where's the red knife? Have you see the red knife? Do you have the red knife?" -- Our Victorinox paring knife happens to have a red rather than black handle, and it is our go-to paring knife. It was moved to Berkeley with me from my Mom's home in Hawaii 25 years ago –- we had 2 and my Mom still has the black-handled knife in her left kitchen drawer. It's simple, practical and sharpens easily with our knife sharpening stone. We use it for everything that calls for a paring knife, and daily for scraping skin off a knob of fresh ginger destined to be grated for Charles' morning ritual of fresh ginger tea following his wake-up coffee.
9. Rada Cutlery Cooks Knife, Aluminum Handle Made in USA - $9.20
6 1/4-inch blade and 10 1/2 inches overall length
Rada Cutlery Cooks Utility Knife, Aluminum Handle (R140) Made in USA - $5.25
4 3/4-inch blade, 8 3/4 inches overall length
Rada Cutlery Quick Edge Knife Sharpener with Hardened Steel Wheels - $6.95
(Designed for Rada Knives)
Probably like many other people, I too have several "the last knife I'll ever buy" knives. So I hesitated to add yet another kitchen knife to our collection but it is in fact a knife I use often (favorite very sharp knife for cutting onions) + inexpensive + American made. No one I personally know recommended this knife to me. At first the name caught my attention online -- Rada is the name of my South Indian friend who prepares the South Indian specialties at a restaurant consistently listed on the top 100 San Francisco Bay Area Restaurants list.
Then the Amazon buyer reviews and USA manufacture origin got me curious enough to order the knife and sharpener for myself. Whether a tool is an excellent addition to your kitchen is determined by how often you use it and whether it supercedes your last favorite knife –- if you find yourself reaching for it. I now use my Rada more often than my assorted German and Japanese knives that cost 5 to 7x the Rada knife's price.
The Rada blade is sharp, stays sharp and easily sharpens with 2 to 3 pulls between the 2 sharpening wheels. You must be attentive and treat the Rada knife blade like a razor. As noted by other reviews, the blade is thin and not suitable for cutting hard vegetables. For hard skin squash or Asian pumpkin, my Chinese cleaver or German knife gets pulled off our wall magnet knife holder.
10. Egg Poaching Pods, Fusionbrands, Set of 2, Green - $8.45
Another "new fangled" device made of flexible silicone to cook old-fashion poached eggs. I had to get one for our kitchen as soon as my friend Dustin gave me a demonstration in his kitchen -- extra virgin olive oil smeared into the pods, sprinkling of kosher salt, and several turns of fresh ground black pepper all sealed with a cracked egg on top.
After 4 minutes floating and simmering in a lidded pan, they were done perfectly and easily popped out of the pods. No more watery poached eggs + losing 1/3 of the whites as they float off as whitecaps into the simmering water. I've bought 4 so far –- one for us, one for my Mom, and 2 for her neighbors Gene and Gay. Thank you, Dustin, for introducing us to this easy method for poaching eggs.



---


CHS kitchen-test note/disproving the propaganda that real food is "too expensive" and fast-food is "affordable": I bought the ingredients for Black Bean Chili (Summer/Fall 2008) at one of the local "Mexican" markets which cater to the Hispanic population. The total cost was:

1 pound black beans: $1.19
2 medium onions: $ .36 ($.33/pound)
garlic: $ .15 (5 heads for $1.30)
jalapeno chiles: $ .20
1 can tomatoes: $1.00
oil, cilantro, etc.: about $ .30


Total: $3.20

For 6 servings, that's $.53/serving. Add $2 for 4 dozen tortillas, slice up six medium raw carrots (12 oz.) for crunch and vitamins, and that brings it up to $5.60 or $ .93/serving.

If you wanted to add a pound of meat, and you buy on sale, then add another $3.40 or so for either beef (lean cut) or ground turkey. That boosts the cost to about $9.00 or $1.50 per serving for a hearty, protein- and fiber-rich meal.

Compare that to the cost of a supposedly "cheap" (and horribly unhealthy) fast-food "value" meal of burger, fries and a sugar-bomb soda for six: in California, way over $30. And yet all we hear is how "poor people" (like me?) "can't afford healthy food." What rot! 93 cents beats the heck out of any fast-food meal, it's easy to make and the ingredients are readily available virtually anywhere.

FROM WALLET TO WAISTLINE: THE HIDDEN COSTS OF "SUPER SIZING" (Prevention Institute)

Metric/U.S. Measurement equivalents

BMI (body mass index) Calculator

fatsecret.com FatSecret is a place for people interested in food and diet. Sign up and achieve your food, diet and exercise goals. (Free site, not affiliated with any diet or diet company.)