The Real Reverse Robin Hood: Ben Bernanke and his Merry Band of Thieves (August 31, 2012)


Away from the stifling media crush, staid Ben Bernanke is dashing Reverse Robin Hood, lackey pawn of the Neofeudalist Financial Lords who shamelessly steals from the poor to give to the parasitic super-rich.

Amidst electioneering chatter about a "reverse Robin Hood" who steals from the poor to give to the rich, it's important to identify the real Reverse Robin Hood: Ben Bernanke and his Merry Band of Thieves, a.k.a. the Federal Reserve. It's especially appropriate to reveal Ben as the real Reverse Robin Hood today, as the Chairman is as omnipresent in the media as Big Brother due to the Cargo-Cult confab in Jackson Hole, Wyoming.

Please answer the following questions before launching a rousing defense of the All-Powerful Fed and its chairman:

1. What is the nominal yield on your savings account, thanks to the Fed's zero-interest rate policy (ZIRP)? (Answer: 0.25%)

2. What is the inflation-adjusted yield on your savings account? (Answer: - 2.25%)

3. What is the rate of interest the Fed charges banks for "free money"? (Answer: 0%)

4. What is the average interest rate for bank-issued credit cards? (Answer: 14.52%)

5. What is the interest rate for student loans? (Answer: 6.8%, and 7.9% or 8.5% for PLUS loans)

6. Does the Fed pay interest on the funds banks have borrowed from the Fed for 0% and then deposited with the Fed? (Answer: yes)

7. Exactly how has the average American worker benefited from the Fed's policies? (Answer: interest on credit cards has declined from 19.9% to 14.52%, if the worker has outstanding credit, which few of the bottom 90% do.) Theoretically, workers could re-finance their homes at lower interest rates, but the vast majority are either underwater or no longer qualify. Ben and the Merry Thieves love pulling Catch 22.

8. How has the average parasitic Neofeudalist Financial Lord benefited from the Fed's "rob the poor to give to the rich" policies? (Answer: Handsomely. The top 1%'s income and net worth has soared as Ben and his Merry Band of Thieves have stripmined interest income from the poor and pension funds and diverted it to the rich.)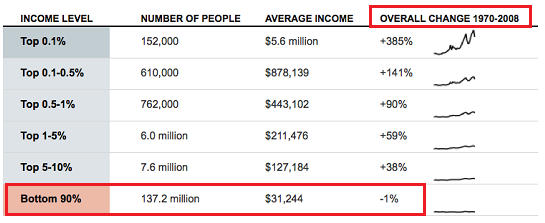 9. Have the Fed's Reverse Robin Hood policies narrowed income disparity in the U.S.? (Answer: no--income disparity has widened further as a result of Fed goosing of risk assets.)
10. How many of the nation's 14.5 million unemployed have gotten jobs as a result of Fed policies who would not have gotten a job if the Fed had been abolished in 2009? (Answer: unknown, but the best guess is 17, including Bennie the part-time janitor, with a statistical error of + or - 17.)
11. How does Ben the Reverse Robin Hood justify his thievery? (Answer: he doesn't. Officially sanctioned propaganda casts him in the role of selfless do-gooder, protecting saintly Neofeudalist Financial Lords from restless debt-serfs.)
Listen up, debt-serfs, you have it good here on the manor estate. You get three squares of greasy fast-food or heavily processed faux-food a day, and if Reverse Robin Hood and his Merry Band of Thieves is ripping you off it's for a good reason: the predatory Neofeudalist Financial Lords need the money more than you do, as they have a lot of political bribes to pay: it's an election year, and the bribes are getting increasingly costly. Poor things, we're sure you understand. Now go back to work or watching entertainment (or "news," heh) and leave the Lords alone.
An open plea to William Banzai: dear Master of the visual arts, could you please perform your magic and transform Ben Bernanke into the Reverse Robin Hood leading his Merry Band of Bankster Thieves? I would be most grateful if you could apply your powers to this imagery.


---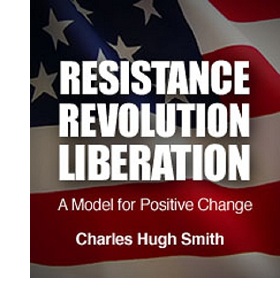 Resistance, Revolution, Liberation: A Model for Positive Change (print $25)
(Kindle eBook $9.95)
Read the Introduction (2,600 words) and Chapter One (7,600 words) for free.
We are like passengers on the Titanic ten minutes after its fatal encounter with the iceberg: though our financial system seems unsinkable, its reliance on debt and financialization has already doomed it.

We cannot know when the Central State and financial system will destabilize, we only know they will destabilize. We cannot know which of the State's fast-rising debts and obligations will be renounced; we only know they will be renounced in one fashion or another.

The process of the unsustainable collapsing and a new, more sustainable model emerging is called revolution.

Rather than being powerless, we hold the fundamental building blocks of power. We need neither permission nor political change to liberate ourselves. A powerless individual becomes powerful when he renounces the lies and complicity that enable the doomed Status Quo's dominance.
---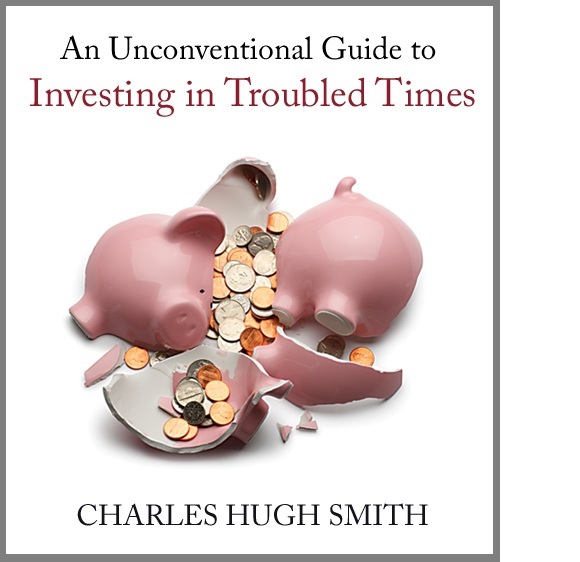 If this recession strikes you as different from previous downturns, you might be interested in my book An Unconventional Guide to Investing in Troubled Times (print edition) or Kindle ebook format. You can read the ebook on any computer, smart phone, iPad, etc. Click here for links to Kindle apps and Chapter One. The solution in one word: Localism.


Readers forum: DailyJava.net.





Order Survival+: Structuring Prosperity for Yourself and the Nation (free bits) (Kindle) or Survival+ The Primer (Kindle) or Weblogs & New Media: Marketing in Crisis (free bits) (Kindle) or from your local bookseller.
Of Two Minds Kindle edition: Of Two Minds blog-Kindle
---

"This guy is THE leading visionary on reality. He routinely discusses things which no one else has talked about, yet, turn out to be quite relevant months later."
--Walt Howard, commenting about CHS on another blog.

---
NOTE: gifts/contributions are acknowledged in the order received. Your name and email remain confidential and will not be given to any other individual, company or agency.
| | | |
| --- | --- | --- |
| | Thank you, Robert M.($5/month), for your superbly generous subscription to this site-- I am greatly honored by your support and readership. | |
---
Or send him coins, stamps or quatloos via mail--please request P.O. Box address.
Subscribers ($5/mo) and contributors of $50 or more this year will receive a weekly email of exclusive (though not necessarily coherent) musings and amusings.
At readers' request, there is also a $10/month option.
What subscribers are saying about the Musings (Musings samples here):
The "unsubscribe" link is for when you find the usual drivel here insufferable.
Your readership is greatly appreciated with or without a donation.
---
For more on this subject and a wide array of other topics, please visit my weblog.





All content, HTML coding, format design, design elements and images copyright © 2012 Charles Hugh Smith, All rights reserved in all media, unless otherwise credited or noted.
I would be honored if you linked this essay to your site, or printed a copy for your own use.
Terms of Service:
All content on this blog is provided by Trewe LLC for informational purposes only. The owner of this blog makes no representations as to the accuracy or completeness of any information on this site or found by following any link on this site. The owner will not be liable for any errors or omissions in this information nor for the availability of this information. The owner will not be liable for any losses, injuries, or damages from the display or use of this information. These terms and conditions of use are subject to change at anytime and without notice.