We Are All Muppets Now (August 15, 2012)


Every participant in the manipulated, rigged stock market is now a muppet.

Just as President Richard Nixon signalled his embrace of endless fiscal stimulus and bottomless deficits by declaring "We are all Keynesians now," it is now apparent that we are all muppets now, willing participants in a fraudulent, manipulated market in the hopes that we will skim the same outsized gains reaped by the manipulators.

Actually, Nixon said, "I am now a Keynesian in economics," but the catchier phrase has entered popular history.

Using the word muppets to describe credulous investors who could be ripped off at will originated with investment banking giant Goldman Sachs, where employee Greg Smith famously wrote:
"It makes me ill how callously people [at Goldman Sachs] talk about ripping their clients off.

"Over the last 12 months, I have seen five different managing directors refer to their own clients as 'muppets', sometimes over internal email."
The muppets now include every pension fund, mutual fund, hedge fund and investor with capital in the stock market. We're all muppets now because we all know the markets are rigged, skimmed by high-frequency trading machines and propped up by officially sanctioned intervention on a grand scale.
Why do we willingly put money into such a rigged bucket shop? For the same reason GS clients gave their money to Goldman Sachs: they wanted a big fat outsized return. We don't really care now if the market is fraudulent, rigged, or manipulated; all we want is for our shares to keep going up, by whatever means are necessary. If that means fraud and manipulation, so be it.
That moral vacuum and desire for outsized returns regardless of the methods used to reap the gains makes us muppets. We really don't care about official manipulation and intervention, as long as it works to boost our pension fund, mutual fund, ETF, hedge fund, etc.
Muppets only complain when the prop jobs and skimming fail to deliver fat gains to their accounts.
But being a muppet is being a mark: it's the muppets who are being milked and skimmed. Being a participant in a hopelessly compromised, rigged market makes us marks because we're ultimately providing liquidity and capital for the players to skim.
When the officially sanctioned intervention finally fails and the market leaks 40% of its current value, the muppets will finally understand the "outsized returns" were just a con used to entice them into playing digital 3-card monte. The game is rigged, but the greed of the player overrides his skepticism and caution.
The same can be said for pension funds and all the other institutional players. Desperate for yield, they've foolishly ponied up hundreds of billions of dollars to play 3-card monte with crooked dealers and a crooked house.
Anyone counting on their pension should check to see how much of the fund is A) earning essentially nothing in bonds and B) on the rigged 3-card monte table known as the stock market.
Good luck beating the crooked dealer and the crooked house. Since we are all muppets now, luck is all we have left.


---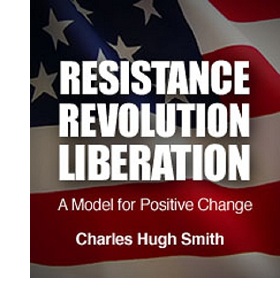 Resistance, Revolution, Liberation: A Model for Positive Change (print $25)
(Kindle eBook $9.95)
Read the Introduction (2,600 words) and Chapter One (7,600 words) for free.
We are like passengers on the Titanic ten minutes after its fatal encounter with the iceberg: though our financial system seems unsinkable, its reliance on debt and financialization has already doomed it.

We cannot know when the Central State and financial system will destabilize, we only know they will destabilize. We cannot know which of the State's fast-rising debts and obligations will be renounced; we only know they will be renounced in one fashion or another.

The process of the unsustainable collapsing and a new, more sustainable model emerging is called revolution.

Rather than being powerless, we hold the fundamental building blocks of power. We need neither permission nor political change to liberate ourselves. A powerless individual becomes powerful when he renounces the lies and complicity that enable the doomed Status Quo's dominance.
---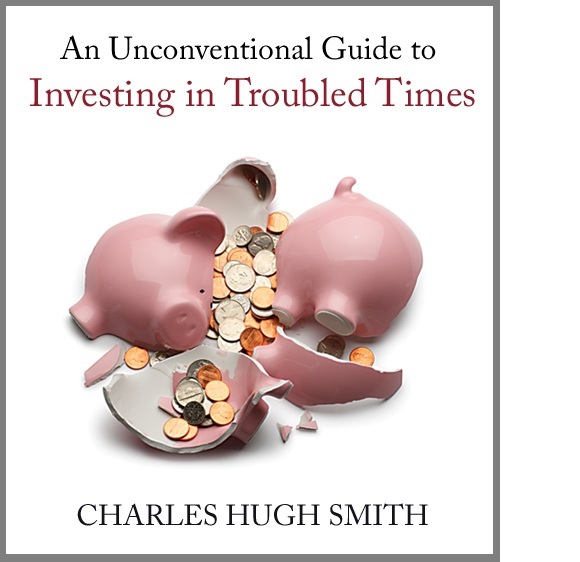 If this recession strikes you as different from previous downturns, you might be interested in my book An Unconventional Guide to Investing in Troubled Times (print edition) or Kindle ebook format. You can read the ebook on any computer, smart phone, iPad, etc. Click here for links to Kindle apps and Chapter One. The solution in one word: Localism.


Readers forum: DailyJava.net.





Order Survival+: Structuring Prosperity for Yourself and the Nation (free bits) (Kindle) or Survival+ The Primer (Kindle) or Weblogs & New Media: Marketing in Crisis (free bits) (Kindle) or from your local bookseller.
Of Two Minds Kindle edition: Of Two Minds blog-Kindle
---

"This guy is THE leading visionary on reality. He routinely discusses things which no one else has talked about, yet, turn out to be quite relevant months later."
--Walt Howard, commenting about CHS on another blog.

---
NOTE: gifts/contributions are acknowledged in the order received. Your name and email remain confidential and will not be given to any other individual, company or agency.
| | | |
| --- | --- | --- |
| | Thank you, Lewis D. ($50), for your superbly generous contribution to this site-- I am greatly honored by your support and readership. | |
---
Or send him coins, stamps or quatloos via mail--please request P.O. Box address.
Subscribers ($5/mo) and contributors of $50 or more this year will receive a weekly email of exclusive (though not necessarily coherent) musings and amusings.
At readers' request, there is also a $10/month option.
What subscribers are saying about the Musings (Musings samples here):
The "unsubscribe" link is for when you find the usual drivel here insufferable.
Your readership is greatly appreciated with or without a donation.
---
For more on this subject and a wide array of other topics, please visit my weblog.





All content, HTML coding, format design, design elements and images copyright © 2012 Charles Hugh Smith, All rights reserved in all media, unless otherwise credited or noted.
I would be honored if you linked this essay to your site, or printed a copy for your own use.
Terms of Service:
All content on this blog is provided by Trewe LLC for informational purposes only. The owner of this blog makes no representations as to the accuracy or completeness of any information on this site or found by following any link on this site. The owner will not be liable for any errors or omissions in this information nor for the availability of this information. The owner will not be liable for any losses, injuries, or damages from the display or use of this information. These terms and conditions of use are subject to change at anytime and without notice.