Why the World Is Financially Doomed in Four Charts (January 6, 2011)


The global economy is doomed to implosion, and here are four charts which explain why.

Though the complexities may appear endless, the global economy's coming implosion is really fairly easy to understand: here are four charts which do the heavy lifting. It boils down to these basics:

1. When money is dear and difficult to borrow, then productivity and capital accumulation are encouraged, speculation, malinvestment and debt-based consumption are discouraged.

2. When money is "free" (zero-interest rate policy) and liquidity is unlimited, then the opposite conditions hold: speculation in risk assets, malinvestment and debt-based consumption are all encouraged, and productivity and capital accumulation are heavily discouraged.

3. When debts exceed the value of the underlying assets, the only way out of the Tyranny of Debt is to write off the debt on both the borrower and lender's balance sheets, wiping out their capital via liquidation and bankruptcy.

4. The "extend and pretend" policy pursued by all major nations is simply transferring the impaired debt from private hands to the taxpayers (public debt), crippling the economy with higher taxes and higher debt service.

5. The Central State's "extend and pretend" policy requires heavy borrowing every year to prop up the status quo, pushing the Central State (or equivalent, i.e. the Eurozone) into an inescapable double-bind: either continue increasing public debt and cripple the economy with high taxes and high public-debt servicing costs, or let the financial status quo of "profits are private, losses are public" implode.

The first path leads to default, as the Tyranny of Debt cannot be masked for long, while the second path wipes out the Financial Power Elite which feeds the politicians.

Here are the charts. Note how the speculative economy created the illusion of rising wealth for the bottom 90%, an illusion stripped away by the Default Economy.

In essence, the Financial Power Elites profited immensely from creating this illusory wealth which gave the bottom 90% the false sensation that their declining earnings and purchasing power were being offset by the "magic" of asset bubbles.

Then, when the bubble popped, the Financial Power Elites transferred the impaired assets to the taxpayers, a process which is still underway. The politicos of both parties are complicit; behind the simulacra of toothless "reforms," this process proceeds in myriad ways (Bank of America transferring toxic debt to Fannie/Freddie, etc.) Behind the smokescreen of conjuring a "wealth effect" to foster more consumption, the Fed's purchase of Treasuries (QE2) serves this transfer-of-debt-to-the-public process.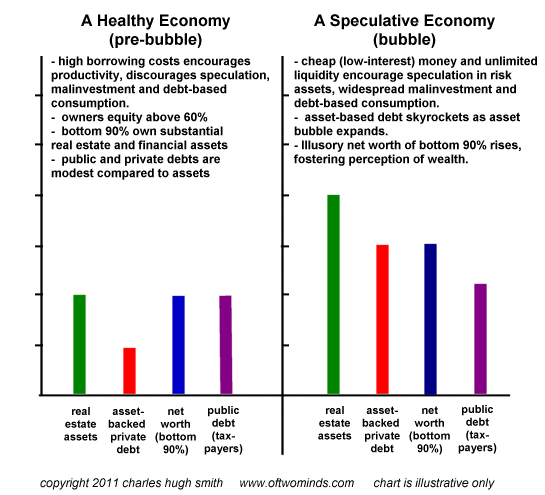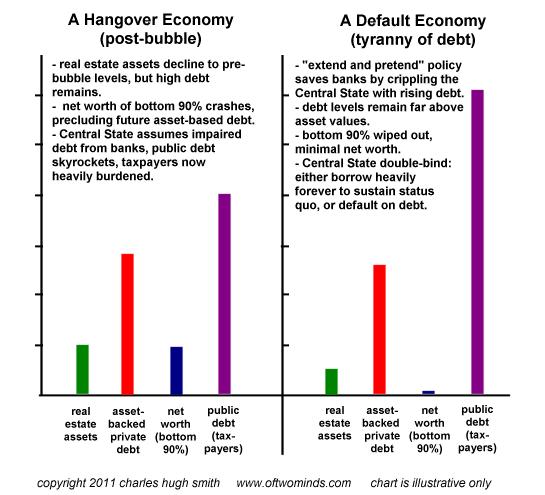 This same process is playing out throughout the global economy: Greece, Ireland, the U.S., and eventually, in China when its monumental property bubble pops.


New recipes on What's for Dinner at Your House?--Elsewhere Cafe Muffins, and Louisa's Vegetarian Baked Beans


If you would like to post a comment, please go to DailyJava.net.





Order Survival+: Structuring Prosperity for Yourself and the Nation or Survival+ The Primer from your local bookseller or from amazon.com or in ebook and Kindle formats. A 20% discount is available from the publisher.
Of Two Minds is also available via Kindle: Of Two Minds blog-Kindle
---

"This guy is THE leading visionary on reality. He routinely discusses things which no one else has talked about, yet, turn out to be quite relevant months later."
--Walt Howard, commenting about CHS on another blog.

---
NOTE: contributions are acknowledged in the order received. Your name and email remain confidential and will not be given to any other individual, company or agency.
| | | |
| --- | --- | --- |
| Thank you, Lee V.D.B. ($10), for your most generous contributions to this site-- I am greatly honored by your ongoing support and readership. | | Thank you, Michael J. ($50), for your superbly generous donation to this site-- I am honored by your support and readership. |
Or send him coins, stamps or quatloos via mail--please request P.O. Box address.
Your readership is greatly appreciated with or without a donation.
---
For more on this subject and a wide array of other topics, please visit my weblog.







All content, HTML coding, format design, design elements and images copyright © 2011 Charles Hugh Smith, All rights reserved in all media, unless otherwise credited or noted.

I would be honored if you linked this wEssay to your site, or printed a copy for your own use.









Making your Amazon purchases
through this Search Box helps
support oftwominds.com
at no cost to you: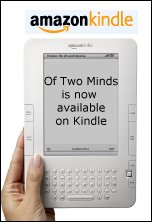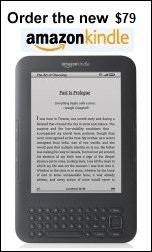 Add oftwominds.com to your reader: