Habituating to Contraction (January 13, 2012)


The Savior State has pulled out all the stops to prop up the Status Quo. Its gargantuan borrowing and spending have fixed nothing. Contraction is replacing expansion as the new normal.

For the past 67 years, Americans have been conditioned to expect expansion and more of everything: more income, more stuff, more opportunity, more benefits, more medical care, more government entitlements, and so on.

As a result, Americans have habituated to permanent expansion. The concept that contraction--less of everything--is the new normal simply doesn't register; it is rejected, denied, or decried as a great tragedy. The notion that it is simply reality does not compute with a populace habituated to permanent "growth" that is at worst interrupted by brief recessions.

U.S. politicians have learned that Soaring Rhetoric (TM) about "morning in America," "the New Frontier," "hope" and other ritualistic appeals to permanent expansion win elections, while accurate descriptions of reality lose elections.

The voting public's demand for "permanent good news" promising permanent expansion has spawned a feedback loop of officially sanctioned manipulated statistics and media spin (a.k.a. propaganda) that expands with every administration, even as the real economy visibly weakens. Though the Obama Administration has perfected the techniques of presenting "permanent good news," the divergence of the real economy and the official "story" that "we've returned to permanent expansion" is widening.

The real story is the "expansion" has cost the taxpayers trillions of dollars in new debt and trillions of dollars of backstops, shadow purchases and money-printing by the Federal Reserve. Roughly speaking, $6 trillion in additional Federal borrowing has been blown to simply keep the Status Quo from imploding, and around $13 trillion in guarantees, backstops, asset purchases, and losses made good have been issued to keep the Status Quo's financial sector afloat and in charge.

By any credible, unmanipulated measure, for example, the number of people with fulltime employment or household income, the economy has yet to recover to 2007 levels.

This reality must be denied, both by the power-obsessed politicos who fear the truth like vampires fear garlic-garlanded crosses, and by voters who fear a reduction in their personal share of the swag.

Humans habituate quickly to a wide range of conditions and expectations, but once they've settled into the new habitat, they are resistant to new conditions. Needless to say, humans prefer a future in which there will be more of everything over one with less of everything, as permanent expansion means there will be few if any troublesome cost-benefit analyses, hard choices or painful triage, and little need to adjust to new realities.

Changing conditioning is difficult and often arduous.

Americans have been conditioned for three generations to expect the Savior State to "do something" during downturns to "make it right." The idea that systemic problems are now beyond the reach of the Federal government does not compute; there must be something the government can do to "fix" everything.

This notion that the Central State is effectively omniscient and all-powerful is central to the belief system of Americans now. The concept that the government cannot fix the problem, or that government central-planning has made the problem worse, is anathema to everyone conditioned to believe government intervention will "save the day."

The basic reality is the Federal government has already pulled out all the stops in the past four years to "make the economy recover," and all its unprecedented actions have accomplished is to maintain the Status Quo via unsustainably gargantuan borrowing, spending and backstopping.

If we scrape away the rhetoric and bogus statistics, at heart the current fantasy that the U.S. has "decoupled" from the global economy and will remain an island of "permanent prosperity" in a sea of recession boils down to this belief: the Federal government "won't let us stay in recession." In other words, it's within the power of the Central State to make good every loss, guarantee every debt, maintain the Empire, solve every geopolitical challenge and find technological or military solutions to potential energy shortages. All we need is the "will" to force the government to use its essentially unlimited power to "fix everything."

A people conditioned to this expectation will have great difficulty accepting that their government has already done everything possible, and that these stupendous debt-based expenditures are simply not sustainable going forward. Some problems are not fixable by more government intervention; indeed, government intervention in the marketplace is like insulin: the system begins to lose sensitivity to Central State manipulation and intervention.

2012 is looking like the year that the American public will have to face up to the fact that the Central State's massive efforts to "fix the economy" have failed, and that Central State support of the Status Quo cannot fix what's broken.

We will have to habituate to contraction, and the belief in a god-like Savior State with unlimited powers and money will fade as the economy's systemic illnesses--extreme concentrations of power and wealth, corruption, financial leverage, excessive debt and so on--reassert themselves.

All that has happened for four long years is systemic problems were papered over to benefit the Status Quo. Everything that is broken awaits real repair.


Quick reminder: longtime correspondent Kevin K. suggested reminding readers that making your Amazon.com purchases through this site's links is a no-cost-to-you way of financially supporting the site. It's as easy as searching for an item in the Amazon Search box to the right, or clicking through one of the Amazon "deals of the day" in the lower right sidebar, and then continuing with your online shopping. Thank you, Kevin, for this suggestion.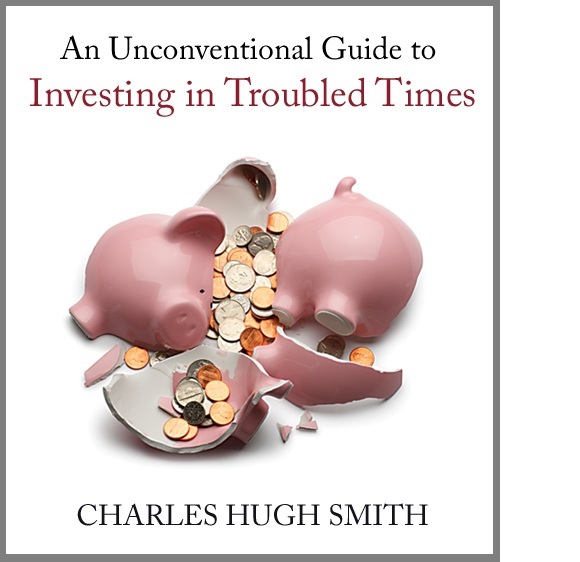 If this recession strikes you as different from previous downturns, you might be interested in my new book An Unconventional Guide to Investing in Troubled Times (print edition) or Kindle ebook format. You can read the ebook on any computer, smart phone, iPad, etc. Click here for links to Kindle apps and Chapter One. The solution in one word: Localism.


Readers forum: DailyJava.net.





Order Survival+: Structuring Prosperity for Yourself and the Nation (free bits) (Kindle) or Survival+ The Primer (Kindle) or Weblogs & New Media: Marketing in Crisis (free bits) (Kindle) or from your local bookseller.
Of Two Minds Kindle edition: Of Two Minds blog-Kindle
---

"This guy is THE leading visionary on reality. He routinely discusses things which no one else has talked about, yet, turn out to be quite relevant months later."
--Walt Howard, commenting about CHS on another blog.

---
NOTE: contributions are acknowledged in the order received. Your name and email remain confidential and will not be given to any other individual, company or agency.
| | | |
| --- | --- | --- |
| Thank you, Roland C. ($5), for your much-appreciated generous contribution to this site -- I am greatly honored by your support and readership. | | Thank you, William C. ($20), for your most excellently generous subscription to this site -- I am greatly honored by your support and readership. |
---
Or send him coins, stamps or quatloos via mail--please request P.O. Box address.
Subscribers ($5/mo) and contributors of $50 or more this year will receive a weekly email of exclusive (though not necessarily coherent) musings and amusings, and an offer of a small token of my appreciation: a signed copy of a novel or Survival+ (either work admirably as doorstops).
At readers' request, there is also a $10/month option.
The "unsubscribe" link is for when you find the usual drivel here insufferable.
Your readership is greatly appreciated with or without a donation.
---
For more on this subject and a wide array of other topics, please visit my weblog.





All content, HTML coding, format design, design elements and images copyright © 2011 Charles Hugh Smith, All rights reserved in all media, unless otherwise credited or noted.

I would be honored if you linked this essay to your site, or printed a copy for your own use.