The Ministry of Propaganda Declares Ron Paul "Unelectable" (January 3, 2012)


The Ministry of Propaganda has chosen to suppress the only dangerous-to-the-Power Elites candidate by declaring him "unelectable."

The Status Quo's Ministry of Propaganda has a single political task for 2012: eliminate the sole threat to the Status Quo (Ron Paul) from the running, leaving voters with a "choice" of clueless stooges for the Power Elite.

That roster includes President Obama and the daytime-TV/soap-opera field of Republicrat contenders.

The Ministry of Propaganda has settled on a ludicrous strategy to eliminate Ron Paul: declare Paul "unelectable."

As with all propaganda, the basic idea is that if it is repeated often enough on officially sanctioned stages, it will eventually be accepted as "true."

Our Christmas-New Year's week of family visits took us to homes where the television is on all the time, and as a result I was exposed to the Ministry of Propaganda's preferred media, TV "news." Regardless of the channel or program, the message was the same: "The presidential race will between Obama and either Romney or Gingrich."

Despite the polls that find Paul and Romney with equal levels of support in Iowa, Romney has been declared the front-runner and Paul written off as "unelectable."

In other words, the voters don't even need to check in; the Ministry of Propaganda's army of toadies, lackeys and media apparatchiks have their marching orders: repeat that Ron Paul is unelectable at every opportunity, either explicitly or implicitly via leaving him off the list of "frontrunners."

The Ministry of Propaganda's campaign is easily revealed by two simple thought experiments. How would the corporate media characterize Newt Gingrich's "electability" if he was running neck-and-neck with Romney? Answer: the media toadies would be falling over each other to declare Gingrich "electable."

Now repeat the experiment with Rick Santorum or Michelle Bachmann. The answer is the same: since these candidates are on the list of Power-Elites approved stooges, a showing equal to Ron Paul's would instantly win them veritable tsunamis of media coverage, all focused on their eminent "electability."

Here is the second thought experiment: does anyone seriously think any of the Republicrat candidates are even remotely qualified to deal with the crises brewing on the horizon? What exactly makes them "electable"?

Let's consider them one at a time, scrubbed of spin, PR and propaganda:

Mitt Romney: the perfect player for a remake of "The Stepford Wives" entitled "The Stepford Politicos." Romney is the personification of the telegenic, wealthy empty suit, devoid of any ideas beyond retreads of Status Quo tweaks that leave the Power Elite--of which he is a member--safely in charge.

Romney's "electability" rests on the hopes that the hard drives from his time as governor stay safely erased and that zombified voters conclude that having a family and membership in a church are sufficient qualifications for President.

His handlers have carefully studied the political satire The Candidate and have not yet formulated an answer to the question, "What do we do now?" should the wealthy pawn of the Power Elite improbably win the presidency.

Michelle Bachmann: Imagine her wearing a witch's hat, it isn't hard to do; Bachmann is the ideal Wicked Witch of the West, but without the charisma. She does have a host of frightful winged monkeys, though--her handlers.

Newt Gingrich: Gingrich has a number of redeeming characteristics, starting with his famously unsavory "baggage" that reveals an appealingly flawed core. He is also the only Republicrat candidate that wouldn't bore you to despair within a few minutes, i.e. he actually strays from the canned scripts approved by the Ministry of Propaganda. Third, on occasion he actually reveals glimmers of awareness that the next 10 years will not be like the previous decade, and that America is at a critical crossroads.

Unfortunately, his canned ideology-as-"solution" ideas expired a decade ago and he has no coherent vision of a future that isn't just a slightly modified version of the Power-Elite dominated one that is now hurtling toward instability.

He has shown a remarkable ability, however, to hide his horns and forked tail.

Rick Perry: Another telegenic empty suit who hoped that having a family and membership in a church qualified him for the presidency.

Rick Santorum: Rick's ruthlessness has its charm, starting with his long and painful campaign to establish a simulacrum of intellectual "seriousness." Like all the other stooges, his version of "the vision thing" is a tepid edit of the Status Quo. Like all the stooges other than the refreshingly flawed Gingrich, he hopes membership in a church qualifies him for the presidency.

What all the candidates but Ron Paul dare not acknowledge because it isn't on the approved Ministry of Propaganda script is that the Status Quo is heading off a cliff at the direct behest of the nation's Power Elite. The only candidate that has "the vision thing" and that clearly enunciates exactly how the Power Elite's policies have led the nation off a cliff of insolvency and Imperial hubris is Ron Paul.

For this sin against the Status Quo and its Power Elite, Paul has been excommunicated, and the (pardon my language) smarmy army of corporate media whores cannot declare him "unelectable" often enough.

That is proof that he is highly electable, for otherwise the Ministry of Propaganda wouldn't be running a campaign of such transparent desperation.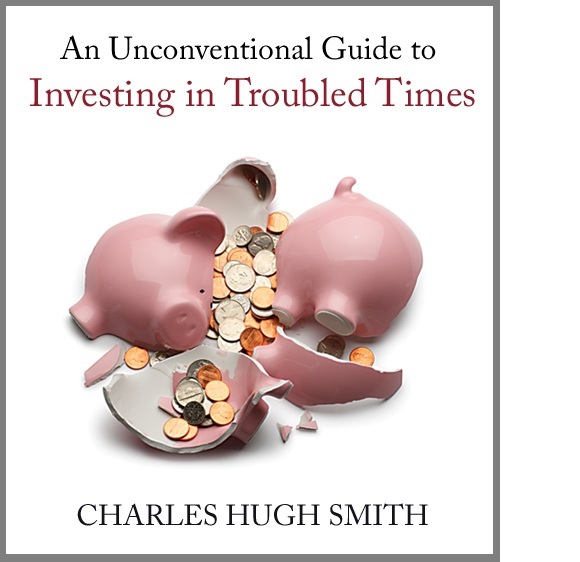 If this recession strikes you as different from previous downturns, you might be interested in my new book An Unconventional Guide to Investing in Troubled Times (print edition) or Kindle ebook format. You can read the ebook on any computer, smart phone, iPad, etc. Click here for links to Kindle apps and Chapter One. The solution in one word: Localism.


Readers forum: DailyJava.net.





Order Survival+: Structuring Prosperity for Yourself and the Nation (free bits) (Kindle) or Survival+ The Primer (Kindle) or Weblogs & New Media: Marketing in Crisis (free bits) (Kindle) or from your local bookseller.
Of Two Minds Kindle edition: Of Two Minds blog-Kindle
---

"This guy is THE leading visionary on reality. He routinely discusses things which no one else has talked about, yet, turn out to be quite relevant months later."
--Walt Howard, commenting about CHS on another blog.

---
NOTE: contributions are acknowledged in the order received. Your name and email remain confidential and will not be given to any other individual, company or agency.
| | | |
| --- | --- | --- |
| Thank you, Steve S. ($20), for your most-welcome generous contribution to this site -- I am greatly honored by your support and readership. | | Thank you, W. Thomas D. ($20), for your much-appreciated generous contribution to this site -- I am greatly honored by your support and readership. |
---
Or send him coins, stamps or quatloos via mail--please request P.O. Box address.
Subscribers ($5/mo) and contributors of $50 or more this year will receive a weekly email of exclusive (though not necessarily coherent) musings and amusings, and an offer of a small token of my appreciation: a signed copy of a novel or Survival+ (either work admirably as doorstops).
At readers' request, there is also a $10/month option.
The "unsubscribe" link is for when you find the usual drivel here insufferable.
Your readership is greatly appreciated with or without a donation.
---
For more on this subject and a wide array of other topics, please visit my weblog.





All content, HTML coding, format design, design elements and images copyright © 2011 Charles Hugh Smith, All rights reserved in all media, unless otherwise credited or noted.

I would be honored if you linked this essay to your site, or printed a copy for your own use.